Our picks for the best running sports bras will provide you with the support you need to run with confidence – whatever the distance…
Whether you're new to running or a seasoned marathon runner, a supportive and comfortable sports bra should be one of the most important pieces of kit in your running arsenal. But while wearing one of the best running sports bras is a no-brainer for many women, research carried out by sports bra brand Shock Absorber shows that a whopping 9.5 million women in the UK are not supporting their breasts properly when they run. And this can lead to chafing, pain, long-term damage of your breast tissue, and feelings of discomfort and embarrassment that could hinder your enjoyment of running.
Looking for a sports bra to use in the gym? Check out our picks for the 6 best workout sports bras in 2022
So, if you're not providing your boobs with the adequate support they need – or your sports bra is worn out and desperately needs replacing – read on to find out why wearing one of the best sports bras for running is crucial for your breast health and running success. Then, find out how to choose the best type of sports bra for your needs, before discovering how you can find your perfect fit. All that's left for you to do afterwards is to choose one of our top tried-and-tested running sports bras so you can run in total confidence!
Don't forget to check out our guides to the best running shoes for women, the best road running shoes for women, and the best beginner running shoes for women.
Why is it so important to wear a sports bra for running?
The humble running bra has come a long way since its 1979 beginning, when it was simply two jockstraps sewn together and known as the 'Jockbra'. Understated? Sure, but for women sprinting sans support it was a performance-enhancing revelation.
Fast forward 42 years and the best running sports bras have become an impressive feat of engineering. In a bid to reduce breast pain during physical activity, scientists have measured the way boobs bounce, and discovered that they move in a butterfly-shaped motion – researchers at the University of Portsmouth report that breast tissue moves 50 per cent up and down, 25 per cent forwards and backwards, and 25 per cent side-to-side.
That's a lot of movement to keep under control while you run. And further data shows that insufficient support can do more than cause a bit of discomfort – it can reduce the activity of the pectoral muscle by 55 per cent, which is something that may even contribute to muscle fatigue. It doesn't matter what speed you run at either, as pace doesn't appear to increase or decrease movement
Why do I need to wear a high-impact sports bra for running?
When it comes to running sports bras, high-impact support is crucial, and there really is no debate about this. 'There is a greater degree of breast movement during running compared to other sports,' explains Laura Kong Brown, product manager for Runderwear. 'The average bra size in the UK is 34/36D and at this size, each breast will weigh 500g!'
A well-fitted and supportive sports bra is, therefore, key, because 'running bras are specifically designed for high-impact activity, for which additional support is required,' adds Kong Brown.
What kinds of running sports bras are there?
There are two main types of the best sports bras for running: compression and encapsulation.
'Compression bras work by pressing your breasts against your chest to reduce movement. Encapsulation bras compartmentalise each breast into separate cups, like normal bras but with extra support. This controls movement across all three planes of the body (up and down, in and out, and side to side),' says Kong Brown.
The best running sports bra design you choose will ultimately come down to your personal preference, but encapsulation bras tend to boast the most high-impact support because they are designed to separate and support each breast individually.
How to choose the perfect running sports bra
Finding the right fit matters, says Kong Brown, before adding 'it's vital that women measure their bra size at least once a year,' whether they experience any changes in weight or not.
Going to a specialist bra shop for an expert bra fitting is always a good idea. But if you prefer to order online, look out for brands that offer virtual bra fitting services, or follow these home tips to check you've bought the right fit:
The underband: A good-fitting underband should sit flat across your back in a straight line. You should be able to fit two fingers in between your body and the band. When you buy a new sports bra, you should always wear it on the loosest hook – the extra hooks are a design feature so that when the elasticity wears over time, you can tighten the band.
The straps: In a well-fitted sports bra there should only be one inch of give, meaning you can fit two fingers under the strap at the shoulder area.
The cups: The best running sports bra should encapsulate your breasts perfectly for a proper fit. This means your breasts should not be spilling out of the bra. The signs of a poorly- fitted cup include having room between the cup and the skin, or wrinkling in the cup of the bra, both of which indicate that it is too big.
6 of the best running sports bras in 2023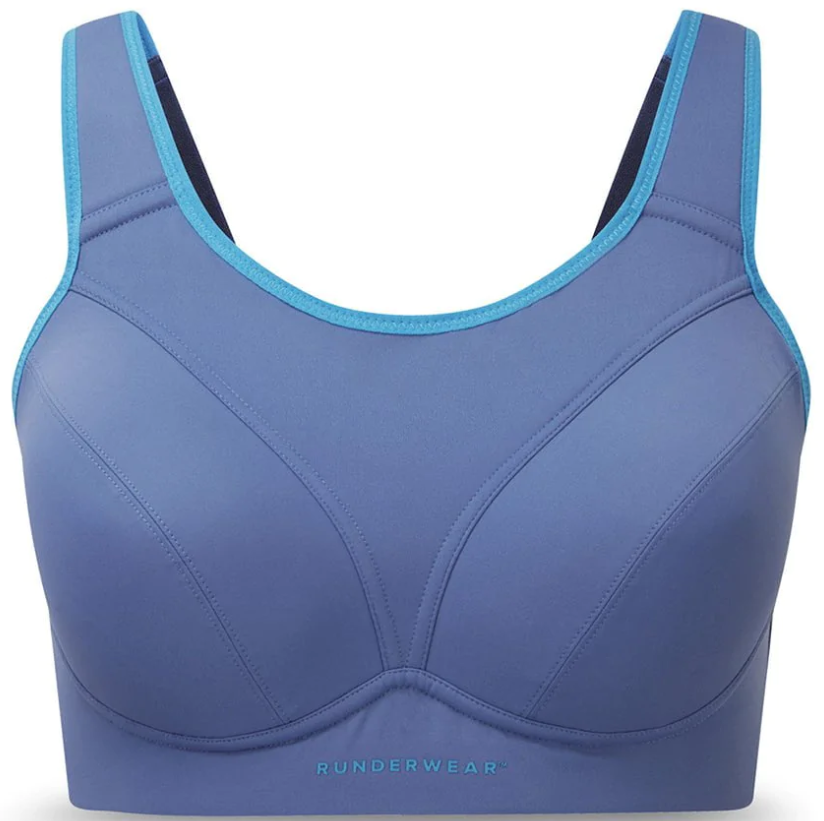 BUY IT NOW:
£45 / amazon.co.uk
Style: Encapsulation
Cup sizes: C to H
Reason to buy: A reliably secure and supportive bra that's a breeze to get on and off.
Formally called the Easy-On Running Bra, the Power Running Bra is a firm favourite in the running community due to its amazing level of comfort, security and support. It's been so sleekly designed that you'll barely notice it's there, and the moulded cups and encapsulated cut keeps boobs supported whatever size you are.
It doesn't nip around the insides of the shoulder blades either, thanks to its open back rather than racerback design. The padded shoulder straps are a thoughtful extra for both small or large sizes, as they prevent straps and the adjustable clips on the straps from digging in as you drive your arms. The soft fabric is also incredibly sweat-wicking, so you won't be peeling off a drippy, sweaty number with this option!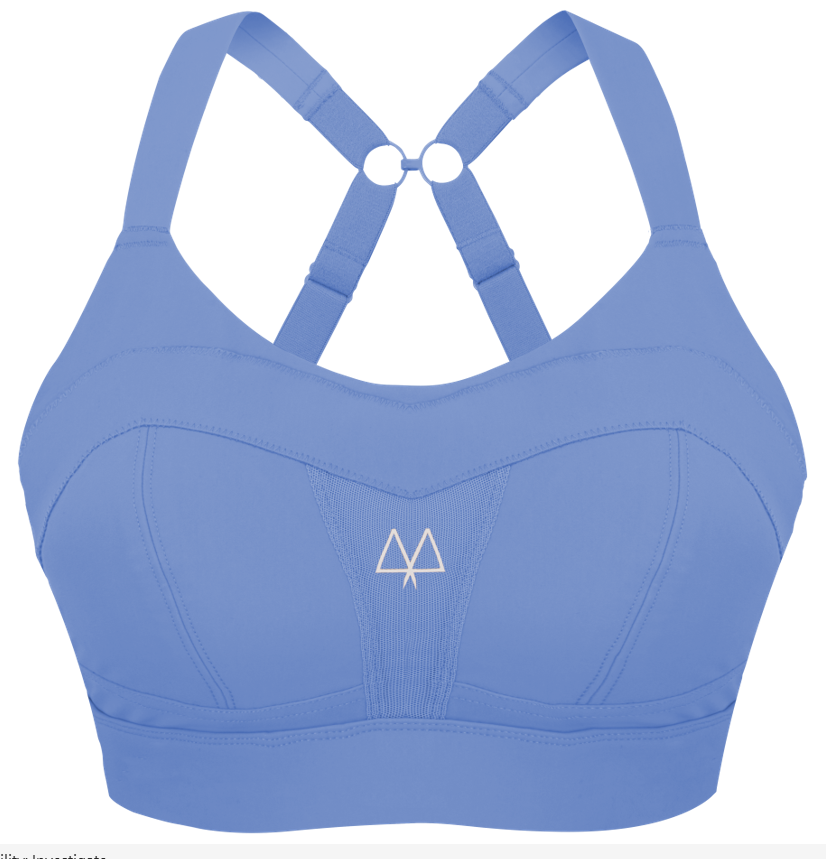 BUY IT NOW:
£64 / maaree.com
Style: Encapsulation
Cup sizes: C to G
Reason to buy: It comes with a 12-month guarantee so it's a great investment
Hats off to Mari Thomas, Maaree's founder and experienced tester. Frustrated she'd never find a bra that could suppress the upward bounce, she designed one herself. Enter a reassuringly substantial full-coverage bra for larger chested women with a trademarked Overband – a curved panel that runs over the top of the breasts – that's anchored, via adjustable side straps, to the very wide and supportive underband.
All this works to banish a huge amount of breast movement, while the fast-drying and breathable fabric will help you stay cool and comfortable. And for extra wearability, this multi-award winning bra has convertible two-way padded shoulder straps so you can wear it as a racerback or in classic style. Top marks!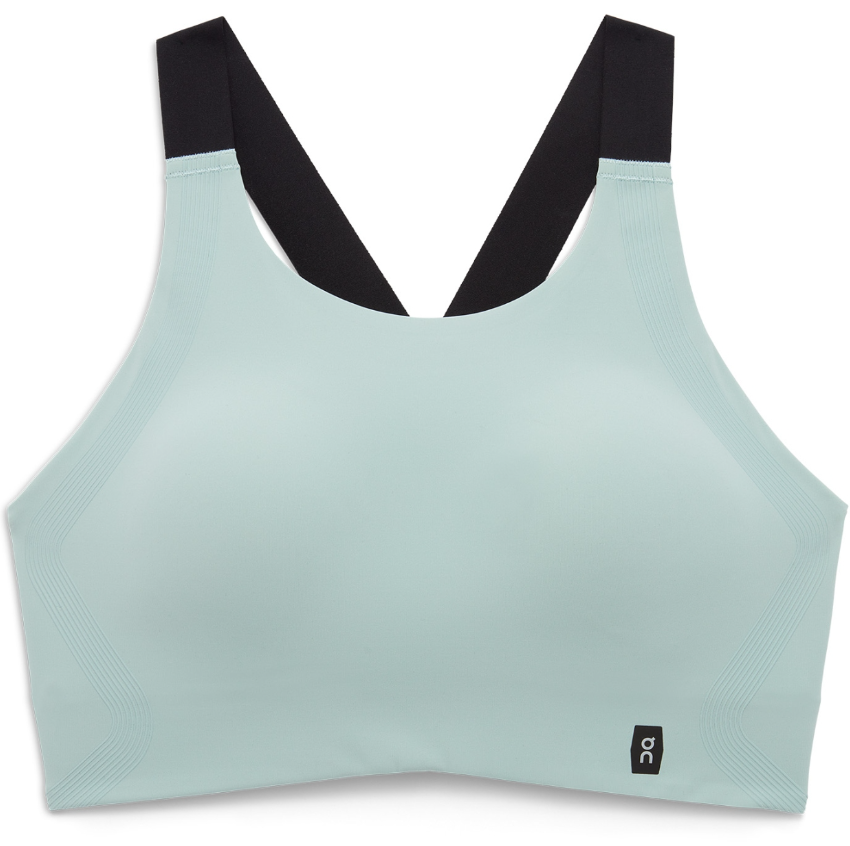 BUY IT NOW:
£65 / on-running.com
Style: Encapsulation
Cup sizes: XS to XL
Reason to buy: A comfy seamless bra that's great for HIIT workouts as well as running
This new sports bra from Swiss sportswear brand On has been two years in the making – and the results are impressive. Tested in labs and on their wide roster of professional athletes, the Performance Bra is intended for those seeking maximum support for high-intensity activities such as running, HIIT, and any workouts featuring explosive movements.
A single-piece, ergonomic construction combines with thick padding – without the use of wires or irritating seams – to support each breast individually, while the straps are made of responsive elastic that adds stretch for an unrestricted feel and makes getting in and out of the bra a doddle. The high neckline is not only on-trend, but provides extra support to reduce vertical bounce, while a full mesh back panel lets heat out so you can dry off in record time.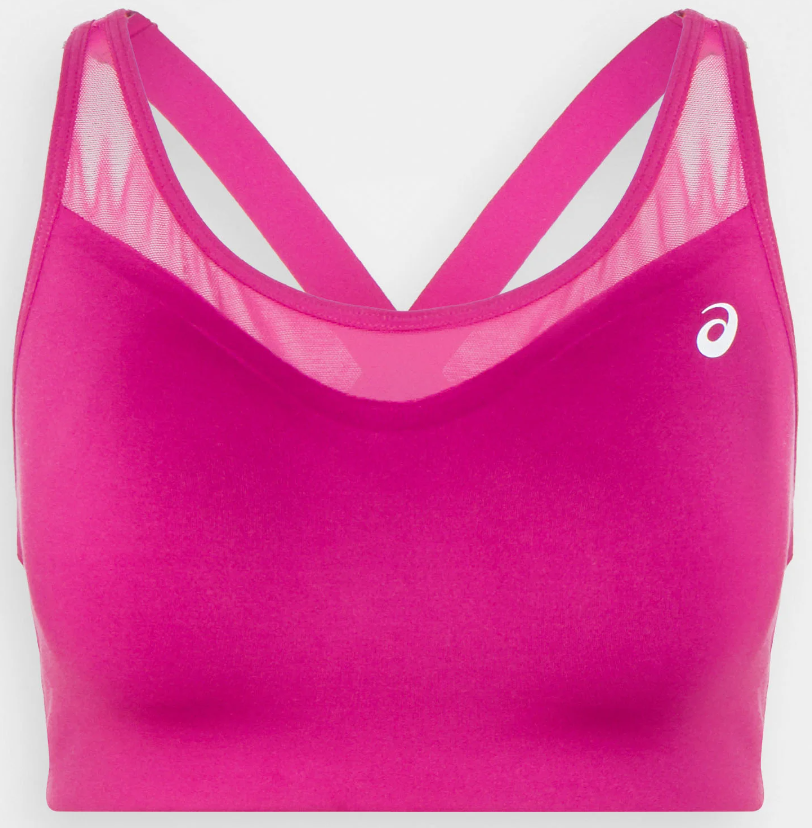 BUY IT NOW:
£42 / asics.com
Style: Compression
Cup sizes: XS – XL
Reason to buy: A super stylish design that's perfect for smaller busts
The Accelerate Bra from global running brand Asics uses compression technology to beat breast bounce, making it an effective and comfy option for smaller sizes. In fact, you'll be surprised how much support a bra that fits over the shoulders can offer.
Style is key here, as the higher cut and mesh panelling around the front (for added breathability) means that you won't think twice about wearing it as a crop top on hotter days – and it comes in a choice stunning colours, including Fushia, Red, and Orange, as well as basic Black. The bra's underband fits softly against the skin, and you can also adjust the cross-back straps for a tailored fit.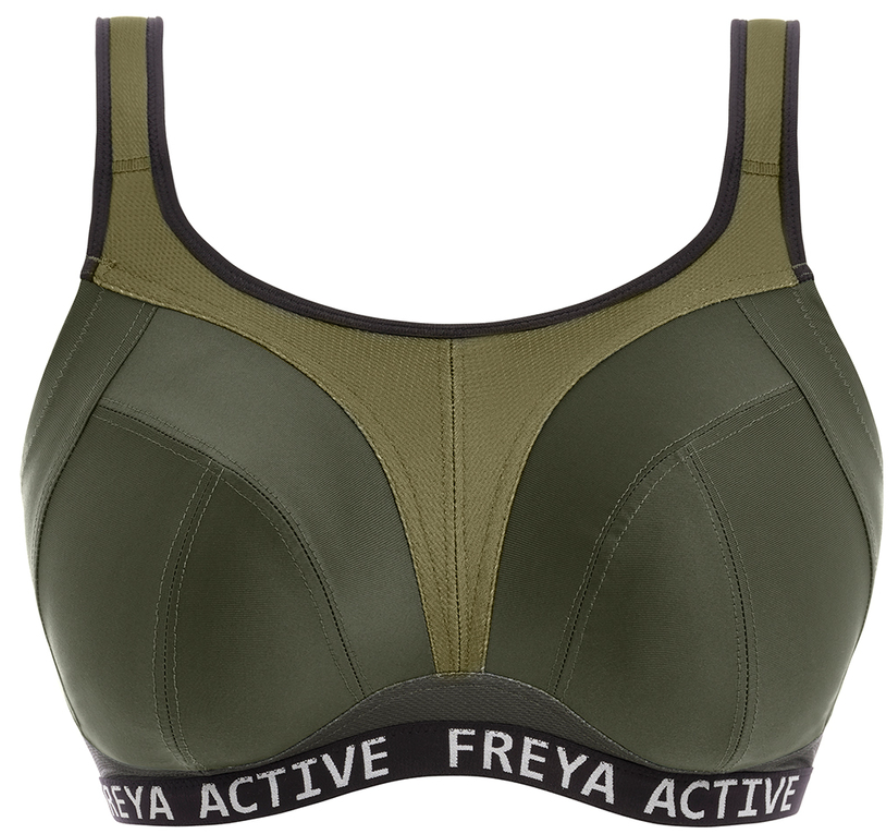 BUY IT NOW:
£34 / freyalingerie.com
Style: Encapsulation
Cup sizes: C to J
Reason to buy: A great choice for those who dislike wired styles and moulded cups
While moulded cups can flatter, they're not for everyone, and we appreciate that sometimes only a non-padded option will do. Enter Freya Active's hugely supportive soft cup, non-wired Dynamic Bra, that works by encapsulating the breasts and anchoring them in place with a wide and strong – but equally soft and comfortable – underband.
Available in multiple colours, the fit is perfect, with the full-coverage neckline cutting just above the chest to keep everything steady. The four-hook fastening at the back means that this bra continues to fit after multiple wears and washes. Plus, we love the addition of a J-hook fastener on the padded, adjustable straps for choosing a racerback or open back option. Highly rated for running.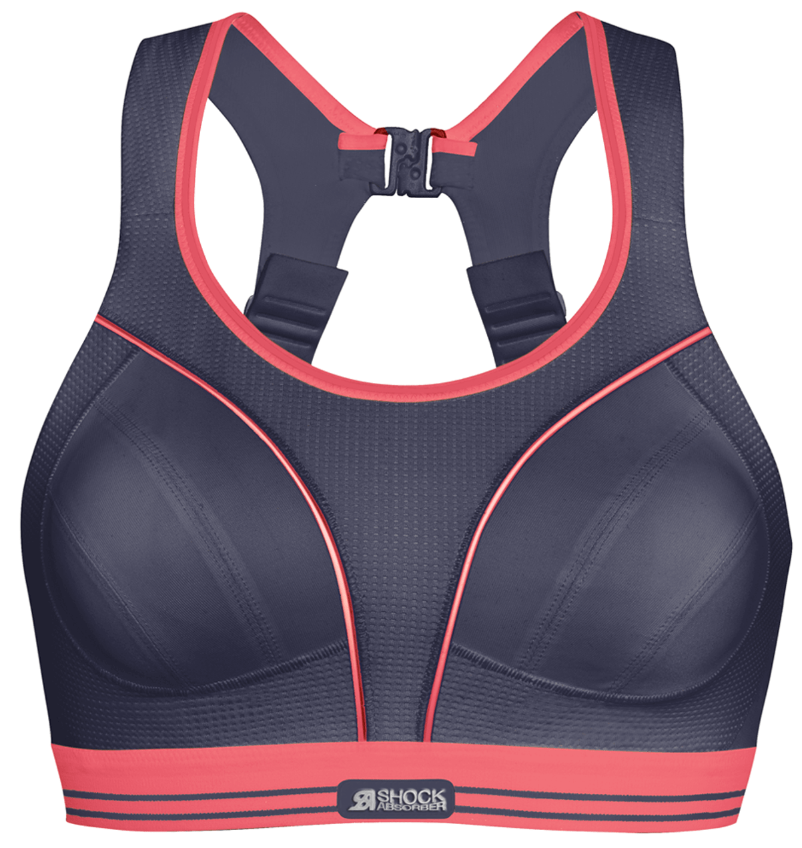 BUY IT NOW:
£46 / wiggle.co.uk
Style: Encapsulation
Cup sizes: B to G
Reason to buy: You can choose between a padded and non-padded style
Shock Absorber's award-winning Ultimate Run Bra has long been the go-to for women who do extreme-impact activity such as running, pleasing both smaller and larger chested fitness fans alike. Its special design features an Infinity-8 support system, which counteracts the figure-of-eight movement breasts go through as you run, and University of Portsmouth tests show it reduces bounce by as much as 78 per cent.
This moisture-wicking style is winner in our books for its non-slip, padded and adjustable straps alone, but we also love the soft, seamless inner that helps to reduce chafing. We've shown the non-padded, non-wired version here, but those who prefer moulded cups can also buy a Padded style here (£52, A to F cups).
Related content:
Words: Joanna Ebsworth | Lead image: Shutterstock