Get ready to hit the trails running with our pick of the best new trail running gear for women. From cosy jackets and sweat-wicking base layers to grippy shoes and handy gadgets, we've got you covered…
Best trail running tops and base layers Let's face it, running gets you hot and sweaty – no matter how cold it is outside. For your next trail run, try a lightweight base layer to keep you comfortable and dry, without overheating. We love the Rab Women's Force Tee, which features soft stitching and low profile seams for comfort and zinc odour control to keep you fresh.
When running over uneven terrain, you need to support your chest. With both adjustable or non adjustable straps, this running bra has an extra curved panel that supports upward motion and distributes pressure evenly. Maaree offers a huge range of sizes, from 30C to 38G, and they even offer a handy size calculator if you're not sure which fit to go for. We love the range of bright and bold colours, too!
This is an ultra-fine mid-weight merino wool baselayer that works well in all seasons. The inner layer of this top is sweat-wicking, while the outer layer is water-repelling. Plus, wool is a natural fabric and very good at resisting body odour – perfect for those sweaty trail runs!
Best trail running jackets and vests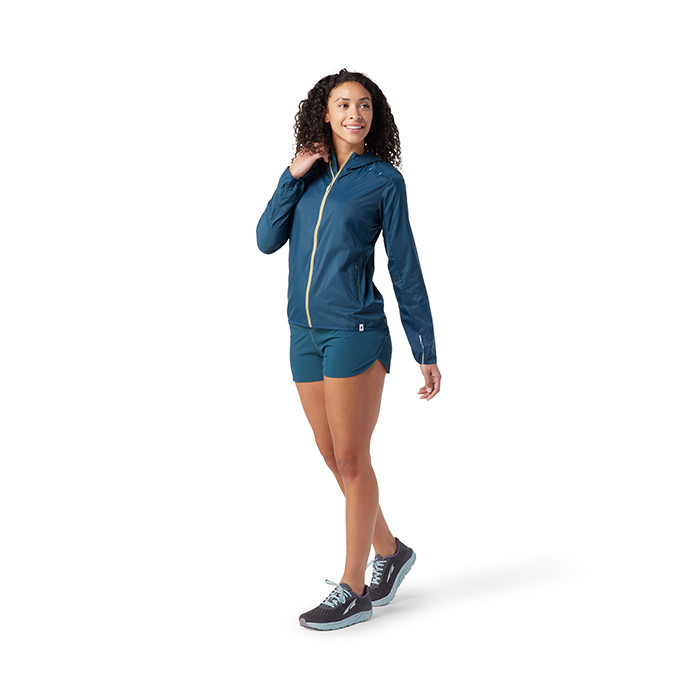 Breathable, quick-drying and odour resistant, wear this lightweight mid-layer over a Tee in cooler weather or at the beginning and end of your run on warmer days. The strategically placed panels of Merino Sport Ultralite fabric help regulate your temperature as your activity heats up, plus, its nylon outer shell offers added protection from wind and moisture.
With outdoor running, you can never be quite sure as to what the weather will throw at you – especially in the UK! Stay protected with the Down For It All Vest from Lululemon. Water resistant, windproof and breathable, the four-way stretch in this 700-fill-power responsibly-sourced goose down vest moves with you as you run. It's super cosy, thanks to the PrimaLoft® insulation. Plus, it's available in four different colours.
If you're planning a longer-distance trail run, it's vital for warmth and safety that you carry an insulated layer. The Thermoshell Pro is lightweight but warm, with water-resistant Primaloft coming into its own when the heavens open.
The Harrier Kinder is unisex, but is sold in a range of sizes to suit both male and female runners. You get a lot for your money, with two chest straps for stability, plenty of pockets, including front pockets for water bottles, and Durable Water Repellent treated fabric.
One of the best shell layers for runners, with high levels of wind and rain protection while also offering a stretch fabric for freedom of movement, the Kamleika Jacket from OMM is sure to keep you high and try. The 265g (average) weight jacket has excellent breathability, too. Other features include taped seams, thumb loops and a fitted hood.
Best trail running leggings and shorts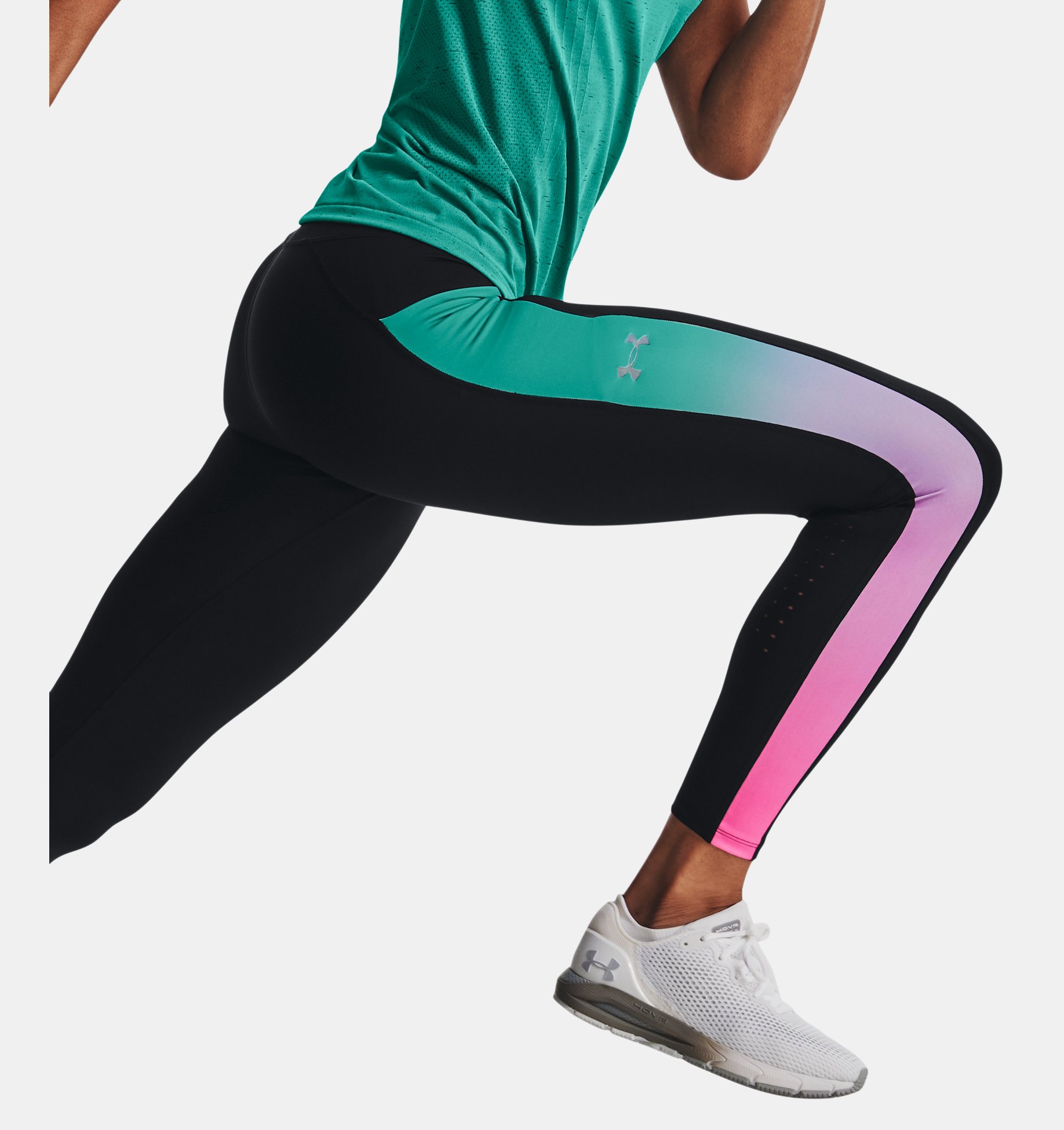 Sweat-wicking and fast-drying, these dual-layer breathable leggings have a soft brushed interior, a four-way stretch material and a water-resistant pocket to keep your phone safe and dry. Many colourways also use a fluorine-free water repellent treatment to keep you comfortable, whatever the weather.
Tight-fitting stretch shorts offer support to muscles and also reduce the potential for chafing between thighs. But not everyone loves the look of Lycra, so a Flanci skort or shorts could be your perfect solution, with a flattering cover-up layer. They also come in a wide range of fun colours and patterns!
The clue is in the name! These weather-resistant leggings, designed specifically with trail runners in mind, feature a wind-resistant overlay on the front to block bitter winds and keep you warm. In addition to this, the backs of the leggings are designed to allow your body to ventilate. Plus, the pre-shaped knees and built-in stretch ensure a natural range of motion when running on uneven terrain.
Best trail running socks
For blister-free running, the padded zones in these socks absorb shock, while active compression increases ankle stability and reduces the risk of injury. The socks are also designed to stay put, without slipping down, further preventing chafing or rubbing.
Champions of chafe-free workout gear, Runderwear, has created some super cushioned running socks to keep your feet happy and blister-free. Cushioned panels protect the feet overlong distances, while a mid-foot grip is engineered with elastane to support the foot arch and prevent the sock from moving about. The breathable, moisture-wicking fabric also helps to regulate foot temperature and prevent overheating.
Best trail running gear and accessories
Stay snug on cold days with this cosy neck warmer, created using oh-so-soft sweat-wicking fabric. Designed to provide a custom fit, the fabric moves sweat away from your skin to keep you dry and comfortable. You'll also be able to breathe easily while running thanks to the perforated section for your nose and mouth.
Even the best trail running fanatics can give their training a boost with some high-tech gear, like a sports watch. This user-friendly GPS watch from Wahoo keeps you on track while trail running (or cycling or swimming). Displays heart rate, running pace and cadence, and broadcasts it to 3rd-party apps. The high colour contrast screen is easily readable, no matter where you are, plus it has an impressive battery life of up to 2 weeks!
Best trail running shoes
The OROC Ultra 290 is the world's first long-distance orienteering shoe, featuring revolutionary Twin-Spike technology for the ultimate grip when racing over extreme terrain. Two protruding spikes offer firm grip on frozen ground, rock and mud, while the POWERFLOW+ midsole provides increased cushioning and a roomier fit. Plus, the super-durable, snag-resistant ballistic nylon one-piece upper keeps your foot protected as you race through the fiercest of vegetation on trail runs.
For more options, check out our in-depth guide to the best trail running shoes for women.