Got your sights set on running a marathon this year? Find your perfect 26.2-miler with our pick of the best marathons in the world.
If you're going to run 26.2 miles, you might as well see some new sights along the way. As the popularity of running continues to grow, so to do the events and races taking place each year. Marathons, in particular, are often seen as the crème de la crème of the running world, a key highlight on the event calendar. But what are the best marathons in the world?
Get kitted out for your marathon with the best road running shoes for women
Try the Brooks Ghost 15
BUY IT NOW:
$140 / £130 / brooksrunning.com
Whether you've been gradually building up to 26.2 miles, and you're looking to sign up to your first race, or you're a seasoned pro working your way through the biggest events in the world, we've rounded up the best marathons in the world to add to your running bucket list. From London to Berlin, Paris to New York, get ready to stride out and see the sights…
Missed out on the London Marathon ballot? Check out these marathons with guaranteed entry
10 Best Marathons in the World
Belfast City Marathon
Berlin Marathon
Brighton Marathon
Chicago Marathon
Edinburgh Marathon
Loch Ness Marathon
London Marathon
Manchester Marathon
New York City Marathon
Paris Marathon
Keep reading to find out all the key information about the best marathons in the world – including dates, entry fees and more.
First timer? Learn how to avoid hitting the wall during a marathon
Belfast City Marathon
When: 30 April 2023
Website: belfastcitymarathon.com
Deadline for entry: 7 April 2023
Entry fee: From £42
Start: Stormont Estate (Prince of Wales Avenue)
Finish: Ormeau Park
The capital of Northern Ireland is a thriving city that can hold its own with the world's best: it's the city where the RMS Titanic was built (the museum dedicated to this ill-fated ship is the nation's top tourist attraction); it's where the pneumatic tyre, portable defibrillator and modern tractor were invented; and it also happens to hosts the first-rate marathon.
Stormont, Northern Ireland's Parliament Building, makes for a dramatic and historically significant backdrop for the start line, and the imaginative route takes runners through east, west, south and north Belfast, passing numerous landmarks, including City Hall. Well-supported, warm and welcoming – and with a wheelchair and team relay race, too – this May event is most certainly a must-do.
Discover the best running sports bras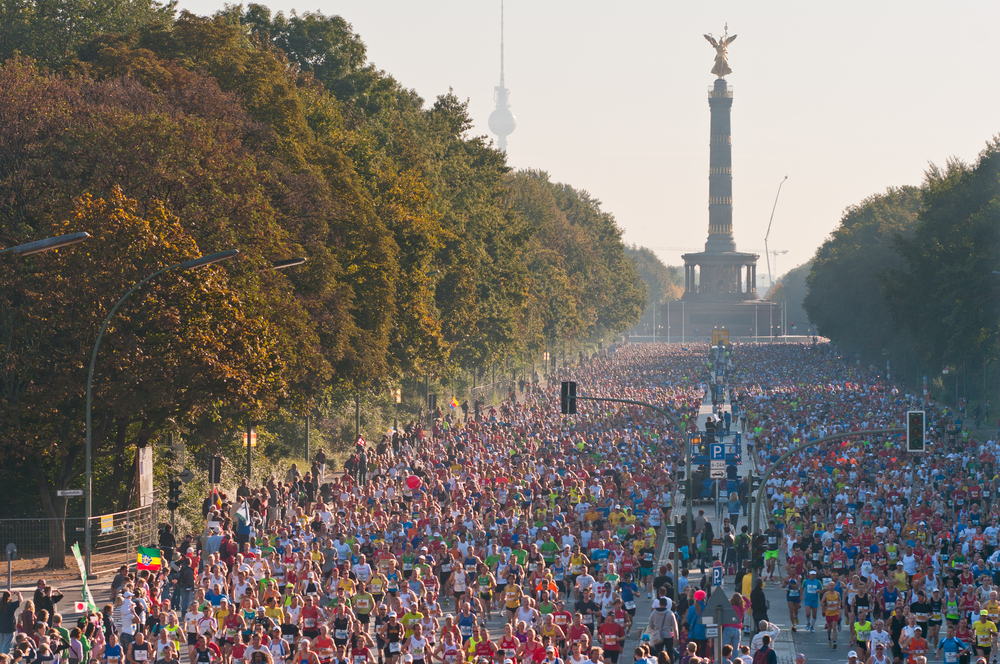 Berlin Marathon
When: 24 September 2023
Website: bmw-berlin-marathon.com
Deadline for entry: Lottery entry for 2023 is closed. Charity places still available.
Entry fee: 163 euros
Key landmarks: Brandenburg Gate
Fast and flat, and no less than seven of the ten fastest marathon times on record-eligible courses have been set here, including Eliud Kipchoge's 02:01:39 World Record in 2018. The fact it's so flat and fast makes it popular with elites, PB chasers and first-timers alike, and the crowd support is always electric – it's estimated that one million supporters turn out to help spur runners on.
The 26.2-mile loop takes you through several boroughs in Berlin, before finally seeing you run under the historic Brandenburg Gate. But don't be caught out – the finish line is actually some 150m further on from here, so keep a little extra energy in reserve for that final push to the finish line!
Discover the best running shorts for women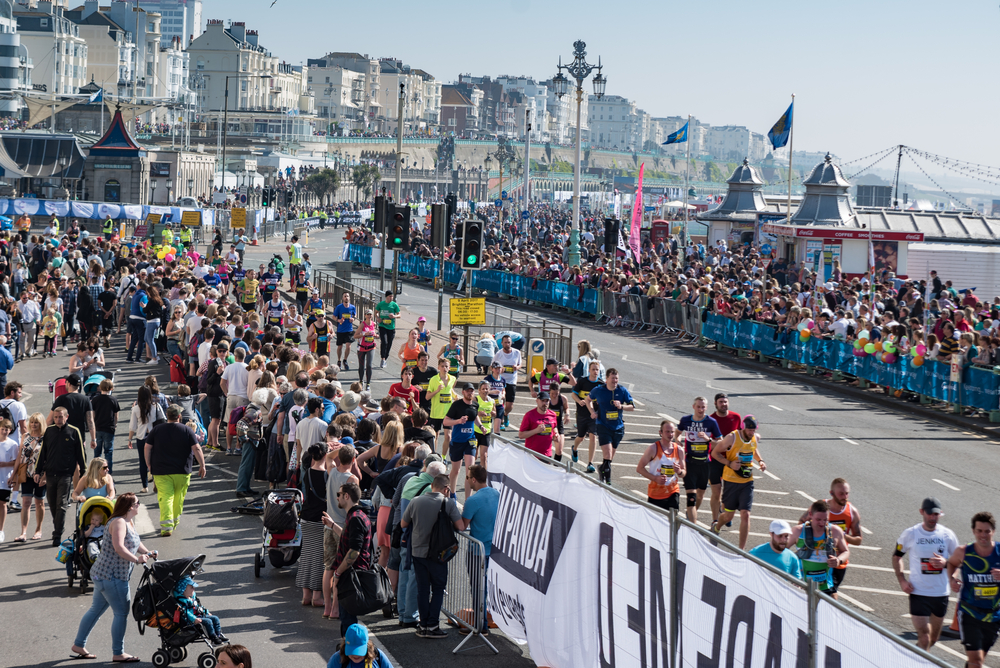 Brighton Marathon
When: 2 April 2023
Website: brightonmarathonweekend.co.uk
Deadline for entry: Entries now closed for 2023.
Entry fee: £82.50
Key landmarks: Preston Park, The Royal Pavilion
Sometimes referred to as 'London by the sea', but very much an event in its own right, the Brighton Marathon is a hugely popular race and one that has grown considerably since its launch back in 2010. While 7,589 runners hit the course during the first event, now more than 12,000 participants to the start line, with another 6,000 taking part in other events across race weekend, including the BM10K and the Mini Mile.
The course is scenic and well supported – in fact, some 150,000 people come out on race day to cheer on runners, meaning you'll have plenty of positive vibes sent your way when the going gets tough. Starting in Preston Park, the route goes into Withdean before the turn back down the London Road towards the city. Once past the Pavilion, the route goes up into Kemptown and then follows the coast to Ovingdean before a final turn back for a breath-taking view of the city, following the coast along the promenade and into Hove before finishing at Hove Lawns.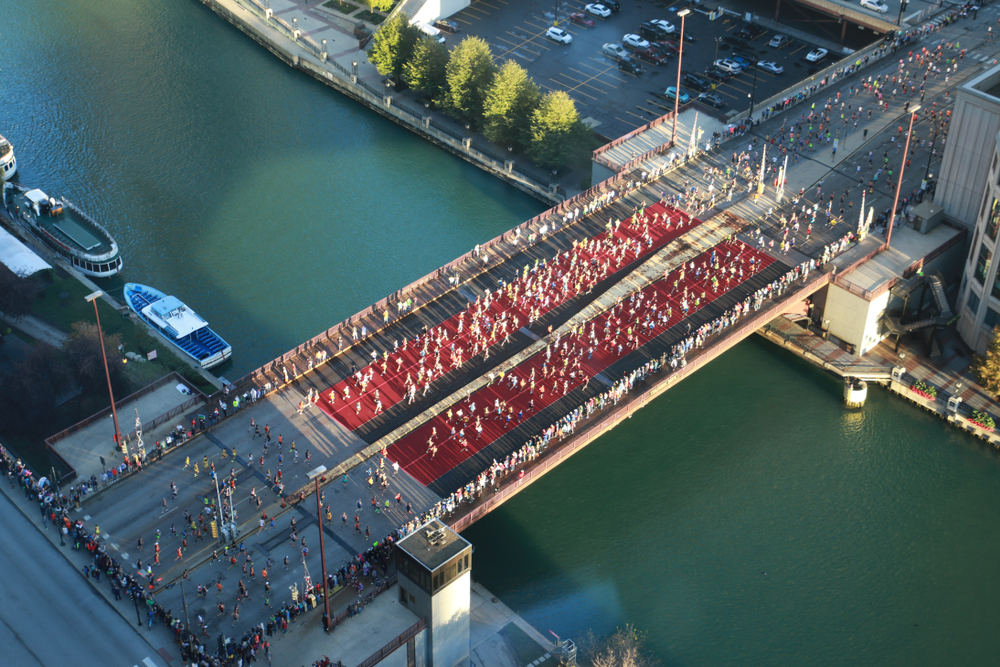 Chicago Marathon
When: 8 October 2023
Website: chicagomarathon.com
Deadline for entry: Entries now closed for 2023. Limited number of charity places still available.
Entry fee: $230 for US residents, $240 for non-US residents
Key landmarks: Grant Park, Wrigley Field baseball park, Greektown, Little Italy, Chinatown and Bronzeville
As one of the best marathons in the world and a World Marathon Major, The Chicago Marathon attracts an impressive field of more than 40,000 runners, along with an estimated 1.7 million spectators. Its relatively flat course means it's popular with both elites and fun runners, and the loop course takes participants on a tour through 29 of the city's diverse and vibrant neighbourhoods, including Greektown, Little Italy, Chinatown and Bronzeville.
Starting in historic Grant Park (affectionately dubbed Chicago's front yard), you'll go on a fabulous scenic tour of the city, which will hopefully take your mind off your aching feet. And as well as an array of historic buildings and renowned architecture, you'll also glimpse some famous sports stadiums, including Wrigley Field baseball park, home of the Chicago Cubs, and Soldier Field football stadium, home of NFL's Chicago Bears.
Competition to enter the race is fierce, but there are several options, including a lottery for US entrants, charity entry and a GFA ('good for age') qualifying time. International entrants can purchase their place as part of a marathon travel package.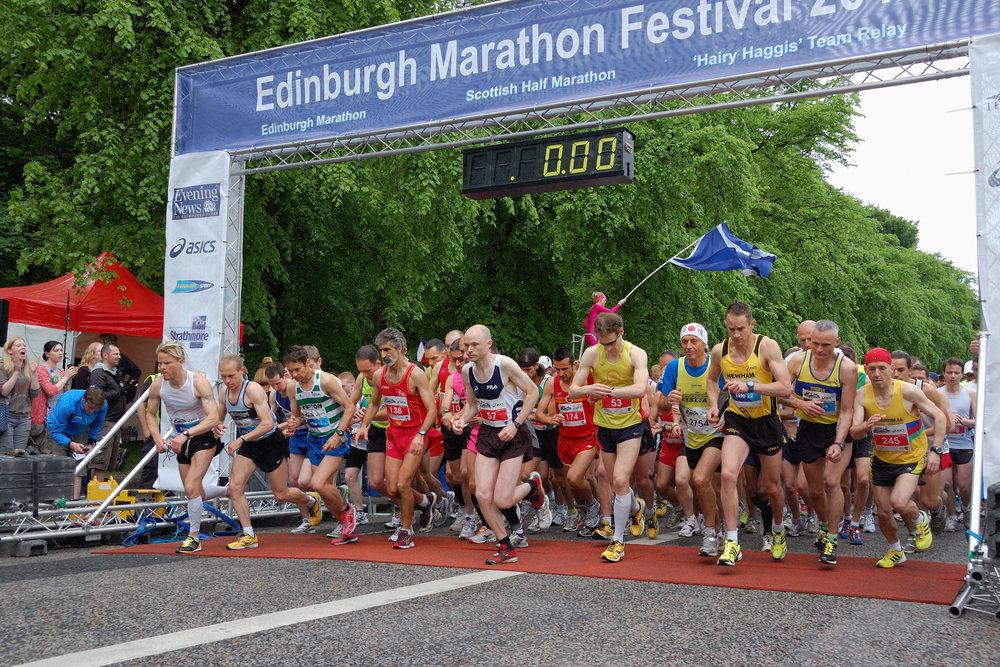 Edinburgh Marathon
When: 8 October 2023
Website: chicagomarathon.com
Deadline for entry: Entries now closed for 2023. Limited number of charity places still available.
Entry fee: $230 for US residents, $240 for non-US residents
Key landmarks: Potterrow, National Museum of Scotlan, Scottish National Gallery, Edinburgh Castle, Holyrood Park
This popular city race offers up one of the fastest marathon courses in the UK, with a flat route offering great personal best potential. But remember, this doesn't necessarily mean you're in for an easy ride – the temperatures in Scotland can be unpredictable, so expect anything from blustery winds and hail, to searing heat. That said, it's worth the risk – The Edinburgh Marathon is Scotland's most popular 26.2-mile race, in part due to its historic and scenic route.
You'll start on Potterrow, alongside some 16,000 fellow runners, in the grounds of one of the oldest universities in the world, before making your way into the heart of the city centre. Heading past landmarks including the National Museum of Scotland and the Scottish National Gallery, all the while with Edinburgh Castle as the backdrop, you'll then run through Holyrood Park before making your way towards the coast, with a nice downhill stretch and a stunning view of the sea.
Loch Ness Marathon
When: 1 October 2023
Website: lochnessmarathon.com
Deadline for entry: 17 July 2023
Entry fee: Regular entry from £65. Charity places from £35.
Key landmarks: Scottish Highlands, Loch Ness, Inverness
With stunning views, a fantastic atmosphere and great organisation, the Baxters Loch Ness Marathon is definitely one to get excited about. Starting at an atmospheric, remote moorland setting (which you'll be bused out to for 5.30 am), the event has a magical feel right from the beginning.
Once you cross the start line, you'll follow a point-to-point course that will take you through stunning Highland scenery and along the south-eastern shore of Loch Ness (why not keep an eye out for Nessie to take your mind off your legs?). After crossing the River Ness, you'll then make your way to the finish in Inverness, the capital city of the Highlands, where spectators will be waiting to give you a well-deserved cheer across the finish line.
Why you should run in parks this summer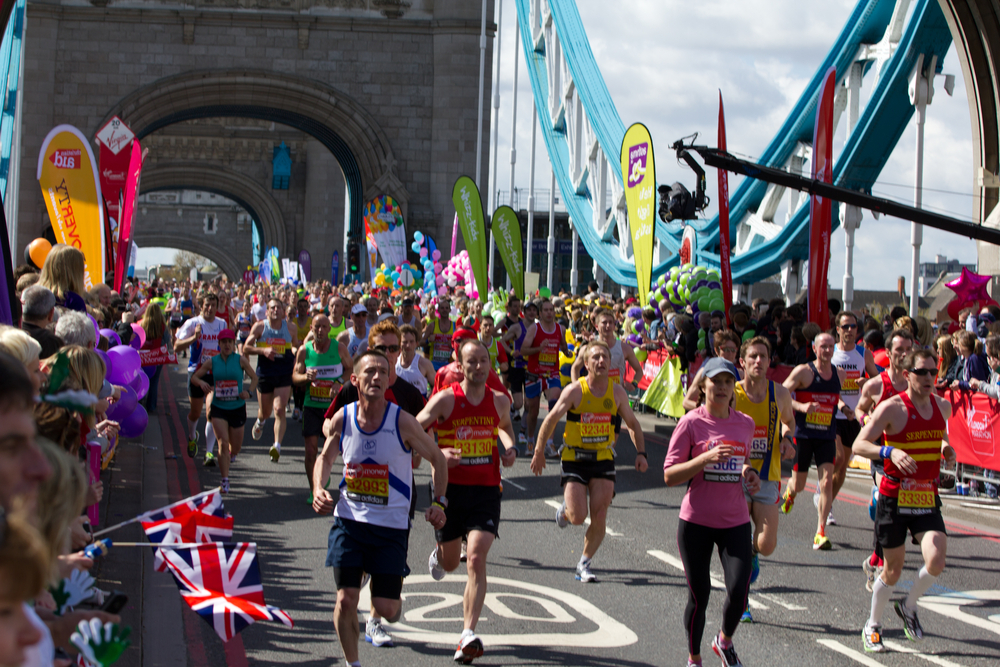 London Marathon
When: 23 April 2023
Website: tcslondonmarathon.com
Deadline for entry: Ballot for 2023 is now closed. Charity and virtual places still available.
Entry fee: £49.99
Key landmarks: The Cutty Sark, Tower Bridge, Buckingham Palace, London Eye
One of the best marathons in the world, this iconic event attracts runners from across the globe, including elites, celebrities and fancy-dress fun runners, all who wish to experience the incredible atmosphere created by participants and spectators alike. It's also an epic opportunity for charities: in fact, according to The Guinness Book of World Records, it's claimed to be the largest fundraising event in the world.
The London Marathon can be notoriously difficult to get into, due to its ballot entry system, which is entirely random. If you're not successful in the ballot though, fear not – there are other means of entry, including charity places and 'Good For Age' entry.
If you manage to secure your place, you're in for a treat. The course begins at three different starts (red, green and blue), before converging after three miles, in Woolwich. You'll then run past the Old Royal Naval College and the Cutty Sark in Greenwich, before moving into Deptford and Surrey Quays. The halfway point at Tower Bridge is an iconic moment and crowd support from this point on is positively deafening. The course then heads out towards Canary Wharf, before turning back through Blackfriars, Victoria Embankment and Temple, before finally heading into Westminster. It's hard not to feel overwhelmed with emotion as you head towards The Mall and the finish line, for a true hero's welcome.
Manchester Marathon
When: 16 April 2023
Website: manchestermarathon.co.uk
Entry fee: Public entry from £69. Charity places from £20.
Key landmarks: White City Arch, Old Trafford Stadium, Albert Memorial Hall and the Museum of Science & Industry.
As the UK's second-largest marathon, with 25,000 participants, you know you're guaranteed a great race-day atmosphere if you decide to take on 26.2 miles in Manchester. The course, which has unforgettable crowd support, is also flat, making a great event for both first-timers and PB chasers alike.
The completely closed-road route starts under the White City Arch, with its world-famous backdrop of Manchester United's Old Trafford Stadium, before heading out through the city streets. The course includes a three-mile loop in the centre itself, allowing runners to take in some of the city's most impressive and iconic landmarks, including the Manchester Opera House, Spinningfields, Albert Memorial Hall, Midland Hotel and the Museum of Science & Industry.
With a welcoming atmosphere and unwavering course support, the Manchester Marathon is loved by elites and fun-runners alike, and with the option of taking part as either a team of two or four, it's a marathon experience that's open to all.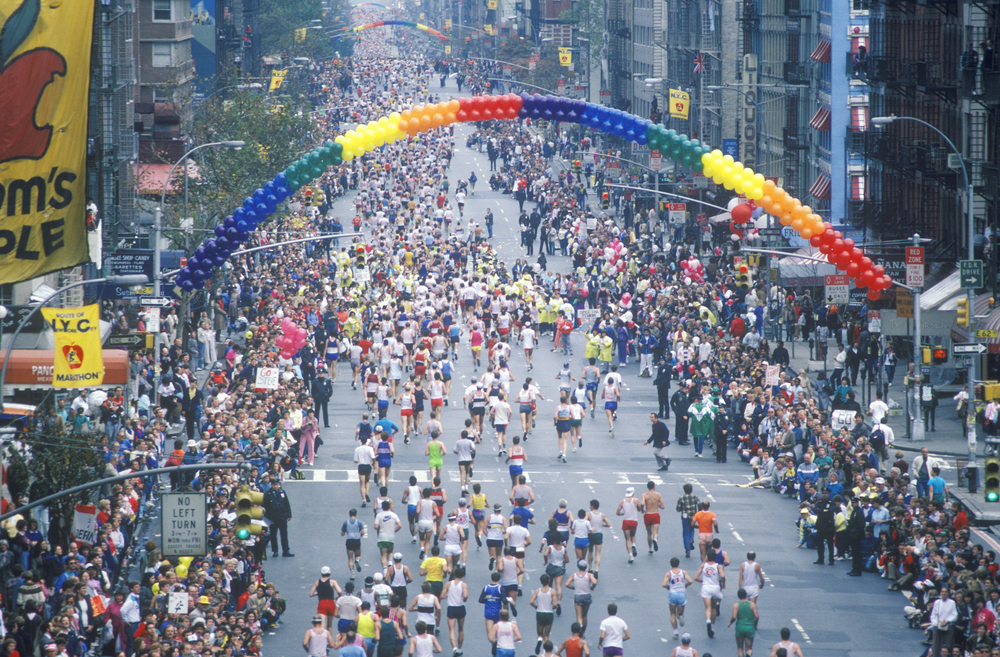 New York City Marathon
When: 5 November 2023
Website: nyrr.org/tcsnycmarathon
Deadline for entry: General applications for 2023 now closed. Charity places still available.
Key landmarks: Staten Island, Verrazzano-Narrows Bridge, Central Park
Another of the six World Marathon Majors, The New York City Marathon officially gained its bragging rights as the world's largest marathon when, in 2016, 51,388 participants crossed the finish line. And it's not hard to see why it's so popular. With a start line in Staten Island, runners set off and soon hit Verrazzano-Narrows Bridge, after which they continue on a route that weaves through the remaining four of New York City's boroughs (Brooklyn, Queens, Manhattan and The Bronx), before finishing in iconic Central Park.
Yes, the course is challenging (with several hills and bridges to navigate), but the energy from the crowds is electric and will be sure to lift your spirits if you find yourself flagging. And of course, there are the sights to take in, to keep your mind off your aching legs: the sweeping views of that world-famous skyline are enough to make even the most tired marathon runners' hearts sing.
Check out these post-race recovery tips for marathon runners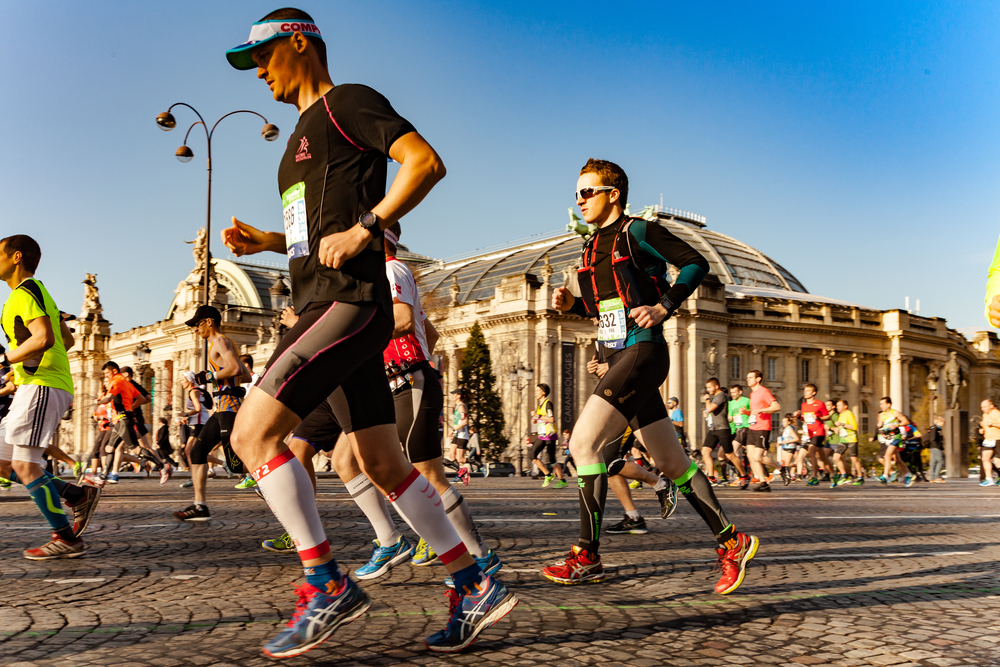 Paris Marathon
When: 2 April 2023
Website: schneiderelectricparismarathon.com
Deadline for entry: Entries for 2023 now closed. Pre-registration for 2024 now open.
Key landmarks: Avenue des Champs-Élysées, Place de la Opera, the Louvre and the Eiffel Tower
One of the most popular marathons in Europe, and one of the best in the world, Paris is definitely one you should add to your bucket list if you're looking to complete 26.2 miles abroad! With its proximity to the UK, there's no need for a long-haul flight and several days of adjusting to a new time zone: simply hop on the Eurostar, move your watch by an hour and – voilá – you're good to go. Be mindful of the weather, though. Paris in April can be either very wet or very hot, so make sure you've got a variety of running kit packed, so you can take the weather into account.
Famous for offering a fantastic, scenic course, the race begins on the Avenue des Champs-Élysées, with a lovely downhill route, before circling around the Place de la Concorde. A long loop takes runners into the heart of Paris and the sights you pass en route will help the miles fly by. While there are some narrow streets to contend with, it's well worth it. You'll pass Place de la Opera, the Louvre and the Eiffel Tower, before heading along the Seine and through the Alma tunnel.
With a virtually flat course, fantastic crowd support and aid stations located at every 5km of the race, you'll be well catered for throughout. And at the finish, you can enjoy a celebratory beer outside Gare du Nord, before catching the Eurostar home, your medal hanging proudly around your neck.