Wearing a pair of the best workout shoes for women can be a total game changer. That's because choosing the right kind of footwear for your favourite workouts can make a huge difference to your performance and comfort levels, and even substantially reduce your risk of injury, whether you're lifting weights, doing a HIIT class, running on a treadmill or throwing yourself about in a CrossFit gym.
But with so many types of shoes on offer, which pair is right for you? Read on to discover how you can find your perfect fit, then check out our round-up the best workout trainers for women, all highly rated for their comfort, durability, and performance-enhancing abilities.
Why do I need to wear workout shoes to exercise?
'When we exercise, our bodies operate at a higher intensity, meaning our feet take more of a beating than normal because they take most of the impact,' says Dean Zweck, Product Development Manager at Total Fitness.
'Failing to wear shoes that can adapt to this impact and protect your feet increases your risk of both short and long-term injury. Ankle strains and fractures are some of the most common injuries when it comes to inappropriate footwear, but they can also cause corns, bunions, and joint pains within your feet, particularly around your toes and the ball of your foot. These can cause long-term issues, which may prevent you from working out as regularly, and can even affect your day-to-day life, limiting your mobility when walking,' he adds.
Aside from the obvious foot injuries, wearing the wrong kind of footwear for your workout can also increase your risk of accident. Dangling heavy weights over your head or jumping laterally during an intense HIIT class requires a pair of the best workout shoes for women with the appropriate grip and correct level of support, stability and cushioning if you want to walk away from your workouts unscathed. Therefore, it is imperative that you select the right kind of shoe for your workout.
What types of workout shoes are there?
Gone are the days when you could wear a pair of plimsolls or even your runners for all workouts.
Significant research on how our bodies move during different types of exercise means there's now a pair of the best workout shoes for women suitable for every kind of activity, from dancing trainers that have cushioning in the right places and circular grips on the soles so you can twist, leap and spin without spraining your ankle, to powerlifting shoes with wide, flat soles to maximise your ground contact and improve your balance and stability (too much cushioning can actually hinder your movement during exercises like deadlifts).
If your workouts take a 'jack of all trades and master of none' approach, i.e., you like to do a bit of everything, you should invest in a pair of hybrid cross-training shoes. They can be pricier than your average trainer, but they're built to be highly durable and withstand everything you throw at them, from sprinting and shuttle runs to rope climbing and plyometric work.
The point is, think about the activity or activities you need your trainers for when buying some of the best workout trainers for women, do your research, then buy the appropriate footwear for your workout. Education has taught us that we can't run in any old shoes these days, and even the best running shoes for women are now broken down into many different categories depending on the terrain you're running over, the distance you're travelling and whether you're choosing speed over comfort, such as the best trail running shoes for women, the best road running shoes for women, and the best women's running shoes for beginners. The same approach should be taken with your workout shoes.
How do I find the right size when buying workout shoes?
Poorly fitting shoes can jeopardise your workouts. Too tight, and your feet can feel trapped and restricted. Too loose, and your feet can feel like they're flapping around. Both can leave you open to rubbing, friction and pressure on sensitive spots which can quickly lead to painful blisters and toenail damage.
'When buying a pair of the best workout shoes for women, you need to make sure they fit your feet properly,' says Zweck. 'Your feet should feel secure within the shoe so they won't move around, but they should still have space to breathe to help the blood circulation in your feet.
'Also, remember that the shape of people's feet can be drastically different. The curvature at the base of the foot can vary from person to person: some people have a much deeper curve, which is known as an arched foot, whilst other people have flat feet. The width of our feet is also important, as two people can have the same sized feet in length but have very different width's.'
Again, it's important to do your research, and it's a wise move to read reviews of the best workout trainers for women from other buyers to see if the shoe comes up wider, narrower, longer or shorter than expected, so that you can make an informed buying decision. And finally, don't forget to replace your trainers regularly. Aside from general wear and tear, continued use of shoes can wear down the soles and stretch the uppers, taking away the very properties you bought them for.
6 best workout shoes for women 2023
Looking to support your breasts as well as your feet during workouts? Then check out our pick of the best workout sports bras in 2023 while you're here.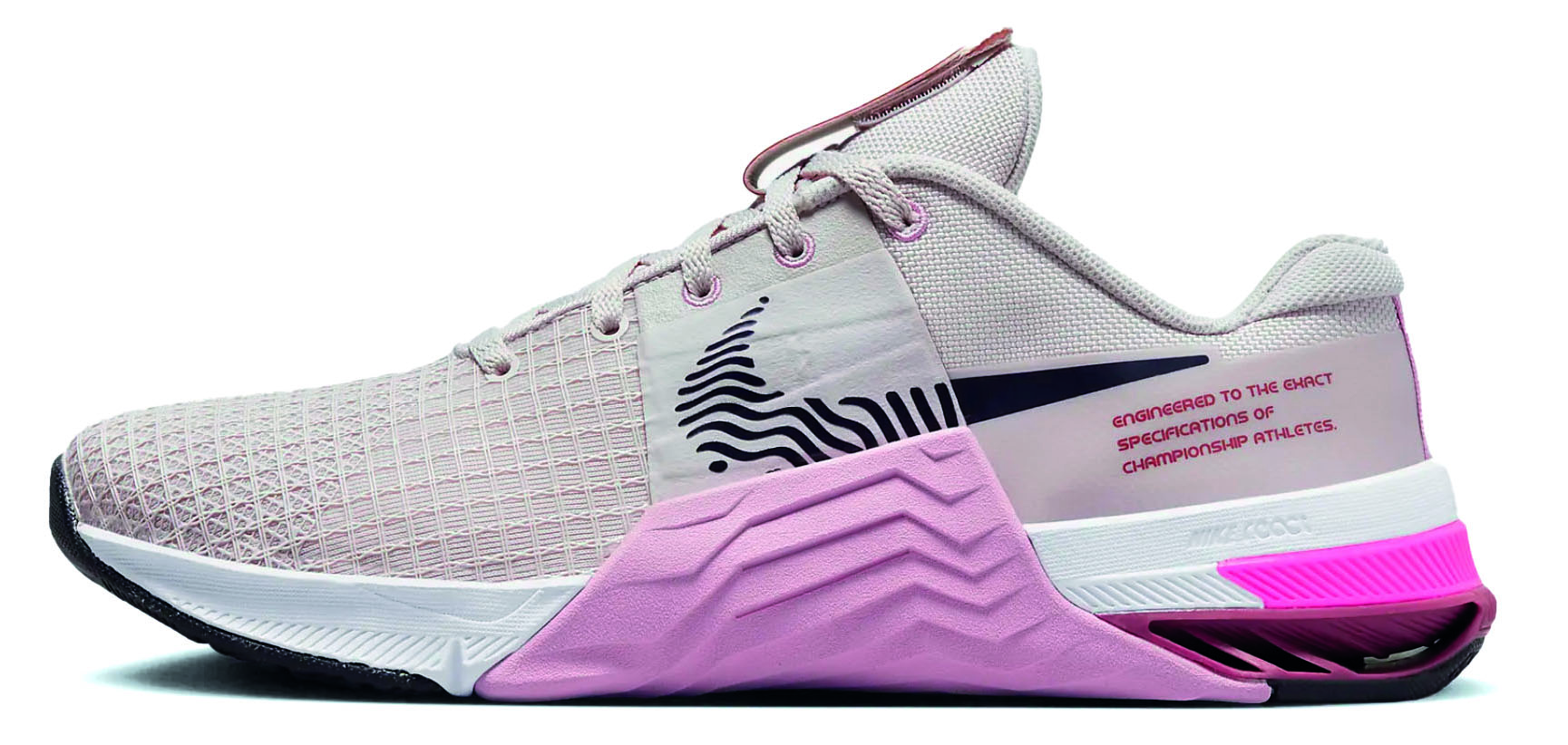 Weight: Unknown
Price: £114.99
Reason to buy: One of the best workout shoes for cross-training and beyond
Truly a thing of trainer beauty, the Nike Metcon 8 is an updated version of the Nike Metcon 7, an already very popular functional training shoe. The main update is the lighter and more breathable upper, which keeps feet comfy no matter how hot and sweaty your workout gets. The lace tab is handy for ensuring laces stay locked down as you move at pace, while the durable heel counter and grippy rubber underfoot means there's no slippage as you squat, lunge and lift.
We absolutely love them for weighted workouts, sled pushes, plyometric moves and other forms of functional training, but recommend you switch to a more cushioned and flexible running shoe if you plan on doing longer-duration cardio.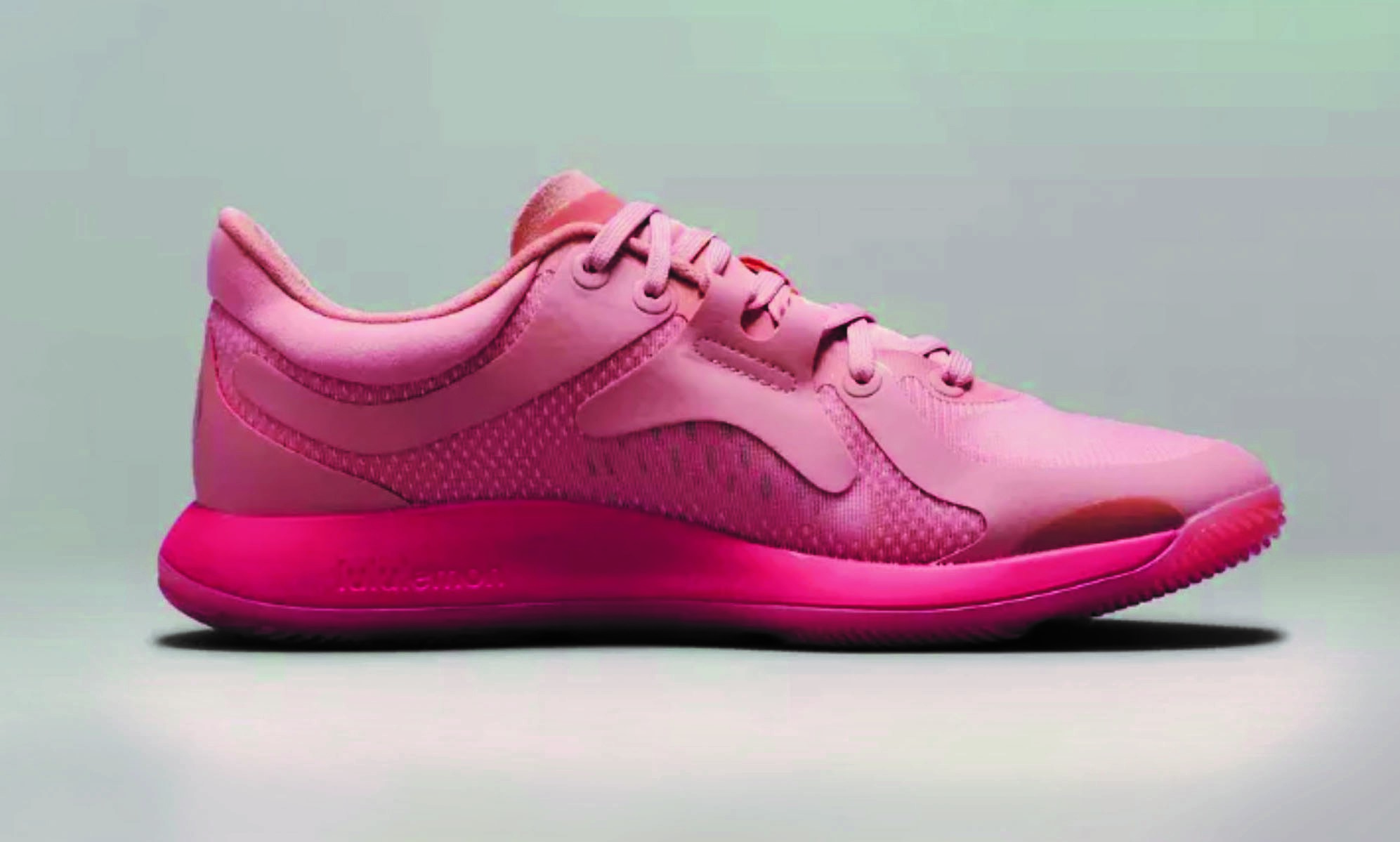 Weight: 390g
Price: £118
Reason to buy: Provides a stable, powerful platform
The Strongfeel is the third women-specific performance shoe to launch from Lululemon and, as the name suggests, it's been developed especially for strength-training workouts. The first thing you'll notice is the flat sole and low-profile cushioning for a 'stable, powerful platform' and a supportive, secure, grounded feel during stationary load-bearing exercises such as deadlifts, overhead presses and squats.
In addition, they provide great grip and a locked-in feel, whether you're trying to stay in place while doing glute bridges or performing multi-directional moves such as clock lunges. Although they lack the cushioning you'd need for plyometrics, they're super comfy, true to size and have plenty of room in the toe box for your feet to spread out. A must-have in your training shoe rotation.
Weight: Unknown
Price: £110
Reason to buy: A versatile training shoe great for squats, lunges and burpees
Made for strength training and gym workouts, the Dropset shoes boast dual-density midsoles for great flexibility and springiness at the front and more rigid support at the rear. The result is a shoe that combines great comfort and solidity through a range of workouts including CrossFit and HIIT.
The breathable, stretchy upper is made from at least 50 per cent recycled materials, and the ankle and heel areas are nicely padded for a plush feel, although the purposely stiff heel for extra stability is a little high and takes some breaking in. The high-traction rubber outsole delivers great grip indoors and out, while the soft, flexible forefoot feels good during high-intensity, high-impact classes, sprint work and treadmill walks.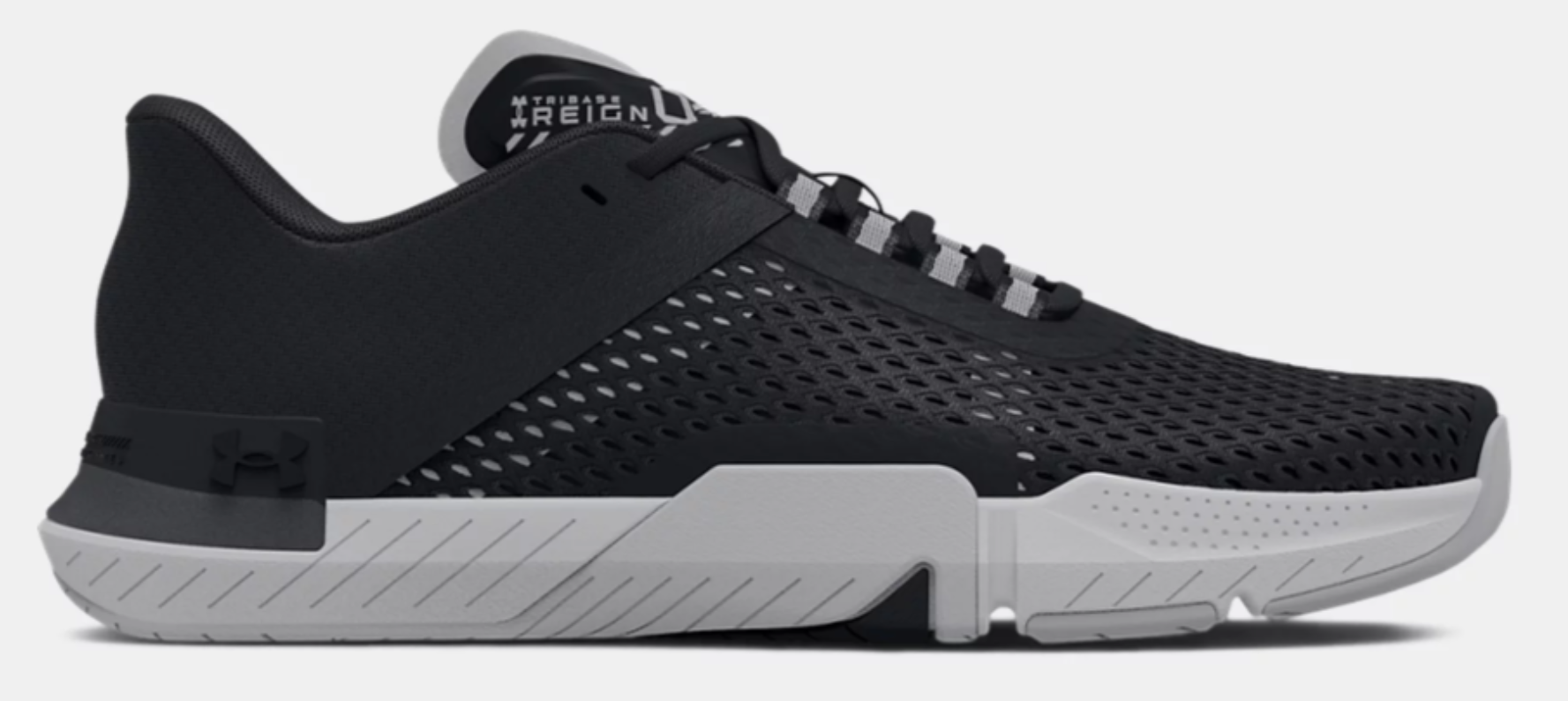 Weight: 283.4 grams
Price: £115
Reason to buy: A hybrid cross-trainer built to withstand every type of workout
This fourth iteration of the TriBase Reign shoe line features a reworked upper with a separate tongue and an extra eyelet on the side for a more secure fit. The wide-mesh fabric is highly breathable yet durable and abrasion-resistant, and this durability continues with the full-rubber outsole that wraps up the sides of the shoes for extra grip during rope climbing, making it great for CrossFit sessions.
Your toes can really splay out during heavy lifting sessions in the roomy toe box, and an external heel clip and internal heel counter provide extra stability and support. Meanwhile, the low, triangular base of the UA TriBase tech maximises ground contact during lifting, while strategic zones of flexibility and traction give you great grip and mobility for multi-directional movement.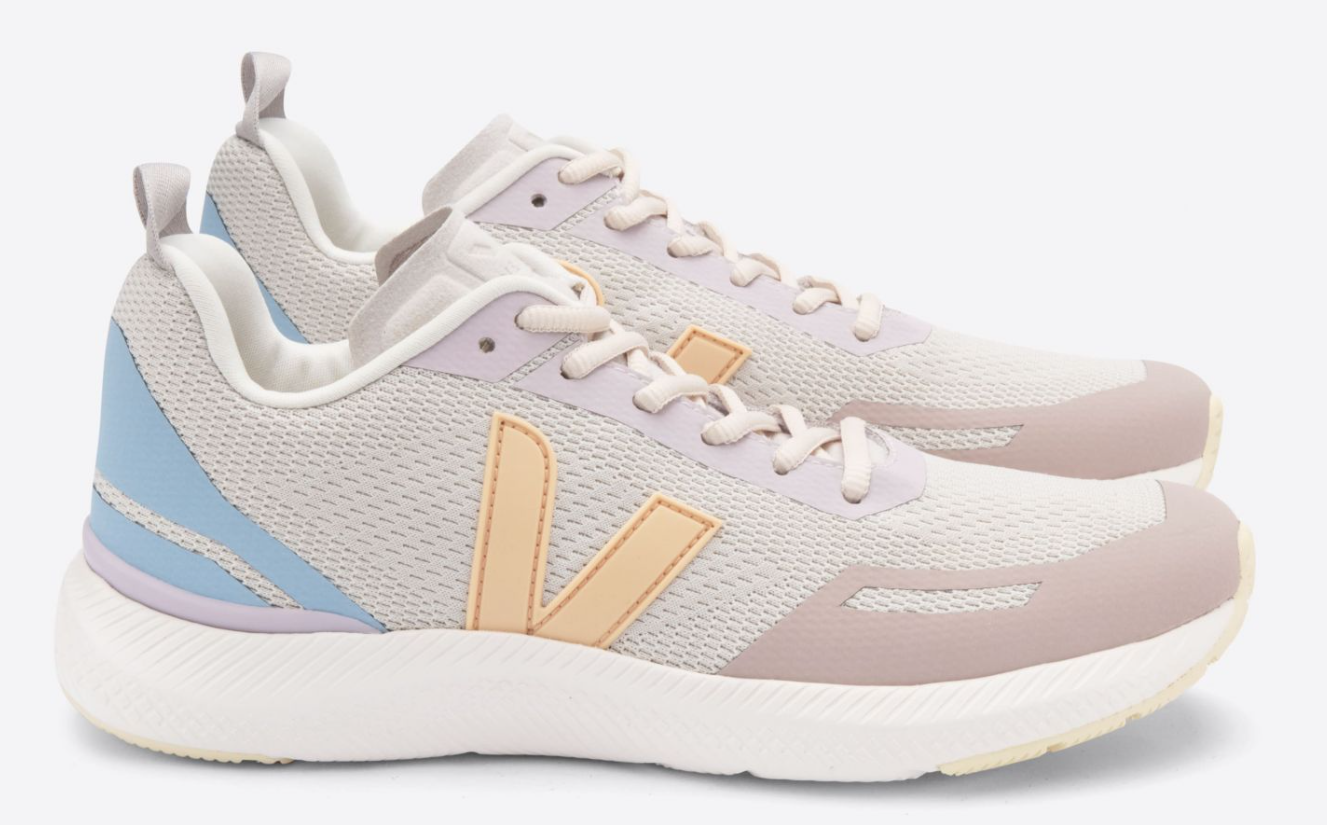 Weight: 245 grams
Price: £115
Reason to buy: A super stylish trainer that's incredibly lightweight yet sturdy
The Impala is sustainable shoe brand VEJA's first ever indoor training shoe, designed to provide comfort, support and stability for a wide range of gym workouts. The results are impressive for such an attractive trainer. It's astonishingly lightweight and fast, and the wide, flat outsole provides a sturdy base with fantastic multi-directional grip thanks to its vertical and horizontal flex grooves that allow for twisting movements.
There's a heel clip for additional ankle support, extra rubber to boost durability on common impact zones, and many of the shoe's components are made from 100 per cent recycled materials. It might lack the support of a serious weightlifting shoe, but it's the perfect trainer for taking you from gym workouts to brunch in style.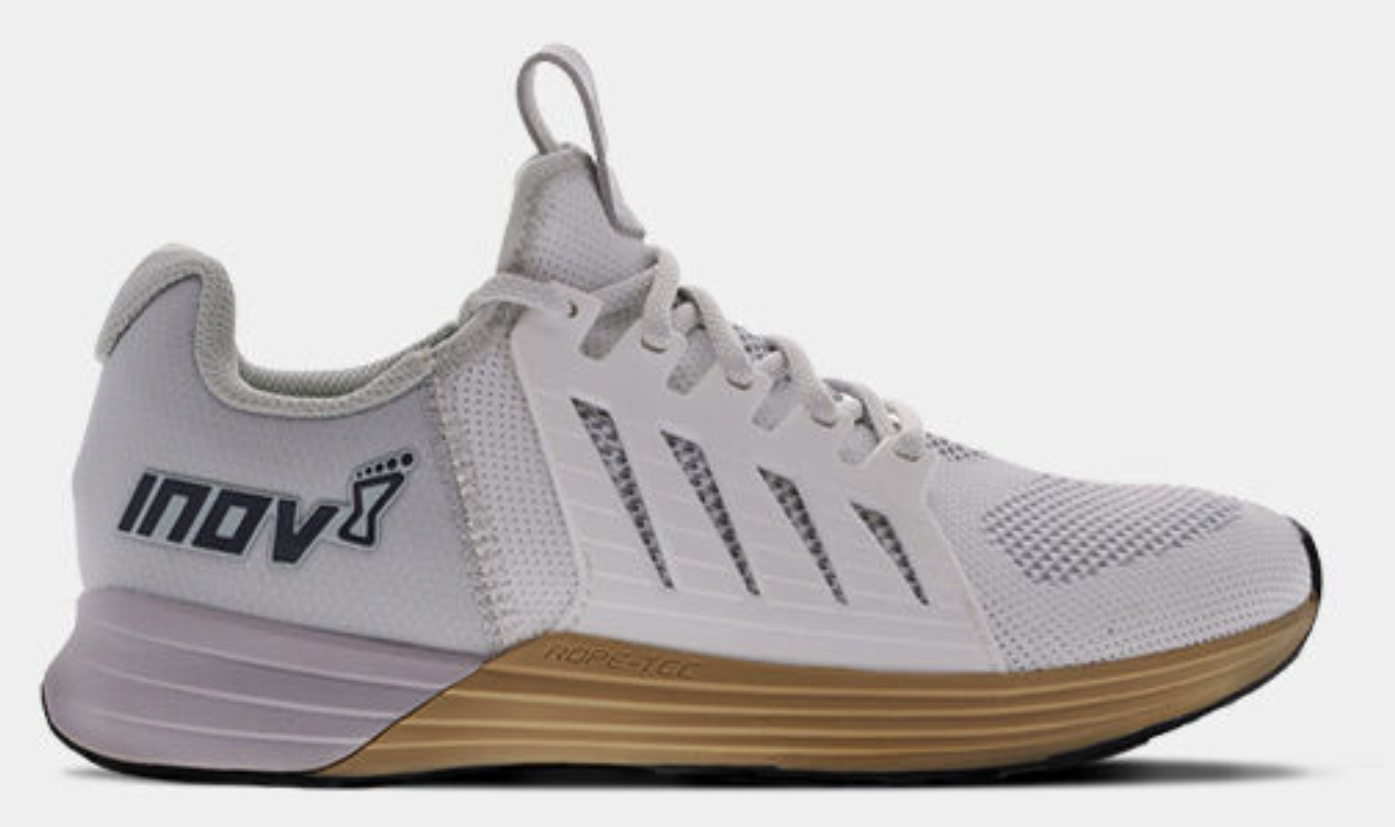 Weight: 245 grams
Price: £115
Reason to buy: Great for those who are serious about weight training and CrossFit
Deemed as Inov8's 'toughest and most versatile cross-training and fitness shoe to date', the F-LITE G 300 delivers maximum support in a highly durable yet lightweight package, thanks to the incorporation of Graphene, also known as the world's strongest material.
You get a Graphene Powerheel for extra lifting support, plus Graphene-enhanced rubber on the outsole for incredible grip on rope climbs that won't wear away over time, and there's a wrap-around cage for all-round foot support. Perfect for lifting, running and jumping, these shoes offer a huge amount of cushioning and flexibility, and they'll last you a very long time, unlike some so-called 'CrossFit' shoes that will show signs of wear and tear after a few workouts.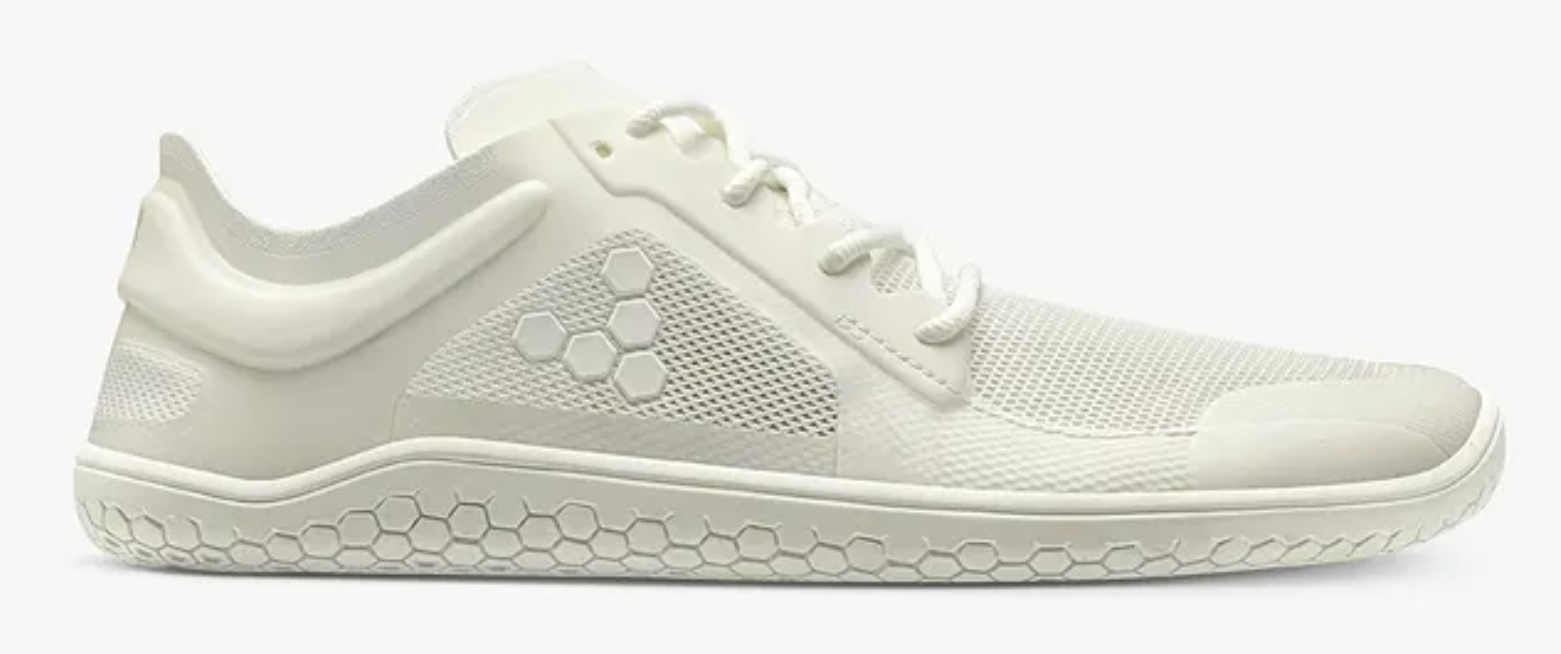 Weight: Unknown
Price: £130
Reason to buy: Sustainable, minimalist and good for your feet
These sustainable 'barefoot shoes' are far from your average workout trainer. With their lightweight, minimalist design, they don't claim to boost your stability, or support, or even cushioning during workouts. But they do promise performance-enhancing benefits of a different kind, thanks to the way they allow your feet to move in the most natural way possible so you can build strength from the ground up.
The wide foot-shaped soles allow feet to expand exactly how they need to during hot, sweaty workouts to increase your balance and stability, while the 4mm sole offers a 'sensory' underfoot experience that helps you to feel much more in tune with your body. You'll need to take a more thoughtful approach to your lifting, walking, running, jumping etc, but that's the whole idea.
Words: Joanna Ebsworth | Lead Image: Shutterstock