Fancy running up mountains, down fells, through forests and over rocky countryside tracks? Then you need a pair of the best trail running shoes for women – especially if you don't want to ruin your road running shoes in the process!
Great views, loads more greenery, peace and quiet away from polluted streets… there are many reasons people choose to leave the pavements behind and run into the hills, or simply along a local footpath. In fact, if you run almost anywhere that's not on the road or athletics track, you could call yourself a trail runner.
For the best experience, lower injury risk and increased performance, you should consider swapping your regular road runners for their sturdier cousins – trail shoes. No, it's not just a ploy to get you to add to your running shoe collection; this footwear is designed to deal with everything from divots, loose stones and steep, rocky paths to slippery, muddy and uneven tracks
Before we explain the differences between trail running shoes and road running shoes, you should know that there are many different types of trail running shoe you can buy. Some are lightweight and built for speed while others are heavier and sturdier to give you greater stability and foot protection. Equally, some models deliver amazing grip and traction over soft, muddy trails, but others work better on harder, rockier surfaces.
Therefore, you need to consider the kind of terrain you'll be tackling when buying a pair of the best trail running shoes for women, then choose a pair accordingly from the round-up below that best matches your needs.
Do you need trail shoes for trail running?
Yes, you really do need trail shoes for trail running. In fact, we'd go so far to say that they are vital if you want to avoid slips and trips that can result in a visit to A&E. Trail running shoes have a very different tread on their outsoles compared to road running shoes, with deeper lugs to provide much better grip over unstable surfaces such as loose gravel, tree roots, soft mud and hard rocks.
Talking of rocks, trail running shoes can also have additional technical features including rock plates in the soles to reduce the impact of stones underfoot, as well as reinforced uppers, side walls and toe bumpers to protect your feet from injury.
What makes trail shoes different?
There's more to these shoes than first meets the eye. Grip, protection, fit and stability are the four main elements that make up a trail running shoe, according to Milly Voice, trail runner and Salomon ambassador. 'Trail running shoes have deep lugs [grips] to give you more traction on loose terrain or mud,' she says. Then there's often a special layer underfoot (aka a rock plate) made from plastic or carbon fibre, to lessen the impact of sharp rocks, and a reinforced toe area, too.
'It's also really important you have a nice, snug fit over your foot,' says Voice. 'This helps to keep you nimble on the trail, maintain articulation and get that excellent ground feel.' Allow about a 1cm gap between your toes and the end of the shoe to help you avoid blisters and black toenails, and try on shoes in the afternoon as your feet swell during the day, which helps mimic what they'll do on a run. As for stability? 'Don't be put off if trail running shoes feel a little weightier than road running shoes,' adds Voice. 'This is due to reinforced heels that keep them stable on the ground and reduce the risk of you rolling over on your ankle.'
What's the best heel drop for trail running shoes?
Heel drop is the difference in height between the back and front of the shoe and is to do with how your foot strikes the ground. Many regular runners strike the ground with their heel first, so they should have a bigger heel drop (more than 6mm). More experienced runners, or those who land further forward on their foot, may prefer a smaller drop.
Is it OK to use trail running shoes on road?
The answer to this question really depends on the type of trail running shoe you buy. These days, brands are increasingly producing 'road-to-trail' shoes, or 'hybrid' trail running shoes, that are intended for use over roads and uneven terrain. This means you can run from your front door to your local forest in a pair and get the best of both worlds.
However, a shoe with deeper lugs for more technical trails won't give you as much contact with the ground if you wear them on the road, and you could also run the risk of wearing out the soft rubber soles more quickly, which could reduce their grip for when you do decide to tackle tricker terrain.
Finally, the best trail running shoes for women tend to provide a firmer, less cushioned, and more responsive ride than road running shoes, so you can feel the ground underfoot and respond quickly to changes of terrain or any obstacles that might be lying around. This means you might not get the usual amount of cushioning you need for running over hard concrete, so we would suggest you stick to using your road running shoes instead.
Can you run in trail walking shoes?
You can run in trail walking shoes if it's occasional and over a shorter distance (you never know when you might need to escape the local wildlife), but we wouldn't recommend it over longer distances.
There are several reasons for this. One, for example, is that trail walking shoes tend to be heavier than trail running shoes, so they could cause your legs to tire easily and decrease your overall mileage.
Another reason why you shouldn't run in trail walking shoes is down to the fact that our feet strike the ground differently when we're running compared to when we're walking. Unsurprisingly, running and walking shoes are therefore built differently to accommodate for the variations in stride, pace, and heel strike that usually occur – and when it comes to buying running shoes, you should always want them to be fit for purpose to avoid any risk of injury.
Choosing the right trail shoes to suit your runs
Mainly hard-packed trails? Go for a more flexible, lighter-weight shoe with shorter, more closely spaced lugs (2-4mm).
Lots of rocky surfaces? A stiffer outsole with more stability, plus rock plates underfoot, toe guards and rugged uppers are a must. Look for 'sticky' rubber outsoles to aid grip.
Puddles and streams? Choose lighter-weight, well-ventilated shoes over waterproofing to allow the water to drain out and help keep your feet cool.
Very uneven terrain? A well-supported instep and upper will help keep you stable and balanced.
Mainly muddy trails? You'll need deep (5-7mm), widely spaced lugs to stop mud getting trapped in the treads.
Running long distances? Look for good stability and plenty of cushioning.
A mix of tarmac and off-road? Hybrid shoes are softer and more flexible than a trail shoe but have better grips than a road shoe.
Best trail running shoes for women in 2022
Looking for a different type of running shoe to support your runs? Take a look at our guide to the best running shoes for women, where you'll find shoes suitable for beginners, taking on your first marathon, running a 10k race, and much more.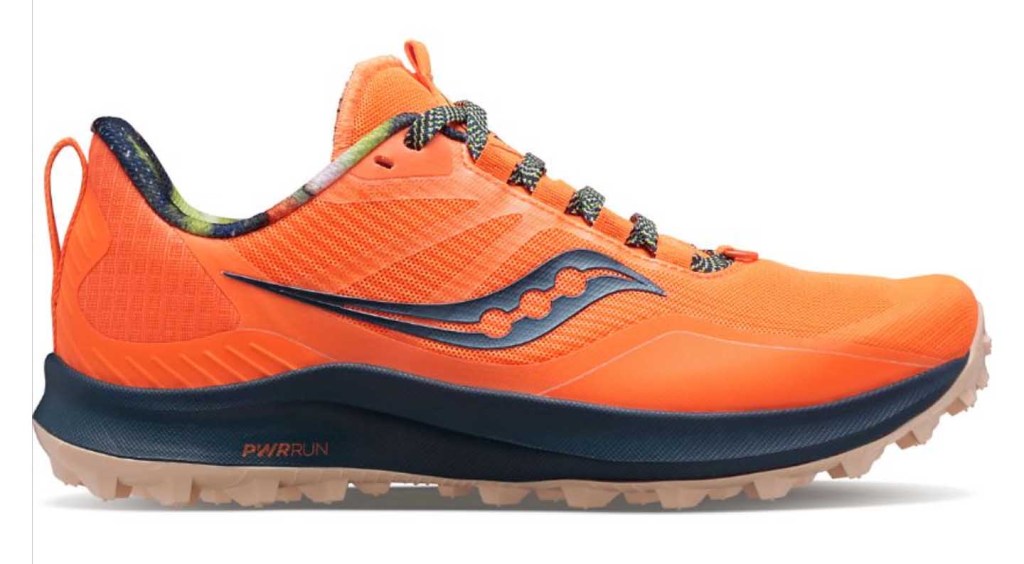 Weight: 235 grams
Price: £135
Reason to buy: Extremely comfortable and grippy over every kind of terrain
Named after the fastest bird on earth, the updated Peregrine 12 is now significantly lighter and speedier than ever, so you can run further for longer before fatigue kicks in. It's a great all-round trail running shoe with soft PWRRUN cushioning coupled with a new cushioned sockliner for extra springiness, and the redesigned lug pattern provides incredible grip that lets you dig into soft ground and push off with speed.
The new protective rock plate allows you to glide over stonier paths with ease while shedding water and moisture quicker, helping you avoid wet feet (and blisters) even if they get soaked, while the sleek mesh upper featuring less layers than before is more durable and offers the same level of protection.
Weight: 249.5 grams
Price: £140
Reason to buy: Sturdy protection makes it's hard to beat on hard, rocky trails.
The Catamount was launched back in 2020 has hasn't been updated since, with very good reason. Sturdy, supportive and built to give you confidence across rocky trials, this highly technical shoe boasts an updated Ballistic Rock Shield between the midsole and outsole to diffuse the impact of running across sharp objects and jagged edges.
The unique, multi-directional lugs on the TrailTrack rubber outsole provide sticky traction, incredible grip, and lots of stability and control, even across slippery, hard surfaces. Designed for long-distance and ultra-marathon running, this lightweight shoe has a nitrogen-infused DNA Flash midsole foam for a firm, responsive, ride with a good amount of bounce.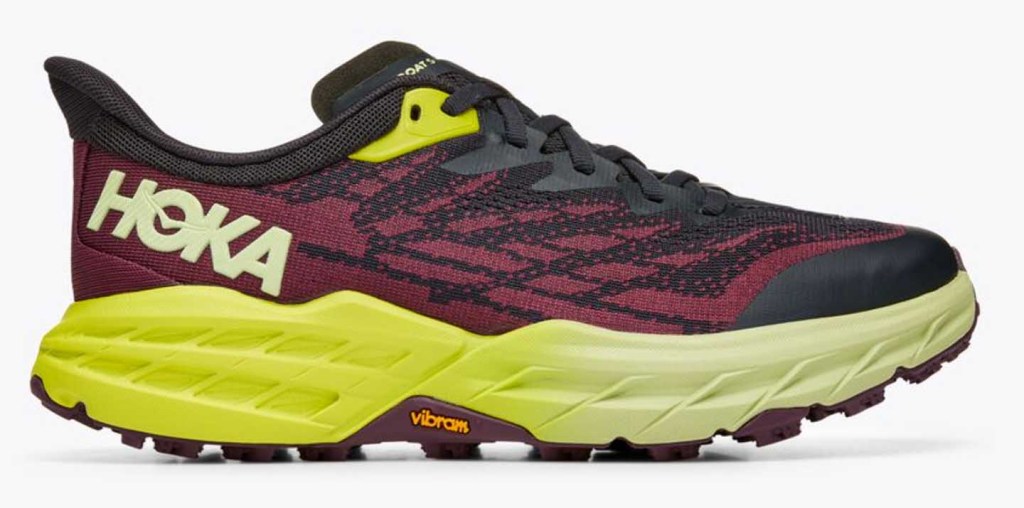 Weight: 234 grams
Price: £130
Reason to buy: A multi-terrain shoe that's extremely high on cushioning
The Speedgoat 5 has had a serious level-up. Returning a whole 21 grams lighter with a new Vibram Megagrip rubber sole featuring 5mm traction lugs, it delivers amazing grip and ground contact across all kinds of terrain including rocky and muddy trails. You also get HOKA's famous cushioning in abundance, with a huge 31-mm-heel stack height that really takes the strain when you're going downhill, yet the midsole is still balanced enough to give you a good toe-off and a smooth, responsive ride.
Built for middle-to-long-distances, you'll love all the new improvements, from the extended heel tab for easy pull-ons to the reworked mesh upper that's lighter and more breathable with a comfy, sock-like feel.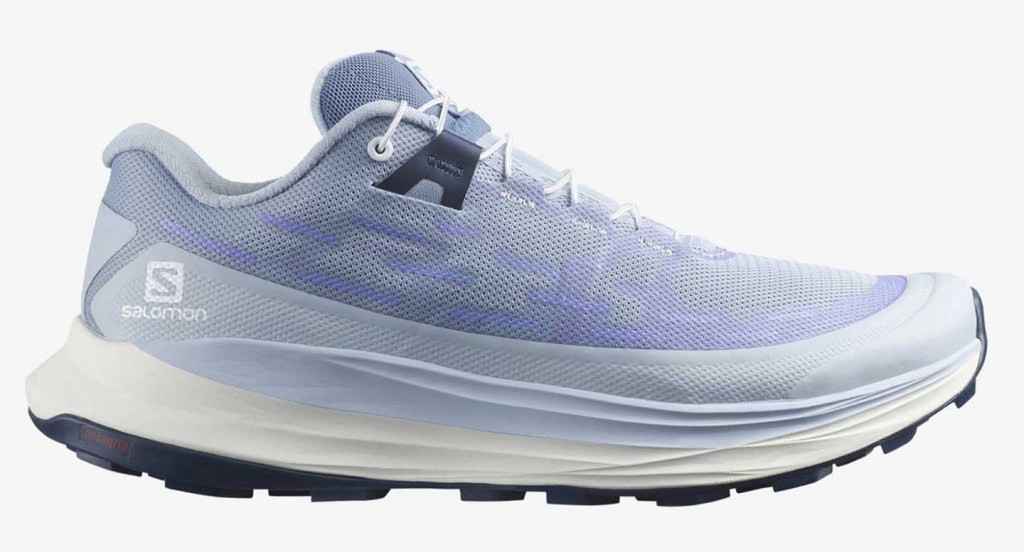 Weight: 220 grams
Price: £130
Reason to buy:
The Ultra Glide is Salomon's first attempt at a cushioned trail running shoe, and the results are impressive. Considering the level of plushness and springiness on offer, this shoe is still the lightest in this guide, so it's ideal for long days on the trails.
The high-stack Energy Surge foam midsole provides a stable base that delivers an energetic, responsive ride thanks to the new rocker shape, and the comfort factor is further boosted by the thickly padded yet breathable upper that envelopes the foot. This, combined with the super-plush tongue and Quicklace system, helps to give a really secure, locked-in feel. In terms of traction, the Contagrip outsole works effectively over a variety of terrain including wet surfaces.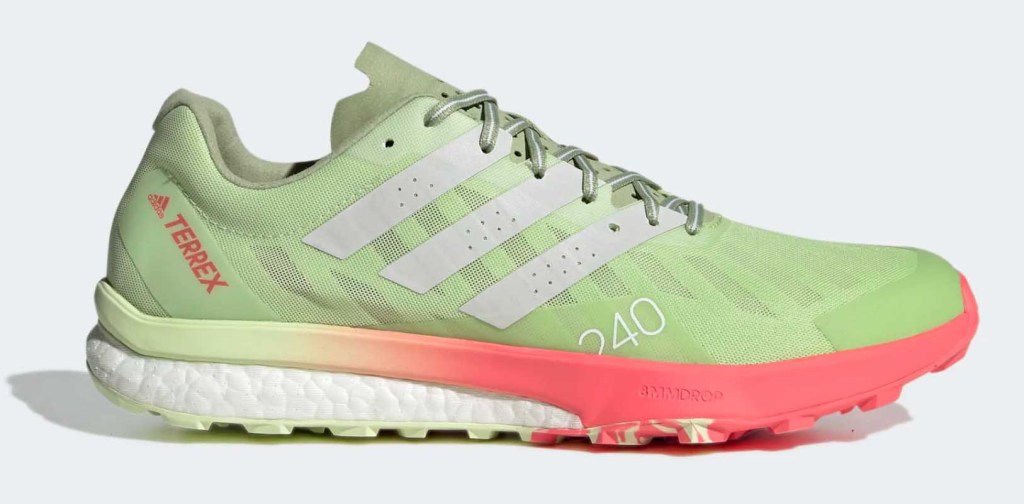 Weight: 245 grams
Price: £160
Reason to buy: A speedy shoe that's big on responsiveness and cushioning
Built with input from ultra-marathoner Tom Evans, the Terrex Speed Ultra is a seriously fast and lightweight shoe that's made for racing but doesn't compromise on cushioning. Utilising Adidas' famous Boost technology in the midsole and Lightstrike foam cushioning, you get a ride that's super springy, agile, responsive, and full of energy return, especially over hard-packed trails.
The Continental rubber outsoles feature shallow, closely spaced chevron lugs inspired by gravel bikes that work well over looser terrain and deliver excellent grip, but you might want to steer clear of mud and softer surfaces. Comfortable over short and long distances, they're also great for going from the road to the trail and back again.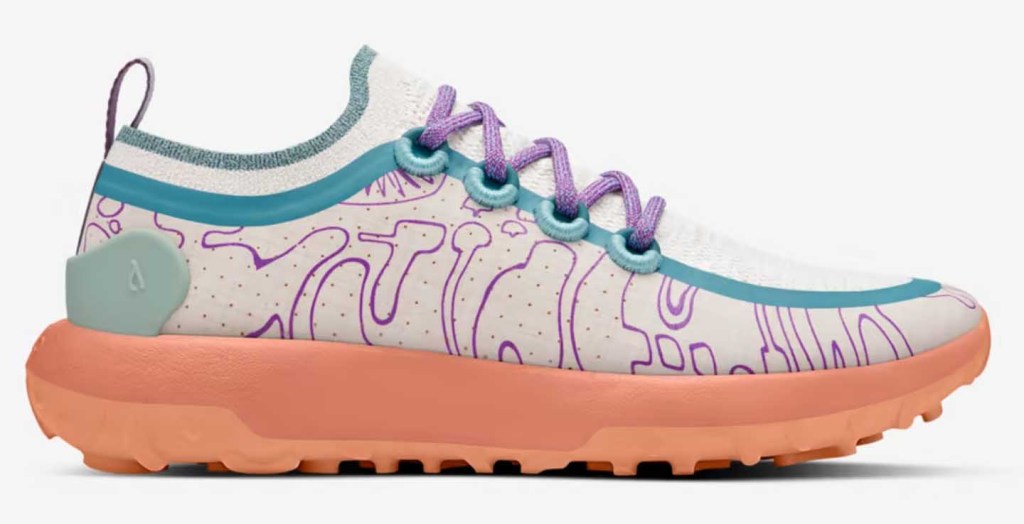 Weight: 350.4 grams
Price: £135
Reason to buy: An eco-friendly shoe that's good for beginners and easy runs
The Trail Runner SWT (Sugar-Wool-Tree) is sustainable footwear brand Allbirds' first off-road shoe, and it's a great choice for beginners and those wanting an everyday training shoe. It works well over mixed terrain. i.e., moving from concrete to grass, and the 4mm lugs provide just the right amount of grip on softer surfaces.
It does lack some technical features, like a rock plate to protect your feet, but the breathable one-piece upper featuring ripstop protection and a water-repellent finish is comfy enough to wear without socks. It's a firm shoe, so it gives good energy return, but it's not as bouncy as some more cushioned shoes, and it's also heavier than most, too. It might not win you any races, but it's great for easy runs through your local forest or park.
Now you've got your trail running shoes, discover the best running shorts for women!