Music is not just good for the soul, it also keeps you motivated to exercise. Here, we've tested five of the best sports earbuds with workout-worthy credentials to keep you moving – whether you're running, swimming or hitting the gym…
Looking to add some of the best sports earbuds to your next workout? Whether you like to run to rap or plank to a podcast, research shows that the right music or audio can boost motivation, fight fatigue and even make you work out harder and for longer. In fact, Costas Karageorghis PhD, a sports psychologist who studies music's positive influence on athletes, agrees that listening to your favourite playlist can help you get into an optimal mindset to tackle any type of workout – whether that's a 10K run or a core circuit.
The problem is there's nothing worse than headphones that keep popping out of your ears every five seconds, or wires that get tangled up during vigorous hand movements. Luckily, in the past few years, earphones have upped their game and you can pretty much find earbuds to suit any type of workout (think: sweat-proof, wireless, lightweight and open-ear bone-conducting models).
What to look for when buying the best sports earbuds:
When buying the best sports earbuds, you need to consider everything from battery life and charge speed, to sweat resistance and sound quality. There's nothing worse than forking out for a product only to find that your music sounds 'tinny'. But on the other hand, if you do a lot of road running or cycling, you need to watch out for noise-cancelling headphones – safety is key. You need to be able to hear your surroundings and passing traffic, which is where bone-conducting models and 'transparency modes' come in, which allow you to hear your surroundings loud and clear.
Battery life is also important. Earphones that offer a fast charge (think 90 minutes of playback from a five-minute plug-in) are great for that last-minute, pre-gym charge, and a long battery life is a must for endurance athletes who might be exercising for long periods of time.
Fit is so important. It's worth looking out for models that have interchangeable earbud tips that come in a variety of sizes, so you can find headphones that fit your inner ear perfectly. The better the fit, the less you'll have to fiddle around mid-burpee. Some over-ear headphones also have features such as ear loops to keep them in place as your workout ramps up.
Lastly, ease of use is also a unique selling point. Most brands now offer hands-free access to personal assistants such as Google Assistant or Siri, and allow you to take a call mid-workout without needing to even touch your phone. Plus, you'll probably want your earphones to be dust- and water- (well, sweat) proof, which is where the IP (Ingress Protection marking) number comes in.
What's the IP (Ingress Protection marking) number on earbuds?
The IP number is composed of two numbers: the first number (e.g. 5) refers to dust, and the second (e.g. 7) to water. When it comes to water or sweat, protection ranges from IPX1, against dripping water, to IPX4, against splashes, and then IPX7 or 8 which, depending on the brand, can be used for swimming.
Ready to pump it louder?  Here's our top pick of the best sports earbuds for running, swimming, gym workouts and more…
Best sports earbuds in 2023
Keep reading for our full reviews of the best sports earbuds for running, swimming and working out.
Related content: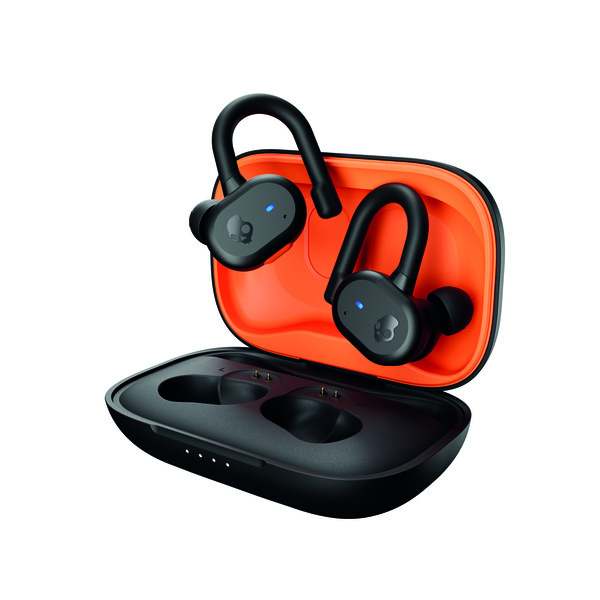 Skull Candy Push Active True Wireless Earphones
BUY IT NOW:
$79.99 / £69.99, skullcandy.com
Sound: 5/5
Comfort: 5/5
Durability: 5/5
On a budget? You don't need to sweat about price or forgo quality with the Skull Candy Push Actives. Not only do the sporty-looking earphones block out the noise of a busy gym, thanks to their advanced noise-cancelling tech, but they also have multiple microphones and voice control, which means you can play, pause, adjust volume, take calls, skip tracks, launch Spotify and activate Stay-Aware Mode, all without touching your device.
We also found the over-the-ear design extremely comfy and completely resilient to sweat and rain, thanks to their IP55 sweat- and water-resistant rating. Charge-wise they offer a whopping 44 hours of listening time between the charging case and buds, and we loved that the earbuds tell you how much battery is left every time you remove them from the case.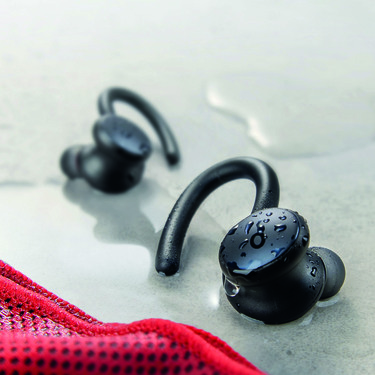 Soundcore by Anker Sport X10
BUY IT NOW:
$89.99 / £89.99, soundcore.com
Sound: 5/5
Comfort: 5/5
Durability: 4/5
The Sport X10 earphones work extremely well if you have small ears, thanks to the flexible rotating clip that spins around the base and then slots over the ear securely and comfortably. This makes the bud more compact and allows it to sit closer to your head without creating too much pressure in your ears. These earphones are rated IPX7, which means you can immerse them up to three feet in water (a distinct possibility if you're training for a triathlon), and they have a formidable 32 hours battery life, including the charge from the case.
They also come with a Soundcore app, which is a handy way to turn on noise cancellation or ambient listening (what Soundcore calls 'transparency mode'). You can pick between 20 equaliser settings, including acoustic, bass reducer and treble booster. We loved the Breathe mode, too, which guides you through relaxing breathing exercises and proves a gentle way to listen to music while you are meditating.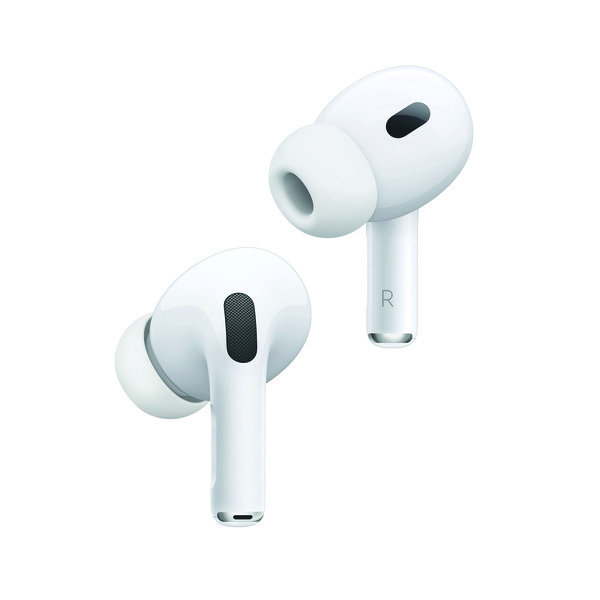 Apple AirPods Pro (2nd generation)
BUY IT NOW:
$129 / £249, apple.com
Sound: 5/5
Comfort: 5/5
Durability: 4/5
There's a reason why you've seen these in-ear wireless headphones everywhere — we can't fault their style, and they felt great when exercising and when at work, rest or play, too. Weighing in at a very light 5.4g it's easy to forget that you have these in, and with their four ear-tip sizes (XS, S, M, L) they didn't move no matter how vigorous our HIIT circuit.
The top volume delivered a great sound quality, and we loved their built-in noise-cancelling tech that allowed us to immerse ourselves in our playlist and not be distracted by outside noise when in the gym. Lastly, we love the sustainability factor – they're made not only from 100 per cent recycled materials, but also are free of potentially harmful substances such as mercury, BFRs, PVC, and beryllium.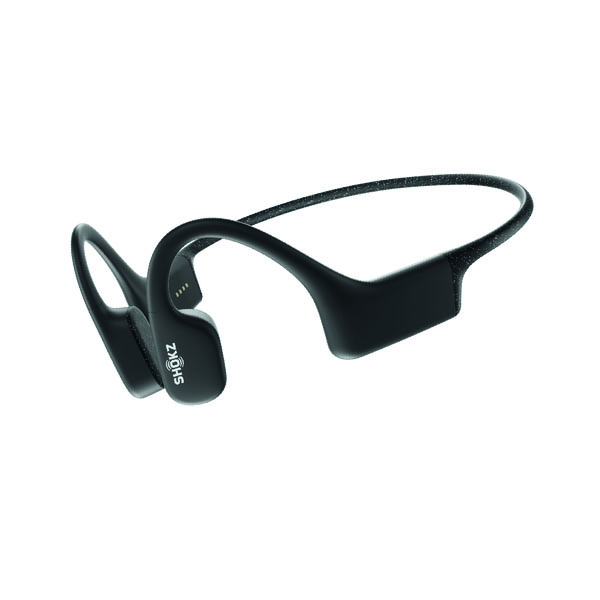 Shokz OpenSwim
BUY IT NOW:
$149.95 / £169.95, shokz.com
Sound: 5/5
Comfort: 5/5
Durability: 4/5
In the time we've been writing fitness reviews, we've tried most swimming headphones, and they've tended to be a tad disappointing. Either sound quality has reduced when submerged in water, or the earbuds have moved during bilateral front crawl breathing. But these OpenSwim bone conduction headphones are a game-changer.
Admittedly downloading MP3 music to the headphones is a bit of a faff, but it's so worth it. These headphones hold up to 1,200 songs, meaning you don't need a phone for streaming music on poolside (that can be stored safely in your locker). The sound quality is impressive – it actually got better as we swam – and the headphones stayed in place even during a tumble turn. If you want to use these for open water workouts, they're waterproof for up to two metres underwater! But it's worth noting that they don't have Bluetooth, so you won't be able to stream to phone apps.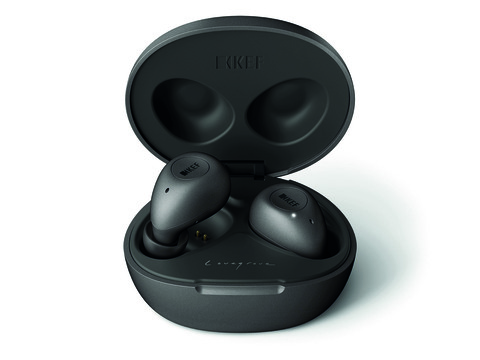 Kef Mu3 Wireless Earphones
BUY IT NOW:
$229.99 / £199, kef.com
Sound: 3/5
Comfort: 4/5
Durability: 4/5
Designed by visionary designer Ross Lovegrove, we didn't expect these shapely earbuds to be as comfortable as they were. The Mu3's design balances perfectly in the ears, thanks to the way they are weighted and crafted, making them feel very secure in the ear and comfortable to wear inside and outside of the gym. The battery life is an impressive nine hours of continuous play (15 with the charging case), and the IPX5 rating makes them sweat- and water-resistant.
The MU3's Ambient Mode, which disengages noise cancellation, also provided us with instant clarity on what's going on around us, whilst the Active Noise Cancellation mode really allowed us to appreciate the sharp sound quality on these little pocket rockets. We loved the size and simplicity of these headphones – the case elegantly fits in your hand and the pods neatly in your ears. They're easy to manage, especially when answering calls, but perhaps not the best quality to talk into.
Words: Lucy Miller | Images: Various brands | Lead image: SkullCandy | Shokz OpenSwim review: Sarah Sellens