These shoes are made for walking! Get ready to walk, trek or stroll this summer with our pick of the best walking shoes for women…
Whether you're strolling along the Cornish coast or hiking in the Scottish Lowlands, what you wear on your feet makes a big difference. The best walking shoes for women won't just feel more comfortable, they'll help you go further for longer. They'll also reduce your risk of injury – from blisters and shin splints to back pain and more, poorly designed shoes can set your walking plans back days or even weeks. 
So what should you look for when buying new walking shoes? What difference does the midsole make and how can you tell if the shoes are the right size? We've done the legwork for you, showcasing the best and latest models in 2022, so all you have to do is lace up and go. Read on to find out how to choose the best walking shoes for women, then check out the top eight styles that win the Women's Fitness seal of approval.
Is it OK to wear running shoes for walking?
The demands of running are very specific – most importantly, your body has to absorb around three times its weight with every heel strike. Walking, of course, is much lower impact but, as your feet are in contact with the ground for longer, they have to absorb that force over an extended time period, meaning the shoes you wear need a different set of properties.
Walking shoes are usually heavier, to provide more stability, and have greater flexibility in the arch area, to help prevent strain and inflammation when walking over longer distances. Inevitably, some people wear running shoes for walking, but they won't be as efficient as dedicated walking shoes.
Discover the best running shoes for women
What's the difference between men's and women's walking shoes?
Men's feet are generally longer than women's and wider at the heel, instep and ball of the foot, while ours are broader at the toes and have higher insteps, all of which has to be taken into account when creating the best walking shoes for women. Most shoes are designed on a 'last', a 3D model of the foot developed by shoemakers, podiatrists and kinesiologists that factors in how your feet change in shape and volume as you walk. The last determines not just the fit and style of your walking shoes – women's tend to be smaller, weigh less and have lower ankle support – but their performance and ergonomics, too. 
What to look for when buying women's walking shoes
The most important thing to consider when choosing the best walking shoes for women is comfort – if your shoes don't fit well when you put them on, imagine how they'll feel after a seven-hour hike. Aching feet and blisters aside, you'll also be at greater risk of injury and could end up with muscle imbalances higher up in your body.
First up, look for footwear with adequate cushioning on the heel collar, insole and midsole (the layer above the outer sole). Next, check the shoe's stability by grasping the heel and toe in separate hands and twisting the shoe – there should be a moderate level of resistance – then hold the heel and bend the toe area upwards. Notice where it bends. You want it to flex at the ball of the foot not the arch, so you can bend your toes easily to ensure a smooth stride.
Finally, consider where you'll do most of your walking. 'Lightweight shoes with a reasonable amount of flexibility are great for well-trodden paths as your foot can move naturally. However, if you'll be trekking on uneven and steep ground, you'll need a more rigid boot with ankle support,' says Mark Skelton, footwear buyer at Cotswold Outdoor. And you'll probably want to consider waterproofing, too. 'However, to avoid soggy feet, shoes need to be made with a breathable material that lets sweat and condensation out, as well,' he adds.
Find out more about how to care for your feet after walking & hiking
How to get the best fit
There are lots of variables when it comes to making sure your shoes fit properly – it's not just the length and width of your foot that matters but the height of your arches, the width of your heel and even how flexible your toes are. Too loose and the shoes won't provide adequate support, too tight and they'll be uncomfortable – and you'll likely get blisters in both scenarios. Aim for a snug fit at the heel and midfoot, with plenty of space around the toes.
Always try shoes on in evening as your feet swell over the course of the day, and if one foot is slightly bigger than the other, chose the size that best fits your larger foot. And don't forget to factor in socks. While thicker socks add warmth and cushioning, they'll also make the shoe tighter, so when testing shoes for fit, wear similar socks to those you'll wear when out walking.
Check your walking shoes fit right:
To get an idea if the size is right for you, remove the insole and stand on it. The outline of your foot should sit inside the insole, with at least a finger-width space in front of your big toe. Next, put the shoes on but don't lace them up, edge your feet forward in the shoe and place your index finger behind your heel. If the shoes are a good fit, your finger will feel snug but not squashed. Finally, lace them up evenly, just tight enough to slide a fingertip under each of the laces.
Ideally, wear the shoes around the house for a few hours to get a sense of how they feel, and try going up the stairs, too (if possible). When you ascend or descend, your foot should be secure and minimal movement.
Ready to find your perfect shoe? Read on for our guide to the best walking shoes for women.
Looking for hiking boots? Check out our round up of the best hiking boots for women
The best walking shoes for women in 2023

BUY IT NOW:
$200 / £220 / danner.com
Weight: 540g
Reason to buy: Exceptional comfort and good tracking makes them a great all-round shoe
If you've not heard much about Danner, chances are you will soon. The US-based company specialises in top-quality adventure footwear and these shoes are no exception. Combining the ease of trail runners with the advantages of a sturdier hiking boot, a triple cushioning system in the footbed makes them super comfortable, and a snug, built-in 'sock' securely wraps around your foot.
Their waterproof credentials extend to point of being watertight, while leather uppers and abrasion-resistant panels provide protection on trails. We were particularly interested in the self-adapting lugs in the Vibram Megagrip outsole – diamond-shaped studs with deep gloves in between that maintain flexibility while still enhancing traction. Let the adventures begin!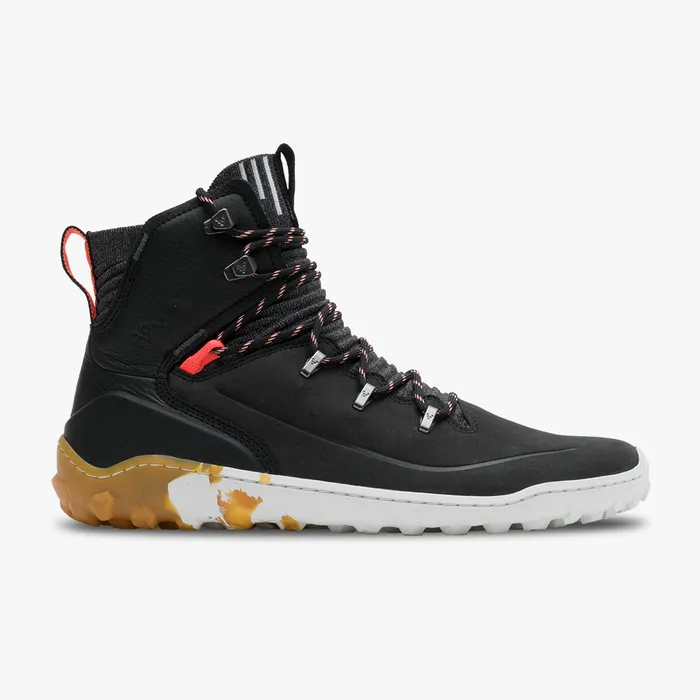 BUY IT NOW:
$230 / £180 / vivobarefoot.com
Weight: Unknown
Reason to buy: Foot-shaped with impressive waterproofing
The USP of this hiking shoe is that it's foot shaped, not shoe shaped, so your feet can splay and move as they naturally should. Clearly, this is great for sensory feedback from the ground, as well as building foot strength, but we quickly discovered that the wide, flexible and thin fit that enables the more natural movement also heightens the comfort factor when walking. The knitted sock structure makes these shoes easy to get on and off, no matter how muddy, while the brand's Firm Ground outsole is hardwearing and has 4mm grippy lugs that cope well with muddy, rocky trails.
But what impressed us the most was how waterproof the Wild Hide leather is – when walking in a downpour, our feet were dry and warm, to the point at which we felt almost guilty for being so comfortable while others struggled with the conditions. We can't rave about these shoes enough. Very impressed.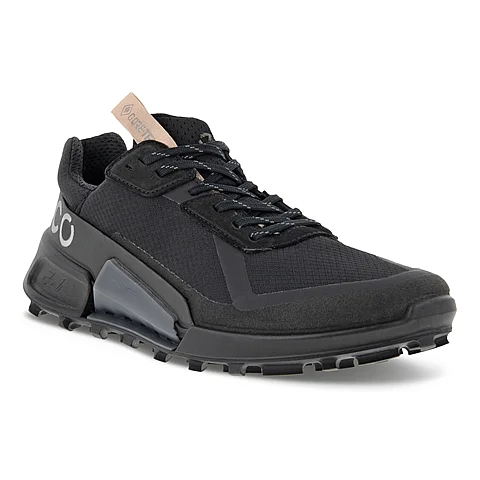 BUY IT NOW:
£135 / ecco.com (not available in the US)
Weight: Unknown
Reason to buy: Great in wet weather and on slippery terrain
Made for fast hiking, these snazzy shoes offer fashion as well as function. Available in this goes-with-anything all-black colourway, they look as good teamed with hiking trousers as they do with everyday wear. But they're functional, too. Made with a ripstop fabric and GORE-TEX waterproofing, they're one of the best on test for wet weather days, with a traction that copes well on slippery terrain.
Despite feeling a bit snug at first, they're really comfortable after little wear, thanks to the low profile that connects feet to the ground. You'll get a bouncy ride with good energy return, as Ecco's Phorene midsole foam technology provides ample rebound and shock absorption. The reflective ECCO logo across the back of the heel is a nice addition.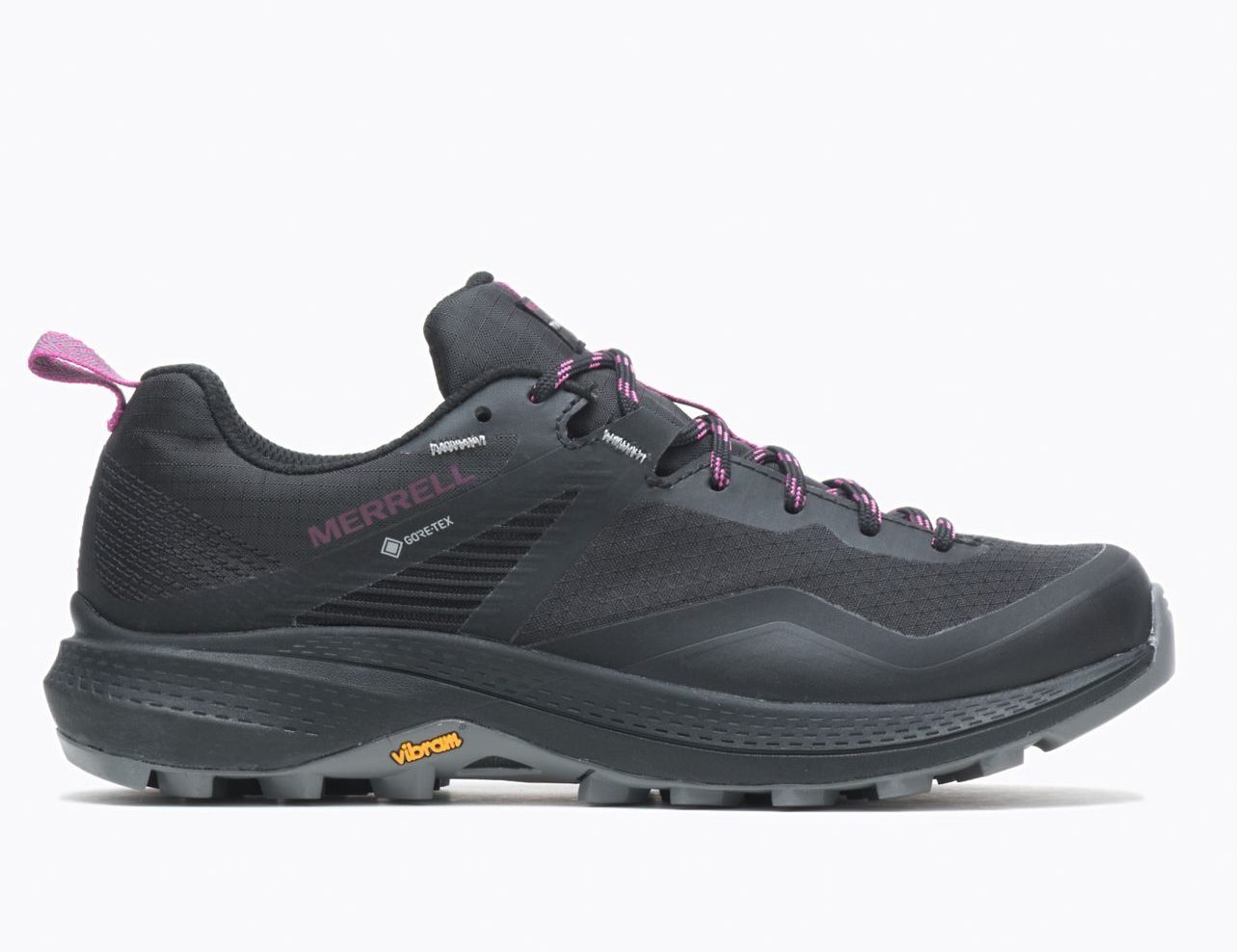 BUY IT NOW:
$150 / £135 / merrell.com
Weight: 542g
Reason to buy: Combines stability with agility for speed, comfort and support
Looking for a speedy hiking shoe? Standing for 'moving quickly in the mountains', the MQM 3 GORE-TEX combines the stability of a hiker with the agility of a trail-running shoe. Comfortable from the get-go, feet feel supported and 'locked in', thanks to the (50 per cent recycled) EVA foam insole, moulded arch shank and lace-to-toe lacing system. We love the rolling motion of the Vibram sole, propelling us up inclines while coping well with slippy descents.
With its waterproof GORE-TEX membrane and 100 per cent recycled mesh lining, the shoe stands up well to rain, puddles and wet grass, and feet stay cool on longer hikes. For tough adventures, opt for the Merrell MQM 3 Mid GORE-TEX (£140), for extra support.

Best for all-day wear: On Cloud 5
BUY IT NOW:
$139.99 / £130 / on-running.com
Weight: 203g
Reason to buy: Supreme comfort thanks to a deeper midsole
The latest incarnation of an On favourite, Cloud 5 has a thicker midsole for greater comfort and stability, while zero-gravity foam and CloudTec cushioning absorb vertical and horizontal forces. Add to this an updated speedboard that transforms your energy output into forward momentum and you get a softer landing on heel strike followed by a powerful push-off, making long distances effortless and speed hiking a breeze.
If you can't wait to get out the door, the clever lacing system means simply you pull tight and go (although there are conventional laces in the box, too). Sustainability is good as well, with the upper being made from 100 per cent recycled, breathable antimicrobial mesh.

BUY IT NOW:
$125 / £115 / thenorthface.co.uk
Weight: 313g
Reason to buy: Sleek and speedy design with a grippy and lightweight feel
These are a seriously sexy-looking pair of trail shoes that might appear like a runner (maybe because the design was inspired by the brand's trail running shoes from the late nineties) but are intended for hiking use. Great for performance, they boast a 6mm drop and a rocker midsole shape that propels you from heel to toe-off for a speedier hike.
Grippy 4mm lugs and the brand's sticky Surface Control rubber on the sole means there's no slippage, even on rugged terrain, while the carve-out in the middle increases flexibility. We think they're seriously comfortable and lightweight (313g), but would recommend choosing a darker colourway (there are seven colours available) if you plan on going on lots of muddy hikes.

$170 / £140 / hoka.com
Weight: 335g 
Reason to buy: Super-soft midsoles and cushioned heel tabs provide day-long comfort
These hill walking shoes have the characteristic soft feel underfoot you'd expect from Hoka. From the moment your heel touches the ground, you feel the shoe absorbing the force of your foot strike with the help of the soft, compression-moulded EVA midsole.
Deep and multidirectional 5mm lugs plus a Vibram Megagrip outsole give great stability on varied technical terrain, whether wet or dry, steep, level or rugged, making them ideal for hut touring as well as hill walking. Added support comes from a cushioned insert that cups the Achilles tendon, and the durable leather/mesh upper with Gore-Tex membrane ensures they're both waterproof and breathable.

BUY IT NOW:
£100 / vionicshoes.co.uk (not available in US)
Weight: 370g 
Reason to buy: Excellent foot support from podiatrist-designed insoles 
If you have flat feet, a tendency for shin splints (pain in the front of the calf) or suffer from plantar fasciitis, shoes with extra arch support will help bring your body into better alignment and reduce the risk of further injury. Arch support in the Classic Trainer comes courtesy of a removable biomechanical insert designed by podiatrists, while a raised midfoot section prevents excessive overpronation (inward rolling).
Further biomechanical support is found in the firm yet flexible EVA midsole which absorbs shock upon heel strike, minimising the impact on your feet and joints. If you're not used to orthotics, they'll take a week or two of regular wear to get used to the higher level of support, but once you are they'll feel sturdy and supportive. 

BUY IT NOW:
£170 / cotswoldoutdoors.com (currently available in the US)
Weight: 300g
Reason to buy: Designed on a specialised wide-fitting last with ample space at the forefoot 
The Activo is one of the more spacious shoes in Meindl's already wider-than average Comfort-Fit range. A sporty-looking shoe, it's wider sole allows for greater movement in the forefoot yet still holds your heel securely, while the easily adjustable two-zone lacing system prevents excessive slippage so you're less likely to experience blisters.
It's suited to terrains ranging from city streets to hiking trails thanks to the strong grip of its Lite Trail sole, and the breathable but waterproof Gore-Tex lining and sweat-wicking Air Active insole keep feet cool and dry. At 600g a pair (size 4.5), they're a light pair of shoes, and great for all-round use.
Words: Eve Boggenpoel & Sarah Sellens | Lead image: Shutterstock