Emma Lewis and family ditch the usual festivities and head for the snow to enjoy a Christmas ski break in Les Menuires, France…
Never have I felt quite so grateful to have been on a rejuvenating holiday as I did on my first day back at work post Christmas this year. Breezing in with a healthy glow to my cheeks and a spring in my step, I listened to colleagues' listless recounting of week-long 'flu with Emily in Paris boxset binges, hours of snarled-up car journeys on dutiful visits to relatives and relentless West-country rain. My boss wasn't even in as he was suffering from a stomach bug.
Related content:
Heading on a ski break at Christmas
I felt a pang of guilt as I recalled our sunny Christmas Day on the slopes, complete with slope-side hot chocolates and ski lessons for the kids, followed by a relaxing bath, a simple meal and several rounds of the Six Second Scribbles game back in our very cosy, ski-in, ski-out self-catered apartment.
A different perspective OK, so there'd been a risk that the kids (aged nine and 11) would feel they'd missed out on the usual festivities at their grandparents', but my husband and I wanted a healthier, more active winter break that would keep us away from the otherwise inevitable Elf re-runs and endless Quality Street on the sofa.
My daughter Scarlett felt conflicted when we first put the alternative-Christmas idea to her, asking straight away, 'Will Santa still come?'. But luckily enough he did, and waking up to knobbly stockings kick-started our holiday perfectly, along with the fresh croissants we'd pre-ordered the night before.
Stepping out onto the chilly balcony in their new Christmas PJs and seeing the majestic mountain opposite blanketed in snow (and their breath in the crisp air), as the sun peeked over the top to reveal some enticing ski slopes, exploded the Christmassy energy off the scale for the girls.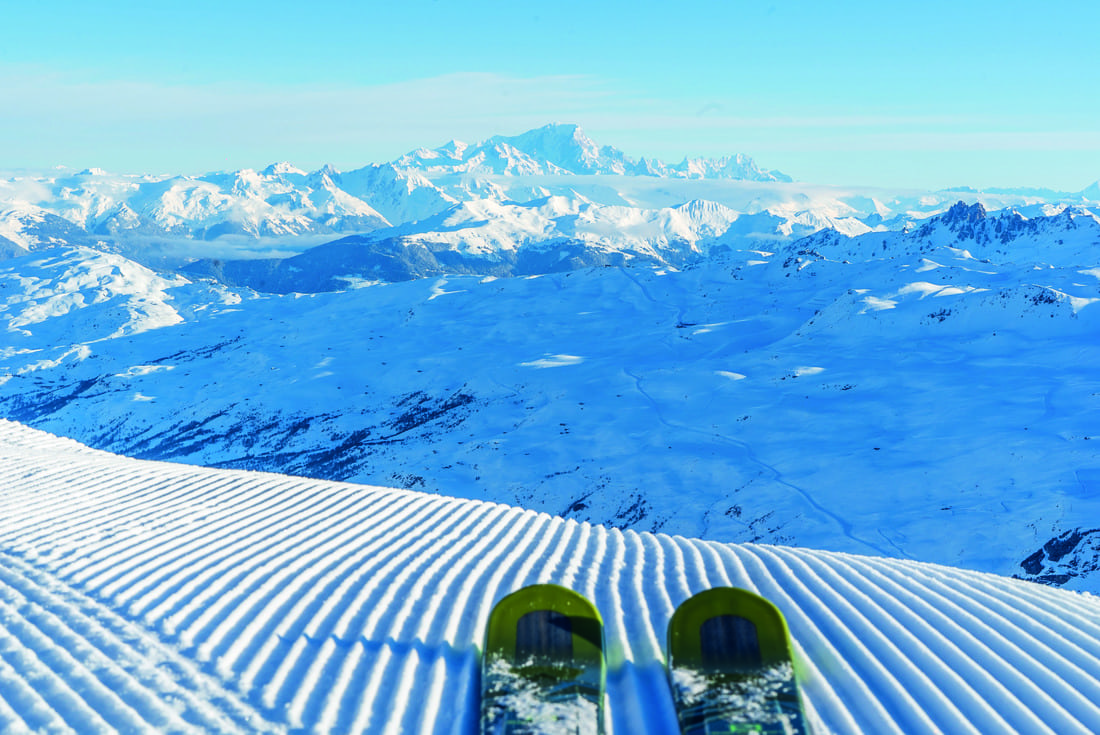 Spending Christmas in Les Menuires, France
Back in early autumn, we'd booked a package holiday to Les Menuires, part of the enormous Three Valleys ski area (600km of slopes!) that includes well-known resorts Courchevel and Méribel as well as Val Thorens (which, at 2,300m, is the highest ski resort in Europe). While these other places are rather more glitzy, Les Menuires (between Val Thorens and Méribel) has a much more down-to-earth and family-friendly reputation, which helps keep in-resort prices lower. At 1,850m, it's also reassuringly high in these days of milder winters.
In fact, 85 per cent of the Three Valleys' slopes are above 1,800m, which means it shouldn't lack snow. Lift passes for the Three Valleys are quite pricey due to its size, but beginners can get great-value passes for a few lifts in Les Menuires, and intermediates may well find the cheaper Les Menuires-only area pass (with access to 87 slopes) is plenty for their week's holiday.
Finding our ski legs
We'd enjoyed ski trips as a family a few times before Covid hit, finding them a great holiday for an active family, but then it all halted and this was our first trip back to the white stuff. All of us except no-fear 11-year-old Imogen were a little nervous about how we'd cope, but we'd booked the kids into lessons with the ESF ski school, which had its meeting point handily close to our apartment, and they came on in leaps and bounds, with confidence and love of skiing fully restored.
Meanwhile, my husband Lyndon and I enjoyed zipping up the amazing new La Masse gondola, which takes just eight minutes to whizz you up to the top of the mountain, and then swishing our way back down, or popping over to the other valleys for a change of scenery, sucking the cold, dry air into our lungs, reawakening that satisfying burny-thigh feeling and enjoying the energising sunlight on our goggle-clad mid-winter faces.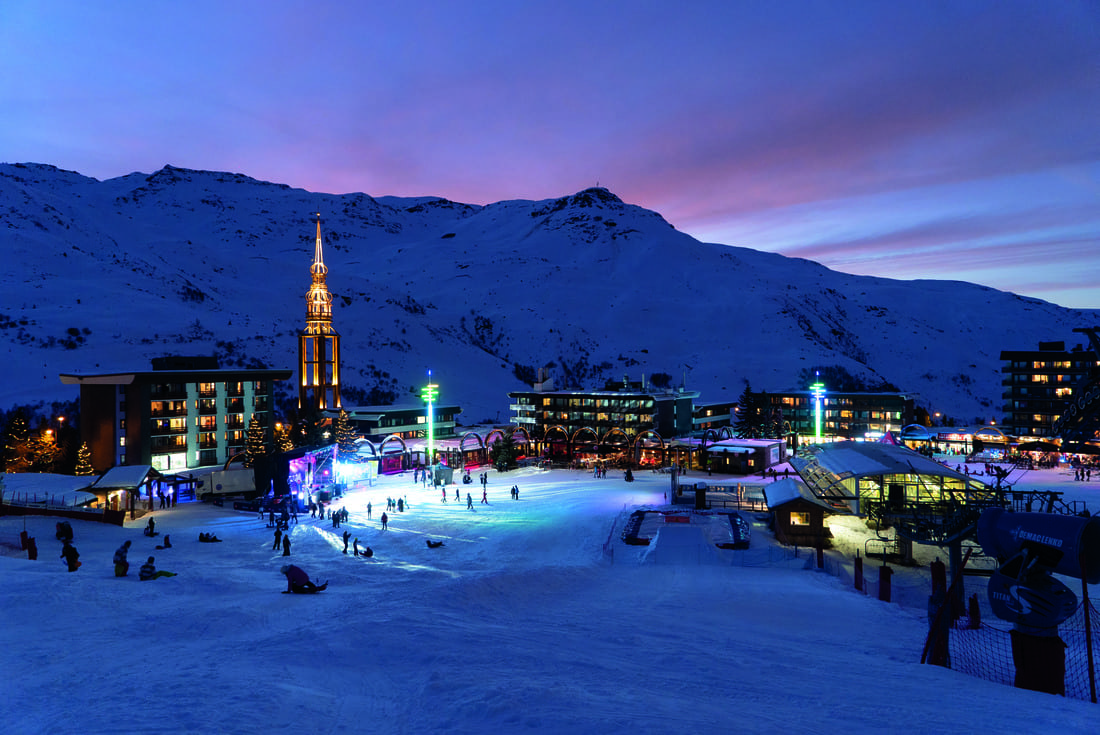 What other activities are available on a Christmas ski break?
'That was epic! I wish I could do this for my birthday party,' exclaimed an adrenalin-fuelled Scarlett after we'd whizzed down outdoor Speed Mountain, a luge on rails by the slopes, one evening, managing to get into the fastest 'Ibex' category by hardly using brakes! For sledging fans, the also epic 4km Roc 'n' Bob with a 450m elevation drop is another must. Look out for resort-run events, too.
While we were there, there was a festive show on Christmas Eve, a late-night live DJ set on Christmas Day, an igloo-building session, a torchlit descent for kids and plenty more going on. The others also had a lot of fun in the pool in our apartment block one evening while I took the rare opportunity to finish off a book in less than a week.
Top of our to-do list for next time is an evening snow-shoe hike with dinner in a mountain refuge. And, while we ate in most nights, we did treat ourselves to a cheese fondu one evening, at the atmospheric La Marmite restaurant, close to our apartment in Bruyères. Fondu is a must-do culinary experience when you're in the mountains!
To top it all, once back home, the postponed Christmas dinner and present giving at the in-laws meant the kids weren't robbed of a UK Christmas either. Best of both worlds? That's a resounding "yes!" from this family.
Travel Facts
Emma and family travelled with Inghams to Les Menuires, France, staying in the self-catering Résidence Les Chalets de L'Adonis from £878pp including flights and transfers
Ski School can be booked via ESF UK
A lift pass costs from €297 for six days. Speed Mountain costs €9pp.
Head to skiset.com for ski rental, and lesmenuires.com for resort info.