No space for a treadmill? Lucy Miller tests the foldable Echelon Stride to discover how it performs – here's her review…
With the cold weather upon us, it can feel a chore to get out the front door, let alone hit the pavements, which is where a home treadmill can come in handy. Think, warmth and the television on in the background. But what happens if you don't have the space for a treadmill? You do now with the Echelon Stride, a full-size treadmill that folds flat and slides nicely behind a sofa – read our review to find out more…
Related: How to make treadmill running less boring
Echelon Stride
BUY IT NOW:
£1599 / amazon.co.uk
PROS:
A comfortable run
Easy to assemble and fold away flat
Quick Start features – you can be on incline 9 and level 9 running at a touch of a button
A huge library of fitness classes
CONS:
Speed cap may not be enough for serious athletes
The dashboard – a built-in touchscreen would be great, especially for those who don't have access to their phone or tablet to view classes
At £29.99 a month, the subscription is an expensive add-on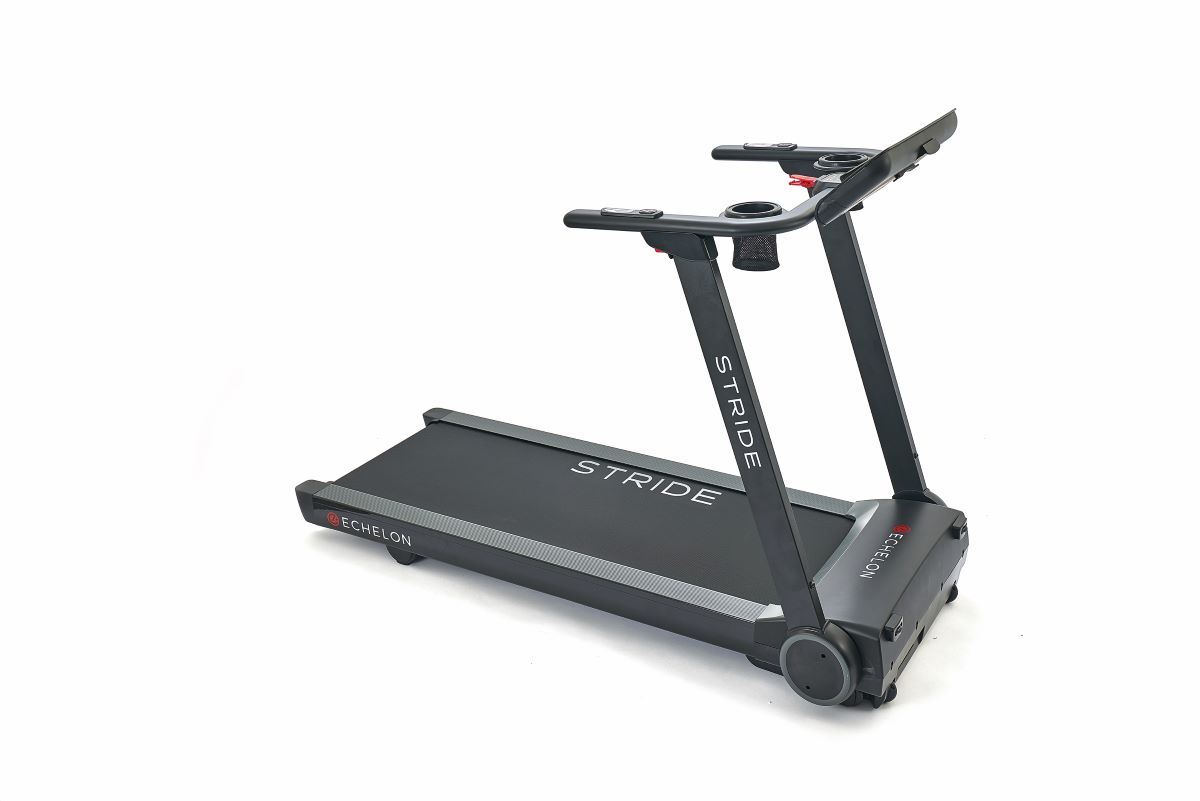 Echelon Stride: our review
The Echelon Stride costs £1,599 from echelonfit.uk or amazon.co.uk. It's pretty expensive when compared to some of the other basic folding models, such as Decathlon's T52OB Comfort Treadmill, £499, but it is still a bargain compared to some high-end versions, such as Life Fitness's F1 Smart Folding Treadmill, £2,045.
Setting up the Echelon Stride
Using the Echelon Stride was simple and straightforward. Delivered to my room of choice, I was slightly nervous about how I was going to unpack it all and put it together – but I did! Once unboxed, the entire process took me around 20 minutes and no help was needed.
Once together, I was also impressed by the size. At just 69.3 inches long, 31 inches wide and 49.2 inches tall, the treadmill didn't feel intrusive – and was so easy to fold, too. All you have to do is release the console by pushing it flat, folding the arms down using a button under the handlebars, and then pushing down on the pedal lever located on the left side of the treadmill to fully collapse the frame. Once folded and standing, it also felt very sturdy and only 10 inches deep.
With regards to running, the dashboard has all the metrics you'd expect to see on a treadmill: distance, time and steps. And the handlebars, which include integrated heart rate sensors, allow you to easily adjust your speed (right handlebar) and incline (left handlebar). The dashboard also features Quick Speed and Quick Incline capabilities that allow you to immediately adjust your speed and/or incline to 3, 6, or 9 mph/incline level with the touch of a button.
Discover the best indoor exercise bikes
A workout for every session
When you purchase an Echelon Stride you also get access to Echelon Fit (from £29.99 a month), a fitness platform that offers a variety of both live and on-demand fitness classes developed for use with Echelon's fitness equipment. To view these, I downloaded them on my iPad which I then secured using the built-in device holder on the dashboard. I enjoyed the Rhythm Runs, and Sprint Runs, and when I wanted to mix things up a little, gave the Stride Bootcamp classes a go, which split the class time between the treadmill and strength training.
Worried about disturbing neighbours? The treadmill feels steady and stable and not noisy, not even when maxed out at a 12 per cent incline and level 12 speed.
Should you buy the Echelon Stride?
The Echelon Stride has everything I want and need in a home treadmill. It's easy to use. I can use it to walk, run or sprint, and then I simply fold it to put it out of sight. It feels like a good treadmill – not a flimsy home version – and worth the price tag. It feels like it will have longevity.
Words: Lucy Miller | Images: Echelon