With darker, colder evenings in full swing, the idea of an outdoor run may be starting to look less attractive. Instead, many of us are turning to indoor treadmills for our weekly workouts. However, it's safe to say that running on a treadmill can be pretty boring at times – especially if you're going for longer distances. Here are some top tips from the experts at health and wellness app, Keep it Cleaner, on how to make your treadmill workouts less boring and more fun…
Leading health and wellness app, Keep it Cleaner (from £8.99 a month), is headed up by Laura Henshaw and Steph Claire Smith. It is hugely popular in Australia and is now making a push here in the UK.
They recently dropped Treadmill workouts onto the app, because, let's be honest, some motivation on these stationary machines is needed and you can make your gym session that little bit more exciting. Here's how to make your treadmill workouts less boring and more fun over the winter months…
5 ways to make your treadmill workout less boring:
1. Start with a short duration goal
Most people would feel rather overwhelmed at the idea of spending a whole hour on a treadmill. So, instead of signing yourself up to a full hour, start off with a duration of just 5 minutes, and see how you go. If you're feeling good, more often than not you will feel motivated to keep going! The connection between movement and our mind is more powerful than you think.
Related: How to motivate yourself to go to the gym
2. Plug in some audio
Nothing's worse than listening to the never-ending thrum of your own footsteps when powering through an intense workout. Listening to someone else can distract you from the intensity of the workout itself. Put on a playlist, listen to a podcast or tune into a workout guide. The extra motivation is sure to put a spring in your step!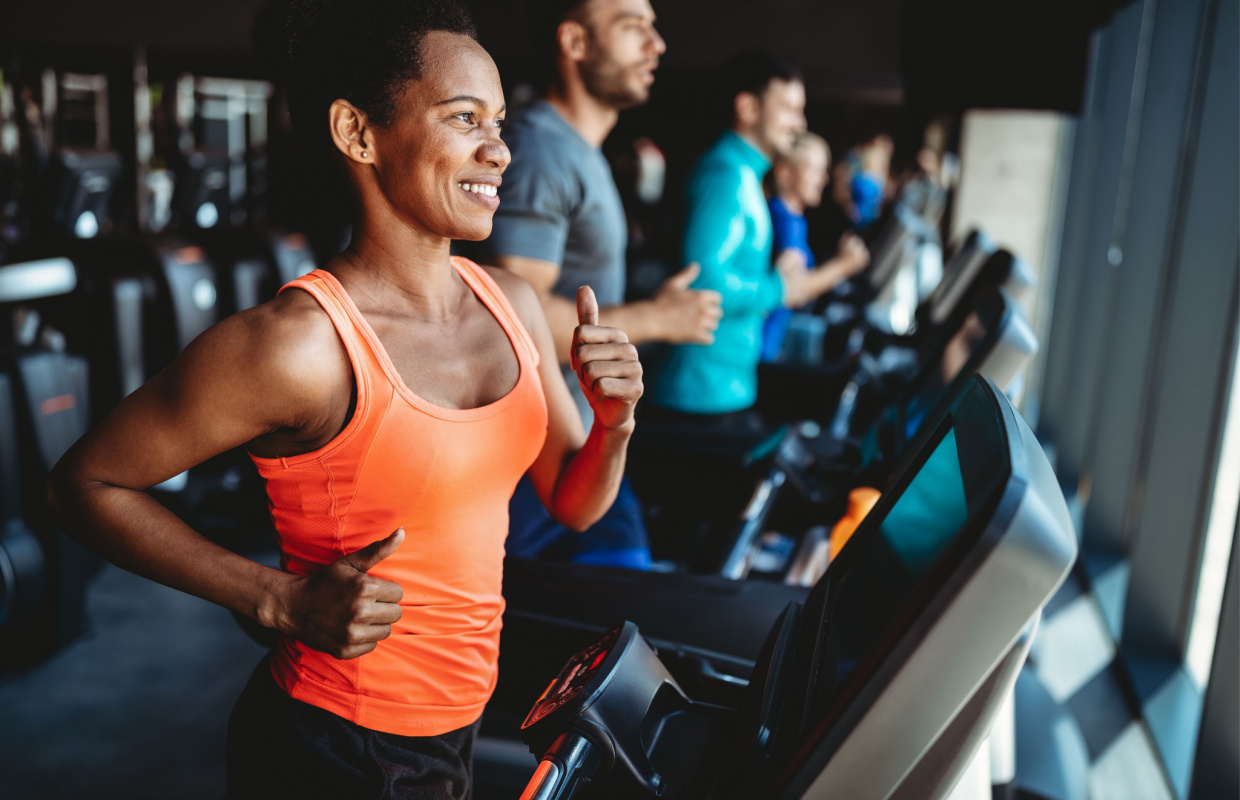 3. Change up your pace and incline
If your current treadmill workout routine consists of setting the timer and running as fast as you can, you could be missing out on various fitness benefits – while also making your workout far less engaging.
Jaclyn Murphy, Head of Exercise Physiology at Upwell Health Collective, says that not only will the change of pace and incline level helps to maintain interest and variety, from a physiological perspective incorporating interval sessions on the treadmill helps to increase aerobic and anaerobic capacity, increase oxygen uptake and long-term increase in endurance capacity. The physical health benefits to interval sessions on the treadmill are superior!
'Users might also find that their fitness levels stagnate if they just run at the same pace or do the same run all the time, incorporating interval training can help to boost fitness levels and increase running efficiency in a much shorter time period,' says Murphy.
4. Throw in a quick walk
It can be tempting to always 'power through' and never decrease the pace or incline when running on a treadmill – but listening to your body can transform your fitness motivation in the long run.
If your body is telling you that you need to slow it down, do it. Then, slowly build back up to a pace that feels good for you when you're ready. Murphy adds, "incorporating interval sessions can also reduce the risk of injury by changing the overall load on the body".
5. Remind yourself how amazing you will feel afterwards 
The 'runner's high' is a sure thing. 'There are very real and well-known mental health benefits of interval training, including the release of endorphins. Endorphins in particular increase feelings of wellness, happiness and wellbeing and decrease or dampen pain signals within the body. Our brains are like our body's natural medicine chest!' says Murphy.
Related: Paula Radcliffe on the benefits of running at any age