Virtual races over iconic climbs, live classes with an instructor… at-home cycling has never been so exciting. If you're looking to improve your biking ability from home, discover our pick of the best indoor exercise bikes…
By Sarah Sellens
Gyms have a host of obvious benefits – exercise experts on tap, a variety of kit and social interaction – but during the pandemic, a huge number of us rediscovered home exercise. And for good reason, as home exercise gear was becoming increasingly effective and convenient, with connected machines such as smart bikes streaming live and on-demand content.
Check out our roundup of the best cycling clothing for women
Peloton, the billion pound New York fitness company, led the way in 2014 with its Peloton Bike, an at-home exercise bike equipped with a 22-inch touchscreen for on-demand or live cycling content. By 2020, Peloton had reported a 172 per cent surge in sales. But it doesn't stop with the Peloton Bike (which now comes with a 24-inch display and swivel screen as the Peloton Bike+).
Just last year, British home cycling start-up Apex launched the Apex Bike, while the Wattbike Atom, a smart bike that boasts third-party app connectivity, was updated with an electromagnetic resistance system. With so many options to choose from, we've put just a few through their paces. From our lounge to yours, we review the best indoor exercise bikes on the market…
Fancy trying an e-bike? Check out our pick of the best e-bikes in 2023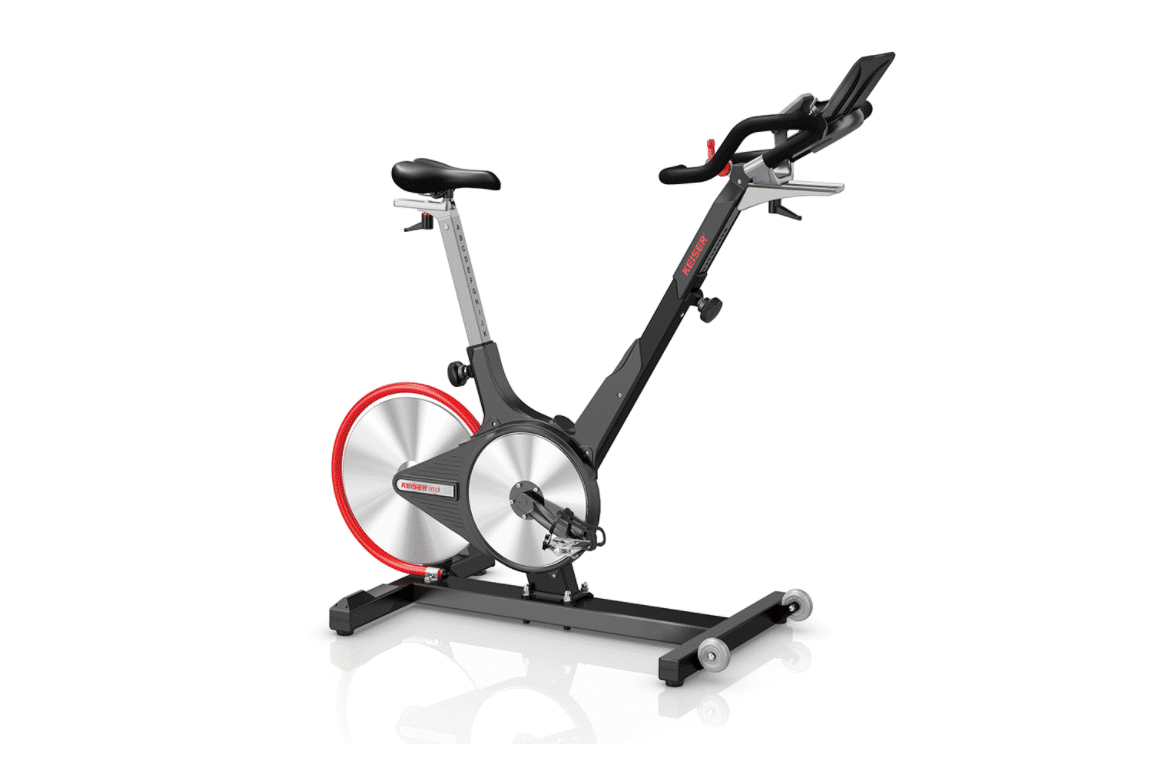 BUY/RENT IT NOW:
Rental £39/month +£29.99/month subscription / digmefitness.com
Tester, Leona Gerrard, says: 'A fantastic way to get a full body workout from the comfort of your home, Digme At Home offers a range of live streamed and on-demand workouts, from HIIT sessions and yoga, to power cycling, strength and breathwork. But there's also the option to rent or purchase the Digme At Home bike and dial into sessions from your living room, office or garage (if your WiFi will stretch that far!).
'The bike comes with build and assembly as well as cages and SPD cleats, and the computer has a power meter so you can work to improve your FTP (functional threshold power) in one of the Perform Live classes with instructor Laura. You also have the option of purchasing the bike outright from £1,550. Digme offers a free 30-day trial so you can try a range of workouts before buying. If you don't want to commit, you can also purchase individual classes for £6 each.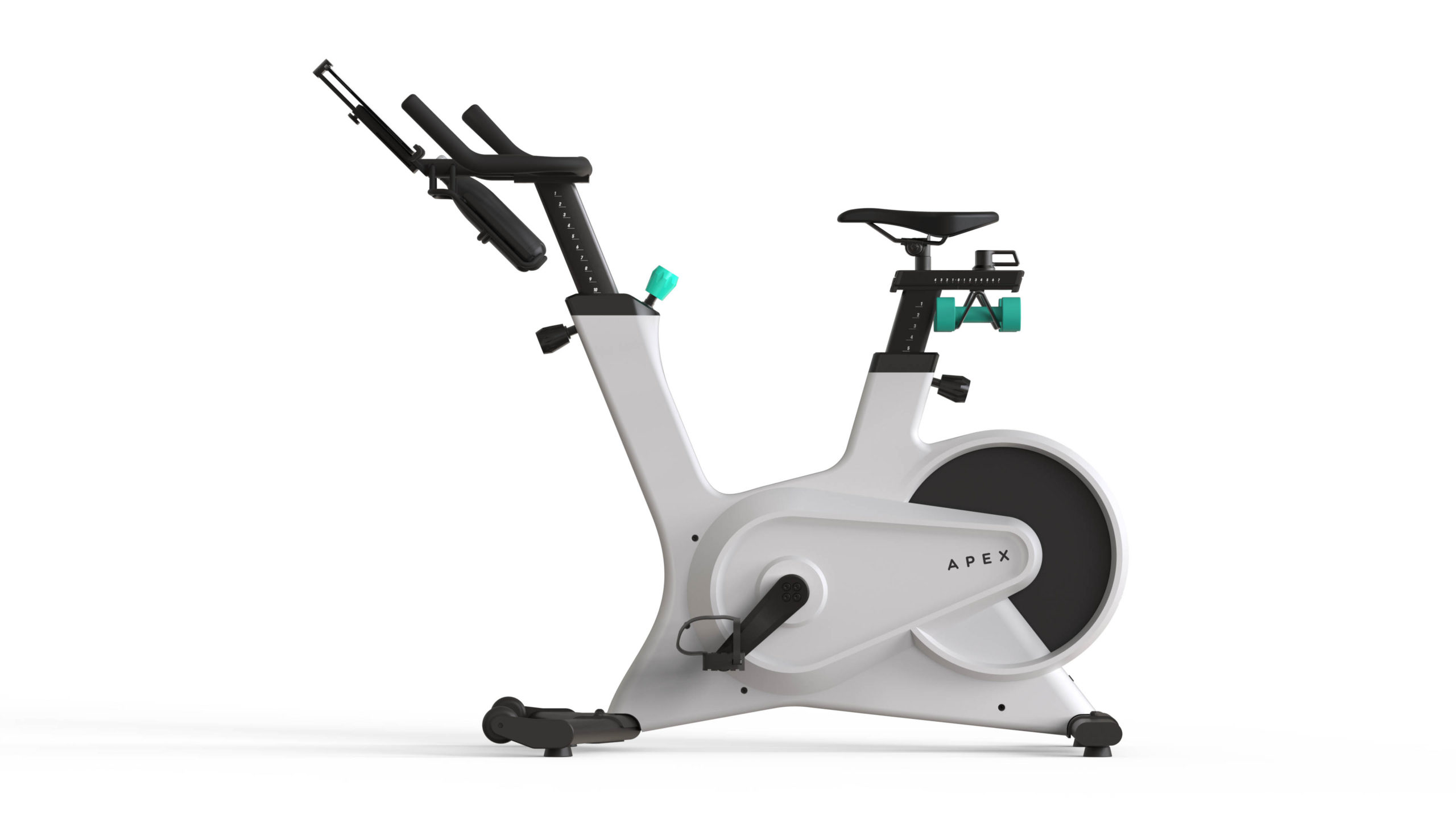 BUY IT NOW:
£1,200 + £29.99/month subscription / apexrides.com
Tester, Mary Comber, says: 'The UK's answer to Peloton, this sleek, high-spec bike saves you money by eschewing a built-in screen. Simply slot your iOS device* into the holder, connect to the gamified Apex app via Bluetooth and, voilà, access to more than 150 on-demand and live classes from top London Spin studio, Boom Cycle.
'The bike is compact (4 x 2ft) and simple to set up with adjustable, racer-style seat and multi-position handlebars boasting USB sockets and holders for phone, water-bottle and handweights. Thanks to a light (4kg) flywheel, Apex is a super-smooth, peaceful ride and I found it offered ample resistance and stability, even during out-of-the-saddle HIIT.
'I loved the fun, expertly-led classes, filterable by level, length, instructor and music genre. Start pedalling and the screen displays your RPM, resistance and power alongside targets, plus a live leaderboard for competing with the Apex community. Post workout, you're awarded Apex points and can upload your stats (calories burned, speed, distance) to Strava or Apple Health.'
*Apex plans to launch on Android in late 2021.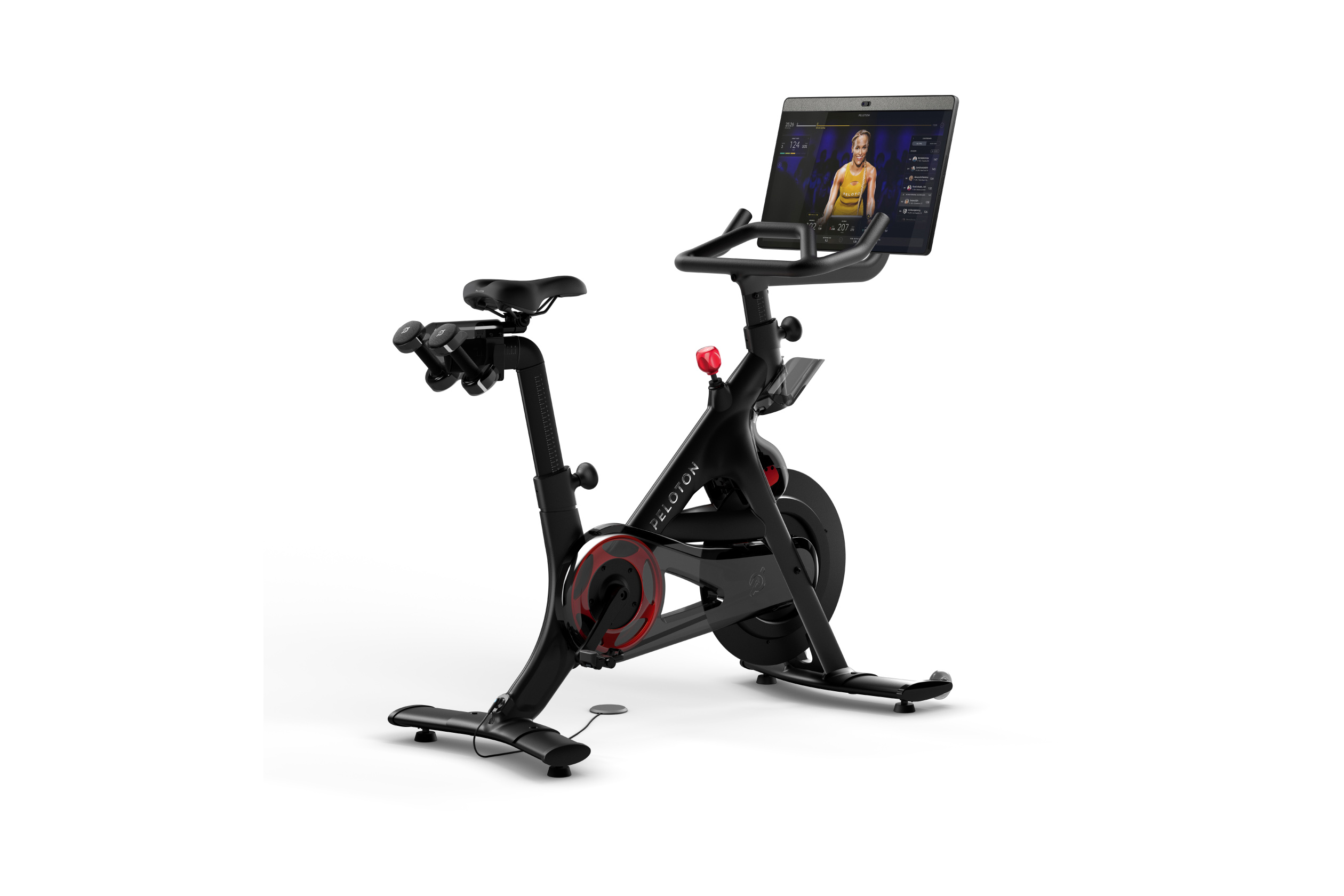 BUY IT NOW:
£2,295 + £39/month subscription / onepeloton.co.uk
Tester, Sarah Sellens, says: 'Since its American launch in 2014, 4.4 million people have joined the Peloton community – I'm one of them. I've been a proud owner of a Peloton Bike (first generation, not the Bike+) since 2019. It was the main piece of kit that got me back to fitness after the birth of my second daughter.
'I've done late night and early morning rides while the kids have slept. I've done recovery rides and lie-on-the-floor-to-catch-my-breath rides. I follow friends and I compete with my husband, and I use the app to do strength or yoga sessions.
'Inspiring and motivating, the world class instructors make Peloton a supreme investment. Plus, there are so many live and on-demand workouts to choose from. The 2020 Peloton Bike+ comes with a swivel screen that allows you to use it for off-bike content such as stretching, strength work or meditation. It's very smart.'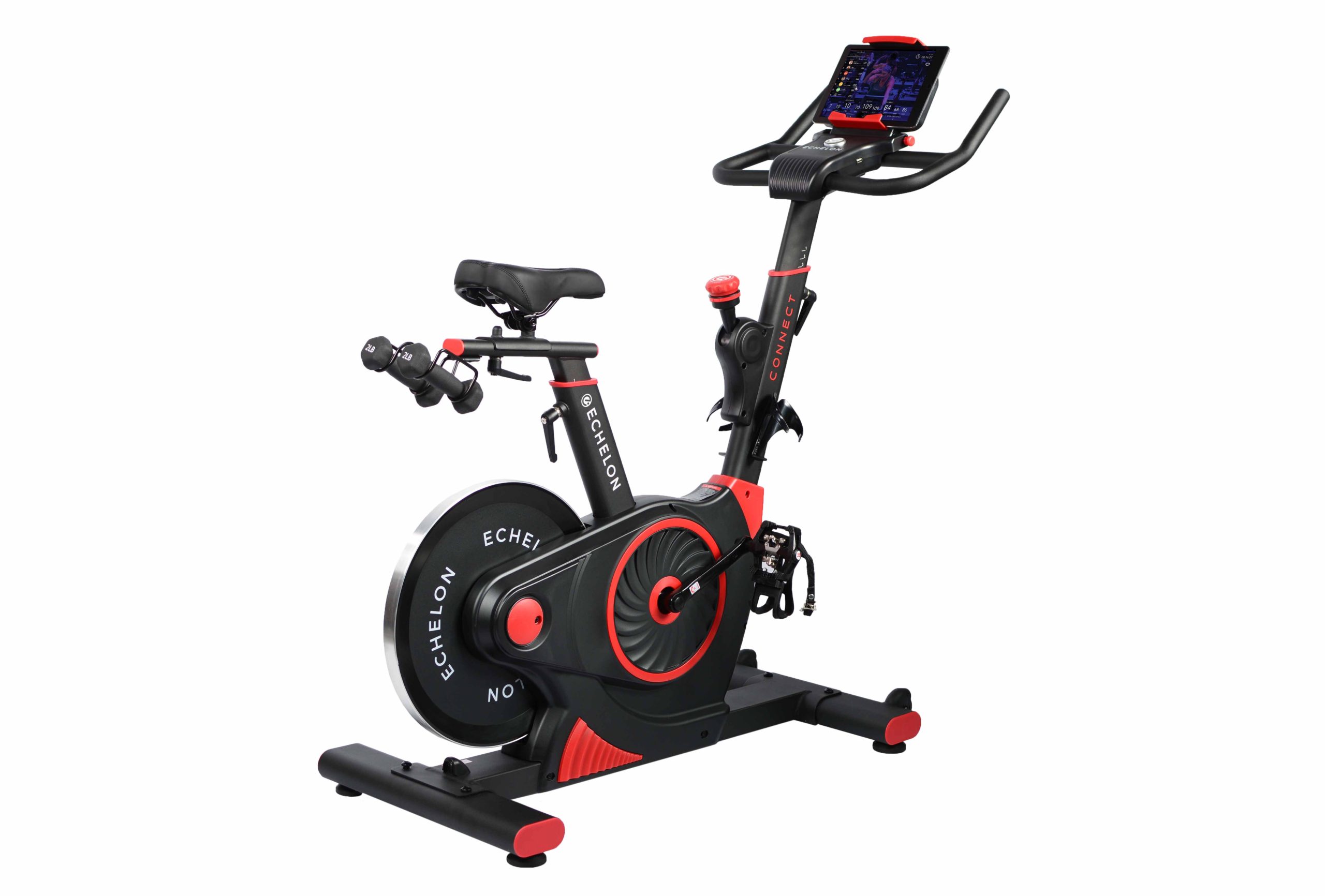 BUY IT NOW:
£1,199 + £24.99/month subscription / echelonfit.uk
Tester, Joanna Ebsworth, says: 'Weighing in at 57kg, the Echelon EX-3 has a modern, space-efficient design. It was easy to build once someone helped me lift it into place. The fully adjustable competition-style saddle and padded handlebars let you comfortably transition in and out of the seat. Plus, the almost-silent 32-level magnetic fly wheel offers a huge range of resistance.
'Connecting to the daily live classes and on-demand workouts via iPad was simple, and seeing my leaderboard status and metrics (cadence and resistance) boosted my motivation, although a simple swipe can hide them from view.
'You can also connect to third-party apps such as Strava and Fitbit. This allowed me to measure my heart rate, and I also could search for classes based on my music tastes (hip hop, country, R'n'B, Latin, pop), preferred instructor, language, length of class (10 to 60 minutes) and type of workout (hill sprints, scenic rides). This huge variety saved my sanity over lockdown. Plus, it has kept me coming back for more ever since.'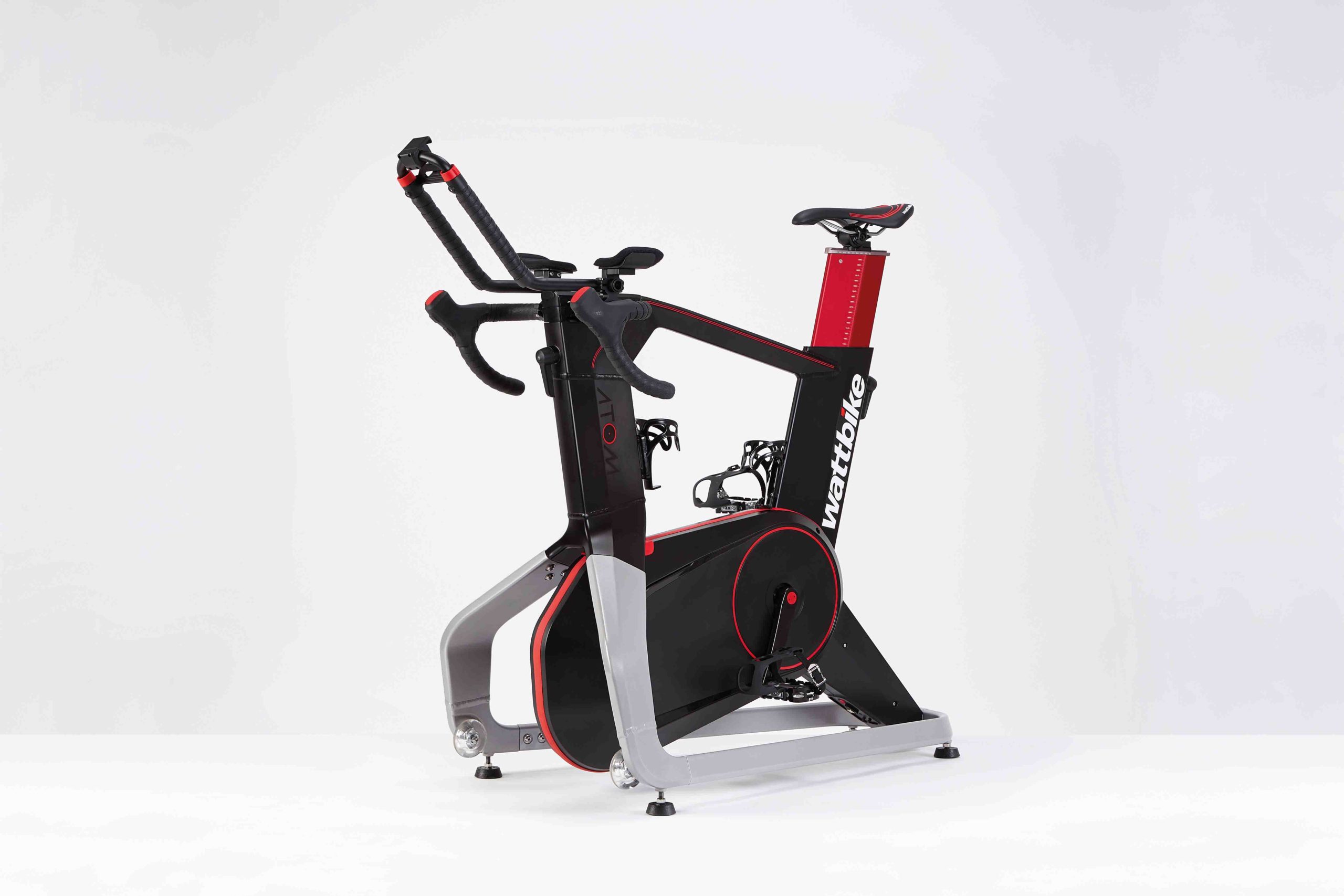 BUY IT NOW:
£1,999.99 / wattbike.com
Tester, Sarah Sellens, says: 'Launched in 2017 to provide cyclists with an indoor ride that has an outdoor feel, the Wattbike Atom was updated last year to offer a custom-designed electromagnetic resistance system with faster reactions to gradients on third-party apps and crisper gear changes.
'This is the indoor bike for road cyclists because it feels and performs like the real thing. Simply connect your iOS device to one of the many virtual riding apps (Zwift, The Sufferfest or the brand's own Wattbike Hub which has free workouts and training plans). Then, slot it onto the very sturdy tablet holder.
'I found the set-up required care and consideration. It's worth spending some time ensuring you've got the right riding position on the bike (I found some handy advice on support.wattbike.com). However, once in the saddle, I was wowed by the built-in shifters and the magnetic resistance that automatically adjusted to inclines on my Zwift course. Different from other at-home bikes I've tried, it's great for clocking up serious mileage. I'd recommend this to any competitor.'