Ditch the ham sandwich and spice up lunchtime with our pick of the best quick, easy and healthy lunch ideas and recipes…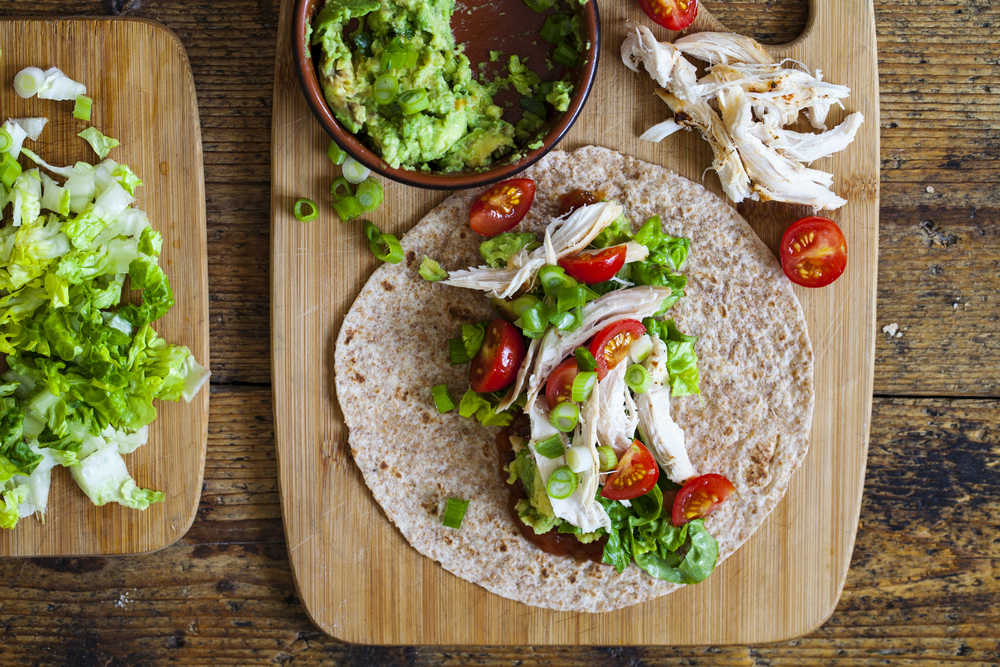 Chicken salad tortilla wrap
Warm 1 wholemeal tortilla wrap and fill with 3-4 slices of cooked chicken, 1 handful of shredded lettuce, 1 chopped tomato, a few slices of cucumber and 1tbsp of low-fat mayonnaise.
Per serving: cals 242 | fat 3.1g | sat fat 1.7g | protein 18g
Related: How many calories should I eat per day?
Speedy asparagus tortilla (serves 4)
Ingredients:
400g fresh asparagus tips, trimmed
10 large eggs, preferably organic
2tbsps butter, melted
50g Manchego cheese, grated
Salt and freshly ground black pepper
Method:
Blanch the asparagus in boiling water for 1 min, then drain and refresh under cold water.
Beat the eggs until light and fluffy and season with the salt and freshly ground black pepper.
Brush 4 individual gratin microwave-proof dishes with the butter. Pour a quarter of the egg mixture into each dish. Microwave each dish separately on full power for 1-2 mins until the egg is just set.
Preheat the grill until very hot. Arrange the asparagus over the egg and scatter over the cheese. Grill for 1 min until golden. Serve with a crisp, green salad.
Per serving: cals 280 | fat 21g | sat fat 9g | protein 34g
Watercress, nectarine and Parma ham salad (serves 4)
Salad ingredients:
4 ripe but firm nectarines, rinsed
12 slices Parma ham
1 x 150g bag salad
25g chunk Parmesan plus 1tbsp grated
Salt and freshly ground black pepper (optional)
Dressing ingredients: 
4tbsps single cream
1 garlic clove, peeled and finely grated
3tsps lemon juice
Method:
Cut the nectarines into thin slices, removing the stones, and arrange on 4 plates.
Place the Parma ham in waves on top of the nectarines then add a handful of salad leaves.
Shave the Parmesan over the plates using a potato peeler.
To make the dressing, put the grated Parmesan, cream, garlic and lemon juice in a screw top jar and shake well. Taste, then season, if you like.
Drizzle over the salad and serve.
Per serving: cals 233 | fat 11g | sat fat 4.3g | protein 17g
Related: Calories on menus: helpful or harmful?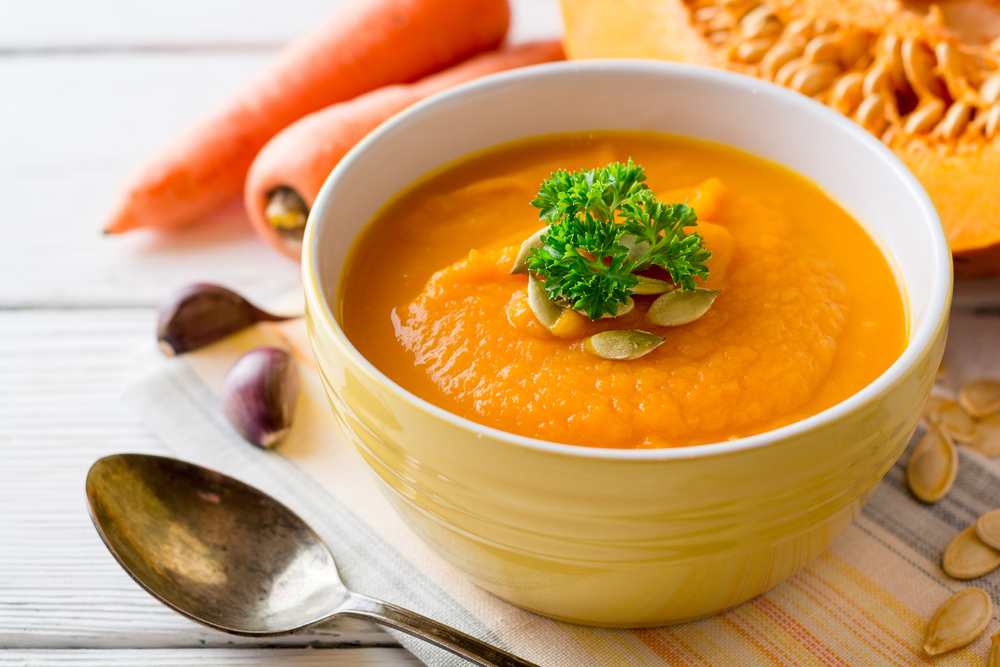 Carrot soup with parsley and pumpkin seed garnish (serves 6)
Looking for healthy lunch ideas and recipes to warm you up during the colder months? This carrot soup recipe is sure to hit the spot…
Ingredients:
1tbsp olive oil
1 onion, peeled and finely chopped
2 celery sticks, trimmed and chopped
900g carrots, peeled and chopped
1.2L good-quality vegetable stock
4tbsps pumpkin seeds
2tbsps freshly chopped parsley
Salt and freshly ground black pepper
Seeded bread, to serve
Method:
Heat the olive oil in a large saucepan. Add the onion, celery and carrots and cook gently for 5 mins until onion is soft but not brown.
Pour in the stock and bring to the boil. Simmer for 30 mins until the carrots are tender.
Using a hand blender or food processor, blitz the soup until it reaches the consistency you like. Taste, then season well with the salt and pepper.
Ladle into bowls and sprinkle with the seeds and parsley. Serve with bread.
Per serving (excluding bread): cals 118 | fat 6g | sat fat 1g | protein 5g
Related: The Eatwell Plate: how to eat a balanced diet
Sardines and tomatoes on toast
Thickly slice 1 large tomato and pan-fry in a little olive oil. When softened, add 3 sardine fillets from a tin to the pan to warm through. Place the tomatoes on 1 slice of wholemeal toast and top with the sardines.
Per serving: cals 257 | fat 8.6g | sat fat 3.3g | protein 21.2g
Warmed pitta bread and ham salad
Fill 1 warmed wholemeal pitta bread with 2 slices of lean ham, 1 thinly sliced tomato, some shredded lettuce and 1tbsp of low-fat mayonnaise.
Per serving: cals 255 | fat 7g | sat fat 1g | protein 17.5g
Cheese omelette and green salad
Make an omelette with 2 eggs and 1tsp of light olive spread in a pan. While cooking, sprinkle with 1tbsp of grated Cheddar cheese. Serve with a green salad.
Per serving: cals 396 | fat 33g | sat fat 14g | protein 24g
Jacket potato with cottage cheese
Bake or microwave a small jacket potato (140g) and top with 2tbsps of cottage cheese.
Jacket potatoes are great for a wide range of healthy and easy lunch ideas – get creative!
Per serving: cals 290 | fat 1.2g | sat fat 0.5g | protein 6.5g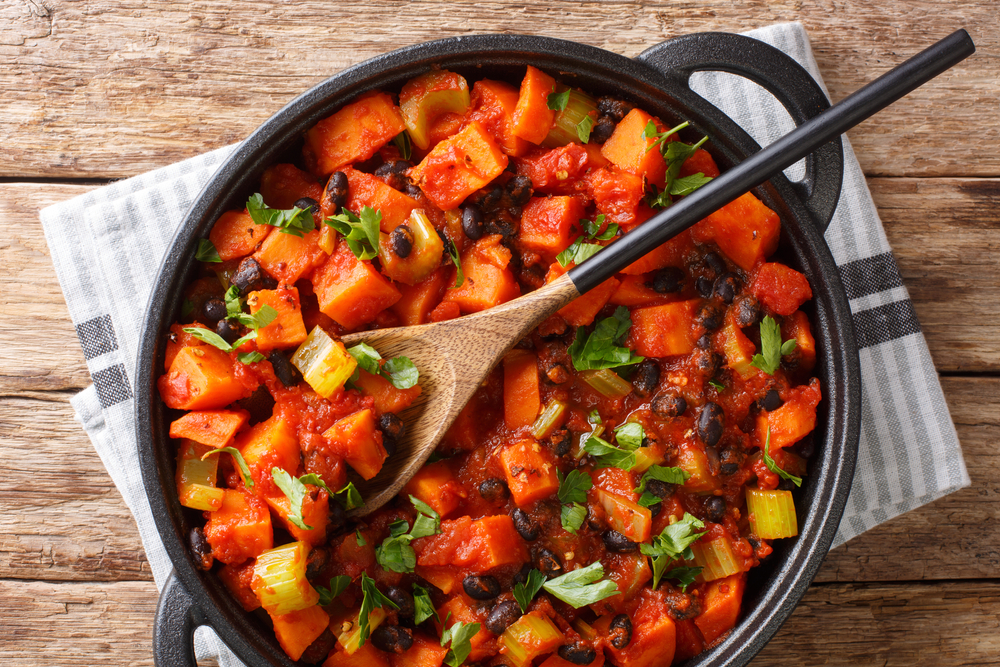 Spicy sweet potato veggie chilli (serves 4)
Ingredients:
1 large sweet potato, peeled and cubed
2tbsps olive oil
1 onion, finely chopped
2 garlic cloves, minced
½tsp ground coriander
1tsp ground cumin
½tsp chilli powder
1-2 red chillies, deseeded and chopped
1 x 350g pack Quorn mince
1 x large can chopped tomatoes in tomato juice
2tbsps tomato purée
200ml vegetable stock
1 x 410g can of kidney beans, drained and rinsed
Small bunch coriander, chopped
Method:
Bring a large pot of water to the boil, throw in the sweet potato cubes and cook until just tender. Drain and set aside.
Heat 2tbsps of olive oil in a pan, add the onions and cook until softened.
Add the garlic, spices and the chilli and cook for a further 1-2 mins.
Add the Quorn mince and stir.
Pour in the chopped tomatoes, purée and stock and simmer for 15 mins until thickened.
Stir in the sweet potato and kidney beans and continue to cook for 5 mins. Stir in the coriander and serve with rice (not inc in cal count).
Per serving: cals 278 | fat 4g | sat fat 1g | protein 23g
Related content: