Low in fat but high in taste, these healthy fish and seafood recipes are surprisingly simple to make – perfect for a midweek meal!
No time to cook? Discover the best fitness food delivery services
Thai prawn curry recipe
Spice up your cooking repertoire with a mouthwatering, guilt-free curry.
Serves: 2
Preparation time: 5 minutes
Cooking time: 15 minutes
Per serving: 156 calories | 8.5g protein | 11g fat | 5g sat fat | 5g carbs | 2g fibre | 1g salt
Related: How many calories should I eat per day?
Ingredients:
1 red pepper, chopped
3 spring onions, chopped
Sunflower oil
1 teaspoon Thai curry paste
2cm ginger root, freshly grated
2 garlic cloves, crushed
200ml reduced-fat coconut milk
Fish sauce
12 baby sweetcorn
150g king prawns, uncooked
Coriander, chopped
Juice of ½ lime
Method:
Add red pepper and onions to a pan with a dash of sunflower oil and cook for a few minutes until soft.
Next, add Thai curry paste, ginger root and garlic.
Cook for two minutes then add coconut milk and a good dash of fish sauce.
Bring to a gentle boil, then add sweetcorn and king prawns.
Simmer for three minutes, then throw in a handful of coriander, plus lime juice, and serve.
Chef's tip: If you accidentally make a dish too spicy, add something sweet, such as chopped dried apricots, or grated apple, to counter the heat.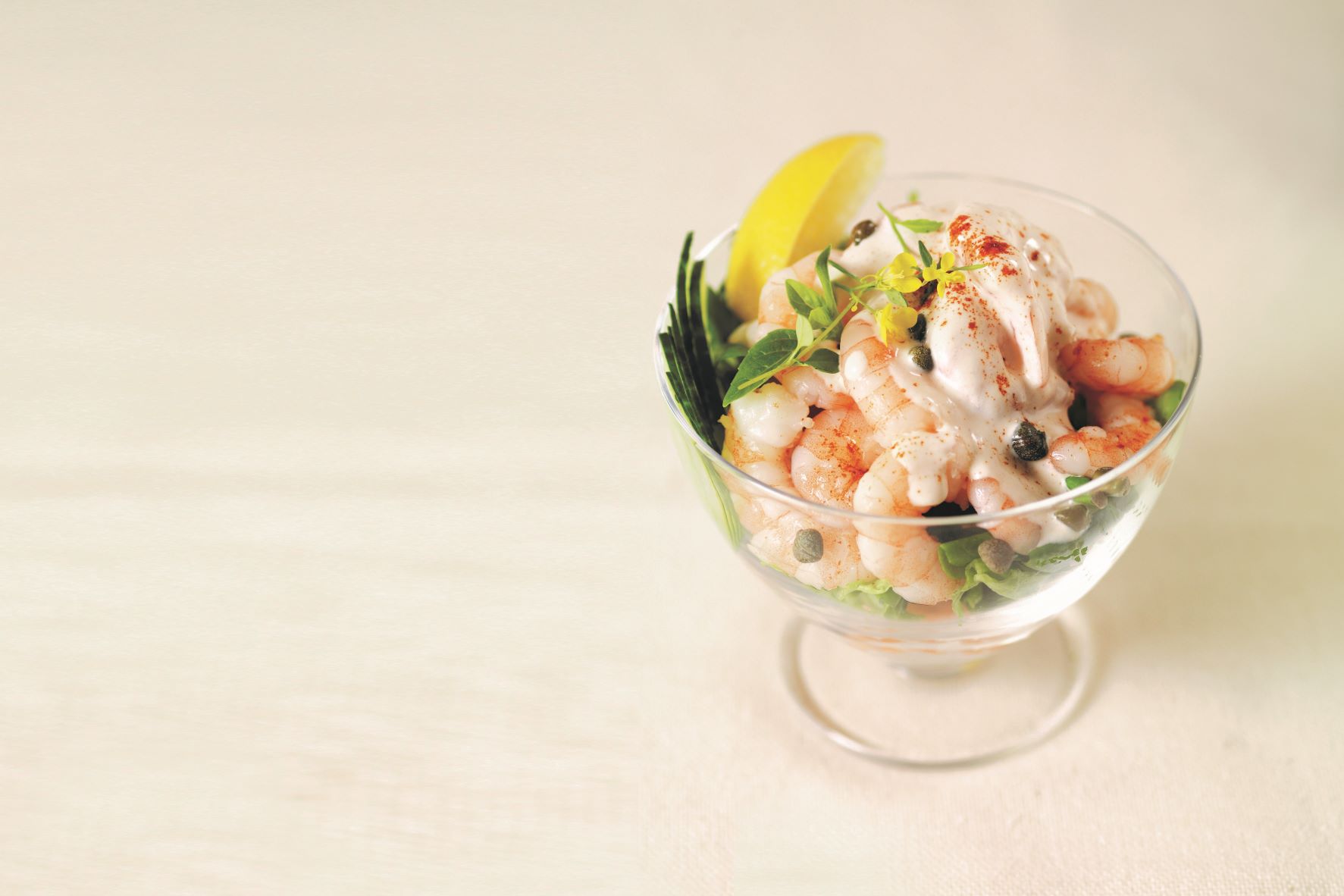 Healthy prawn cocktail recipe
Look after your health with a lighter take on this classic dish.
Serves: 2
Preparation time: 10 minutes
Per serving: 123 calories | 17g protein | 3g fat | 0.5g sat fat | 4g carbs | 2g fibre | 1.9g salt
Ingredients:
½ tsp ketchup
¼ lemon juice
½ tsp soy sauce
White pepper
1 tbsp live natural yoghurt
1 tsp mayonnaise
200g king prawns, cooked
100g mixed leaves
1 cucumber, sliced thin
2 lemon wedges
1 tsp capers
Smoked paprika
Method:
Make the sauce by adding ketchup, the juice of quarter of a lemon, soy sauce and a good pinch of white pepper to a cup and mix well. Stir in natural yoghurt and mayonnaise.
Allowing 100g king prawns per person, add three king prawns to the bottom of two glasses. Add half the mixed leaves to each glass, top with the rest of the prawns and add thinly sliced cucumber.
Drizzle the sauce on top, add a wedge of lemon and sprinkle capers and a pinch of smoked paprika onto the top of each glass. Serve.
Did you know? Prawns contain vitamin B12, a natural energy booster that helps to reduce stress.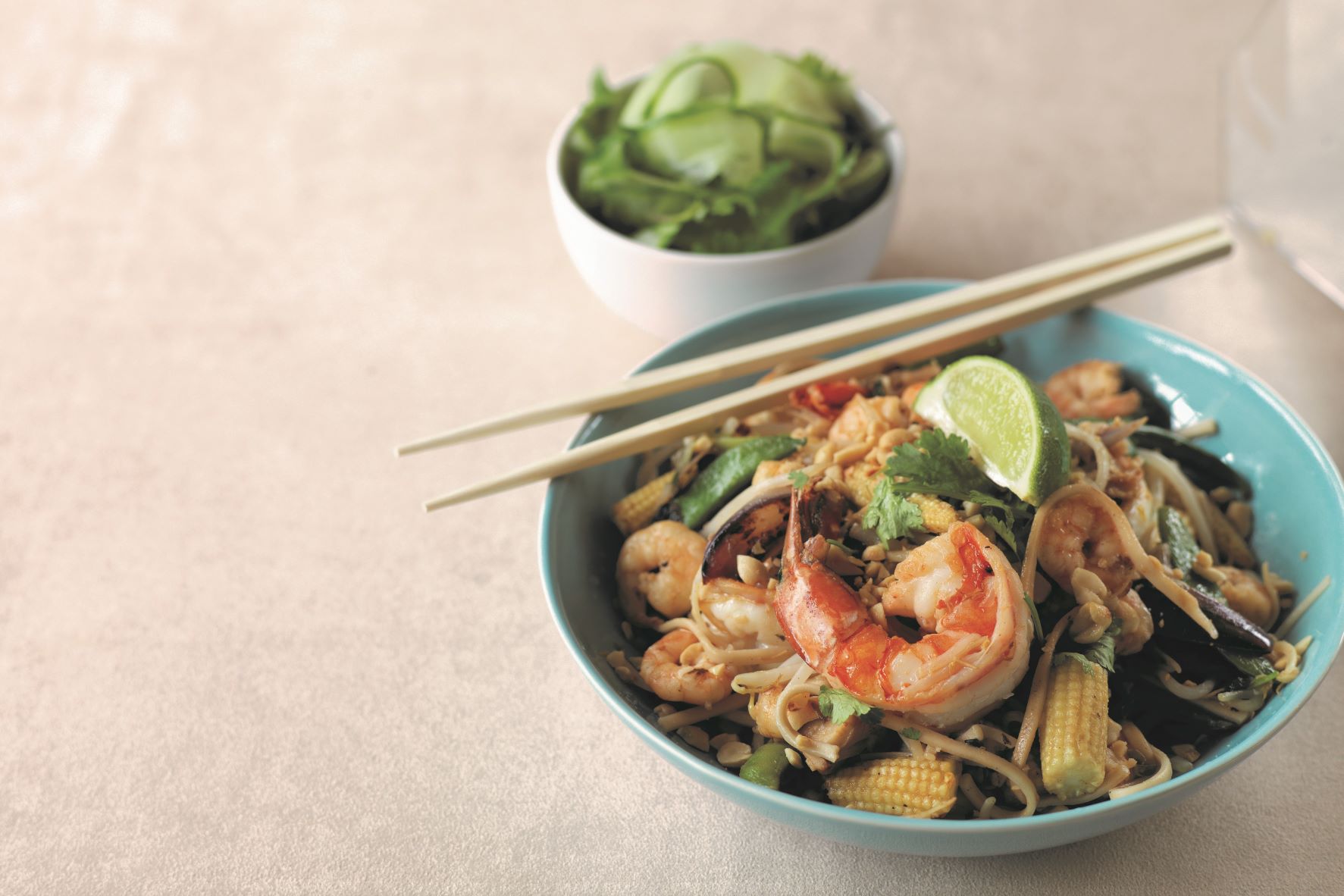 Pad Thai recipe
This quick and versatile dish can be adapted to use whichever vegetables are to hand.
Serves: 4
Preparation: 10 minutes
Cooking time: 12 minutes
Per serving: 500 calories | 24g protein | 15g fat | 2.5g sat fat | 61g carbs | 4g fibre | 1.8g salt
Related: The Eatwell Plate: how to eat a balanced diet
Ingredients:
250g noodles
Oil
2 red onions, cut into wedges
175g baby sweetcorn
3 garlic cloves, chopped
1 small chilli, chopped finely
8 raw jumbo king prawns
200g raw tiger prawns
6 shiitake mushrooms, sliced
150g sugar snap peas
200g beansprouts
2 tsp caster sugar
2 tbsp fish sauce
1 lime
Coriander, chopped
75g peanuts, chopped
Method:
Cook noodles according to the pack instructions (around three to five minutes). Plunge them into cold water, drain and reserve.
Add a dash of oil to a large pan or wok over a high heat. Add red onions and stir fry for three minutes, then add sweetcorn, garlic and the chilli. Stir for another two minutes.
Add jumbo king prawns and after a minute, add tiger prawns and shiitake mushrooms. Stir for a minute.
Add the noodles and sugar snap peas, stir for two minutes, then add beansprouts, caster sugar, fish sauce, juice of a lime and a handful of chopped coriander and stir for a further two minutes.
Put into a bowl and top with the peanuts.
For a side dish, cut half a cucumber into ribbons with a vegetable peeler, then add fresh coriander leaves and a squeeze of lime.
Chef's tip: Stir-frying is a quick way to cook, so chop and measure all the ingredients before you start cooking.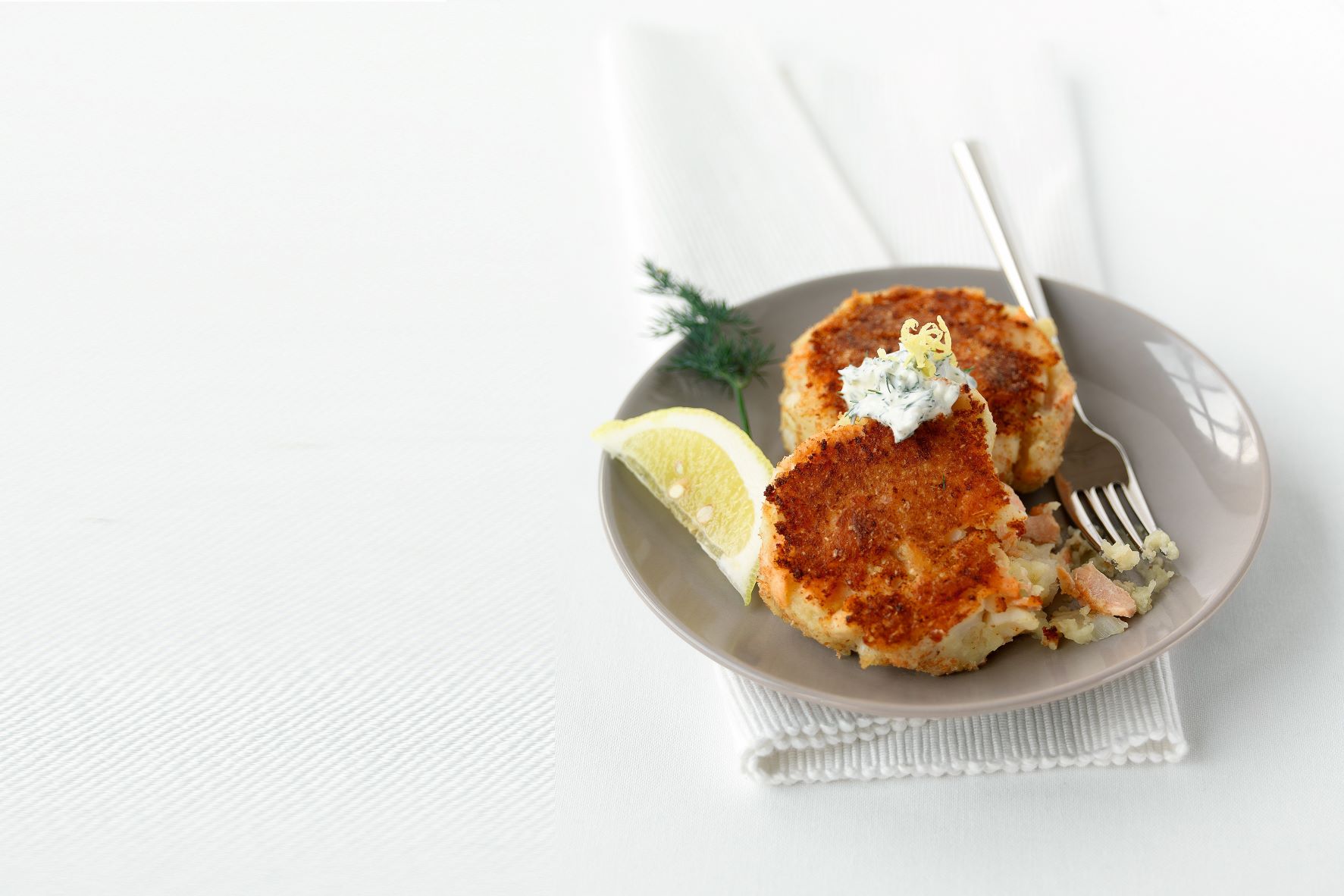 Healthy fish cakes recipe
These delicious omega 3-rich patties are a healthy and tasty option the whole family with love!
Serves: 4
Preparation time: 10 minutes
Cooking time: 30 minutes
Per serving: 385 calories | 25g protein | 19g fat | 6g sat fat | 31g carbs | 2g fibre | 0.7g salt
Ingredients
Sunflower oil
1 small onion, finely chopped
Dash of dry white wine
100ml milk
2 heaped tsp cornflour
250g organic salmon
200g white fish (hoki or pollack are sustainable)
Salt
White pepper
400g peeled potatoes, boiled and mashed
2 heaped tbsp wholemeal flour
2 heaped tsp smoked paprika
For the sauce:
3 tbsp half-fat crème fraîche
2 tbsp fresh dill, chopped
1 tbsp lemon juice
Grated zest of half an unwaxed lemon
Salt
White pepper
Method:
Heat a pan and add a dash of sunflower oil. Once the oil is warmed, add the onion and sauté gently for about three to five minutes until softened. As soon as the onions start to brown, add a dash of wine and cook for a minute or two, or until the wine has almost disappeared.
Mix a small amount of the milk with the cornflour and set aside. Add the rest of the milk to the onion. Add the salmon and white fish, salt and pepper to the pan, cover and simmer for three to four minutes until the fish is cooked.
Remove the fish from the pan, and thicken the sauce by gradually adding the cornflour mixture, stirring all the time. Once thickened to a paste (it's not a sauce), mix well into the mashed potato, then carefully fold in the fish.
Mix the flour and paprika on a plate. Wet your hands and form the potato and fish mixture into eight patties, then dredge each with the flour and paprika mixture. You can cook them now, or refrigerate until needed.
To cook, add a dash of oil to a hot frying pan and place the fish cakes in it, browning gently for three to four minutes on each side.
Combine the ingredients for the sauce and mix well. Serve the sauce and the fish cakes with a large green salad to accompany.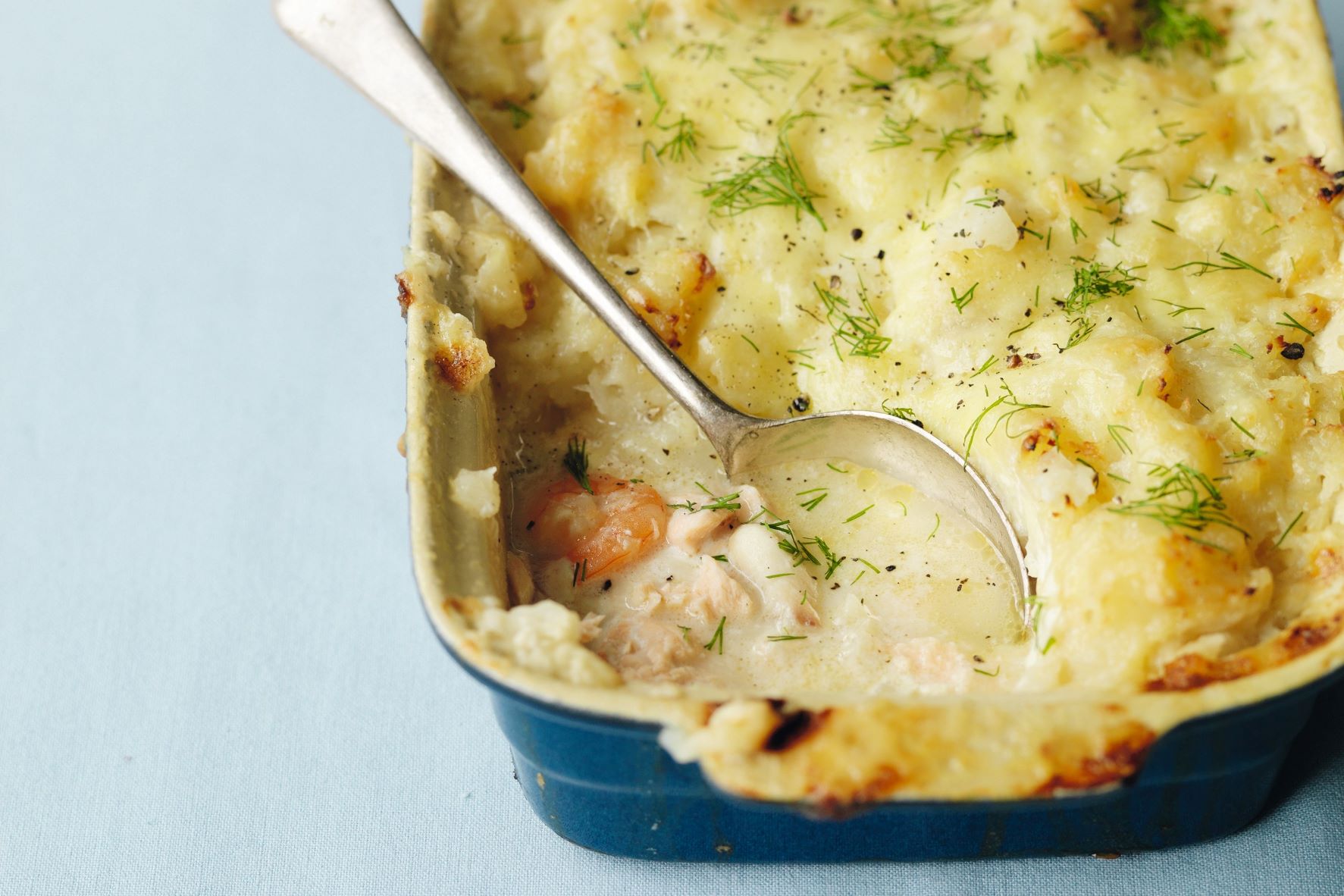 Healthy fish pie recipe
Tuck into this lower-calorie version of our favourite winter warmer.
Serves: 6
Preparation time: 30 minutes
Cooking time: 30 minutes
Per serving: 285 calories | 26g protein | 13g fat | 6g sat fat | 9g carbs | 8g fibre | 1.4g salt
Related: How to read food product labels & packaging
Ingredients:
1kg celeriac, peeled and cubed
250g salmon
150g undyed smoked haddock
1 sprig fresh dill
500ml milk
2 tbsp cornflower
1 tsp Dijon mustard
75g grated cheese
Black pepper
150g raw king prawns
Method:
Pre-heat oven to 190˚C/Gas mark 5. Boil the celeriac for 15 minutes, drain well and mash.
Meanwhile, add salmon and haddock to a pan with dill and 450ml milk. Simmer gently for eight minutes, but don't boil. Remove the fish from the milk and reserve. Discard the dill.
Add cornflour and Dijon mustard to 50ml cold milk and mix well. Heat the milk and gradually stir in the cornflour mixture, stirring constantly until the sauce has thickened. Then, stir in grated cheese and a good sprinkle of black pepper.
Remove any skin or bone from the fish and flake it evenly over an ovenproof dish. Scatter raw king prawns on top, then spoon over the sauce. Top with the celeriac and bake in the oven for 25-30 minutes. Sprinkle with chopped dill and serve.
Chef's tip: Scrape a fork across the top of the mashed celeriac, so the surface is uneven. This creates little crispy bits on top.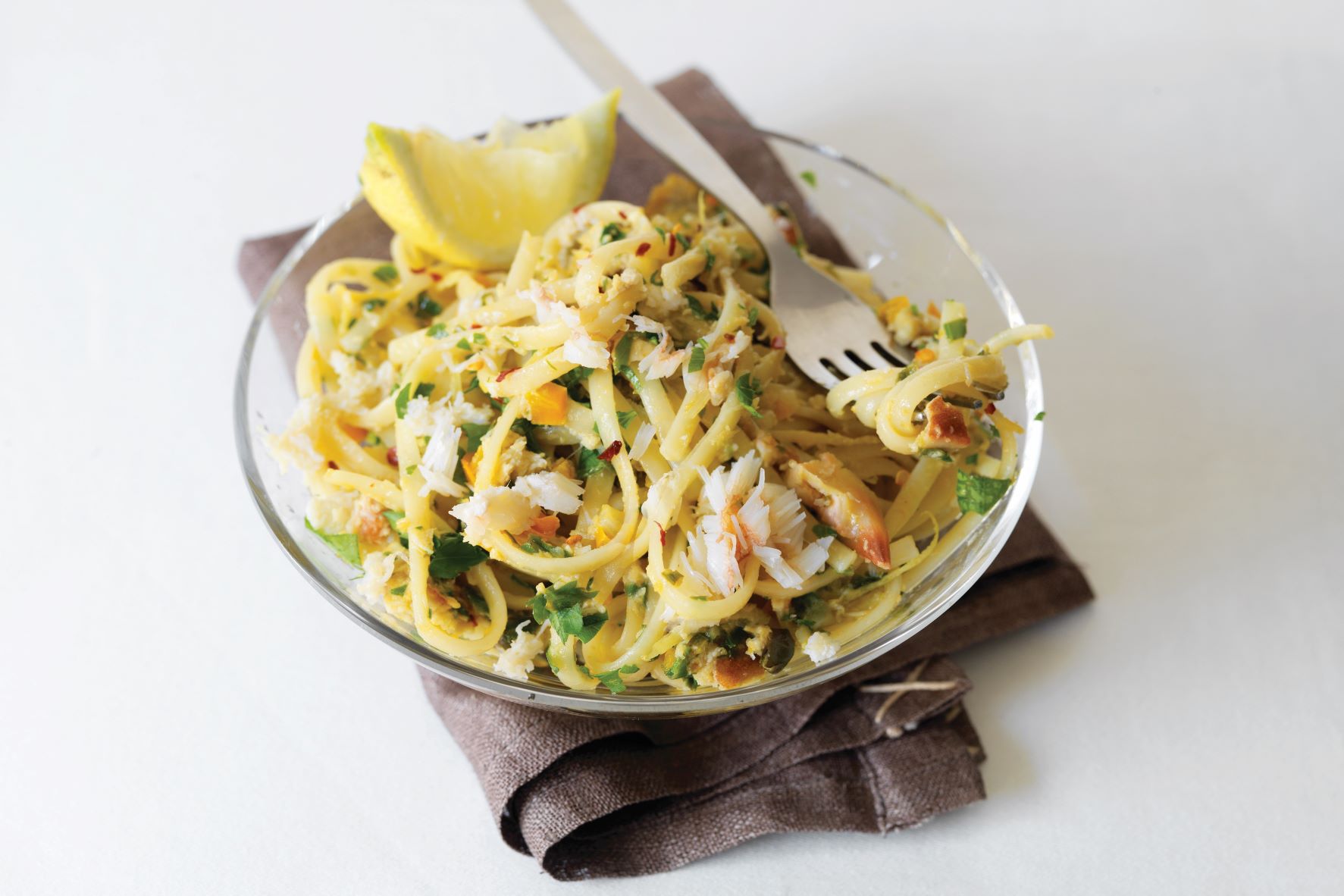 Crab linguine
Make the most of an often-neglected seafood with this healthy and flavoursome recipe.
Serves: 4
Preparation time: 15 minutes
Cooking time: 10-15 minutes
Per serving: 310 calories | 18g protein | 5g fat | 0.7g sat fat | 48g carbs | 4g fibre | 0.6g salt
Ingredients:
1 onion, chopped finely
1 orange sweet pepper, chopped finely
1 tsp chillies, crushed
2-3 cloves of garlic, crushed
Dried oregano
250g dried linguine
200g mixed crabmeat
Juice of 1 unwaxed lemon
3 tbsp parsley, chopped
1 tsp extra virgin olive oil
Wedge of lemon
Method:
Fry onion in a pan with pepper and chillies.
Stir until the onion has softened but not browned.
Add garlic and a good pinch of dried oregano.
Meanwhile, cook the linguine in boiling water and drain.
Add crabmeat, lemon juice and parsley to the pan. Mix, then toss in the hot pasta, stirring well to ensure an even coating.
Drizzle with a tablespoon of extra virgin olive oil and serve with a wedge of lemon.
Did you know? Crab is a rich source of omega-3 fatty acids, which aid brain function and memory.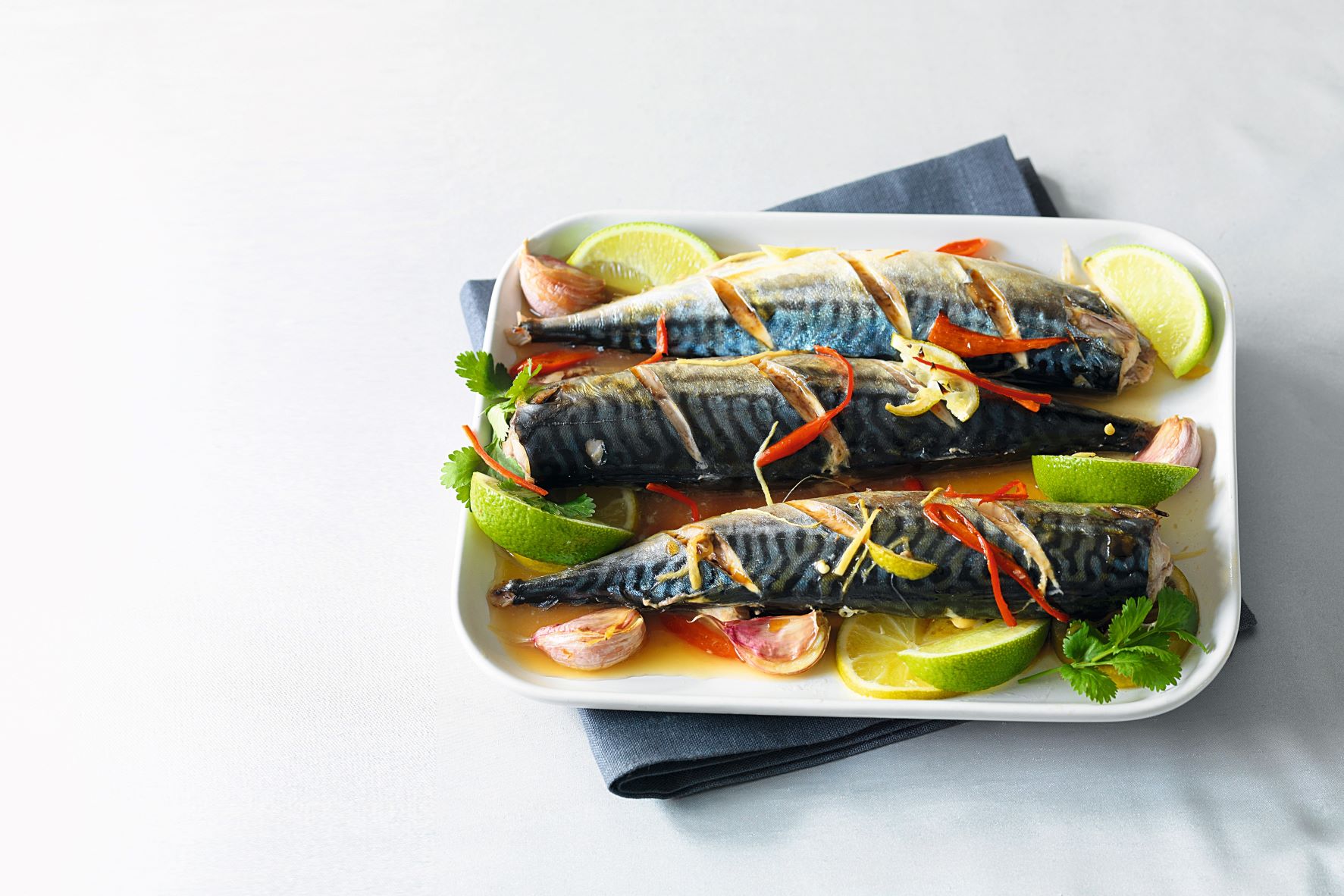 Fragrant mackerel recipe
Get a delicate taste of the Orient with this Asian-inspired recipe
Serves: 3
Preparation time: 10 minutes
Cooking time: 25-30 minutes
Per serving: 393 calories | 33g protein | 28g fat | 6g sat fat | 0g carbs | 0g fibre | 1.2g salt
Ingredients:
1 stick lemongrass, crushed
4 slices lime
3cm ginger root, peeled and shredded
6 garlic cloves, lightly crushed and unpeeled
3 mackerel
1 tbsp soy sauce
1 tbsp mirin
Juice from ½ lime
½ chilli, deseeded and shredded
Coriander
Method:
Pre-heat oven to 200˚C/Gas mark 6. Place a large sheet of foil on a baking tray and scatter with lime, ginger, lemongrass and garlic.
Make three slashes on each side of the mackerel and lay them on the foil on top of the lemongrass and other ingredients.
Drizzle the fish with soy sauce, mirin and lime juice, then sprinkle shredded chilli on top.
Fold the foil and crimp the edges to create a sealed parcel and bake in oven for 25 to 30 minutes.
Discard the lemongrass. Drizzle the cooking juices on top and garnish with a little shredded chilli, some fresh lime and coriander.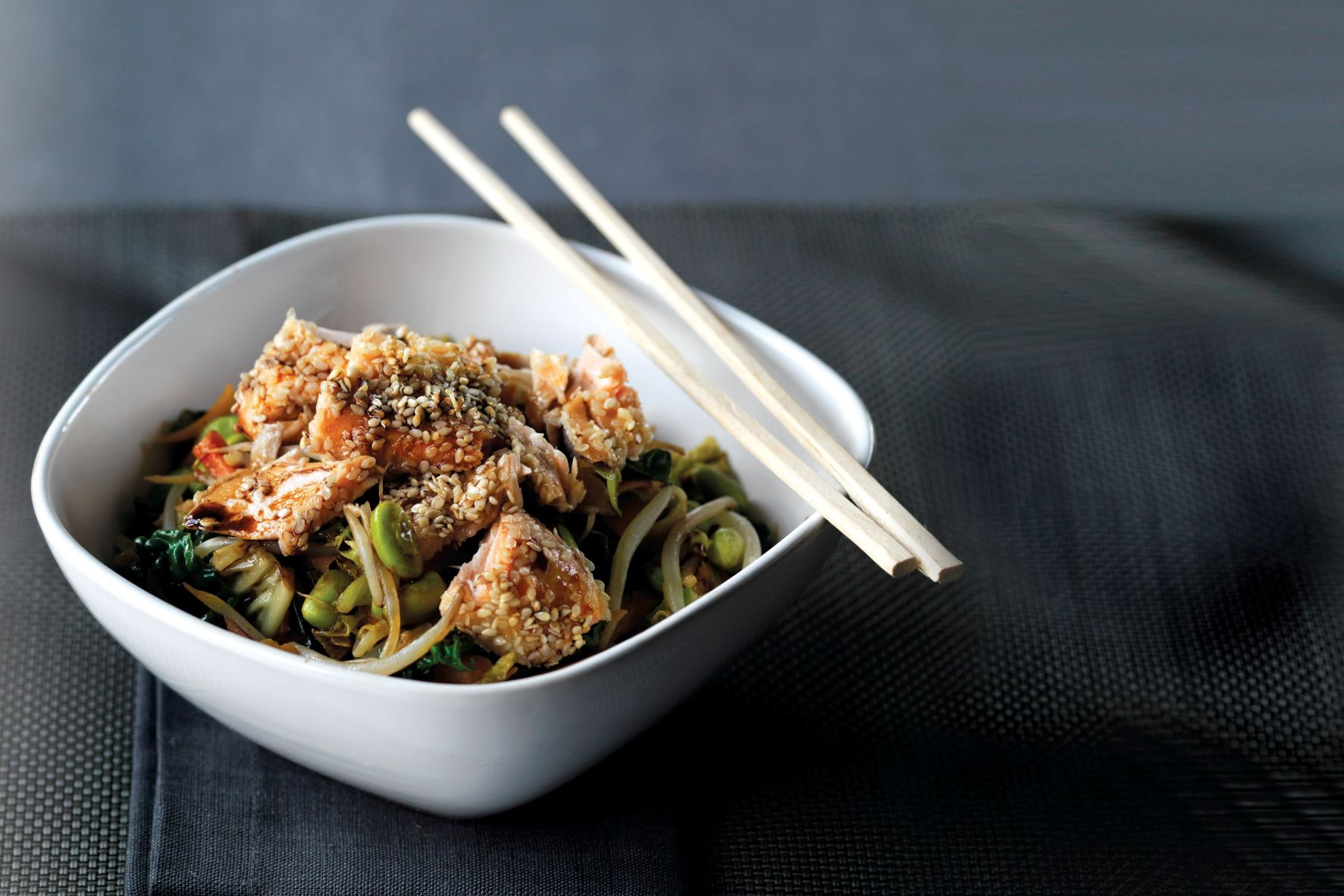 Sesame-crusted salmon recipe
Fish in a flash: this salmon supper shows fast food can be healthy…
Serves: 2
Preparation time: 10 minutes
Cooking time: 15 minutes
Per serving: 505 calories | 31g protein | 39g fat | 6g sat fat | 6g carbs | 6g fibre | 1g salt
Ingredients:
2 salmon steaks (120g each)
Juice of ½ lemon
2 tbsp sesame seeds
300g stir-fry vegetables
Toasted sesame oil
Sunflower oil
1 dessertspoon soy sauce
Method:
Pre-heat the oven to 180˚C/Gas mark 4. Thoroughly coat both salmon steaks with the lemon juice, put on a plate and sprinkle with sesame seeds, making sure they're well coated. Place on a lightly oiled baking sheet, sprinkle any remaining seeds on top and bake for 12 to 15 minutes.
While the salmon cooks, add stir-fry vegetables to a wok with a dash of toasted sesame oil and a small dash of sunflower oil and cook for three to five minutes over a high heat, stirring constantly.
Place the vegetables on a dish, break the salmon into chunks and arrange on top of the veg, drizzle over with soy sauce and lemon juice and serve.
Related content: