Beat the marketing jargon to stick to your healthy diet with our top tips on how to read food product labels and packaging…
Do you feel bamboozled by the lingo used by food manufacturers to sell their 'healthy' products? Food labels have long been attacked for being confusing, but they can also be misleading. For instance, under European Union law, a 'low-fat' product must contain three per cent or less fat per 100g, but 'lower-fat' products can contain more.
Related: The Eatwell Plate: how to eat a balanced diet
Part of the problem is that food product labels are selective with the truth, using a few carefully chosen words and colours to make us think we're buying superfoods. Baked beans may provide one of your five-a-day but some brands also contain the recommended daily allowance of salt for a woman and more than the daily allowance for a child. Some cream cheese slices claim to be a 'good source of calcium', but they also contain more than 20 per cent fat – there are other sources of calcium that are far healthier.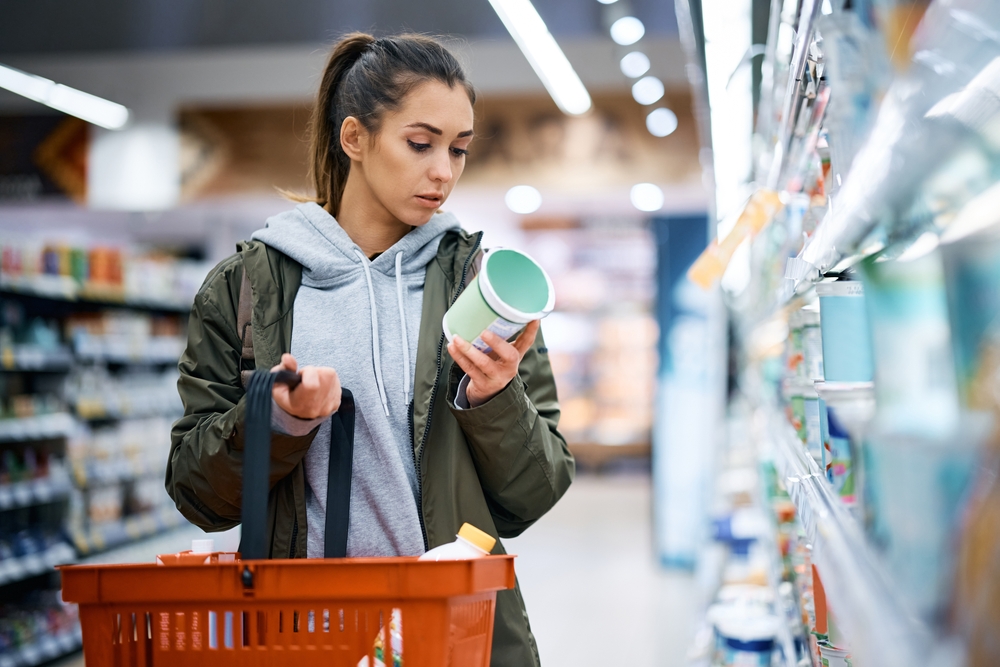 What the law says about food product labels
Food labels bombard us with health claims, ingredients and numbers. Yet legally, they only have to include energy, protein, carbohydrate and fat content. The voluntary traffic light system was introduced by the Food Standards Agency (FSA) in 2004 and colour codes nutritional information to show if the food has high (red), medium (amber) or low (green) amounts of fat, saturated fat, sugars and salt.
Are food labels meaningless?
Much of the nutritional information on the back of products is meaningless. The figures you should always check are sugar, fat, salt and calorie content. Remember nutritional values are often shown per 100g, rather than portion size (which will often exceed 100g). For instance, if you buy a pizza, you'll probably eat a whole one while the calorie figure given may be per slice, or based on two sharing.
Your daily intake should ideally not exceed:
Energy: 8,400kJ/2,000kcal
Total fat: 70g
Saturated fat: 20g
Sugars: 90g
Salt: 6g
Note: It's important to remember that everyone is different and we all have different needs. Listen to your body and chat with a healthcare provider if you're struggling to find heathy food choices that work for you.
Related: How many calories should I eat per day?
How to read food product labels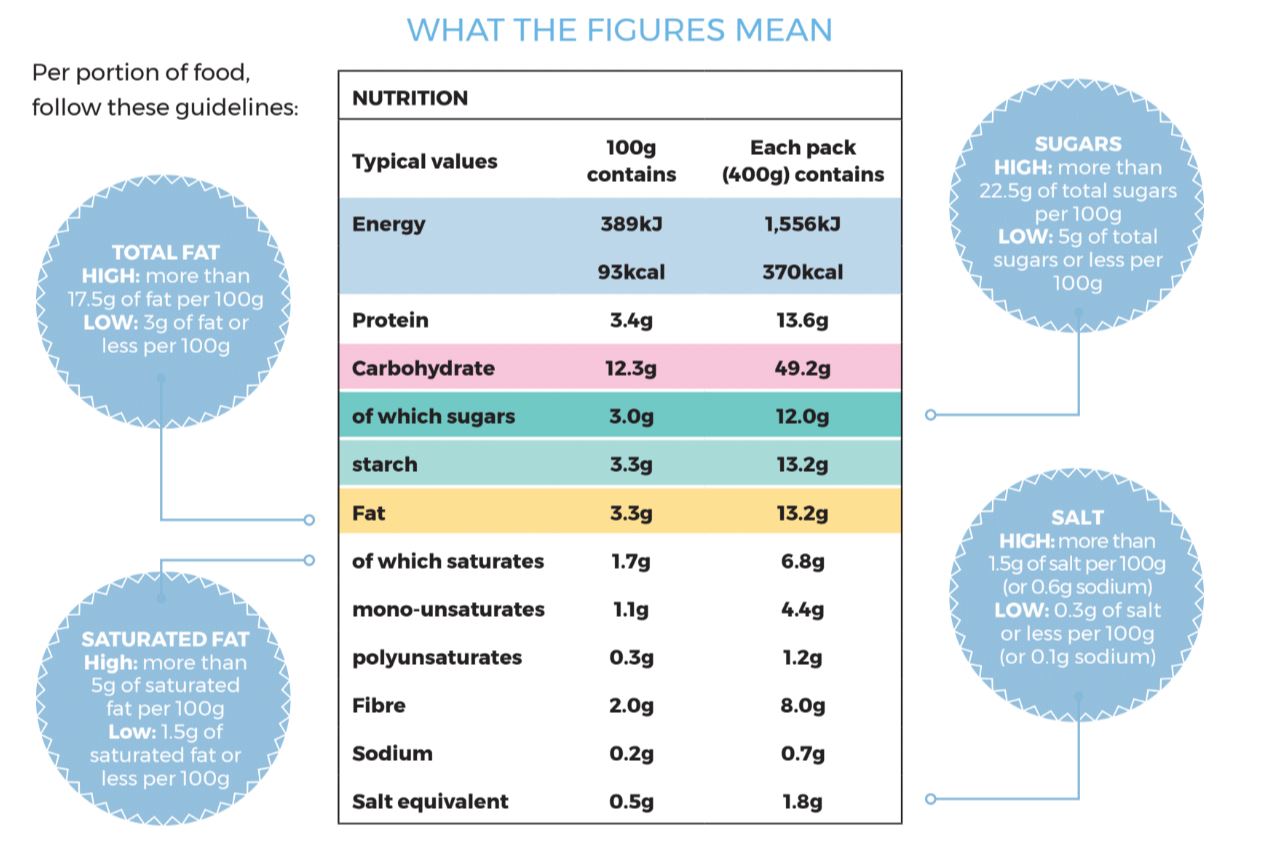 Note: while it's important to be aware of what you're putting into your body, becoming obsessive over reading food product labels can lead to dangerous eating habits. Chat to a healthcare provider if you're concerned about your relationship with food.
Related: How to count macros for healthy weight management
Misleading jargon on food product labels
Here's what the blurb on your healthy, fat-free, light tub of margarine with added vitamins really means:
'Light or lite'
It may imply 'low fat', but this is just marketing speak. A product must contain less than 3g of fat per 100g to qualify as 'low fat', according to the FSA and the EU. One popular 'light' brand of spread contains 16g/100g, and even the extra light variety comes
in at 5g!
'Fat free'
The Consumers' Association highlighted the confusing use of this term by singling out a popular fruit loaf, which trumpets the claim '90 per cent fat free'. Simple mathematics reveals the product is therefore a relatively high 10 per cent fat. 'Virtually fat free' is even worse, in that it might as well say, 'not fat free'.
'With added vitamins'
Vitamins may be added in microscopic amounts giving minimal benefit. Some products, such as bread, yoghurt, milk and cereals are fortified with vitamins and can make a significant contribution to your nutritional status. But, nutritionally enhanced foods are essentially the same as taking a vitamin supplement.
'Healthy'
Claims such as 'healthy' or 'good for you', are only allowed if approved by the European Food Safety Authority. Labels can't claim that food can treat, prevent or cure any disease or medical condition – these claims can only be made by licensed medicines.
Related content: