Former gymnast and swimmer Lucy Campbell, 25, took up CrossFit in 2018. In 2022, the CrossFit coach and athlete became the second-ever British Elite Individual female to qualify for the annual CrossFit competition, and placed an impressive 16th in the 2022 CrossFit Games. As the only British female to qualify, she officially became the Fittest Woman in the UK 2022.
Here, Lucy Campbell tells us all about her sporting journey so far, before sharing her top training secrets…
Related: Sara Sigmundsdóttir: from ACL injury to CrossFit 2022
Lucy Campbell: from gymnast and swimmer to CrossFit athlete
'As a youngster, I was a national level gymnast with dreams of competing at the Olympics, but I got a big reality check when my family took me to the Beijing Olympics at the age of 12. I decided to quit and moved onto swimming instead, which I'd been doing twice a week in addition to gymnastics training. I was already competing at regional level and, within a few years, I'd been selected for the GB Open Water development camp, which took me onto the international circuit and to Loughborough University, where I studied sports science.
'After a couple of very successful years, my performances stalled and I wasn't enjoying it anymore. I was working as a PT outside of my studies for a Master's in sports psychology when a friend recommended I try CrossFit. I was so nervous the first time, but I loved the variety, and it was a real change to the monotony of long-distance swimming. If you plateau in one area of CrossFit, there's always something else to focus on, so it keeps being fun.
'Another thing I love about CrossFit is there is such a variety of body shapes at the top level. It's not about how you look, but how you perform. Growing up, I was told I was "too big" for both swimming and gymnastics, and I felt a lot of pressure to lose weight. I always felt self-conscious, and wanted to be skinny the whole time I was swimming, but I don't have to think about the way I look now and I can finally enjoy doing the sport I love.'
Related: Top fitness trends to look out for in 2023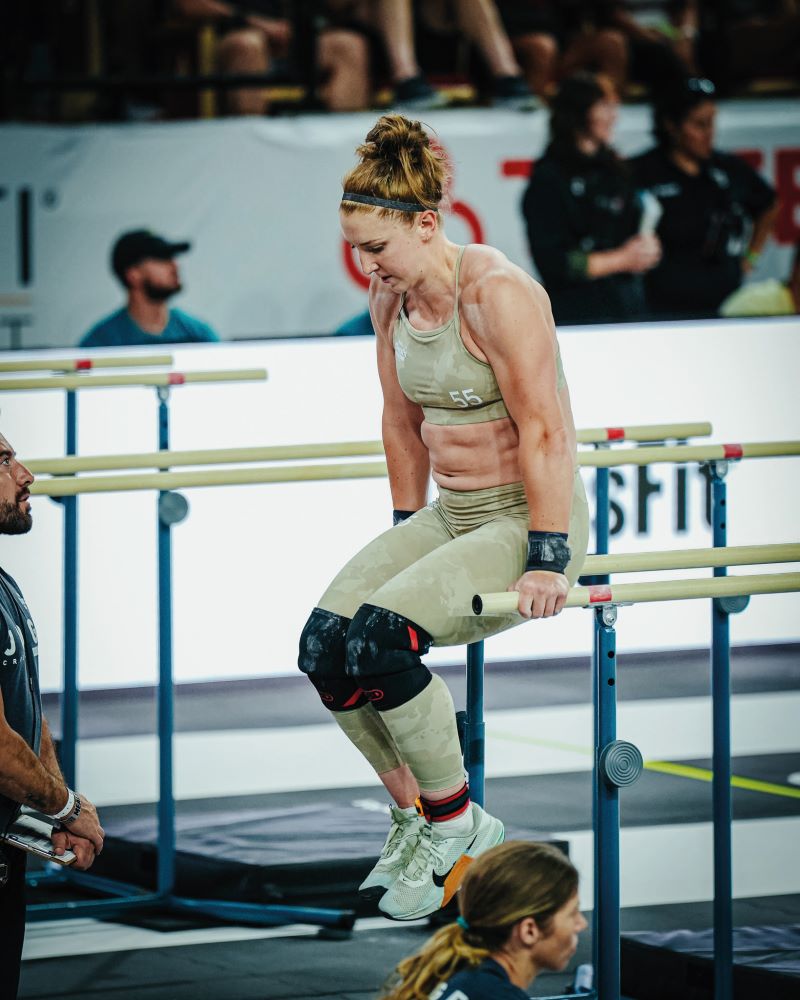 What does your typical training week look like?
'The volume of my training depends on what point of the season I'm in. Right now, I'm in off-season, and this will sound ridiculous but I only get one full rest day every two weeks. That said, my coach – who plans my whole season and all of my training – manages my sessions very well so that certain days are lower in volume.
'My training hours can vary from three-to-four hours a day in off-season, going up to six or seven in the run up to a competition. CrossFit involves a mix of three categories: gymnastics, which includes handstand walking, handstand press-ups, pull-ups and ring muscle-ups; weightlifting, with deadlifts, squats, overhead presses and Olympic weightlifting moves such as snatches and clean and jerks; and monostructural or "single modality" work, which involves the classic cardiovascular workouts on a SkiErg, a rower or bike, for example.
'My background in long-distance swimming has really helped with my endurance and cardio fitness, but handstand walking was the only element I was able to maintain from my gymnastics background. I forgot everything else, but it gave me good spatial awareness and a greater understanding of how my body moves. Off-season, my training is focused on building muscle strength and power, and doing lots of movement mechanics to build strength in certain positions, as that's what I need to work on most.'
Related: 12-minute abs workout to get fit fast
Tell us about your nutrition and recovery regime.
'It's all about eating enough to fuel my training sessions, which can be hard as it's often difficult to eat when I'm training at such a high intensity. I tend to have a big breakfast and an unpleasantly large evening meal. But in the lead up to the Games, I felt like I was living off Jelly Babies, and cinnamon and raisin bagels! I used to be vegetarian, but I now eat a bit more fish and chicken to make sure I get enough protein in every meal, and I'll put protein powder in my porridge.'
'I make sure to get at least eight hours of sleep a night, and it's a bit of a running joke that you'll never see me in the CFN [CrossFit Nottingham] box before 9am. Sometimes I'll have a bath if I'm feeling particularly tired, but that's more about mental relaxation. I journal as well – so if I'm feeling stressed about something, I'll make an effort to sit in a coffee shop and write something down.'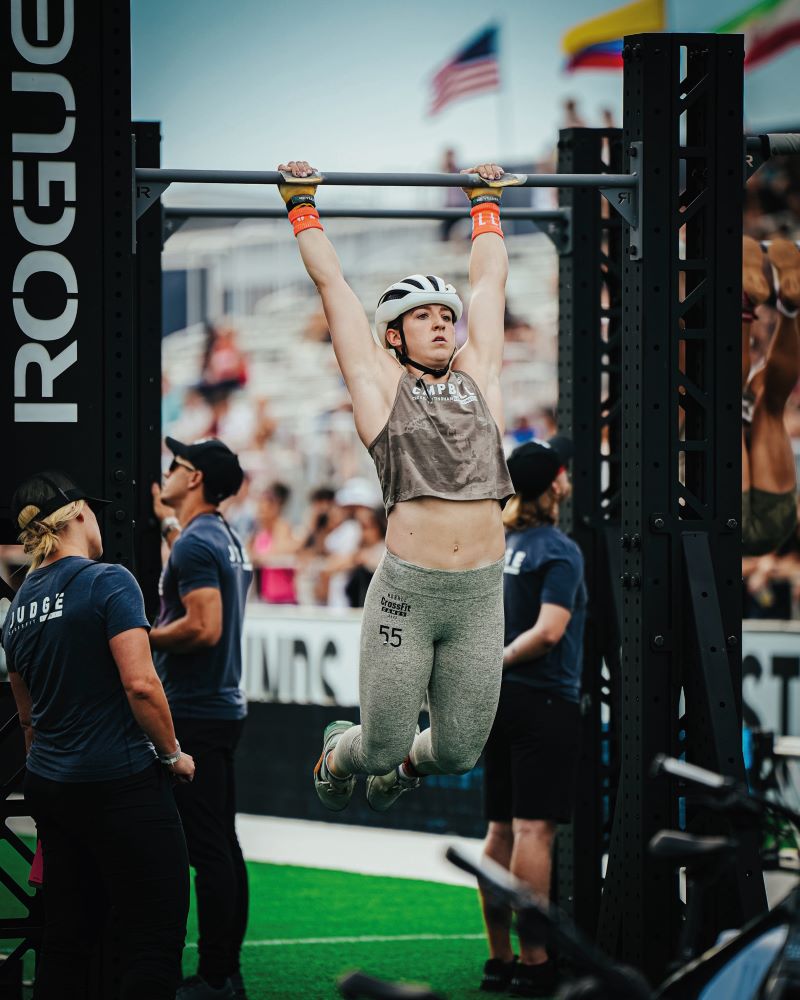 What are your top kit bag essentials?
'My gym bag is from Kriger, which makes bags especially for people doing functional fitness. They have a place for everything, including snacks and a change of kit, and it makes my gym bag well organised. Inside, you'll also find my Reyllen Gymnastic Grips, which I love using for things like pull-ups, and my SBD Knee Sleeves – I remember the first time I used them, I felt like I'd never squatted properly before!'
Greatest achievement so far?
'It's hard to single out just one achievement as 2022 was an incredible year for me. Getting to the Games was a huge thing, not least because I was the only British female to qualify in the elite category. The fact that my first Games was the last for British CrossFit legend Sam Briggs was bittersweet – she's one of my idols and deservedly iconic in the sport.
'Becoming the second British woman to qualify behind her is very special. I'm taking the future one step at a time, but I'd love to break into the top 10 one day, then the top five, and maybe one day get on the podium. That said, the standard of the female athletes has improved massively, so it's only going to get harder. I just need to get my head down and focus on what I'm doing.'
Words: Joanna Ebsworth | Photography: @kara.e.photography, @lifeofjosi, flsportsguy photography