You can't beat the Dolomites for dramatic scenery and hiking adventures, says Mary Comber. Learn all about the best routes and where to stay when hiking in the Dolomites…
Let's go hiking in the Dolomites! Armed with hiking poles and day pack, I'm standing in an alpine meadow so picture-book pretty, I half expect Julie Andrews to bound into view singing 'The hills are alive…'. Breathing in deep lungfuls of dizzyingly fresh air, I gaze out over flower-strewn pastures to the towering mountains beyond, their jagged, snow-capped summits glinting in the sunshine. High above, a golden eagle soars on thermals while cow bells ring in the distance, drifting in on the gentle breeze.
Discover the best hiking boots for women
Try the INOV-8 Roclite Pro G 400 GTX
BUY IT NOW:
$245 / £252 / inov-8.com
The Dolomites: a hiking paradise
The Dolomites might be best known for skiing but every spring, when the Alpine snows melt, this magnificent, mountainous region transforms into one of Mother Nature's most spectacular outdoor playgrounds. At its heart, lies the beautiful valley, Val Gardena (comprising South Tyrolean villages Ortisei, Selva and Santa Cristina), a magnet for climbers, hikers and cyclists who use the region's ski lifts and well-marked paths to explore its spectacular upper reaches.
Hiking in Portugal: discover the new eco-trekking trail in Cascais
Where to stay when hiking in the Dolomites:
We'd arrived in pretty Ortisei the previous night for a few days' hiking, and checked in to five-star hotel, Alpin Garden Luxury Mansion & Spa, just in time to wolf down delicious, homemade pizza before bed.
Puez-Odle Nature Park, Alpe di Seceda and the 'Burning Dolomites'
Up bright and early for our first day of hiking, we jump in the cable car from Santa Cristina up to Col Raiser – reputedly, the region's most beautiful mountain pasture – to meet our guide, Pauli, for an all-day adventure in the Puez-Odle Nature Park. We'll be hiking until sunset to witness the famous 'Burning Dolomites', when the grey, rocky mountains turn pink in the dying sun.
After a quick briefing, Pauli leads the way at mountain-goat pace and we scurry behind him, jaws dropping at the jagged spires of the Odle (meaning 'needles') mountains that seem to erupt from the earth around us. Crossing the spectacular Alpe di Seceda, Pauli explains this dramatic landscape (a UNESCO-heritage site) is home to eagle owls, chamois, marmots and rich geological finds, including a 250 million-year-old fossil of the ichthyosaur, a gigantic, marine reptile. As the path steepens, Pauli's yodels and commentary provide welcome distraction from our burning thigh muscles.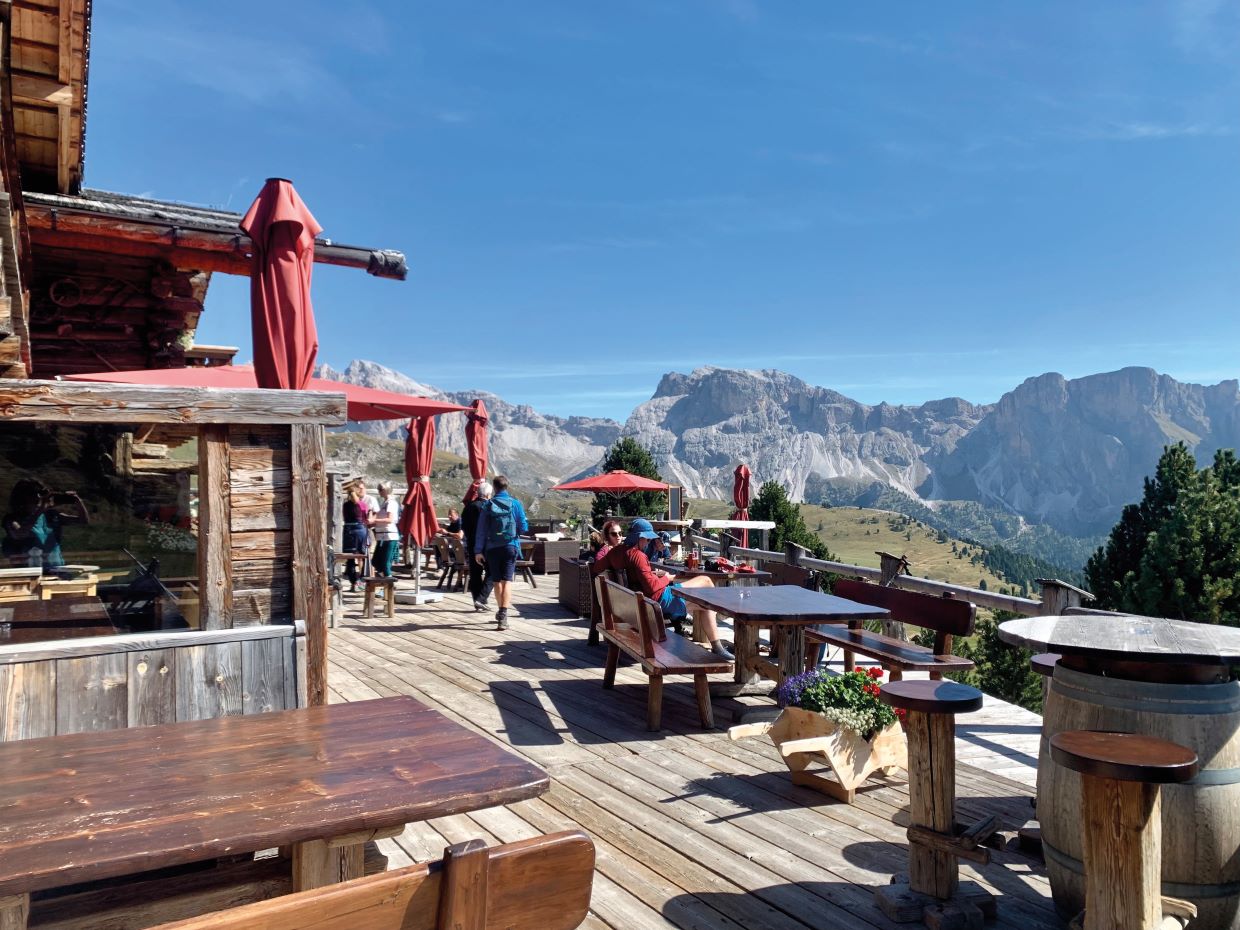 Lunch at the Danielhütte Mountain Lodge
Just as our legs and lungs are spent, we reach our lunch spot, the fabulous Danielhütte Mountain Lodge (at an altitude of 2,240m), where we sit on the deck, soaking up the sparkling sunshine and feasting on local cheeses, pasta dishes and strudel. Only 75 minutes from the Austrian border, Val Gardena's local Ladin cuisine is a delicious, rustic blend of Italian and South Tyrolean dishes such as knodel dumplings, goulash soup, polenta… perfect hiking fuel.
Fired up on mountain grappa, infused with hay flowers and pine cones (medicinal, of course), we tackle our final ascent to Monte Pic where we're rewarded by panoramic, 360-degree views across the Dolomites – including the famous Marmolada, Sassolungo and Sella Ronda massifs. Then, it's a stroll down through dusky meadows to cosy Baita Seurasas Hütte (at 2,020m) for huge plates of kaiserschmarrn (Tyrolean pancakes) and coffee, as the mountains turn a glorious, rose gold in the setting sun. We complete our descent by torchlight and, back at the hotel, sink into the spa pool, happy and tired, to ease our muscles for tomorrow's big hike.
Check out our guide on how to care for feet after walking & hiking
Climbing the Sassolungo in the Dolomites
The next morning, I find myself standing at the foot of the Sassolungo, one of the Dolomites most imposing monoliths. The locals call it 'king of the mountains' and, as I gaze up in awe at the imposing limestone tower (summit 3,181m), I can see why. Somewhere up there, high on a rocky pass between two jagged peaks, is today's destination, Rifugio Toni Demetz (2,685m), a mountain hut that's provided shelter for intrepid trekkers and climbers since 1954.
We've already completed a bracing two-hour hike from Selva, up through meadows and pines to Passo Sella. Now, the plan is to jump on the vintage Forcella del Sassolungo cable car. However, super-fit guide Christina has other ideas. 'We'll skip the gondola and walk up,' she announces. What! Eyeing what looks suspiciously like an all-day ascent, we ask how long the climb will take. 'Oh, 45 minutes or so,' breezes Christina, setting off at a pace akin to a jog.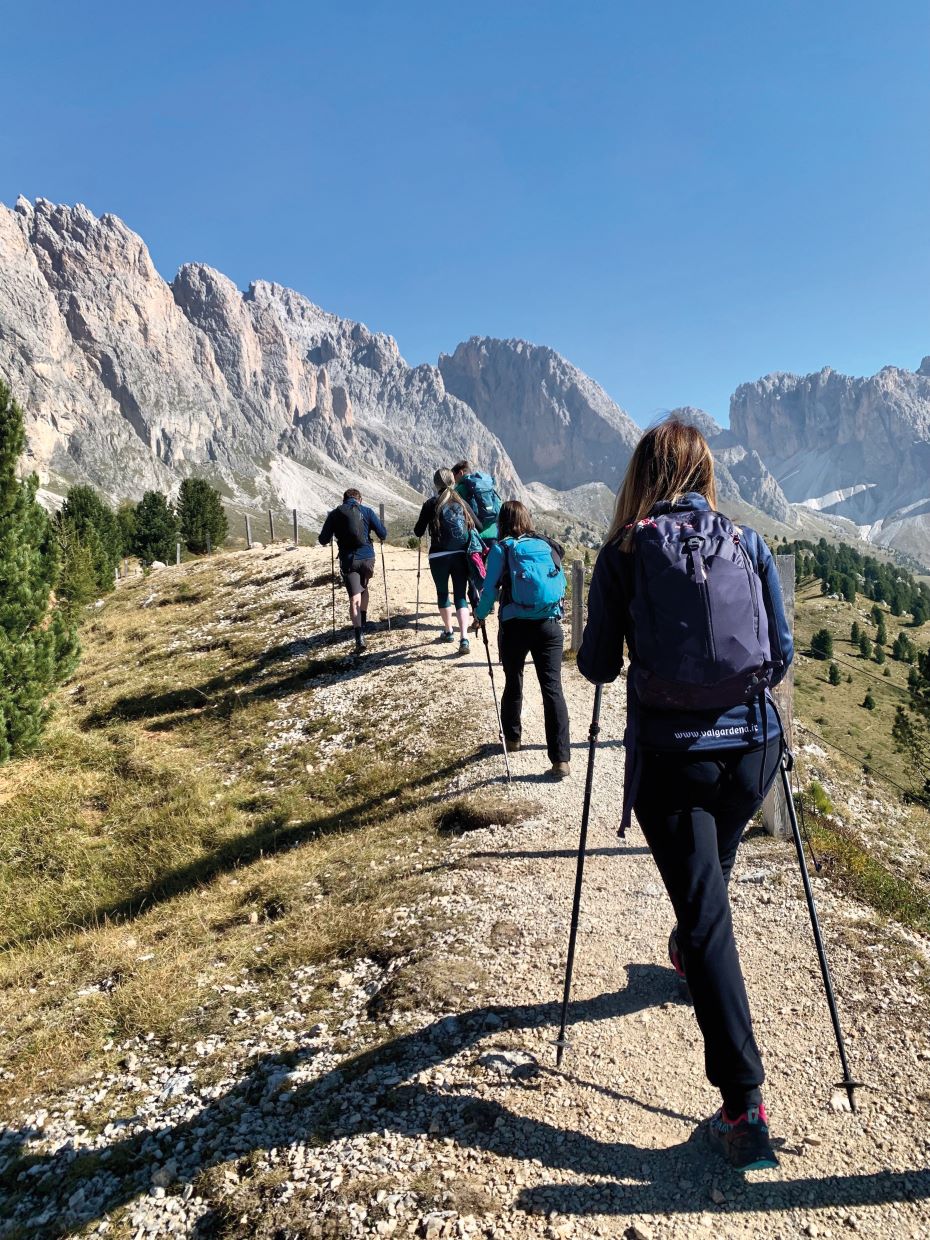 Reaching Rifugio Toni Demetz
With slight trepidation, we pick our way along the rocky path that zig-zags up the limestone rockface. Gradually, green pastures fall away and the landscape becomes distinctly lunar, littered with huge, granite boulders. Leaning heavily on my walking poles, I huff and puff up the relentless ascent, as hardy locals trip back down, offering cheery encouragement.
Finally, (rather more than 45 minutes later), we reach our icy destination, feeling like triumphant mountaineers as we bundle into the warm, welcoming mountain hut, full of knarly climbers, and hungrily inhale pasta and strudel. Then, it's a comedy run-and-jump into the cable car's quirky, one-man cabins to enjoy the descent, before another leap back onto terraferma.
Discover more outdoor fitness activities to try this summer
Relaxing at Alpin Garden Luxury Mansion & Spa
Back at the hotel, we hobble into the spa and unwind in the steamy outdoor pool and sauna cabin, complete with mountain views. We're tempted to try the Alpine Massage and Mountain Pine Bath but head out to explore Ortisei's chocolate-box charms. We gawp at incredible geological finds in the Gherdëina Museum and witness exquisite, local wood carvings at the Biennale Gherëina exhibition.
We end our trip as we began, dining on pizza – four courses of it, no less (including a black charcoal pizza) – at Pizzeria La Turonda while we review our adventures, wishing we had time for more…
For further information, visit valgardena.it/en. Also see Val Gardena Summer Activities programme
Photography: Val Gardena, Mary Comber