These boots are made for hiking! If you're looking to explore the great outdoors this summer, get kitted out with a pair of the best hiking boots for women in 2023…
New to hiking and looking for expert footwear advice? Or maybe you're a seasoned hillwalker but your trusted boots have seen better days. Whatever your level of experience, when you're walking on terrain more challenging than your local park or woodland, the best hiking boots for women will keep your feet dry, comfortable and protected, leaving you free to get more miles under your feet. 
With the global athletic footwear market set to reach $171.9 billion over the next few years, where do you begin when looking for the best hiking boots for women? What's the difference between walking shoes and hiking boots? How important is sustainable footwear? And what's the best way to buy hiking boots online?
We answer all these questions and more, to help you decide what type of boot is best suited to your adventures. And once you know what you need, we review eight of the best hiking boots for women in 2023. All you have to pick which is right for you, then get out there and explore.
What's the difference between walking shoes and hiking boots?
Not all walking routes need footwear with high specs – wear hiking boots on a flat coastal path in summer, for example, and their added weight mean you'll tire much sooner. Switch to uneven terrain, hill walking and more technical routes, however, and those same boots will offer the grip, ankle support and protection you need to walk faster and further, without your footwear holding you back. So, what's the difference between the best hiking boots for women and the best walking shoes?
Shoes designed for walking tend to be made with lighter materials than boots. They're generally more flexible, have a lower cut at the ankle and may or may not be fully waterproof. They also tend to be cheaper. Hiking boots, on the other hand, tend to be waterproof, are more rigid and have stronger reinforcement at the toes to protect your feet from rocks. Grip tends to be firmer and more suitable for all weathers, with deeper lugs spaced further apart to prevent clogging. The ankle cuff is also higher, offering greater support as well as helping prevent rain or stones getting into your boot, and protecting your ankles from nettles or biting insects. 
Discover the benefits of speed hiking & and how to get started
Should I consider sustainability when choosing walking boots?
A whopping 24 billion pairs of shoes are produced by the global shoe industry every year, most of which will end up in landfill – often with plenty of wear left in them. But the good news is more and more brands are using recycled materials in their designs, with some going one step further by designing shoes that can be repurposed. The outsole on Timberland's new Timberloop Trekker boot, for example, can be easily removed for recycling, while barefoot shoe brand Vivobarefoot saved 2,600 pairs of its shoes from the bin last year by repairing and reselling them on its preloved site revivo.com.
Learn more about walking for fitness – including how to perfect your pace and technique
How do I find the right size of walking boot?
Buying the best walking boots for women online needn't mean you have to compromise on fit. You'll generally need to go up a half or full size, but to make things easier, some brands offer online sizing services, where you upload a photograph of your feet and they recommended the size needed for specific boots in their range. Or, if you already own shoes by the same brand, some retailers have comparison charts so you can see how the sizing compares across different models. If you do order a pair that turns out to be a poor fit, there are some really good returns schemes as well. Some retailers even include free returns labels with shoes sent out and offer up to 100-day returns options, even if they've been worn. 
After the boots arrive, check you have a snug fit at the heel and enough space at the toe box (aim for a finger-width space in front of your big toe). If you haven't bought walking footwear before, check out our guide to the best walking shoes for women in which we have a fitting guide to help you make sure they're the right size for your adventures.
Learn how to care for feet after walking & hiking
How to break in new hiking boots
Once you're happy you have the right size, don't be tempted to put your boots on straight away and head off for a 10K hike, or you could end up with painful blisters. Advances in materials and technology mean modern walking boots need far less breaking in than they used to. The Meindl Bhutan, for example, has memory-foam technology that moulds to the shape of your foot. However, ensuring your new boots will be comfortable on longer hikes really pays off.
First, wear your boots around the house for a few days. They'll be at their stiffest straight out of the box, so wear them with cushioned walking socks. See how they adapt over time (the tongue and ankle cuff often feel rigid at first, but soften with use). When you're happy they don't pinch or rub, go on some short walks of around a mile or so, gradually increasing the distance and adding in some inclines and descents. 
If you're planning on carrying a rucksack on your hikes, now's a good time to start walking with a heavier pack. Walking with weight places extra strain on your feet and could cause your boots to rub. So, build up gradually to avoid discomfort when out on long hikes. On these preparatory walks, try taking a pair of trainers in your rucksack as a back-up if problems do start. Also, carry some blister plasters with you just in case.
While it's important to break boots in to avoid unnecessary blisters, if you have big hike planned soon and want a few hacks to speed things up, try manipulating the tongue and heel cuff with your hands and gently flexing the sole. You could also try using a leather conditioner to soften leather boots prior to use. 
Inspired to get out there and take on the trails? Read on for our picks of the best hiking boots for women across a range of categories and types. 
Seeking inspiration for your next hike? Check out the new eco-trekking trail in Cascais, Portugal
The best hiking boots for women in 2023

BUY IT NOW:
$245 / £252 / inov-8.com
Weight: 400g
Reason to buy: An award-winning shoe that seamlessly blends comfort and performance
If you want a boot to match your toughest adventures, this could be it. The abrasion-proof upper is infused with ceramic particles to protect against wear and tear, while the enhanced rubber sole contains graphene (200 times stronger than steel but six times lighter) to give a cast-iron grip on hard and rocky trails. These hiking boots will protect your feet too, as a new Meta-Plate Pro aligns with your mid-foot to reduce pressure from unexpected hard edges when scrambling over rocks.
Wet-weather performance is just as good. Along with Gore-Tex waterproofing, deep, 6mm lugs have specifically designed water-dispersion grooves for superb traction on muddy ground. Every detail is thought through, right down to the lacing system. Here, the top hooks include grooves that grip the laces when you tie them so they are super secure. In short, these are boots that will go wherever you want to take them, with no complaints.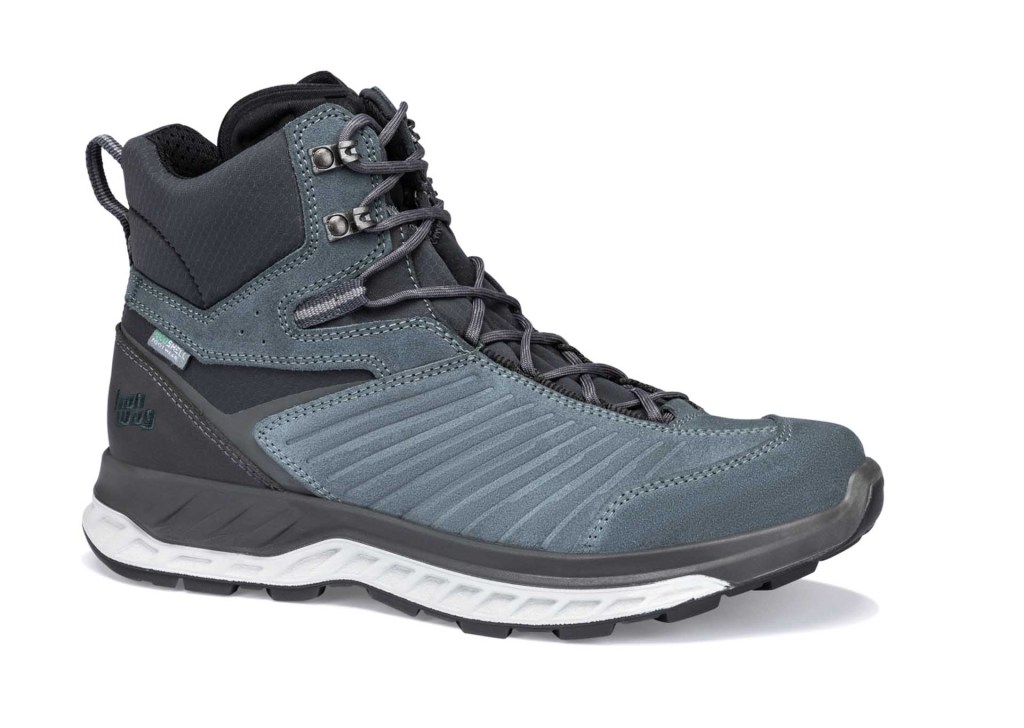 BUY IT NOW:
$270 / £180 / hanwag.com
Weight: 490g
Reason to buy: Waterproof without the weight, these boots have a dual layer of water-resistance 
When you're looking for a waterproof boot, you don't always want the toughest model out there. However, with the UK climate as unpredictable as it is, even on easy trails or low-level hills you still need waterproof options. Enter Hanwag's latest hiking boot.
Mid-cut and lightweight, the EcoShell membrane is free from PFCs (per and poly-fluorinated chemicals) and keeps water at bay, while the upper is made from specialist Italian Perwanger leather. This uses special molecules in the tanning process to coat the microfibres in the hide, making it naturally hydrophobic (water-repellent) even before any protective coating is applied.
The 4mm deep, large lugs give good traction on smooth or wet surfaces such as stones or slabs. Plus, the shock-absorbing midsole ensures your comfort, and reinforced heel and toecaps mean more challenging terrain isn't out of the question, either.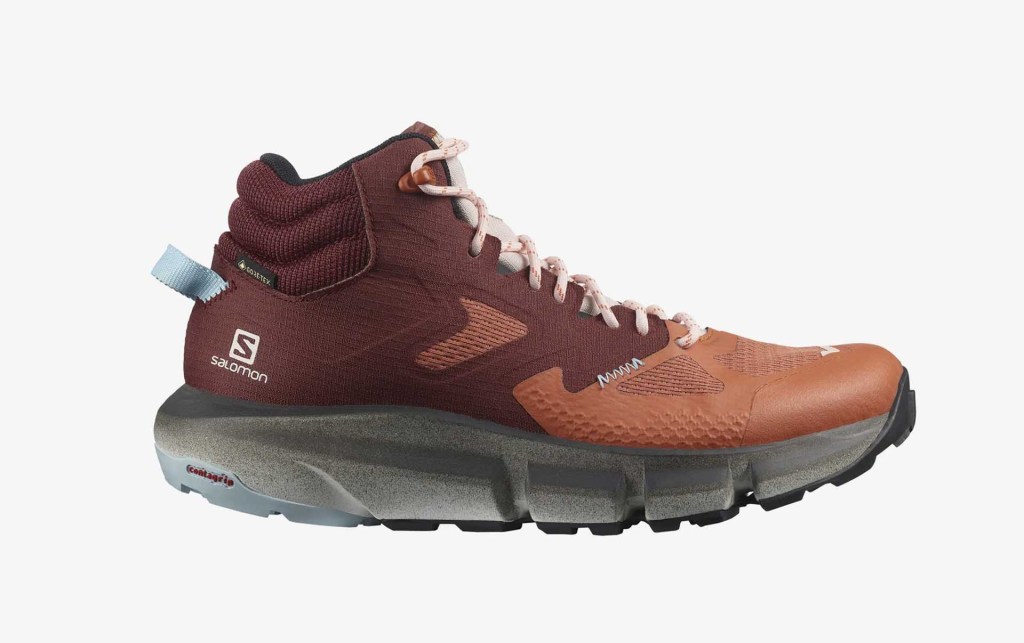 BUY IT NOW:
£165 / $180 / salomon.com
Weight: 321g
Reason to buy: A lightweight, well-cushioned shoe that balances support with responsiveness
This shoe employs some clever tech known as 'anatomical decoupling'. This uses independent platforms alongside strategically placed grooves on the outsole to cushion your foot while simultaneously propelling you smoothly through the transition. The mid-cut design cradles your ankles to give valuable support. Plus, the OrthoLite insole moulds to your feet to add a further layer of support beneath your arches.
Cushioned, breathable and durable, and offering a non-bulky alternative to heavier boots with similar specs, the Gore-Tex waterproofing in this model is PFC free. Plus, Salomon constructs the boot with recycled materials, including PET bottles. Quick heads-up, though, you may want to replace the round laces, as there can be issues with them coming undone more than you'd like.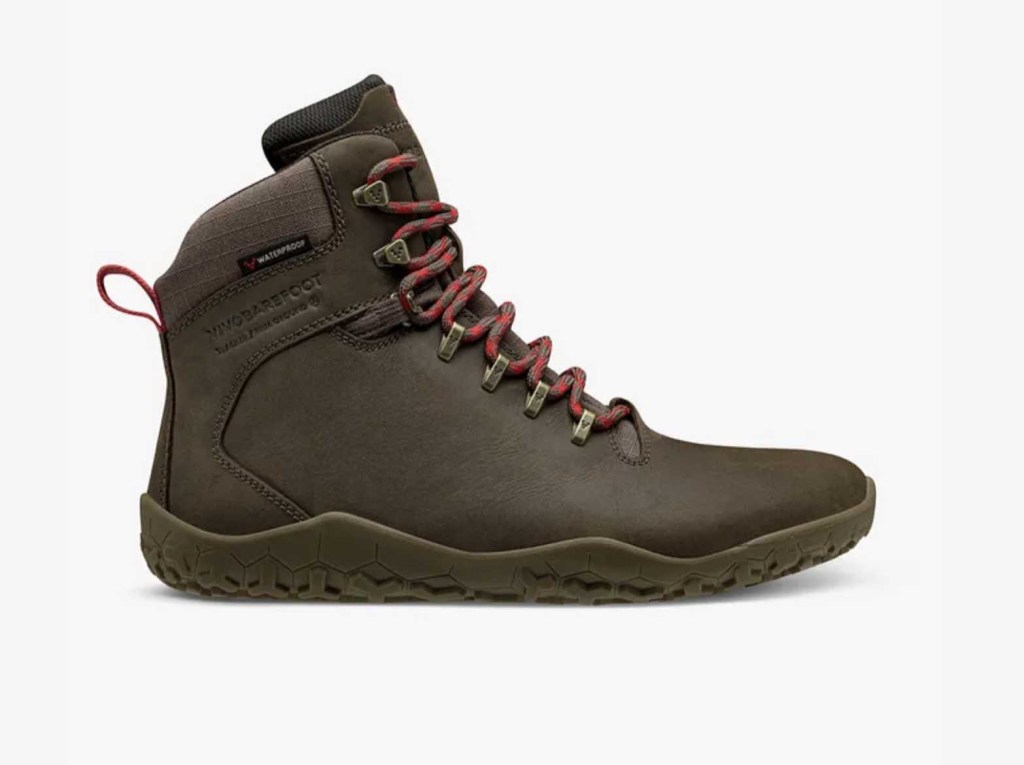 BUY IT NOW:
$168 / £190 / vivobarefoot.com
Weight: 460g
Reason to buy: Out-of-the-box comfort that doesn't compromise the biomechanics of your feet 
If you haven't worn barefoot shoes before you'll be surprised by how comfortable they are. What's more, their wider footprint helps improve walking efficiency because your toes are able to spread naturally. This, in turn, enables your arches to function properly, acting like springs when you transition from an unloaded to a loaded footstep.
The FG of the name refers to the grip rating (firm ground), making them ideal for harder, dryer terrains. Plus, the hydrophobic treatments and sealed seams make them waterproof. There's also an inner breathable membrane, so feet don't overheat in summer, and a removable thermal insole for use during cooler weather or for a more cushioned feel. Traction comes curtesy of a sticky compound on the 2.5mm sole and 4mm lugs.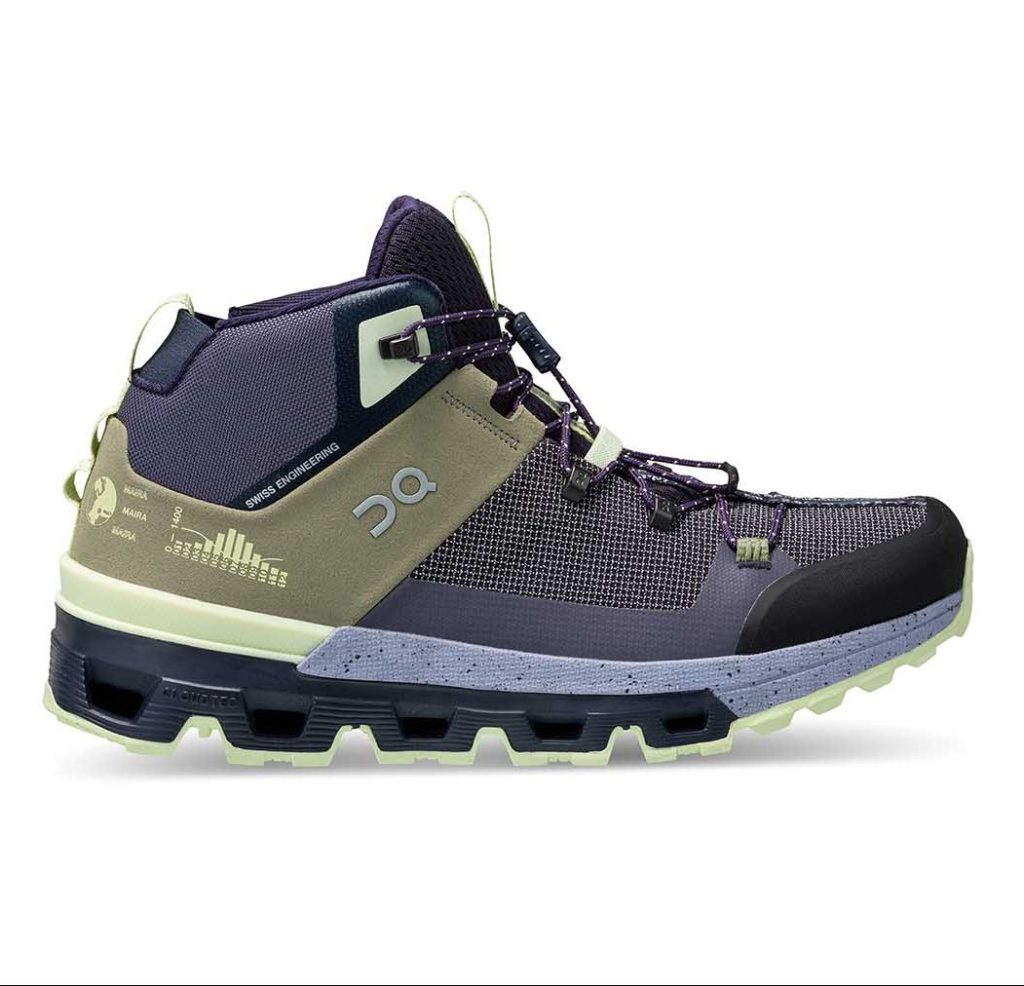 Best boots for long hikes: On Cloudtrax
BUY IT NOW:
$189.99 / £180 / on-running.com
Weight: 365g
Reason to buy: A versatile shoe built for the wild that's not out of place in town 
On designed its latest hiking boot to go from city street straight to mountain path. Its Missiongrip outsole and dual-layer midsole gives the sensation of walking on clouds. The CloudTec system kicks in during the landing phase of your foot strike to provide cushioning when needed. Then, it locks firm to create a solid foundation for powerful forward-propulsion.
Light, breathable and water-repellent, a tough toe cap and mudguard means it suits all terrains and conditions. Plus, the multi-traction grip keeps you sure-footed. We especially like the one-pull speed lacing system which allows you to slip on, lock in and go. Sustainability credentials include more than 85 per cent of its polyester content being recycled. 

BUY IT NOW:
£230 / snowandrock.com (not available in the US)
Weight: 520g 
Reason to buy: A great-looking shoe that will take you to the peaks and beyond
Of course, you can't buy walking gear just because it looks good. But if you could, these look such happy boots, they'd be hard to resist. And while we love the contrast between the bright cream heel cuff, taupe uppers and snazzy red laces, it's the walking specs that really catch your attention. Inspired by adventurer Amelia Edwards, who in 1872 reached previously inaccessible peaks in the Dolomites, this is a mountain boot designed for women who push further.
Soft flexible Hydroblock Nubuck uppers and Gore-Tex Performance Comfort membranes keep you dry, while the Vibram Multifilm outsole has great traction and self-cleaning lugs (yes!). The front of the outsole gives extra sensitivity and traction on rocks. The clever design of the heel also ensures safe breaking on perilous descents. To top it all, a double-density PU wedge makes them super comfy and flexible. 

BUY IT NOW:
£150 / berghaus.com (international shipping available)
Weight: 560g
Reason to buy: Super comfortable boots that cope well with tough terrain
If you like traditional-looking hiking boots, these are a winner. Made with a soft, oiled-leather upper with a distressed effect and a Gore-Tex membrane to keep them waterproof and breathable, memory foam technology in the heel and tongue ensures a comfortable, customised fit.
Meanwhile, the anti-microbial OrthoLite footbeds add further cushioning underfoot. You can also remove it for cleaning to keep them fresher for longer. Traction comes courtesy of the brand's clever OptiStud outsole, with omni-directional lugs that work in sync with your stride. The larger lugs providing greater shock absorption, with smaller studs that push into the terrain to enhance grip.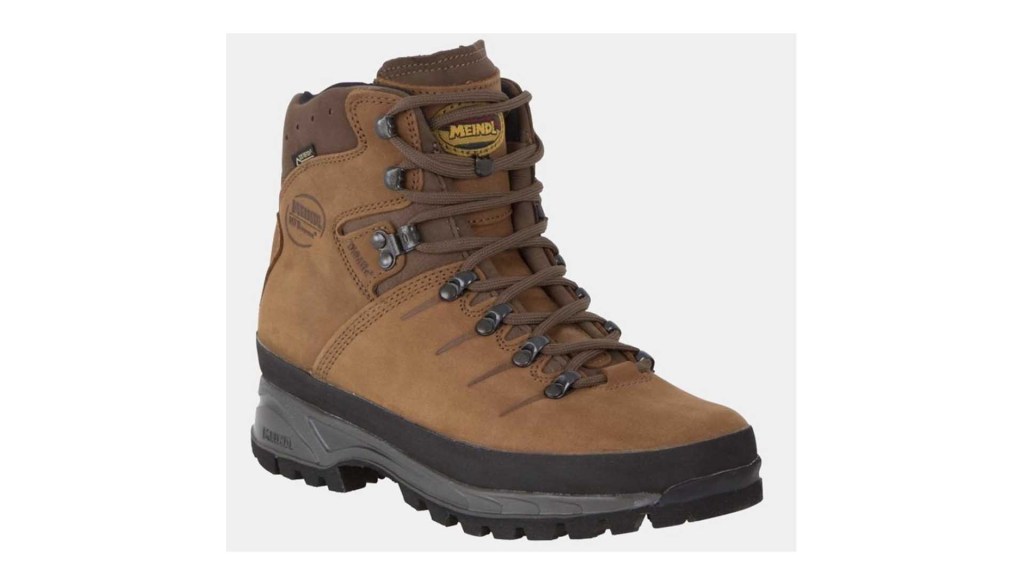 BUY IT NOW:
£250 / amazon.co.uk (not available in the US)
Weight: 450g 
Reason to buy: A solid pair of boots that combine stability and comfort, plus minimise fatigue
These high-end, waxed Nubuck leather boots are an update on Meindl's hugely popular Burma boot. Providing a massive amount of stability, as you would expect from a boot designed for serious hillwalkers, the high ankle cuff offers good support, keeps out stones and water ingress. Plus, thanks to its redesigned padded upper edge, it creates less pressure on your lower leg.
A memory foam system minimises fatigue over long distances, especially descents on rocky ground, while deep lugs in the Multigrip Vibram sole give good traction on mud while ample spacing in between prevents the sole from becoming clogged up. A great three-season boot, it's waterproof, breathable and secure. Plus, the clever Digafix lacing system allows you to customise the fit around the ankle crease for increased stability.
Discover the best walking gear for women
Words: Eve Boggenpoel