The best D+ sports bras for big boobs will help you run, jump and shimmy your way through workouts without compromising on comfort, style and performance.
If you've got big boobs like me (a 36G) and you love to exercise, you'll know how hard it is to find the best D+ sports bra that is comfortable to wear and supports your assets. But I'm here to tell you the struggle is officially over! While big boob lingerie brands such as Freya, Panache and Bravissimo continue to do stella work in the world of D+ sports bras, big sportswear and athleisurewear brands, including Nike, Adidas and Sweaty Betty, are finally getting in on the act by expanding their size ranges.
Hitting the treadmill? Check out our roundup of the best running sports bras
If that wasn't enough, new independent brands such as PeBe, Maaree, and B.X.M are utilising the latest scientific research to completely re-imagine and redesign fuller-busted sportswear and create hitherto unknown advancements in support, comfort and performance. So, just what has inspired this change?
How have sports bras changed?
'There's been a general evolution within women's sportswear in accepting that women's bodies are different, but I believe sports bras have been last to the party in that respect,' says Charlotte Gill, founder and creator of the PeBe bra. 'One theory is that talking about big boobs in exercise still feels a bit taboo because we're reluctant to share our bra size, or even know it (research says that 80 per cent of women are wearing the wrong size bra).'
Another theory, says Gill, comes from the fact that advancements in sportswear tend to be driven from athletes to consumers, and that overall, athletes tend to be flatter-chested. 'But if you consider that 57 per cent of us are a D cup and over, you're excluding half the women if you don't cater to their needs. In short, brands are realising that women need – and deserve – better. That's why you're seeing people, including me, taking matters into their own hands.'
'Research says that 80 per cent of women are wearing the wrong size bra.'
Feel gym ready with the best workout sports bras
Gill, who has been sporty since she was 11 and wears an FF cup, started work on PeBe four years ago when she got fed up with restrictive, compressive sports bras and decided more should be done.
'Scientific research continues to inform us about how breasts move and how they need to be supported – larger breasts can add between 1-3kg to the weight of your chest – and that research, when combined with innovative engineering techniques and fabrics, means D+ sports bras are now able to provide incredible support in a package that can also be deeply comfortable, sweat-wicking and frump-free.
'I wanted women like me to be able to move with freedom and comfort, and not think about their boobs while exercising. That was the bottom line. I hope I've achieved it.'
Feel comfy and supported with the best yoga clothes in the UK
How to find a sports bra that fits
There's a lot to consider when searching for the best sports bras for big boobs, so follow these tips from Gill:
1. Get measured
'Boobs can change size with weight and hormone fluctuations, and life events such as pregnancy and menopause, so get measured if you haven't had a bra fitting in six months. Brands can have discrepancies across sizing, so book an in-store or virtual fitting to find the perfect size and fit.'
2. Do a jiggle test
'Sports bras can stretch with wear, so you must be able to shorten the straps and tighten the underband to get more life out of it. The underband should provide a lot of support, so if you can pull it more than an inch or two from your ribcage, it's too big. Do the "wiggle and jiggle" by scooping your boobs up from the sides. If your boobs spill over the top, you need to go up a cup size.'
3. Be careful with underwiring and compression
'Compression bras fundamentally change the shape and mass of your breasts, which can be uncomfortable, while encapsulation bras will lift and separate your boobs and keep them separately away from your ribcage. Underwiring can cause breast-tissue damage, so if you prefer scaffolding for a feeling of extra security, look for padded wiring at least.'
4. Opt for sweat-wicking materials
'You've got to be comfortable, so find sweat-wicking styles that are as smooth as possible, with fewer seams to prevent chafing. Avoid unnecessary features such as adjustors or extra fasteners that can cause friction, rubbing and sweat-pooling. Finally, check for signs of wear and tear after six months and replace your sports bra accordingly.'
Best D+ sports bras for bigger boobs
Keep reading for full reviews!
Note: This article contains affiliate links. We may earn a small commission when you purchase products using links from our website.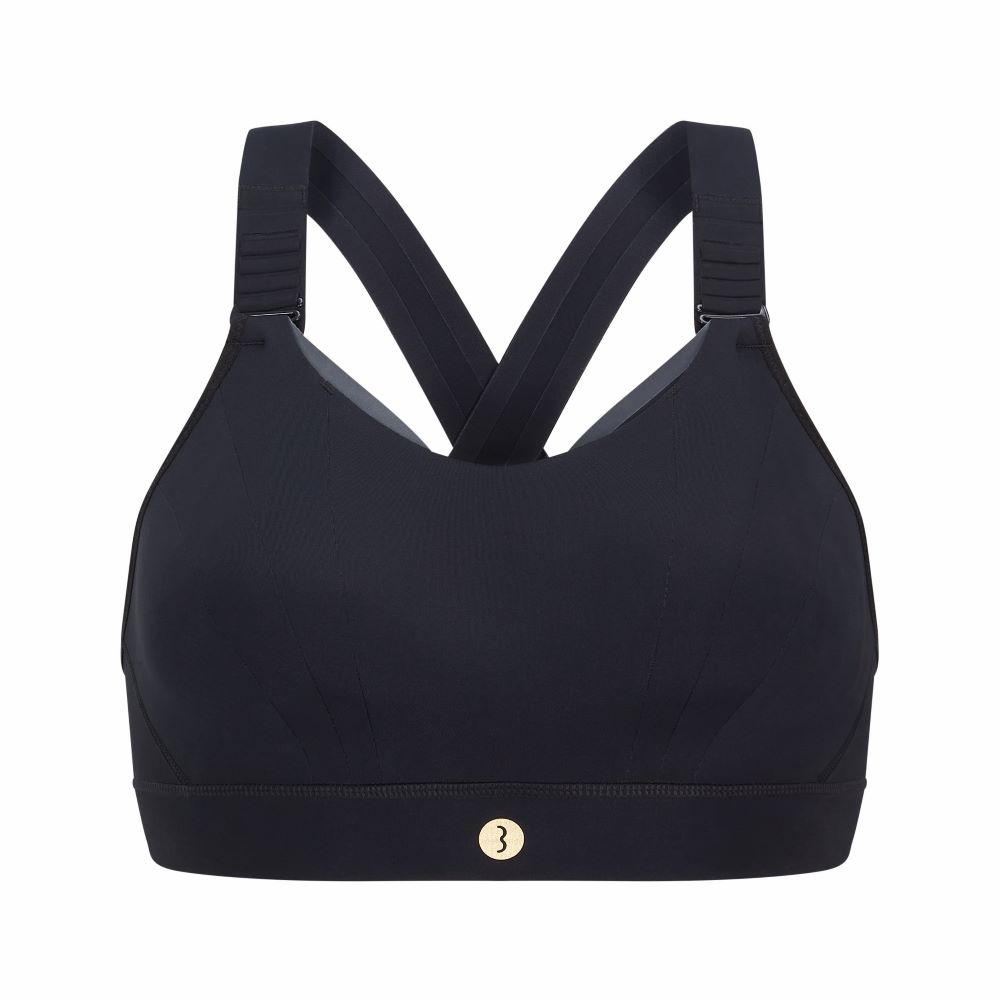 BUY IT NOW:
£69 / pebeactive.com
Style: 5/5
Function: 5/5
Comfort: 5/5
Materials: Recycled polyamide and elastane | Sizes: 30D to 36G | Features: WRAPA technology reduces breast bounce in all directions, anti-chafe seamless design, smooth fabric with no wires, sustainable materials | Colours: Black
Designed around scientific research that shows breasts move in a figure of eight shape, this sleek sports bra uses revolutionary WRAPA technology that loops around the breasts from all angles to reduce breast bounce in all directions (by 85 per cent in lab tests) without the need for compression, bulkiness, underwiring or clasps.
Built for running, every design component has been thought about in minute detail, including the front-adjusting straps that are great for nursing mums and anyone wanting to find the perfect fit in seconds. Made from low-stretch, fast-drying Italian fabric, this bra manages to lift, separate, and fully encapsulate each breast to banish middle-boob and under-boob sweat while still retaining a lower-cut neckline that doesn't show under workout tops.
Currently available in sizes 30D to 36G (more sizes and colourways are coming in the new year), it's also super-easy to get on and off. In short, it's a feat of engineering that provides incredible support without compromising on comfort, style or performance, earning it top spot on our list of the best sports bras for big boobs.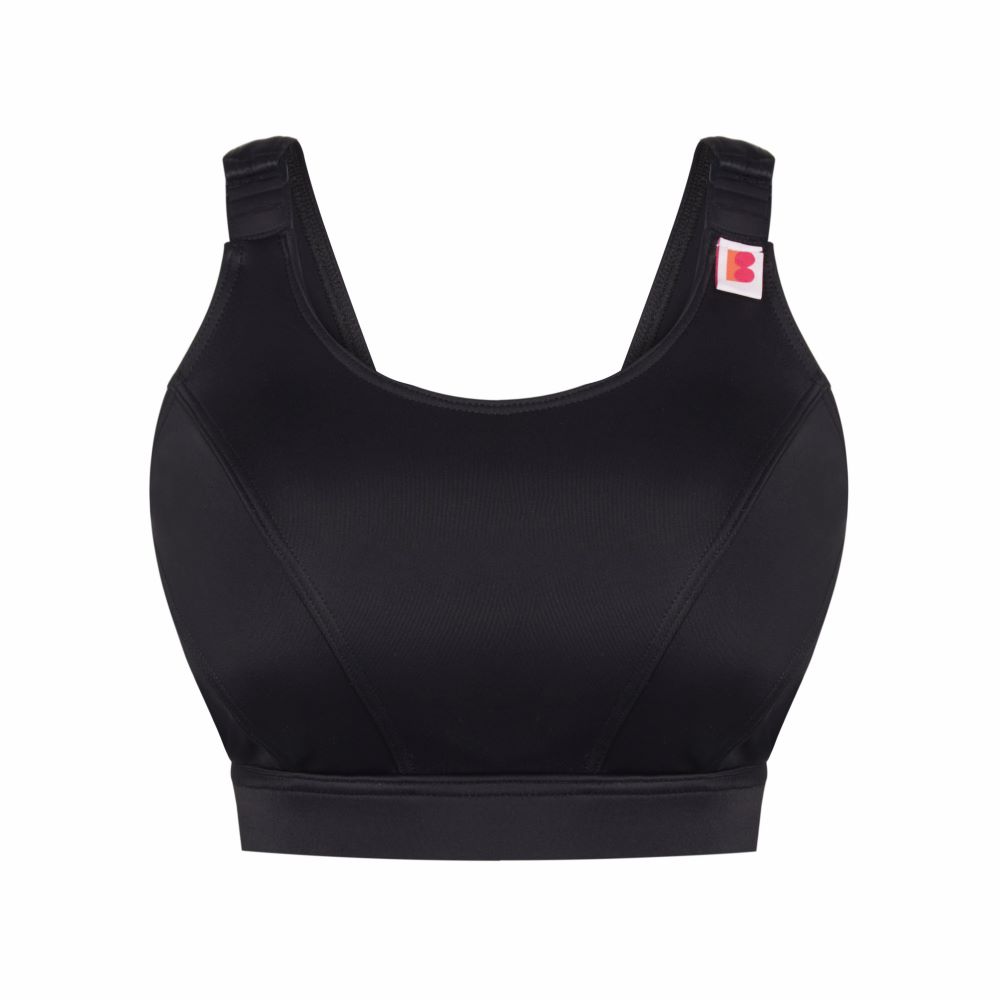 BUY IT NOW:
£95 / iambxm.com
Style: 5/5
Function: 5/5
Comfort: 4/5
Materials: Recycled fabric from ocean plastics | Sizes: 32E to 38H | Features: High impact support, wide elasticated underband, elasticated seams on the bust, double strap snap closure at the back, wire free, compression fit, ethically made in the UK | Colours: Black
Sustainability matters to me big time, but eco-friendly sports bras for busty women just haven't been available to buy – that is until the launch of B.X.M in 2022 (hooray)!
Ethically made in the UK using 100 per cent recycled fabric from ocean plastics, B.X.M offers two styles to choose from: the medium-impact Fearless Bra (sizes XS/1 to XL/2; £80), and the high-impact Limitless bra in sizes 32E to 38H. I tried both 'anti-sexy', wire-free bras, but I especially loved the full-coverage Limitless bra for running, HIIT and dance classes.
There's no denying it has a heftier price tag thanks to its planet positive credentials, but the compressive crop top style, soft cups, elasticated seams, and wide shoulder straps work well together to make sure your boobs remain both unshakable and in supreme comfort. One of the best & most sustainable sports bras for big boobs, this one is a worthy investment.
Related: Sustainable activewear: eco-friendly kit for workouts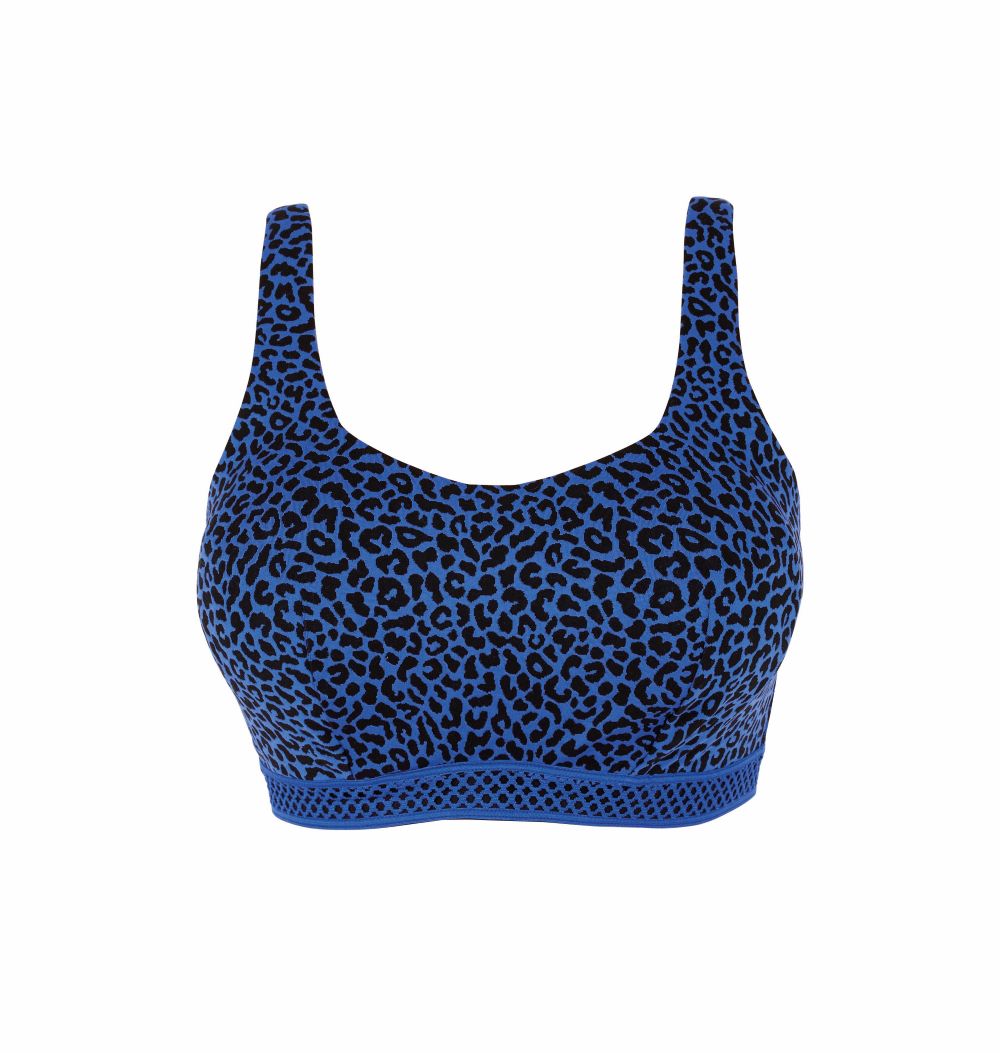 BUY IT NOW:
£44 / bravissimo.com
Style: 4/5
Function: 5/5
Comfort: 5/5
Materials: Polyamide, elastane and cotton | Sizes: 30E to 40L | Features: Wired, non-padded cups offer a super-firm fit and rounded shape, soft seamless fabric next to skin, 4 hook fastening, partially adjustable straps | Colours: Berry or blue leopard print
I've been a Bravissimo customer for more than 20 years but hadn't tried any of their sports bras until now. To say I'm impressed is an understatement. Based on Bravissimo's most-loved Inspire sports bra, this iteration has been given a stylish update by former Strictly dancer Oti Mabuse.
Available in E to L cups, with matching leggings, I adored the sturdy leopard print fabric and incredibly flattering fit – I didn't want to hide it away! The underwiring and non-padded cups made from a double layer of fabric provide a rounded shape and a super firm fit. In fact, I experienced zero-bounce in this bra which blew my mind.
I found the wiring could dig in a little after prolonged wear on long walks and runs, but I love wearing this bra for shorter, high-intensity workouts. This bra boosts your confidence, as well as your boobs.
BUY IT NOW:
£42 / amazon.co.uk
Style: 4/5
Function: 5/5
Comfort: 5/5
Materials: Polyester, polyamide and elastane | Sizes: B to H cups | Features: Sturdy, moulded full cups with built-in underwire to lift and seperate breasts, extra padding to stop wire digging in, wide shoulder straps, moisture wicking, hook and eye fastening | Colours: Various colours and patterns available
This bra came out on top when I last reviewed D+ sports bras three years ago, and it's still a highly trusted favourite. Every aspect has been carefully considered to give you maximum support and a level of comfort not normally found in underwired bras.
The sturdy, moulded, full cups support breasts perfectly and give them a lovely shape, keeping your breasts lifted and separated so you never have to rearrange them mid-workout. Best of all, the underwiring is built into the moulded fabric and additionally padded so it doesn't dig into skin.
Now available in B to H cups, the shoulder straps are over an inch wide, well padded and can be adapted into a racer-back style. It also wicks moisture away well, fits true to size, and is reasonably priced. Highly recommended.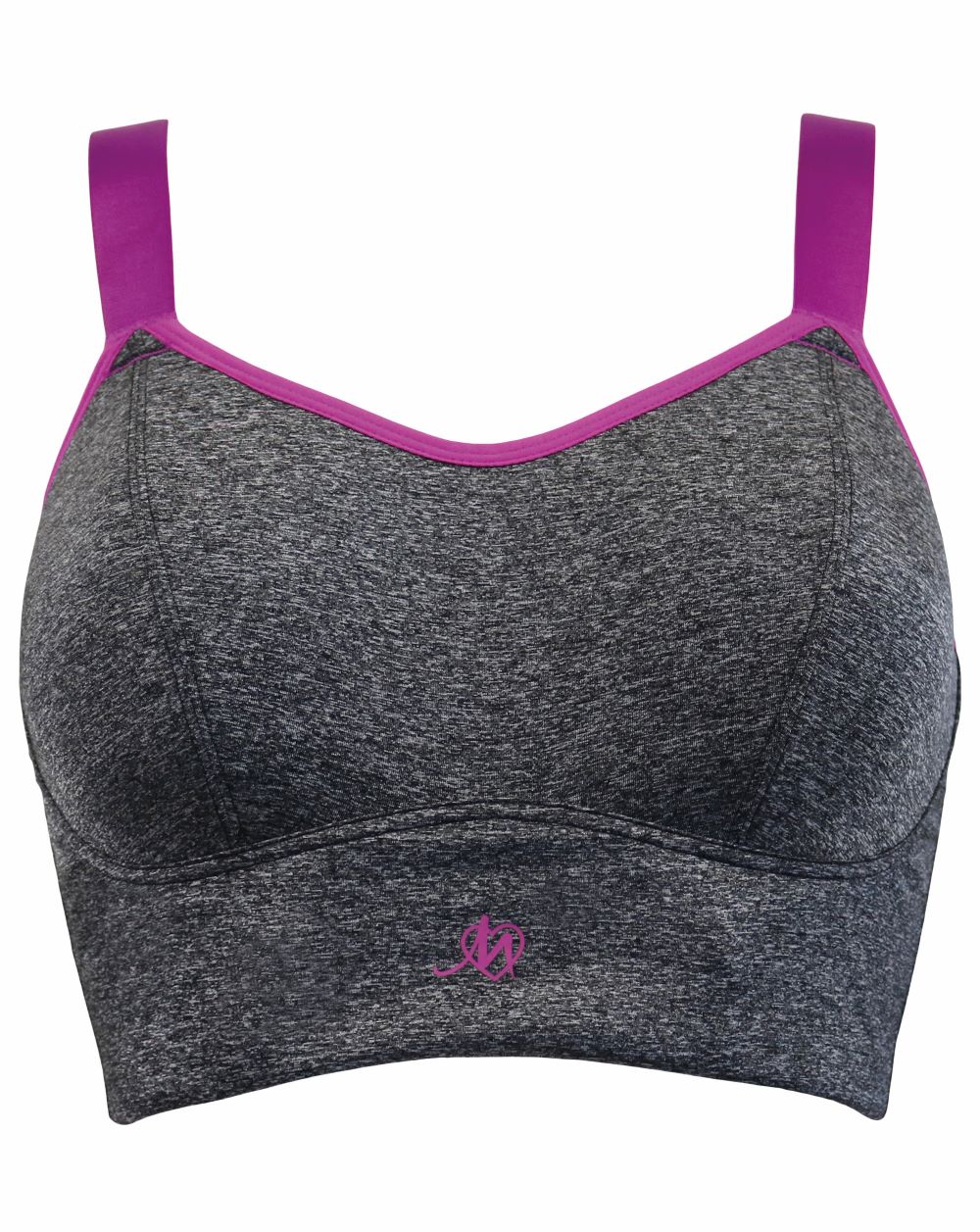 BUY IT NOW:
£30 / pourmoi.co.uk
Style: 5/5
Function: 3/5
Comfort: 5/5
Materials: Polyester, polyamide and elastane | Sizes: 32B to 38G cups | Features: Non-wired, non-padded and fully lined, cushioned straps for comfort, hook and eye fastening at the back, breathable soft microfibre fabric with sweat-wicking properties | Colours: Black/White, Grey/Orchid or Leopard/Coral
If you're on a budget, this is a great buy. Straight off, I'll say this isn't the most supportive D+ sports bra on test here, but I think that's due to the fabric of the bra and the straps (which convert to a racer back) being stretchy rather than ridged.
You do get great support via the underwiring and full-coverage design, but you also get a bit of bounce. Therefore, I wouldn't personally wear it for running and HIIT classes, but I love it for dog walking (and impromptu jogging after the dog), plus lower-intensity workouts such as weight training and yoga.
It gives breasts a lovely, bulk-free shape and feels über-lightweight, thanks to the soft, sweat-wicking microfibre fabric. With its flattering, longline design, it's also extremely comfortable, so much so that I often wear this bra on 'off-duty' days when I still want a good amount of support.