Looking for a new workout class that you can do from the comfort of your own home? Read on for our pick of the best home exercise fitness classes available online…
Due to the Covid-19 pandemic, which caused gyms and fitness centres to be closed for several months, many people turned to virtual platforms offering home exercise fitness classes to get their sweat on.
Get kitted out for your home workout with the Sundried Yoga Mat
BUY IT NOW:
£18.90 / amazon.co.uk
While most gyms are now open again, many of us still enjoy the ease and convenience of working out at home. After all, there's no travel involved, you can wear whatever you like and there's no chance of a last-minute panic that you've forgotten your gym card!
If you're looking for a new fitness class that you can do from home, then look no further. We've rounded up our favourite online platforms offering a range of different fitness classes. From Pilates and yoga to cardio and strength training, there's something for everyone…
Short on time? Try this 10-minute home workout
Best home exercise fitness classes: Yoga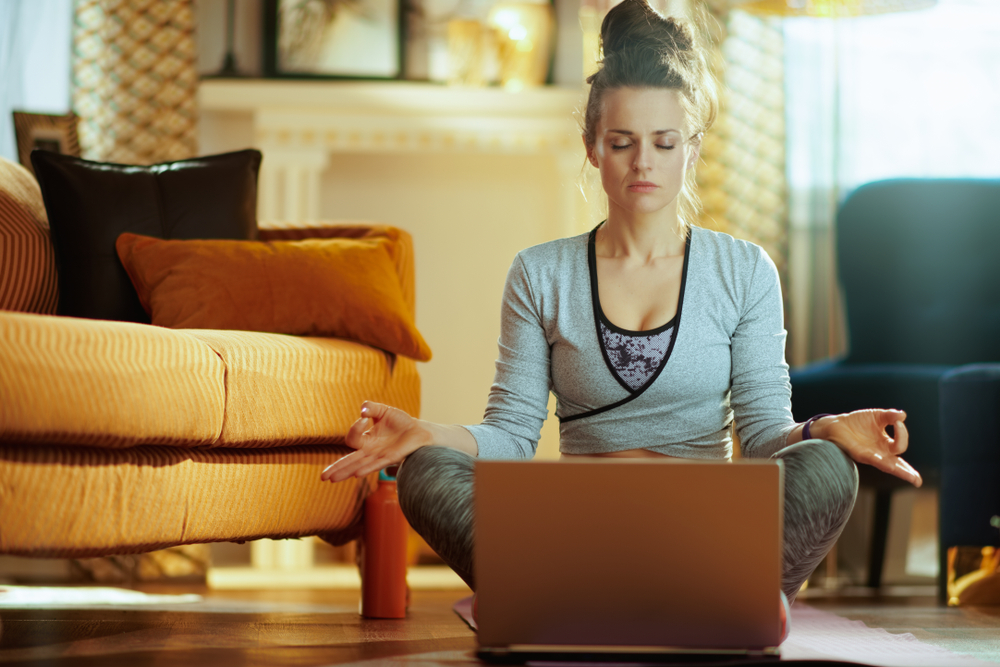 Who doesn't love a spot of yoga? Yoga classes are perfect for home exercise because they don't require lots of space or equipment. At the bare minimum, you'll need a yoga mat. You can also supplement your practice with yoga blocks. These are great for supporting your body as you improve your technique and flexibility.
Get kitted out with the Sundried Yoga Mat
BUY IT NOW:
£18.90 / amazon.co.uk
Penny Weston, fitness, wellness guru and nutrition expert, adds: 'Yoga is great for toning muscles and strengthening too, making you more flexible in the process. As well as the physical benefits, it also relaxes your mind and helps you to feel more focussed. Plus, it's suitable for all body types and ages.'
We recommend…
Created by Penny Weston, MADE Online (membership from £9.50 per month) is a virtual platform offering a range of health, wellness, nutrition and fitness advice.
The fitness classes cover many different disciplines, from calming meditations to full-body workouts. You'll find a huge selection of yoga classes on the site, ranging from beginner-friendly courses to advanced yoga for specific muscle groups.
Best home exercise classes: Dance Fitness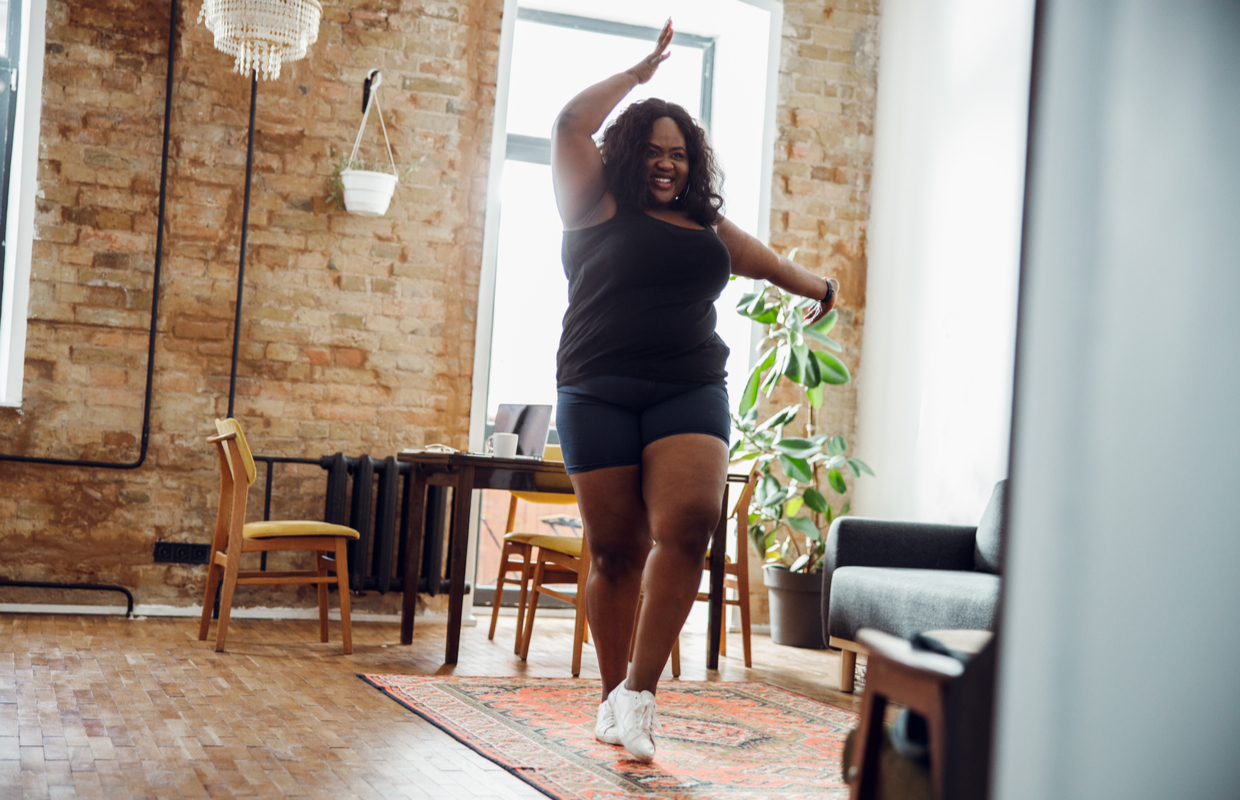 If you're someone who loves cranking up the tunes and dancing around the house, why not try a dance fitness class? This is a great way to get fit and have fun at the same time.
Dance Fitness is a huge craze right now, with loads of home exercise classes and online dance platforms popping up. From ballet fitness to salsa-inspired workouts, you'll be dancing your way into shape!
We recommend…
We absolutely love the range of fun, dance-inspired workouts from Frame. From dance cardio classes set to 90s tunes, to workouts inspired by the classic songs and music videos from Steps ('5, 6, 7, 8', anyone?). You'll be having so much fun, you won't even notice that you're getting fitter!
Frame offers a range of different membership and pay-as-you-go options available to suit everyone's budget and schedule. Click here to find out more!
Combining barre work, flexibility, strength and centre-work, Ballet Fusion is a unique workout that is built upon traditional ballet techniques with elements of Pilates, yoga and fitness to shape, tone, strengthen and flex for a happier body and mind. Each class is instructed by a qualified ballet teacher!
There are over 20 different live and on-demand classes to choose from including Ballet Fusion Cardio Flow and a Stretch & Flex class. Classes start from £6.95.
Best home exercise fitness classes: Cycling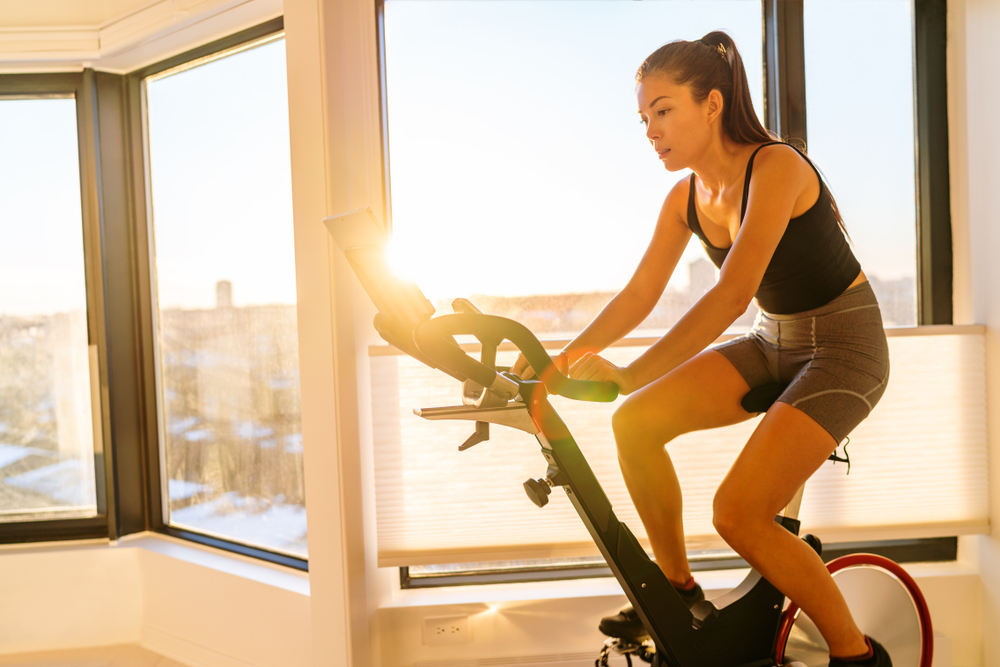 Spin classes are well known for being a fun and effective way to get fit. The high-intensity classes are especially good for building stamina and strengthening your legs and glutes.
Check out our guide to the best indoor exercise bikes
Try the Echelon EX-3 Smart Exercise Bike
BUY IT NOW:
£1,199 + £24.99/month subscription / echelonfit.uk
Lots of home cycling platforms require you to buy a specific cycling machine. However, there are also many platforms out there offering cycling workouts that are compatible with any exercise bike. Already got a bike set up? Why not make the most of it by trying an indoor cycling class from home…
We recommend…
Psycle at Home offers an extensive library of on-demand workouts, as well as the option to book into daily live steam classes. Unlike many online cycling platforms, the RIDE classes from Psycle at Home are compatible with any indoor cycling machine!
Alternatively, if you don't have an indoor bike, you can purchase a SC1 Bike for £1,475, along with an unlimited annual subscription to Psycle At Home for £200. The platform also offers strength, barre and yoga fitness classes.
Get on your bike and work up a sweat with Apex Rides. This online cycling platform offers a huge range of cycling workouts, from energetic dance-led classes, stamina training classes and HIIT classes. There are also special themed rides, such as Apex After Dark (filmed in candlelight!), and Ride Remedies, which blends cycling with guided meditations.
Apex offers seven live rides a week, along with hundreds of on-demand classes. The Apex bike is currently £990 and the app subscription is £30 per month.
Other cycling platforms to check out: Peloton and Wattbike 
Best home exercise fitness classes: Pilates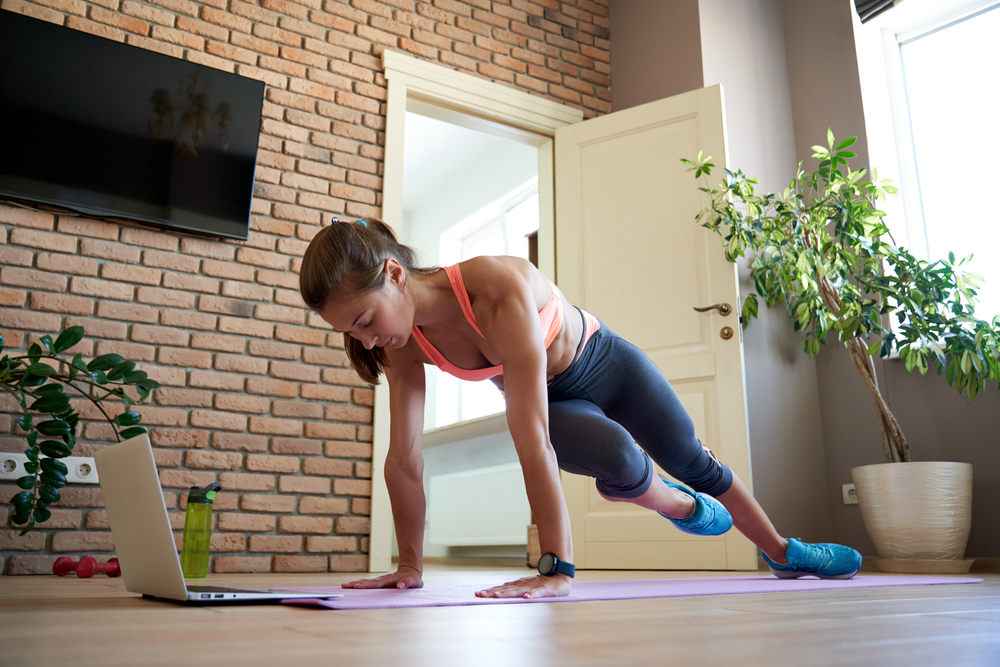 Similar to yoga, pilates is a form of dynamic exercise that focuses on core strength and flexibility. Qualified PT and founder of Lucy Locket Loves, Lucy Arnold, adds: 'Pilates is a great all-round workout. It consists of low-impact flexibility and muscular strength and endurance movements. Pilates helps with your posture alignment, core strength and muscle balance. It can also be tailored depending on your sport.'
We recommend…
Ponzu Fit offers a huge range of online workouts, from yoga and Pilates to dance and cardio. We love the range of Pilates classes available, including dedicated ones for core strength, mobility, upper body strength, and stability.
Memberships start at £10 per month, and you can start off with a free trial of 10 classes. You can also access a limited number of classes for free, with the 'Ponzu Free' membership – perfect for anyone on a budget!
Best home exercise fitness classes: Strength Training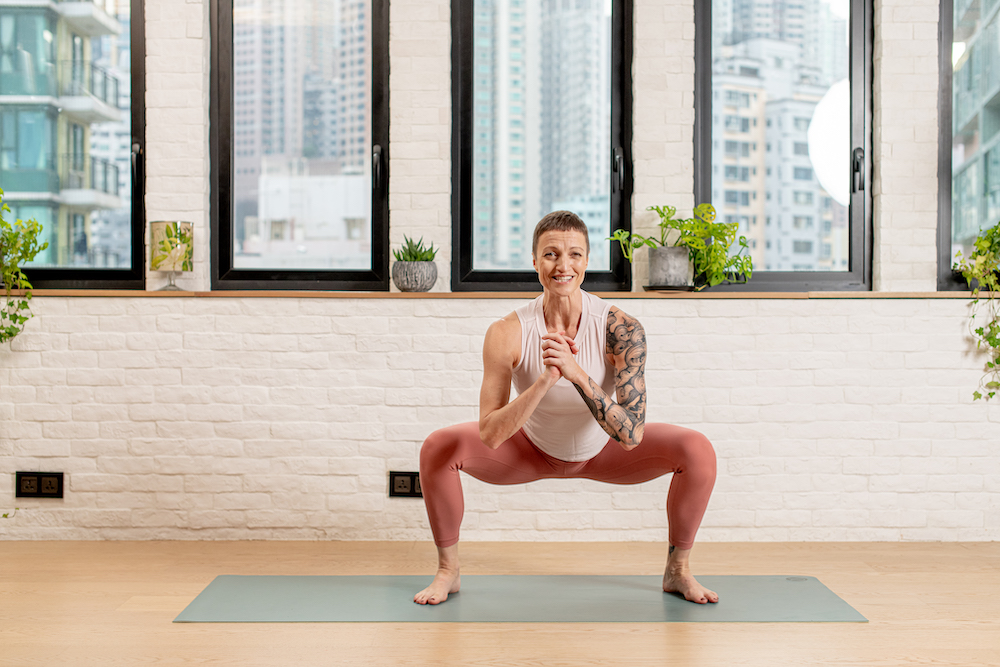 Many people associate strength training with huge racks of weights and equipment galore. Because of this, you may feel inclined to shy away from strength training classes while exercising at home. However, bodyweight training bridges this gap, allowing you to strength train without any equipment. Instead, you simply use the weight of your own body to grow stronger.
We recommend…
TRX creates a wide range of home gym equipment, including its staple TRX Suspension Training Straps. On the TRX online workout platform, TRX Training Club, you'll find a huge range of live and on-demand home exercise classes. Some classes require you to use the TRX straps, however, there's also a wide range of bodyweight training classes, which require no equipment whatsoever.
To celebrate National Fitness Day, TRX is offering all of its on-demand classes for FREE for the next 12 months. Click here to view the classes and get started!
Fiit has an unrivalled selection of over 900+ on-demand and live classes, spanning strength, cardio and rebalancing. The strength training classes include bodyweight workouts and resistance training to build and sculpt muscle. Alongside the equipment-free classes, there are also classes that incorporate the kit and equipment created by Fiit.
Fiit is available on three price plans from just £10 a month, following a two-week free trial. There are also a number of training plans available if you're looking to take your training to the next level!
Global online fitness platform, P.volve, offers a huge range of live and on-demand at-home workout content, including strength training workouts (subscriptions from £11 per month).
Personal trainer Antonietta Vicario recommends the 6 Day Core Foundation Course. The Pilates-style classes on this course use your bodyweight, alongside P.volve's range of workout equipment, to target your ab muscles and help you sculpt a stronger core.
Best home exercise fitness classes: Circuit Training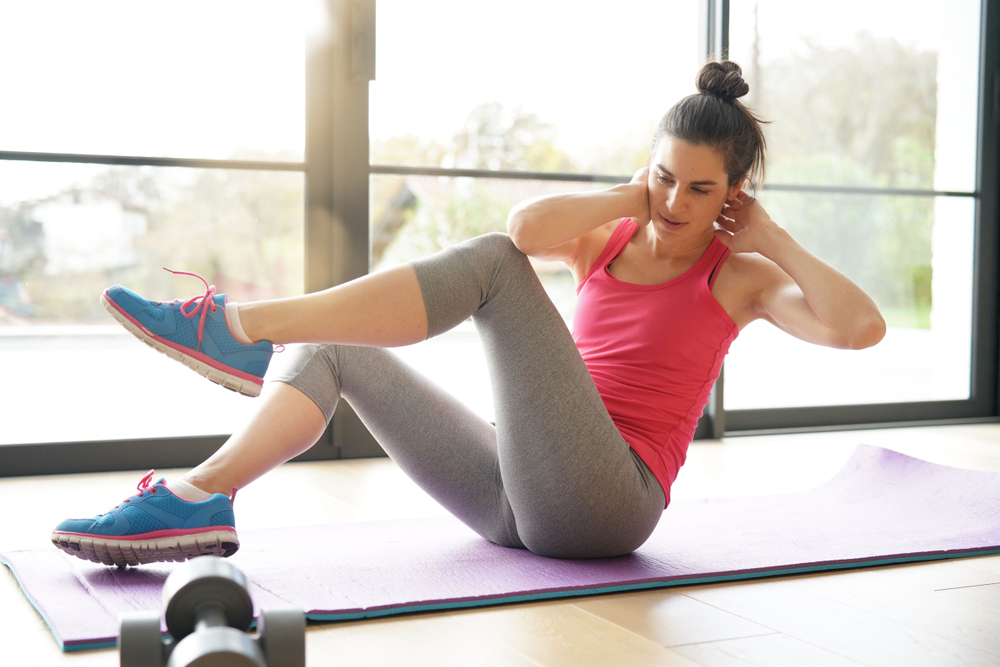 Circuit training? At home? Don't circuits usually involve 10+ workout stations, each filled with different equipment? Well, in a fitness centre or gym, yes. This is usually how a circuit training class would work. However, there are easy ways around the equipment barrier that will allow you to benefit from circuits to get a full-body workout, at home!
Caroline Idiens adds: 'Circuit training is a great way to build strength, improve cardio fitness and ultimately leave you feeling energised and ready to take on the day. Circuits also allow you to get full-body workout in a really short period of time.'
We recommend…
Caroline's Circuits is run by personal trainer, Caroline Idiens. For £35 per month, you can join three 30 minute classes every week (either live or on-demand). These classes, inspired by circuit training, focus on strength and conditioning for the whole body, with different 'stations' to work the different muscle groups.
Caroline recommends having a pair of dumbells handy for the classes. However, the exercises can easily be completed with or without these, making this a flexible option for home exercise.
Up the intensity with the Amazon Basics Neoprene Dumbbells
BUY IT NOW:
£13 / amazon.co.uk
Best home exercise fitness classes: Cardio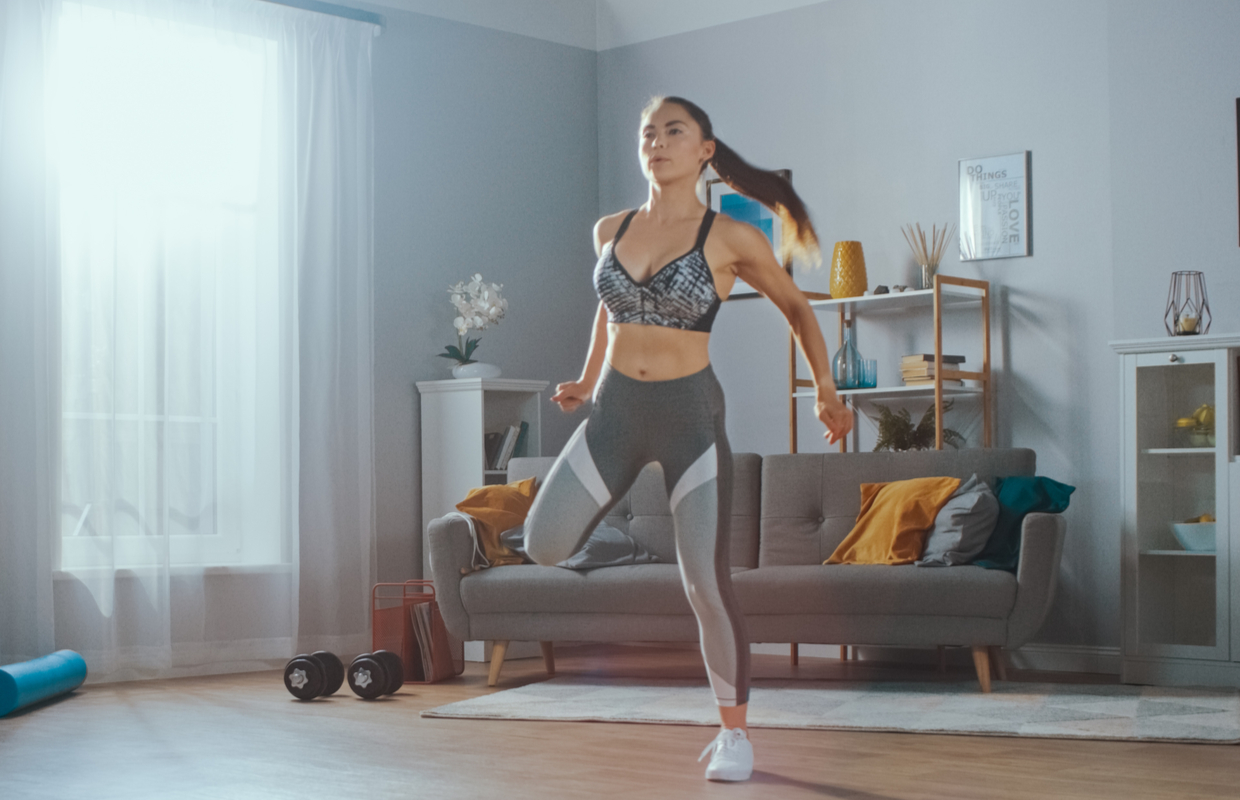 Fancy getting in some cardio training from home? If you're not a keen runner and you don't have any cardio machines, you might feel a little stuck on how to effectively get your sweat on. Well, there is now a huge range of different online platforms, specialising in equipment-free cardio workouts that don't take up heaps of space.
If you are a complete newbie to fitness, doing cardio at home is a great way to build up your general fitness and stamina before venturing out to in-person classes or the gym. Jessica Redman, head coach and founder of WorkThat, adds: 'Cardio is ideal because you don't need any equipment whatsoever. You can really work up a sweat by doing exercises like mountain climbers, high knees, switch blades, bunny hops – there are so many options!'
We recommend…
Online fitness platform, WorkThat, offers a range of fitness classes, suited to all ages and abilities (one-off classes from £5, membership from £20 per month).
If you're looking to work up a sweat, check out the HIIT class, which promises 45 minutes of hardcore cardio conditioning. Get ready to 'work that' body!
MyZone, the wearable fitness brand, has recently launched MZ-Remote, the world's first virtual live group workout where participants can connect and exercise together, whilst receiving real-time biometric feedback and personalised coaching from a trainer. You can see your own heart rate on screen, along with everyone else's, encouraging you to push and train harder!
By connecting to your MyZone heart rate monitor and app, you can track your fitness levels as you complete the cardio workouts. This platform is available for members at over 177 gyms across the UK. Speak to your gym or personal trainer to find out if MZ-Remote is included in your gym membership!
Discover the best fitness classes for weight loss and toning