Karenjeet Kaur Bains, 25, is the first female Sikh powerlifter to represent Team GB. Here, she explains why she thinks more women should try strength training and shares her tips on how get started.
By Joanna Ebsworth
Karenjeet Kaur Bains is an ambassador for Brawn, a community app for strength athletes created to bring together and connect anyone interested in strength training across the globe. Check out her tips on how to prepare for virtual Powerlifting events here.
Have you always been active?
Karenjeet Kaur Bains: 'Absolutely. I was fortunate enough to be born into a very sporty family with two older twin brothers who were both 400m hurdlers at national level. I grew up watching them competing and winning and, slowly, I realised I wanted to complete myself.
'My dad encouraged me in exactly the same way as my brothers, and I was a sprinter until the age of 17, doing the 100- and 200-meter events, the long jump and the hammer throw. I was the fastest girl in school – they used to call me "Bullet Bains" – but I was also very academic, and people thought I was a bit nerdy. I didn't really fit in!'
How did you get into powerlifting?
Karenjeet Kaur Bains: 'I transitioned into powerlifting at 17. Initially, it was to become more explosive for my sprinting, but I'd never lifted a weight before. Luckily, my dad – who is also my coach and my best friend – was a former bodybuilder and powerlifter himself, and I'd seen him training in our home gym looking like a Greek god.
'He taught me the squat, deadlift and bench press and I picked it up fairly easily. Within three months of first lifting a barbell, my dad entered me into my first competition. I was still at sixth form, competing in my PE kit and I didn't have any of the proper equipment, but I ended up winning. From that moment, a fire was ignited in me. I love the feeling of feeling strong and I've never looked back.'
Has your upbringing played a part of your success?
Karenjeet Kaur Bains: 'I'm Sikh, and in Sikhism we're taught that men and women are equal. The founder of our religion Guru Nanak said a famous quote along the lines of 'from women, kings are born, so why would we call them bad'? It suggests women should be equal to men in all principals and my family has always adopted that practice.
'However, on a cultural level (not to be confused with religion), a lot of young girls are not as fortunate as myself to have such a supportive, kind family, and a minority of people can still think that women should be submissive, quiet, dainty, in the kitchen and not doing strength workouts.
'I'm sure there are plenty of other strong Sikh girls out there: they've just never had the opportunity or support to push themselves. I try to be a role model and show that it's okay to excel both academically and in sports. I want all young girls to know you can achieve all sorts of things if you try.'
What do you enjoy about powerlifting?
Karenjeet Kaur Bains: 'I am a very competitive person, so I enjoy that battle between myself and the weights. Yes, you are competing against others in powerlifting, but you are also competing against the weight and seeing if you can lift it.
'I love the fact that the sport is so black and white. You can either lift the weight, or you can't! I love going up on stage, feeling the adrenaline rush, hearing the crowd roaring and getting psyched up. I go into a completely different mindset, especially ahead of the deadlifts, where I block everything out and it's just me and the weight.'
What are the benefits of strength training?
Karenjeet Kaur Bains: 'I think it's excellent for mental health. We're living in very stressful times right now with all sorts of things going on in our professional and personal lives, but strength training gives you a huge endorphin rush and leaves you feeling like you've achieved something incredible after a workout.
'It's also amazing for your confidence. I think it's important that us women get out of our comfort zones and compete and try new things. The powerlifting community is very supportive and it's an amazing place to make friends and push yourself – when you slowly get out of your comfort zone, you can discover a whole new side to yourself.'
What does power lifting involve?
Karenjeet Kaur Bains: 'It's essentially a form of weightlifting, consisting of three disciplines: the squat, the bench press, and the deadlift. In powerlifting, nothing goes over your head, but in Olympic lifting the weight does go over your head with the Clean and Jerk and the Snatch.
'I see a long career ahead for me as powerlifting is a sport where you can get better in over time. In fact, there are people competing in all different categories, and even my mum is getting into powerlifting and bench pressing now, so you might be talking to her at some stage in the future!'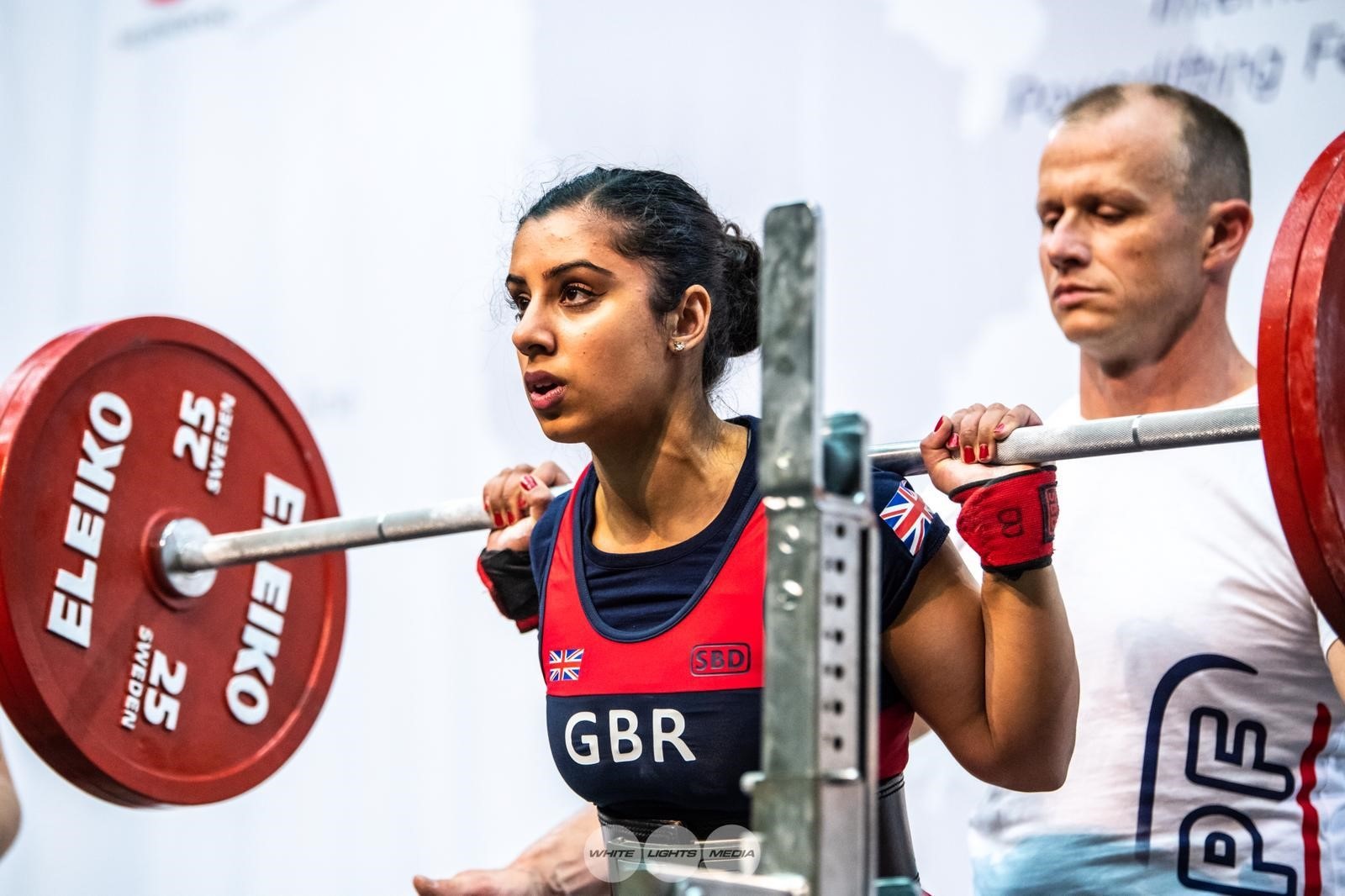 What are your biggest achievements?
Karenjeet Kaur Bains: 'I became the 2019 Commonwealth Champion, winning three gold medals and two silver medals in Newfoundland, Canada, and I also became the first British Sikh female to represent Britain in the World and European Championships, placing in the top 10. That was all at junior level, and I became a senior lifter when I turned 23.
'I've just came back from competing in the World Bench Press Championships in Lithuania where I came 6th in the World. It's a result I'm pleased with as it was my first competition at senior level competing against the strongest of the strongest, the best in the world, and women who do it as their full-time job, whereas I train on top of my full-time job as an accountant. It's given me hope that I'll be medalling in a few years' time, and I'm enjoying the journey.
'One day, I'd like to become the first female Sikh World Champion, just because I think that would be an amazing achievement to have. Outside of sport, I'd like to leave a legacy that inspires other people from diverse and minority backgrounds who look like myself to try powerlifting.  When that happens, I'll know I've done my job.'
Why are you so passionate about getting more females to try strength training?
Karenjeet Kaur Bains: 'Call me a feminist, or pro-female strength, but I think the days when females were overlooked as being the weaker sex are gone. I'm really passionate about all females doing strong things and pushing themselves to the next level. I think female empowerment is a really beautiful thing.
'You can really push yourself to new heights and overcome things you might have thought you couldn't do. It's all about breaking barriers and challenging your own ideas of how strong you are. I really wish more women could enjoy that feeling. And then, once you've lifted that weight, you start wondering "what can I lift next?" and adding on two more kilos – it's very addictive!'
What are your top tips for trying powerlifting?
Karenjeet Kaur Bains: 'If you have any family members or friends that go to the gym, ask to tag along with them when entering the weights section. It's always a good idea to have a support system in place because I know how it feels when you think you don't belong there, or you don't what you're doing, or you're worried that people are judging you because you haven't got the correct technique yet.'
'Start doing some circuit training and bodyweight exercises at home before you start weightlifting. I always recommend that people get into a routine of doing exercises such as press-ups, free squats and sit ups to condition their body at home before lifting weights. Getting into an exercise routine and enjoying your training at home will help you feel better once you start going to the gym.'
'Find yourself a coach to help you develop good technique. Also, avoid lifting too much too early, otherwise you could get injured and that could put you off lifting again. Leave your ego at the door and start small. Start lifting with the empty bar, master technique and build the right foundations. Lifting is all about being consistent – keep doing it and you muscles will get stronger over time. It's a long-term game.'