You don't need much kit to get a full-body workout – a pair of dumbbells is enough! These are the best dumbbell exercises for beginners, designed to build lean muscle tissue and burn body fat…
Dumbbells are a great training tool for beginners because you can add them to a huge range of exercises to add resistance. If you're totally new to using them, there's no need to feel intimated – simply add them to the most basic of movements, such as pressing them overhead for a shoulder press, pulling them back for a bent-over row, or holding them by your sides for a weighted squat.
Try this full-body dumbbell workout for women
Using this extra resistance will not only increase your muscle density, which is essential for achieving a toned appearance, but also increase your lean muscle tissue.
For beginners, the following three exercises will show you how to get creative with a pair of dumbbells. You can do these moves in the gym, at home or even in the garden. You don't need much kit or space – just make sure you use the correct weight. Aim to perform 10 to 15 repetitions with good form. If you feel like you could do more than that, then it's time to up the weight.
Build your booty with this dumbbell glute workout
Need a pair of dumbbells?
Choose your weights wisely, as dumbbells range from around 2kg to 50kg in weight. Get yours from etteathletica.com (like the Ette Gold Dumbbells, pictured below) or corebalancefitness.co.uk.
We also love the Amazon Basics Neoprene Dumbbell Pair
BUY IT NOW:
£13 / amazon.co.uk
Our favorite dumbbell exercises for beginners
Biceps curl to press
Renegade row
Russian twist
Keep reading for full instructions on how to ace each exercise.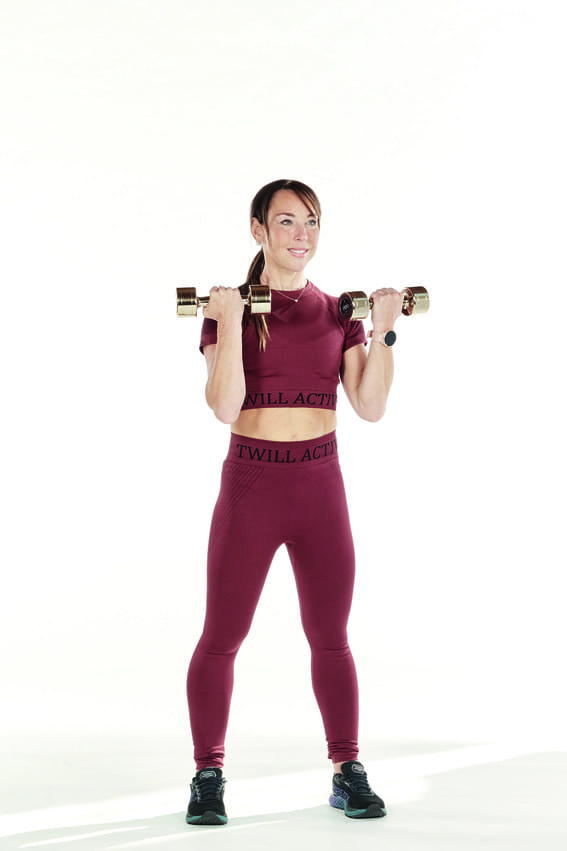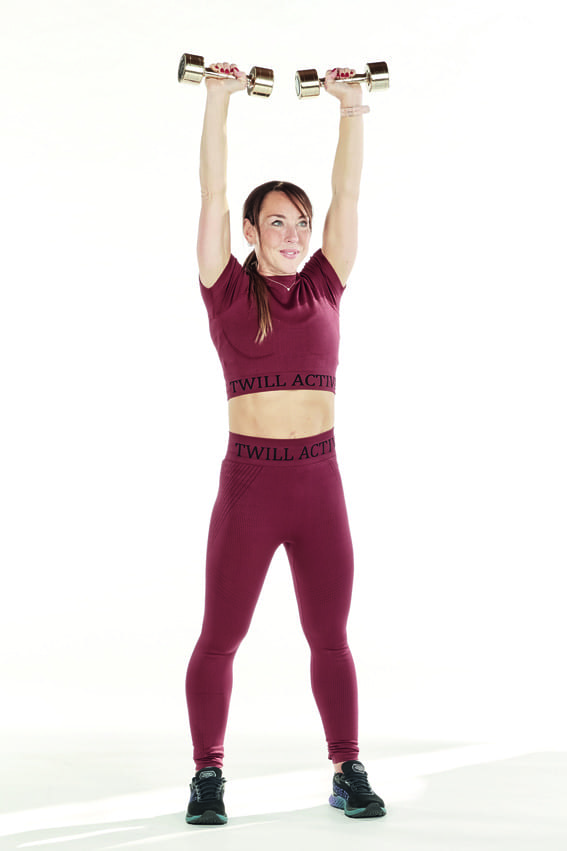 1. Biceps curl to press
A great move that works the entire upper body and core.
Targets: Biceps, triceps, shoulders and core
Beginners: 3x 10 reps
Intermediates: 3 x 12 reps
Advanced: 3 x 20 reps
How to do biceps curl to press with dumbbells:
Grab a pair of dumbbells and stand with your arms hanging down by your sides.
Without swinging your body, curl the dumbbells up to your shoulders, rotating your palms outward so that they are now facing your body (A).
Press the dumbbells overhead until your arms are straight (B).
Reverse the movement back to the starting position, then repeat.
If you're looking to upgrade your dumbbells, try the Bowflex SelectTech Adjustable Dumbbells
BUY IT NOW:
£199 / amazon.co.uk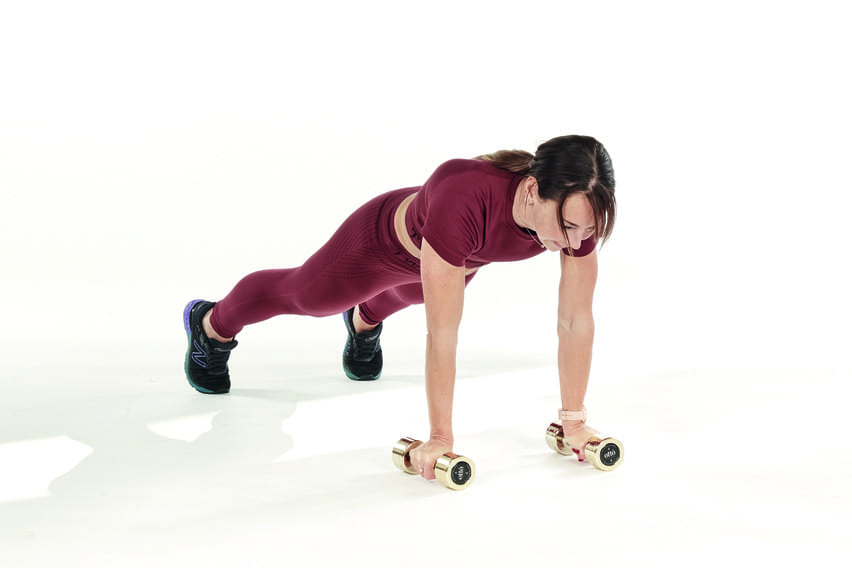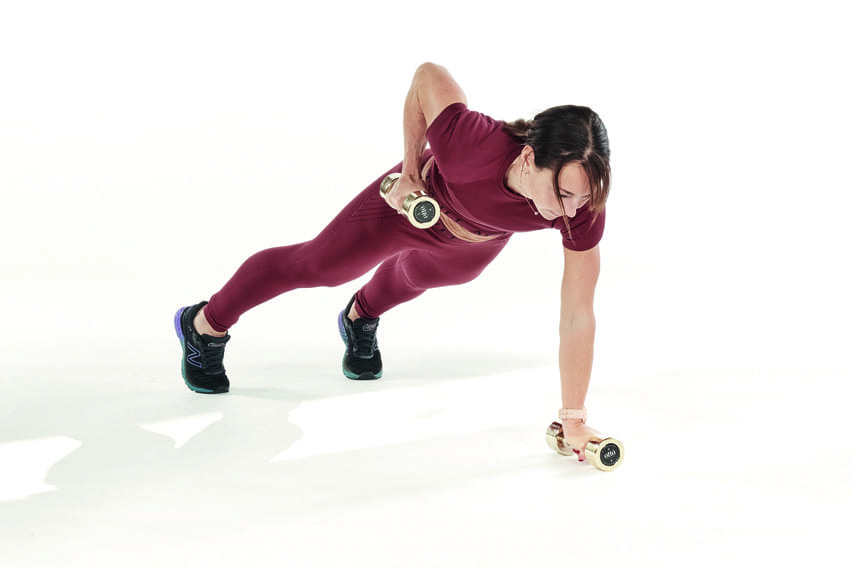 2. Renegade row
This move will work your upper body and back from a new angle, whilst challenging your core, balance and co-ordination.
Targets: Shoulders, back, arms, abs and core
Beginners: 3 x 10 (5 reps on each side)
Intermediates: 3 x 16 ( 8 reps on each side)
Advanced: 3 x 20 (10 reps on each side)
How to do renegade row with dumbbells:
Get into a push-up position with your feet wider than hip-width apart and hands resting on your dumbbells (A).
Brace your body, then pull up one of the dumbbells (B).
Row the weight upward until your upper arm is slightly higher than your torso, then slowly lower back down to the ground. To make it harder, bring your feet closer together.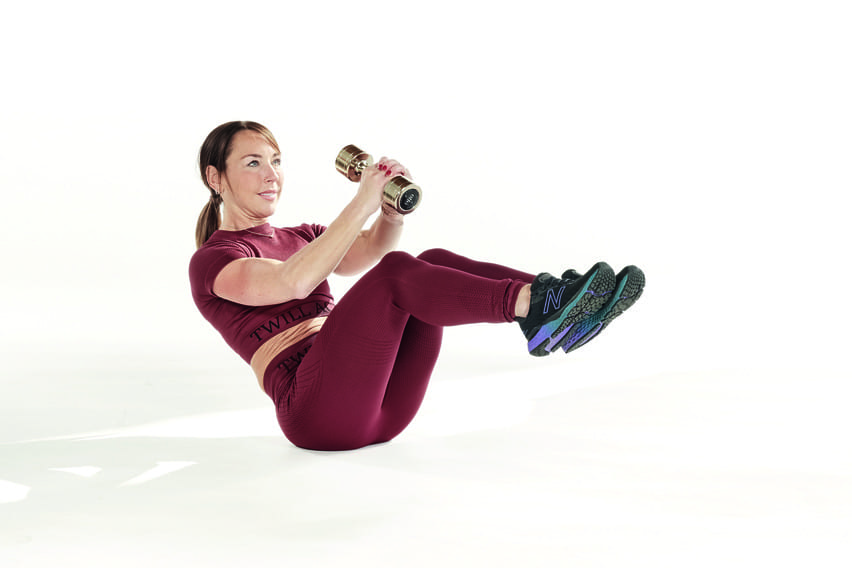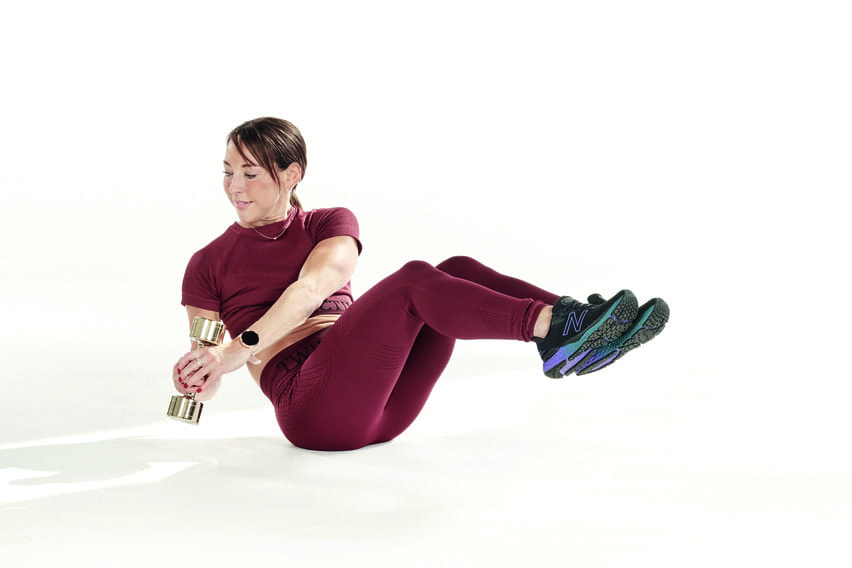 3. Russian twist
This exercise will build rotational strength in your abs whilst testing your balance and strengthening your hip flexors and obliques (side abs).
Targets: Obliques, abs, quads and biceps
Beginners: 2 x 10 reps
Intermediates: 2 x 20 reps
Advanced: 3 x 20 reps
How to do Russian twists with dumbbells:
Sit on the floor with your knees bent and feet flat, and hold just one dumbbell at your chest.
Brace your abs tight and lift your legs so they're almost making a 90-degree angle (A).
Rotate your torso to the right and tap the dumbbell on the floor just outside of your right hip (B).
Pull the weight back to your chest and rotate to the left. That's one rep. Continue alternating for the given reps.
Be sure to perform these dumbbell exercises for beginners on a supportive exercise mat. Try the Sundried Yoga Mat.
BUY IT NOW:
£18.90 / amazon.co.uk
Words and model: Lucy Miller | Photography: Eddie Macdonald | Clothing: Twill Active Avira Panel Recycled Seamless Leggings, £40, and Vora Panel Recycled Seamless Crop Top, £35; New Balance Fresh Foam 880v11 GTX (£140); Ette Gold Dumbbells (£180)