Sponsored by Better Nature
Hands up if you've ever cooked with tempeh?
Tempeh (pronounced 'tem-pay') is trending this year as growing demand for natural & healthful meat-free foods has put this tasty, plant-based Indonesian food firmly in the spotlight.
Dr. Driando (aka the Tempeh Doctor), co-founder of Better Nature Tempeh (now available at Tesco), gives the lowdown on the benefits of this nourishing plant based food, and explains why we will all be eating tempeh this year and beyond…
1. Tempeh is 100% natural
Tempeh is made simply of fermented soybeans and water, with no additives or preservatives, so you can be confident about exactly what's going into your body.
2. Tempeh is high in protein
Tempeh has a similar amount of protein to beef and over double the protein of tofu. Tempeh averages around 22g of protein per 100g, compared to 26g for beef and 8g for tofu. Gone are the days where you need to worry about a lack of protein in your plant-based meals. 
3. Tempeh is great for your gut
Thanks to its natural fermentation process, tempeh is easier to digest than most foods, as a lot of the nutrients are already broken down. It's also high in fibre and full of prebiotics, which feed good bacteria in the gut. 
4. Tempeh is quick and easy to cook with
If you're new to tempeh, you may be surprised at just how easy it is to cook with. With its firm texture and quick absorption of marinades, tempeh can be pan-fried or baked to create tasty dishes in a matter of minutes, from curries and stir fries to wraps and salads. Better Nature's marinated range makes cooking tempeh even easier, from their Curry Tempeh Pieces to Smoky Tempeh Rashers.  
5. Tempeh is planet-friendly
Tempeh has a very low carbon footprint, emitting 94% less CO2 than beef, 78% less than pork and 62% less than chicken. Better Nature's range is all A-carbon rated (independently measured by My Emissions), and they donate 1% of their sales to tackle malnutrition in Indonesia, the home of tempeh.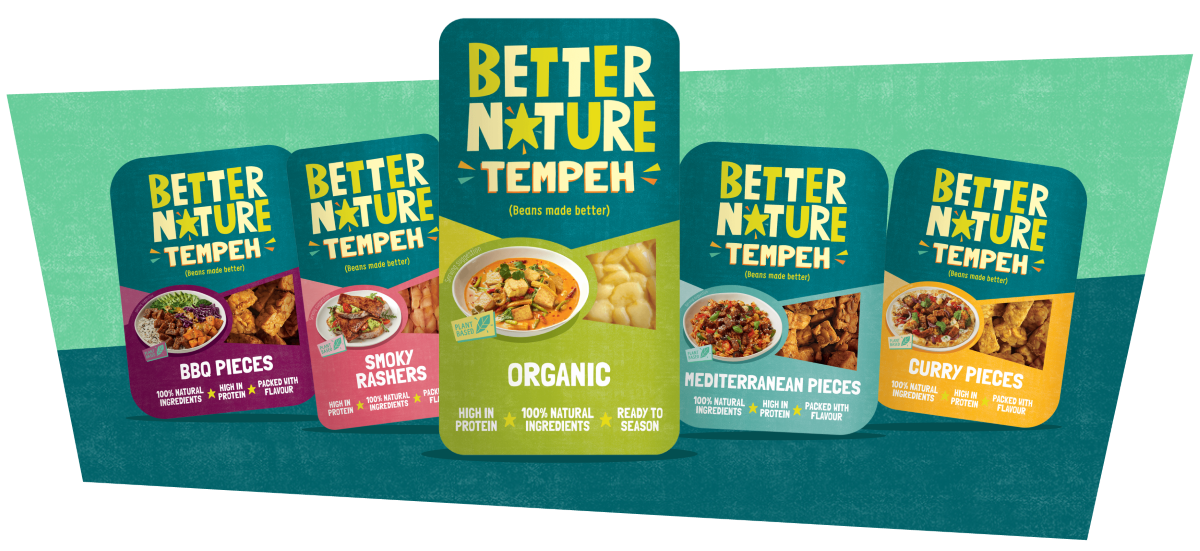 Better Nature's Organic Tempeh and Marinated Tempeh Pieces are available to buy now from Tesco, Planet Organic, Selfridges and Amazon. To find out more about tempeh, and for tempeh recipe inspiration, visit betternaturetempeh.co or follow Better Nature on Instagram or TikTok at @betternaturetempeh.