Learn how to shop smart and create even smarter meal plans with our top tips and examples for the perfect healthy grocery shopping list…
Creating a healthier diet starts with smart shopping. Whether you find hidden gems among the supermarket aisles, explore your local farmers' market or stock your kitchen cupboards online, there are plenty of delicious, healthy options just waiting to be discovered. And they needn't be expensive, either – with a little pre-planning and some clever tips, you'll soon find shopping for a healthy diet a breeze.
Related: The Eatwell Plate – how to eat a balanced diet
Meal planning ideas
Plan your week's meals seven days ahead to avoid diet meltdowns…
At the beginning of every week, before you head to the supermarket, take some time to plan your meals for the next seven days. Not only will this save you time, wasted food and cash at the till, but you'll find it easier to stick to your new healthy diet, too.
With a well-stocked fridge you're less likely to make last-minute trips to the shops for quick-fix meals, which will often be high in empty calories. Organisation, preparation and motivation are the buzzwords for sticking with healthy eating.
How to make a weekly meal plan:
Set aside some time each week to organise your menus. Write out a week's timetable of meals in a notebook (see right). Fill in your menus, allocating more complicated dishes for when you have more time.
Could you prepare lunches in a batch? Or make double portions so there's enough for the next day? On nights you'll be late at work or going to the gym, you could eat leftovers. If you're time-starved, plan meals that take less than 30 minutes to prepare or invest in a slow cooker to have a meal ready when you get home.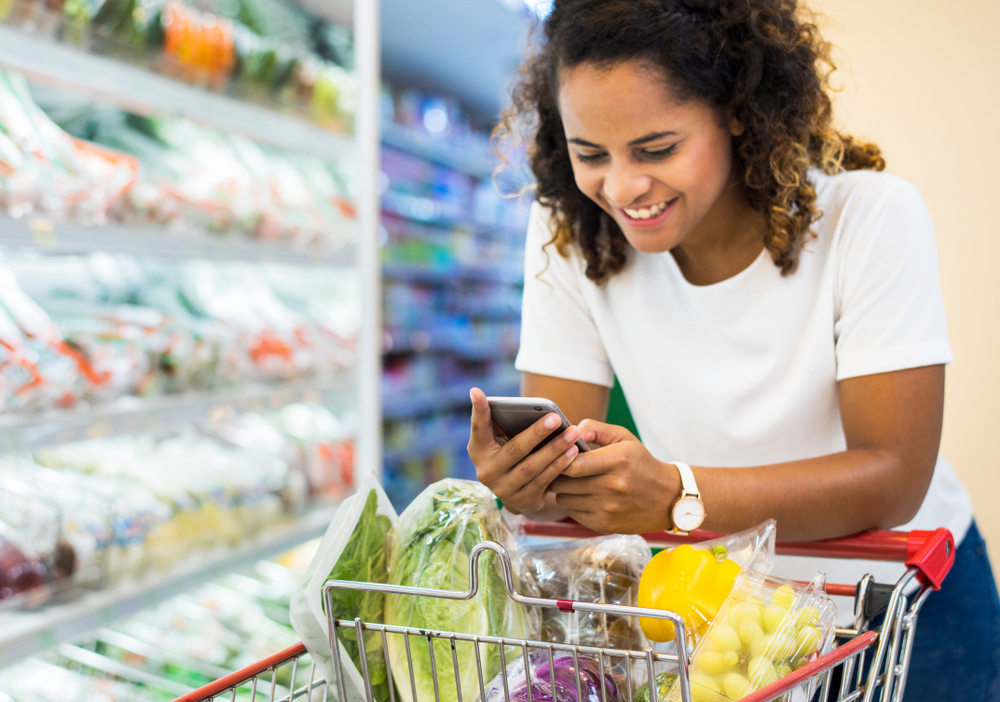 Your healthy grocery shopping list
Take this checklist with you when you shop, to ensure your store cupboard is filled with a balance of nutrients. Add your favourites if they're not already on the list.
Healthy cupboard essentials:
Wholewheat bread, pitta, wraps and pasta
Brown rice
Canned pulses: kidney beans, chickpeas, cannellini beans
Lentils
Canned tomatoes
Popping corn
Plain rolled oats
Unsalted, raw nuts: cashews, almonds, walnuts
Quinoa
Dried spices & herbs: turmeric, cumin, chilli flakes, oregano
Oils:
Avocado oil
Olive oil
Coconut oil
Rapeseed oil
Freezer essentials:
Frozen vegetables: peas, spinach, broad beans
Frozen fruit: berries, mango, pineapple
Prawns, white fish, salmon fillets
Frozen yoghurt
Fresh foods:
Experiment each week with snacking fruits
Lemons and limes to flavour water and make dressings
Vegetables: buy a rainbow: greens, reds, oranges, yellows and purples
Salad: choose high-nutrient leaves such as spinach, watercress and rocket
Herbs: mint, basil, coriander, parsley
Lean meat & poultry: free range and organic preferable
Fish and seafood
Eggs: free range and organic preferable
Low-fat natural yoghurt and crème fraîche
Low-fat cheese: cottage cheese, Parmesan
Save this image to your phone or print it out so you can bring your healthy grocery shopping list with you on your next food run!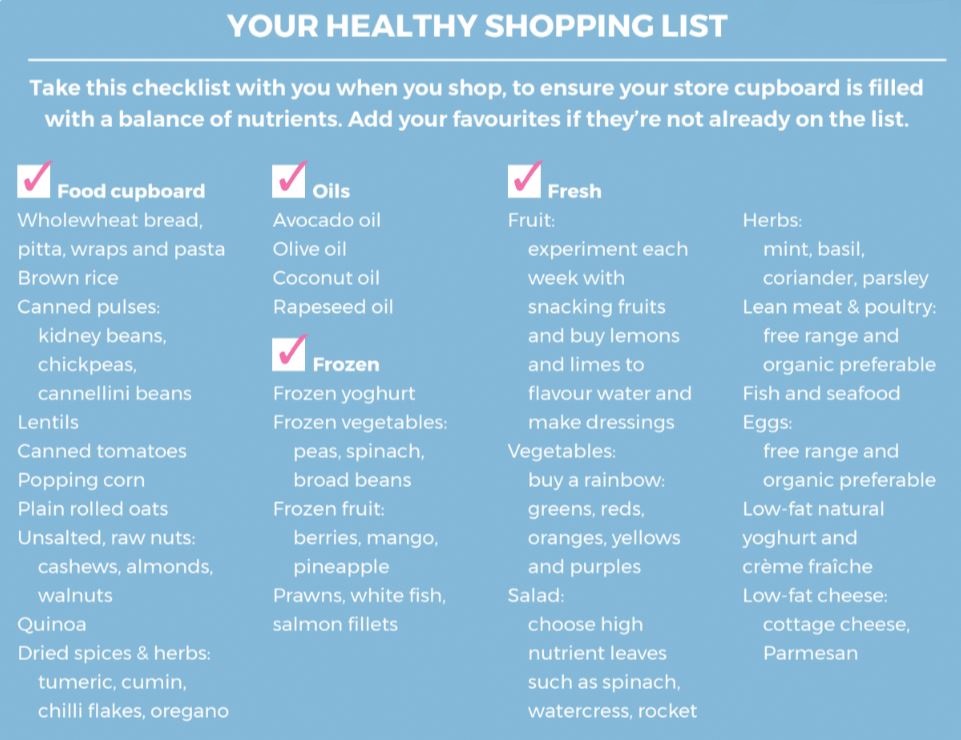 Related content: