Learn how to eat to keep your joints healthy with these top tips from award-winning registered nutritionist and former champion athlete, Anita Bean.
Whilst it may not be the most exciting area of fitness, keeping your joints healthy is key in helping you to maintain the ability to move efficiently – a fundamental part of staying physically active. In fact, healthy joints are a crucial part of living an active and healthy lifestyle at any age, so it's important to keep them in good working order. Yet, joint care often comes last on the priority list, and whilst regular exercise is a great place to start, certain dietary additions can be a simple way to further support healthy joint function long-term.
With the help of award-winning Registered Nutritionist and former champion athlete, Anita Bean, sourcing a healthy dose of joint-friendly compounds may be easier than you think. Here, Anita shares 6 foods to help you maintain joint health for years to come.
Best foods for healthy joints
Ginger
"Ginger has a long history of use across both traditional and modern healthcare and its inflammatory properties mean it may help calm the immune response and its impact on joint tissues, thus helping preserve joint mobility and flexibility."
Kale
"Kale is packed with nutrients such as beta-carotene and Vitamins C, E and K which may help protect joint tissues from oxidative damage."
Turmeric
"Turmeric contains an active compound called curcumin, which has potent anti-inflammatory and antioxidant properties."
Lentils
"Protein is key for building healthy connective tissue and plant proteins such as beans and lentils feed the healthy microbes in your gut, which is so important for reducing inflammation. Try and include a wide variety of plant foods in your diet."
Oily fish
"Oily fish are packed with healthy omega-3 fats shown to reduce inflammation with the added benefit of keeping your heart healthy."
Nuts
"Nuts are a great snack to have on the go, they contain antioxidant nutrients that can help reduce inflammation and protect against cell damage."
Try GOPO® Joint Health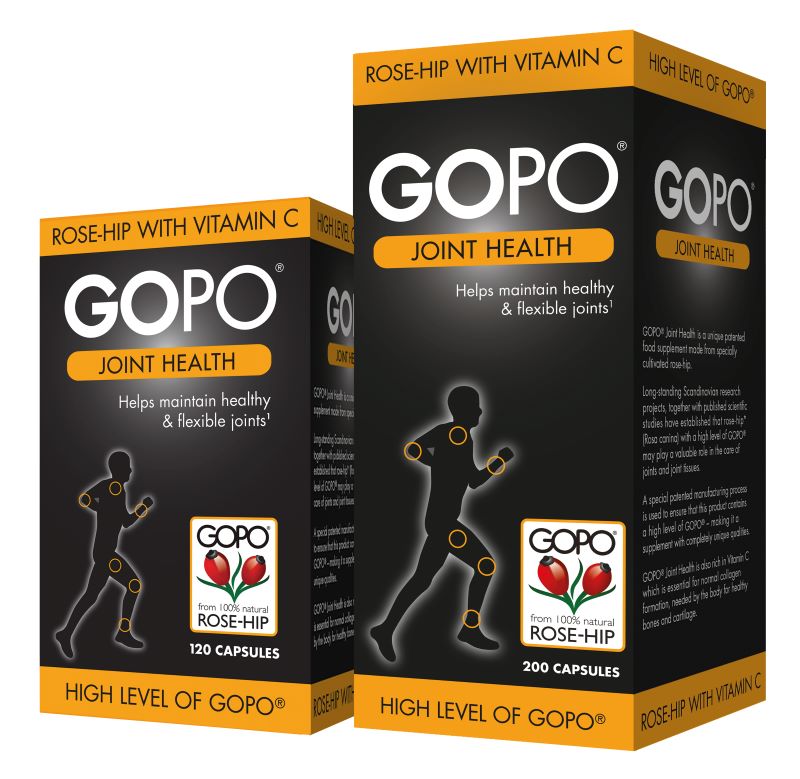 In addition to a healthy balanced diet, introducing a supplement may help to maintain joints from the inside out. GOPO® Joint Health contains specially cultivated naturally sourced rose-hip with a uniquely high level of GOPO®.
GOPO®, a key component of rose-hip, was discovered over 20 years ago in Denmark. Longstanding research projects have focused on rose-hip with a high level of GOPO®. Rose-hip helps maintain healthy and flexible joints.
It is also rich in Vitamin C which contributes to the formation of collagen for the normal function of cartilage. Cartilage is the protective and connective component of joints.
GOPO® Joint Health is available from Boots, Amazon, supermarkets and independent chemists and retailers nationwide. Visit gopo.co.uk for further information.