The health benefits of a vegan diet will extend far beyond your own improved health and weight loss. In this guide we'll run through the reasons to switch to plant-based eating and the options available to you.
You might have noticed a rise in the number of vegan food options available in both supermarkets and restaurants in recent months. Veganism is no longer a fringe movement, embraced solely by hippies and animal rights activists: it has become well and truly mainstream. Of course, for those who embark on a plant-based diet, it's far more than a trend. Going vegan can become a lifestyle, and whether you embrace it for health, weight loss, compassionate or environmental reasons, going vegan can positively impact your whole life.
Why go vegan?
There are lots of reasons why it's great to give plant-based eating a go. For many, the desire to eat more compassionately is high on the list. After all, animals are sentient beings, able to think, feel emotion and experience suffering.
Many people also opt to go vegan for the environment. There's a mountain of scientific evidence that shows giving up meat and dairy is the best choice for our planet. Arable farming produces fewer greenhouse gasses than animal agriculture, as well as using less water: according to the charity Veganuary (veganuary.com), it takes 60 litres of water to produce a pound of potatoes, but 9,000 litres to produce a pound of beef. Agricultural scientists also estimate a meat-based diet requires four-and-a-half times more land than is necessary for a vegan diet.
Then there's health. According to Veganuary, health is now the second biggest driving factor towards a vegan diet. Numerous studies show those who follow a vegan diet have, on average, significantly lower rates of obesity, high blood pressure, cholesterol, Type 2 diabetes and heart disease, as well as lower risk of certain cancers, including breast and bowel. In fact, Angelina Jolie's doctor, Kristi Funk, a world-leading surgeon and breast cancer researcher, recently stated nutrition is the number one factor contributing to breast cancer risk, with meat and dairy among the top culprits.
Vegan for weight loss
If you're looking to lose weight, a vegan diet is a great choice. Studies show meat-free diets (vegan in particular) are associated with lower rates of obesity and lower body mass index (BMI). In fact, a 2017 paper entitled 'A plant-based diet for overweight and obesity prevention and treatment', published in the Journal of Geriatric Cardiology concluded that 'PBDs [plant-based diets] should be considered a viable option for patients who are interested in losing weight and improving dietary quality consistent with chronic disease prevention and treatment.'
So, what makes a vegan diet such a good option for slimmers?
'The main reason is because it's high in fibre,' explains Michael Roberts, a vegan personal trainer and founder of The Vegan Body Plan (veganbodyplan.com). 'Fibre, apart from being very healthy, fills you up without adding calories, so you end up consuming less than if you were eating a conventional diet. Some of the best examples of high-fibre foods are fruit and veg, seeds and nuts, and legumes, such as beans, lentils and chickpeas. Veganuary found that 87% of people who went vegan for at least a month lost weight.'
But beware – a vegan diet is not automatically healthy! 'Just as there's lots of junk food to be eaten on an animal-based diet, it's also possible to eat junk food on a vegan diet,' reveals Michael. 'These days, there are vegan alternatives for nearly all junk foods, plus people are often surprised to discover many of the unhealthy foods they already enjoy are vegan – Oreos and certain flavoured Pringles, for example. If you like ice cream, burgers, cheese and chocolate, it's good to know there's plenty of this available as a vegan – but steer clear if weight loss is your goal!'
Making the switch to vegan
If you've never tried it before, the thought of cutting meat, dairy and eggs out of your diet can seem daunting. You could try switching to just one or two vegan days a week at first, to ease yourself in gently. Loads of meals can be easily 'veganised': make your morning porridge with oat or almond milk and top with fresh fruit; lunch could be a wholemeal wrap filled with hummus and salad; and for dinner, try making a delicious bean and vegetable chilli served with basmati rice. For snacks, the healthiest (and easiest!) options are fresh fruit, a handful of nuts and raisins, or a couple of oat cakes topped with nut butter. But don't be limited to these suggestions – there are many online vegan resources to help you, plus an abundance of vegan recipe books for ideas and inspiration.
How can a vegan diet affect food choices and nutrition?
Protein sources are readily available – great choices include nuts, nut butters, tofu, beans and pulses, lentils, peas, seeds and quinoa. Iron can be found in lentils, cashew nuts, chia seeds, chickpeas and dried fruits, while calcium is found in leafy greens (such as kale), broccoli, figs, oranges, blackberries, almond butter, tahini and fortified plant-based milks. Omega-3 can be found in flaxseeds, chia seeds and walnuts, or try an algae-derived supplement, while vitamin B12 is found in Marmite, nutritional yeast and fortified plant-based milks (you might also want to take a B12 supplement).
'A healthy plant-based diet will provide your body with all the nutrients, vitamins and minerals needed for optimal health,' says Michael. 'Natural, unprocessed plant-based foods are the way to go, because they contain everything your body needs, and if you build a diet that meets your nutritional targets on these foods, you're guaranteed to succeed and will notice an improvement in your overall health and wellbeing.'
Who can go vegan?
Is a plant-based diet for everyone? Absolutely! You might experience some resistance at first from those you live with and share meals with, so explain to them why it's important to you and that you'd appreciate their support. After trying your plant-based meals, you're likely to win them round, even if it's just for a few meals every week. Children can also thrive eating plant-based meals, although allow time for them to adapt, especially if they're young. Remember, it can take up to 20 times for them to see and taste new foods before they will accept them, so perhaps continue with their regular meals at first and offer them some of your vegan food at mealtimes.
Many people often report feeling more energised on a vegan diet, so even if you're exceptionally physically active, a vegan diet is a great way to fuel your sport. In fact, many top athletes, from runners and cyclists to bodybuilders and boxers, now eat a plant-based diet – take Novak Djokovic, for example, who eats a solely plant-based diet!
Example of a vegan diet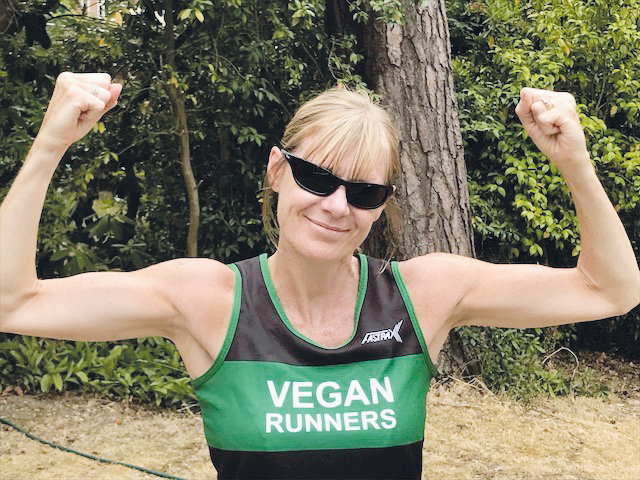 Mel Jennings, 46, from Berkshire, has been vegan for two-and-a-half years
'I became vegetarian at the age of 10. Then two-and-a-half years ago, my daughter, Summer, researched the dairy industry and announced she'd turned vegan. I followed suit after being horrified at the cruel treatment of animals. I wanted no part of it. My life then changed for the better in so many ways.
'Saying goodbye to halloumi and Galaxy was a challenge at first, but I never looked back. Nowadays, shops stock a variety of vegan foods and many restaurants have vegan menus. A plant-based diet has introduced me to more whole grains and wholesome, healthy food packed with nutrients. I've found a love of cooking. Also, having spent two decades anaemic, I was delighted when recent blood tests showed no signs of lack of iron.
'I'm a runner and my running ability has improved since becoming vegan. I ran 20 miles in 2hrs 33mins in March and came first in my age category. I wear my 'Vegan Runners UK' vest with pride and run faster wearing it, to show others how a plant-based diet makes you energised and strong.'
READ MORE