Whether it's meandering through Narnia-like woodlands and hills or frost-kissed parks and gardens, walking in cold weather offers a wide range of benefits. It could be just what you need to invigorate your mind and bring a rosy glow to your cheeks. So wrap up, fill your thermos with a delicious hot drink and head out for a healthful adventure. Time to go walking in a winter wonderland…
Why should you go for a walk in cold weather?
Whatever the weather, walking offers a huge range of benefits for your health, fitness and wellbeing. While you might not typically associate cold or snowy weather with enjoyable walks, you might be surprised to hear that wintery walks come with their own unique set of health benefits.
Looking to reap the benefits and get started with your cold weather walking journey? Below, we've taken a closer look at some of the different disciplines under the winter walking umbrella and the benefits they offer – from Nordic walking and show-shoeing to power walking in the cold air…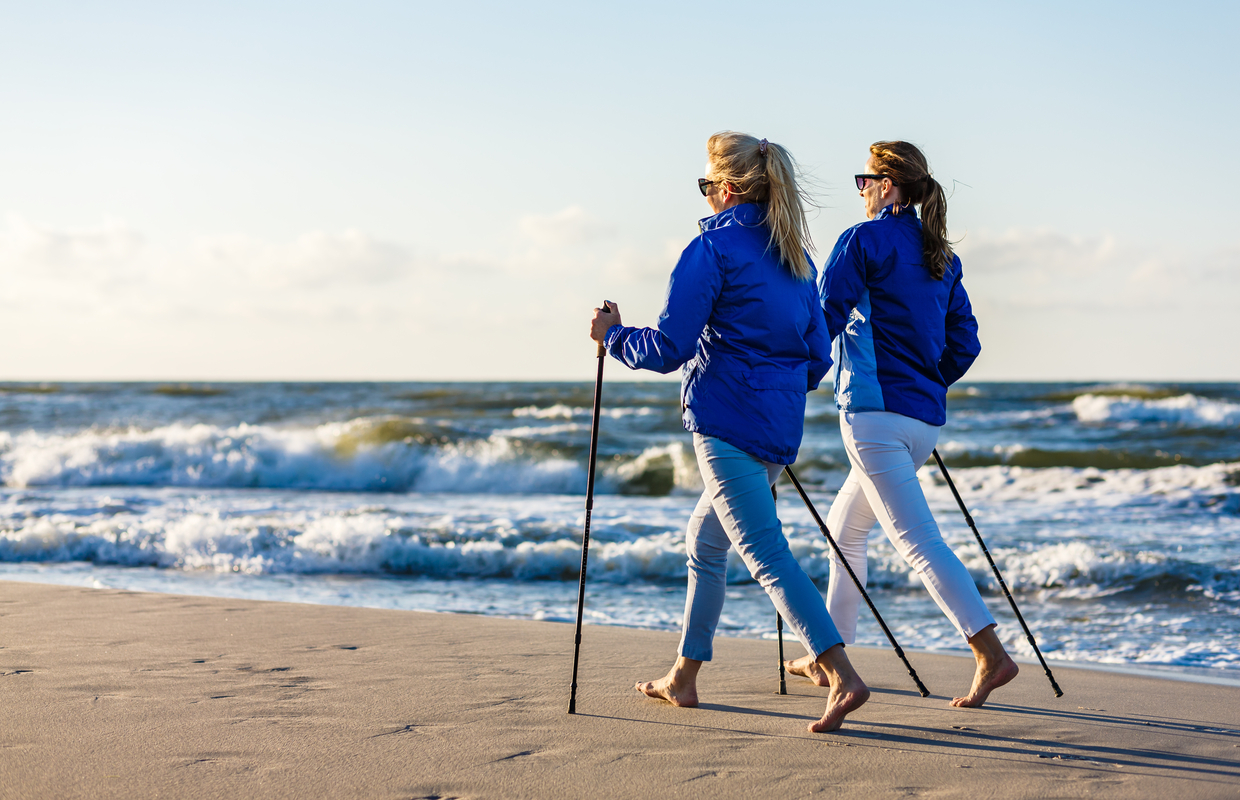 What is Nordic walking?
You can make your regular walk twice as effective for your fitness levels by picking up a special pair of poles and trying Nordic walking. This style was first created in Finland to help cross-country skiers train when there was no snow, but non-skiers can also enjoy the benefits, and now it's popular across all UK terrains.
Nordic walking is easy on your joints
Nordic walking has many fitness benefits, for example it uses more calories than regular walking and running, because it takes the weight off your knees and lower body and works all your major muscle groups, toning your upper body as well as lower. In fact, you'll use 90 per cent of your skeletal linked muscles during a session.
'The poles provide propulsion, meaning walking feels easier – even though you're using your whole body – making you lighter on your feet,' says Gill Stewart of Nordic Walking UK. 'It's also great for bone strength, and ideal for those who want to improve their joint suppleness and posture.'
Mastering the Nordic walking technique
The activity can be done at any fitness level, but Gill recommends attending a technique session first so you get the full top-to-toe health benefits. 'For example, you don't want the poles too upright, else you won't get the correct forward propulsion,' she says.
'First you learn how to harness the power of your upper body with the correct arm-swing, pole angle and foot strike. Then you'll master how to use the special straps that hold your hand to the top of the poles to gain propulsion. The next stage is learning to gain speed by pushing further into the strap and pushing off from your toes, then you're all set to focus on core stability and posture so that you engage your whole body.'
Once you've mastered the technique, simply adjust the poles to your height, let your arms hang down by your side, and swing them from your shoulder, elbows straight. As you move, tighten your grip on the poles and really dig them into the ground as you go. It really is that simple! Poles cost from around £30.
How to try Nordic walking in the UK
Nordic Walking UK has groups all across the UK offering everything from 45-minute taster walks to wellbeing walks, faster-pace sessions, adventure walks in different beautiful locations or the 'Ultimate Nordic' bootcamp for those who want a total body workout. Hencote is a great place to get involved – it's a 60-acre country estate offering wellbeing experiences such as Nordic walking, yoga and meditation.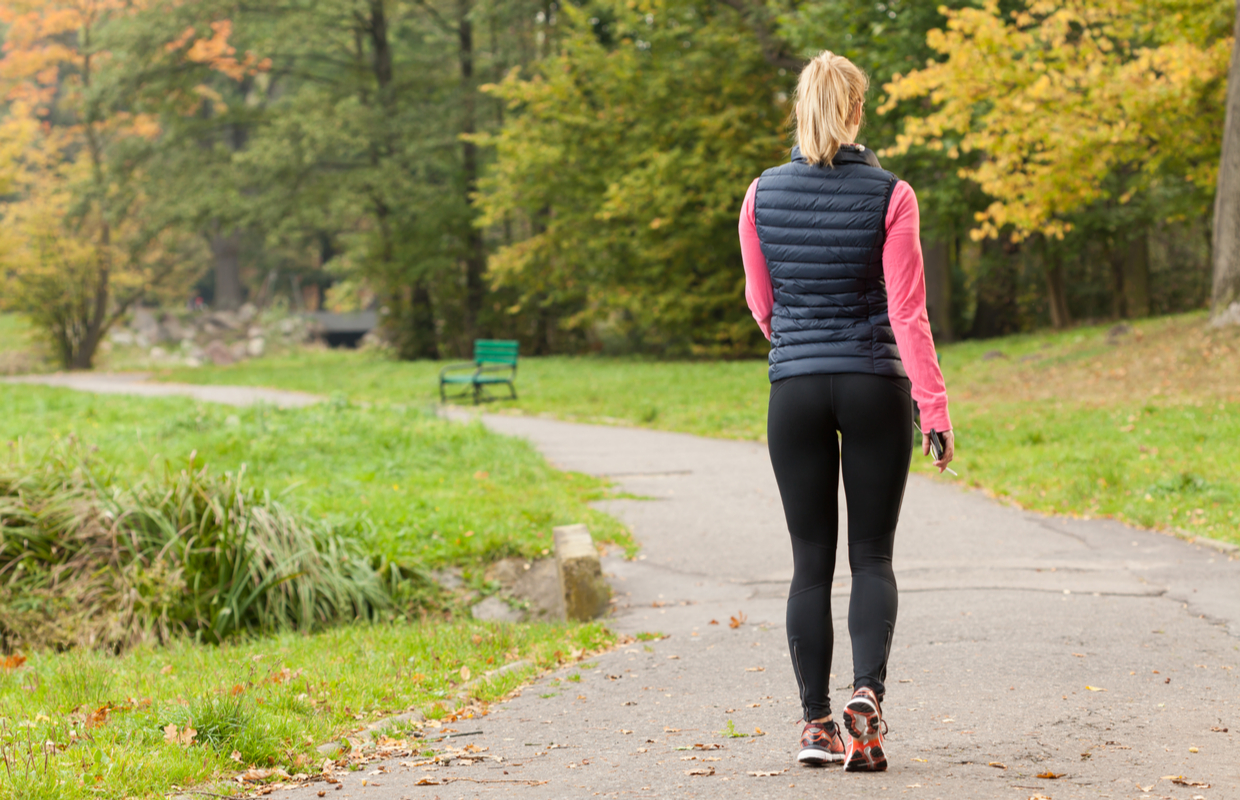 Benefits of power walking in cold weather
If you want a boost of aerobic fitness from your walks, try power walking. 'You'll get the maximum benefits by keeping your walking pace at moderate intensity, which raises your heart rate, making you breathe faster and feel warmer in cold weather,' says ultra distance walker Karen Christian. This makes power walking great for long term heart and lung health. Studies show it also helps your body keep blood sugar levels stable, reducing the risk of diabetes.
The beauty of power walking is that it can be squeezed into a lunch break, meaning you're getting the fresh air and sunlight that is so vital during shorter winter days. 'I fit in a two-mile power walk at lunch and often take friends and colleagues out with me,' says Karen. 'It's a great way to socialise.'
Perfect your power walking technique
It's easy to think that power walking is simply "walking fast". But, for the full health benefits, there are some key things to focus on: 'Maintain good posture – walk tall and always look forward with your head up, focusing on a point 20-feet ahead,' says Karen. 'Keep your shoulders relaxed – try shrugging them up to your ears then back down. Then, bend your arms to just under 90 degrees, with elbows tucked in and hands in relaxed fists.
'Your arms should move forward and back, not side to side across your body. It's your arms that help you move more quickly – focus on pulling through with each movement rather than swinging wildly! Also, slightly tense your stomach and glutes and tilt your pelvis forward a bit so it's tucked under. You should aim to take small steps, rather than over-striding, as smaller steps equal greater pace. Push off with your toes and land on your heel, rolling through the step.'
Best power walking spots in the UK
Seven Sisters & Birling Gap, Sussex. This walk is a little over five miles, starting at the Tiger Inn, East Dean, along dramatic coastlines by the chalk cliffs of Seven Sisters. The landscape undulates, which helps to tone up your calves.
Lindisfarne, Northumberland. Flocks of wintering birds love it here and so will you. The stunning priory and castle are sights to behold and the bracing wind strengthens your lungs.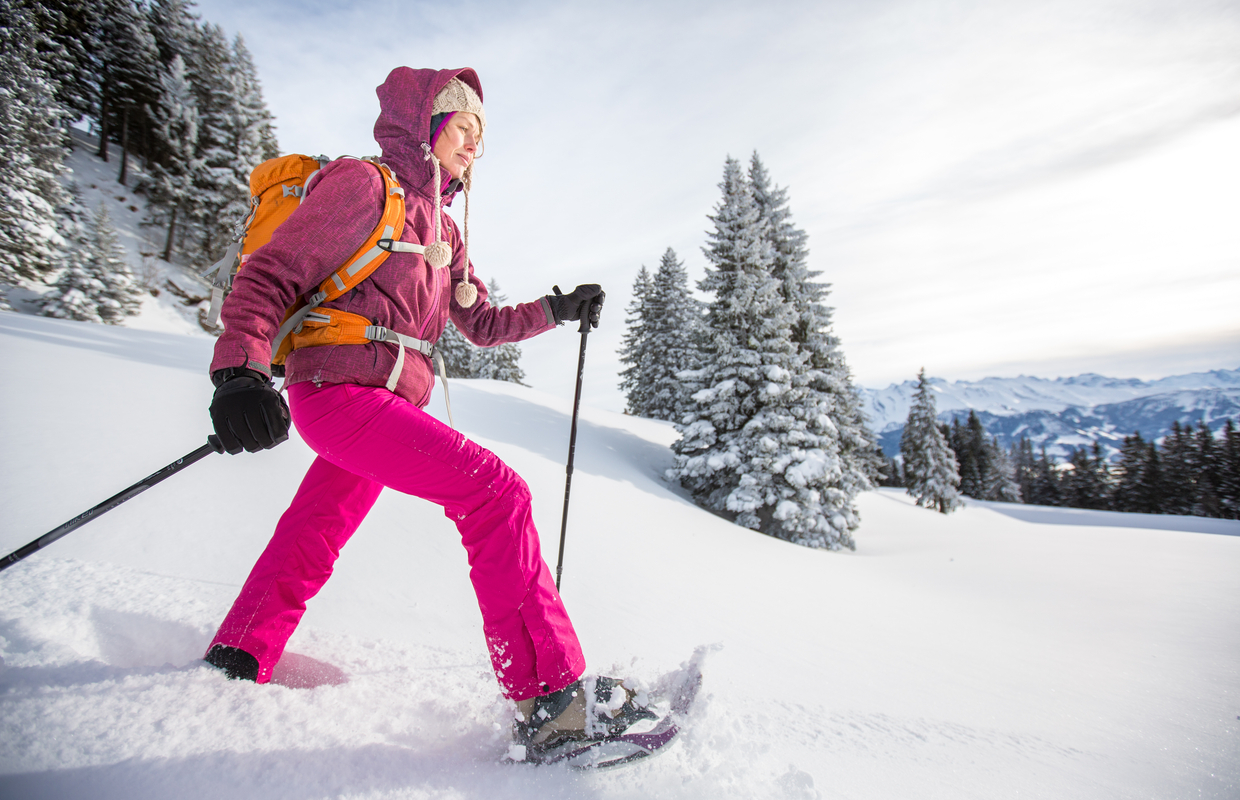 Try snow-shoe walking
When you think of a wintery walk, it's hard not to picture soft, fluffy snow. The crunch of snow underfoot is one of winter's greatest sensations, and when you're doing this somewhere with an epic view, all the better! Enjoy all this – and added health benefits of walking in cold weather – when you snow-shoe.
It's the perfect activity if you love hill-walking but are put off doing it when snow on the ground makes it slippy and harder to judge depth. You can buy snow-shoes, which are like little frames that strap on to regular shoes, from £99 at decathlon.co.uk. They distribute your weight so you essentially 'float' on the surface.
Snow-shoeing is now one of the fastest-growing winter activities, according to international mountain leader Julia Tregaskis-Allen. 'Hilly and forested areas in winter offer a chance to explore, making fresh tracks in these winter wonderlands. We would always recommend going out with a guided group first, and ensure that the leader is has a Winter Mountain Leader qualification,' she says. Don't attempt to tackle icy paths – stick only to snow – and use trekking poles if they help you feel steadier.
Burn calories with show-shoeing
Snow-shoeing can burn 420-1,000 calories per hour, making this one of the best fat-burning walking methods, according to a study by The University of Vermont. Also, it's low-impact and is very good for toning your bum, thighs and calves.
'Simply strap the snow-shoes on, step out onto the snowy ground and the rest comes automatically,' says expert Phillip Gary Smith. 'Just note a park or trail you see in your daily life, and when the snow comes, go for it!'
Best places to snow-shoe in the UK:
The Lake District National Park. 'You can snowshoe here in woodland, around lakes, through valleys and over rolling hills,' says Julia. Nicola Sproson runs regular walks at all levels around Ullswater, Cumbria.
Cairngorms in the eastern Highlands of Scotland has stunning alp-like beauty. Try naturalretreats.com for bespoke walking packages.
Of course, we don't actually get much snow in the UK, so this one might be one to save for your next holiday in a snowy location!