With the Opening Ceremony taking place this afternoon, today marks the start of the Tokyo Olympics! Due to Covid-19, there won't be any spectators at the Games this year, but we've come up with 10 ways you can get involved with the Olympics from the comfort of your own home…
After much deliberation, due to the uncertainty caused by the pandemic, the Tokyo Olympics will be taking place this year. Over the next two weeks, Japan's capital city will host over 300 events across 33 different sports.
What are the new Olympic sports?
Five sports – and 34 brand new events in total – will take place at the Tokyo Olympics for the first time, including skateboarding, karate, surfing, and sport climbing, plus BMX freestyle, the mixed 4x400m, and the triathlon mixed relay.
Will the Tokyo Olympics have spectators?
Unfortunately, spectators will not be present at any of the sporting events, to avoid a mass outbreak of Covid-19 cases. While this is frustrating for many Olympic enthusiasts, the Games is set to be as exciting as ever and there are still plenty of ways to get involved  from home…
How to get involved with the Tokyo Olympics from home this summer…
1. Watch the Olympics!
This one might seem obvious, but one of the best ways you can feel involved with the Tokyo Olympics is to watch the televised events! For the next two weeks, the BBC will be streaming every event live, free of charge. The coverage will take place across BBC One and BBC Two. If you miss one of the live streams, you can also catch up on BBC iPlayer.
Got a Eurosport Player subscription? You can also stream the games from there (subscriptions cost £6.99 a month or £39.99 for the year).
If you're a Sky customer, you can tune into live action on Sky Q's dedicated Eurosport 4K channel in Ultra HD and HDR via the red button (select the red button from channel's 410 and 411). There are also seven Olympic specific Eurosport pop-up channels in HD, at no extra cost.
2. Hear from your favourite Olympians with The Olympic Mile podcast
The Olympic Mile is a new BBC Sounds podcast, launched by British Olympian and broadcaster, Aimee Fuller. Each episode will see Aimee walking a mile with a different hopeful Olympian, as they delve into training plans, diet, mindset, music inspiration and goals.
The first podcast episode was released on 19 July, when Aimee walked and talked with British diver Tom Daley. Subsequent episodes have featured Jade Jones, Helen Glover, Jodie Williams, Bianca Walkden and Adam Gemili, as they all prepare to represent Great Britain in Tokyo. You can catch up on all episodes now at BBC Sounds.
As the Games get underway, Aimee will be hosting additional catch-up episodes with each athlete throughout the duration of the Olympics. Aimee Fuller shared: 'I'm absolutely honoured to be hosting The Olympic Mile podcast on BBC Sounds. In a year when the world needs a boost, I see this Games as an opportunity to reunite the world through sport. The athletes' stories have really inspired me and I hope they will inspire the listeners too. Bring on Tokyo!'
3. Try an Olympic-themed workout
Fancy training like the Olympians? Today, indoor bike company Wattbike is launching six new Tokyo-inspired cycling workouts on its popular Hub App, to celebrate the start of the Olympics. Wattbike collaborated with some of the most experienced names in sport to design these special workouts, which emulate the demands of different Olympic sports.
There's an Olympic Triathlon 3:1 workout, constructed by Dave Nichols PhD, professional cycling team coach and sports scientist. Alternatively, you could try the Train the Taekwondo Way workout, produced by Rhys Ingram, lead strength and conditioning coach for GB Taekwondo.
To enjoy these workouts, download the Wattbike Hub app for free in the App Store and Google Play Store.
4. Wear the clothes inspired by Team GB
Look the part with the officially licensed Team GB clothing line from Ben Sherman (prices start at £35). Team GB and Ben Sherman collaborated to create these trendy garments in time for the Tokyo Olympics. The collection, which caters to men and women, includes tees, polo shirts, and bomber jackets. Each piece is complete with Olympic logos and branding. Plus, the garments are made from sustainably sourced organic cotton and recycled polyester.
5. Set your own Olympic goal
Career and Life Coach Natalie Trice suggests setting your own fitness goal for the next fortnight. Natalie explains: 'A major sporting event, like the Olympics, can be enough to spur us on to set and achieve new goals when it comes to our own fitness. Maybe you want to beat your 5k PB, get back to your spinning classes or finally swim in the sea. Whatever it is, watching others reach their goals could be what you need to smash yours. Decide on a goal for the next few weeks and imagine how great it would be if you could celebrate your own Olympic success at the closing ceremony on 8 August.'
6. Try an Olympic sport for yourself
Want to try out an Olympic sport for yourself? Why not try open water swimming? This new fitness craze has been gaining in popularity this year. With open water swimming set to take place as an Olympic event this summer, we're sure it'll be even more popular over the next few weeks!
James Whitehead, Operations Manager at the North Yorkshire Water Park, explains: 'With the Olympics on the way, open water swimming will have a spotlight shone on it! Open water swimming is a fantastic way to get away from the stress of everyday life. It also allows you to reconnect with nature and exercise without being confined to a pool. The cold water increases your metabolism, boosts your immune system, and even improves your circulation. Swimming is known to improve your mental health by producing dopamine and endorphins, but even better than that, the cold water accelerates the release of endorphins even further, making you feel great both during and after!'
If you're interested in trying open water swimming, it's important to take safety precautions. We recommend joining a local club, finding an instructor, or swimming in a body of water that's dedicated to water sports, like North Yorkshire Water Park.
Click here to see our beginner's guide to open water swimming!
7. Wake up feeling refreshed in time for your favourite Olympic events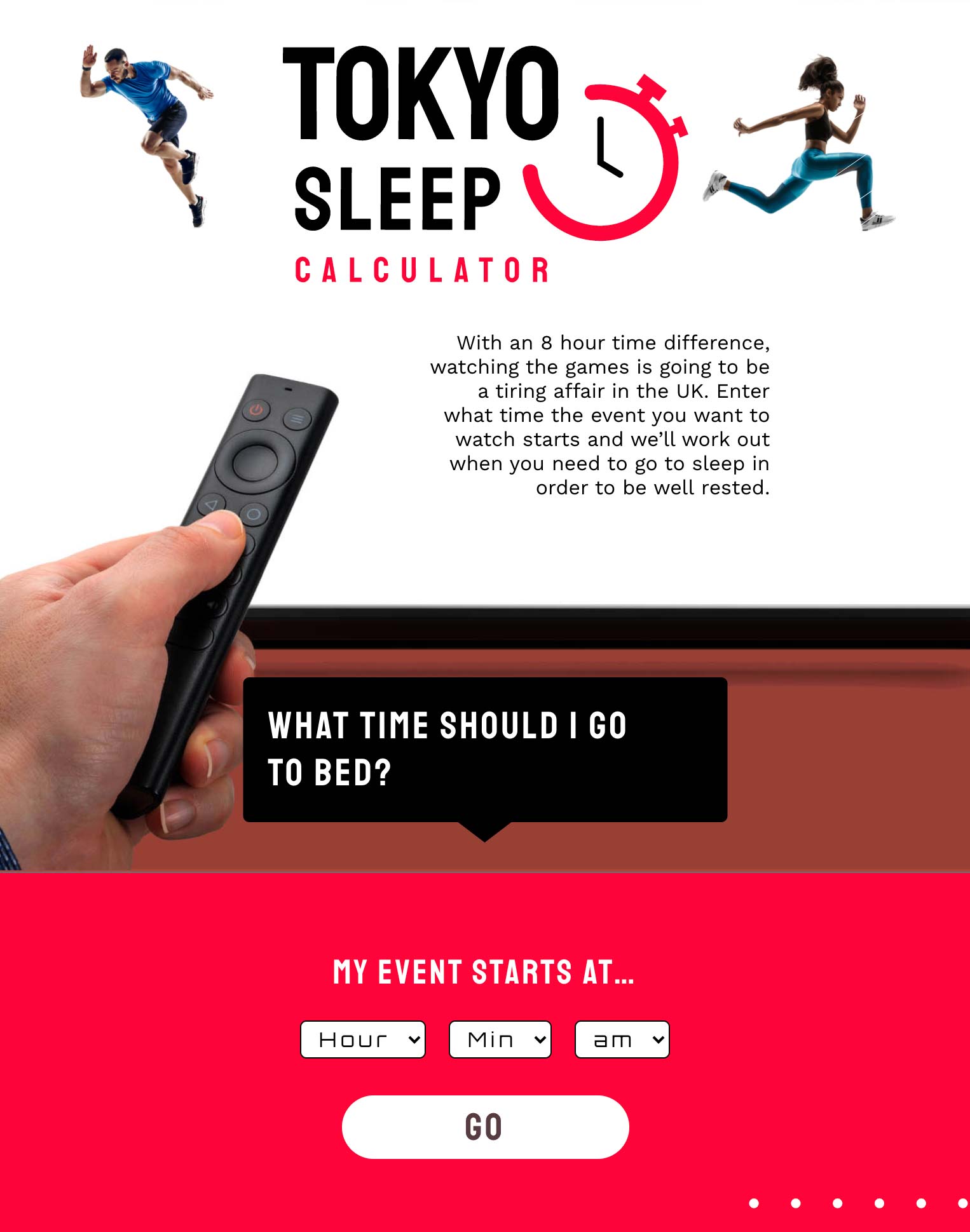 This year, the Olympics are taking place in Tokyo, a city which is eight hours ahead of the UK. This can make watching certain events live pretty tricky. Luckily, the home interior experts at Hillarys have launched a new tool to help viewers wake up rested in time for their favourite events.
Simply input the time of the Olympic event you wish to see, then the Tokyo Sleep Calculator will work out a selection of the best times to head to bed. This is based on the average time it takes to fall asleep and the regular length of human sleep cycles. Waking up mid sleep cycle can leave you feeling grumpy and groggy. This is not ideal for when you're looking forward to watching an event! To avoid this, the suggested sleep and wake times are perfectly calculated so that you'll wake up feeling rested.
Lucy Askew, a spokesperson for Hillarys, commented: 'We want this tool to enable people to get into a better sleep routine to feel less exhausted when they wake up to watch their favourite Olympic events, so they can enjoy them even more.'
8. Try some Japanese cuisine
Career and Life Coach, Natalie Trice, who used to live in Japan, suggests tucking into some Japanese snacks while you watch the games. Not only will this immerse you in the Japanese culture, but it'll also make you feel healthier.
Natalie explains: 'If you are sitting down to watch the Olympics, you might not want to be scoffing sweets and throwing back beer while the athletes showcase their prowess. Yes, this is fun, but as someone who used to live in Tokyo, I will have a selection of sushi and edamame beans as well as green tea to keep me powered up during the games!'
9. Get a glimpse inside the Tokyo Olympic training camp
Worldwide Olympic and Paralympic Partner Bridgestone has unveiled a new content series called 'Team GB Trains'. This 10-part series will share footage from the Tokyo training camp, as Team GB athletes take on their final preparations. The unseen footage also includes commentary from the athletes as they get ready for the Olympics.
The content will be will available for viewing on the Bridgestone social channels (Twitter, Facebook, and Instagram). You can also view it on the Team GB social channels (Twitter, Instagram, Facebook, and YouTube), as well as on TeamGB.com. New videos are being added daily!
Check out the video below to go behind the scenes with Team GB's footballers!
10. Host an Olympics-themed watch party and have fun!
If you were planning to go to Tokyo with some friends to watch the games, why not invite them over and watch the games together? This is a great way to feel more involved with the exciting atmosphere of the Olympics. Plus, you'll recreate the feeling of spectating in a crowd.
---
All in all, have fun, be inspired, and celebrate with friends. After all, the Olympics only happen every four years (or five in this case)!