Bouldering world champion Shauna Coxsey tells us all about why she got into climbing, what her typical training week looks like and how she balances motherhood and sport…
Shauna Coxsey is the first ever British bouldering world champion, making her Britain's most successful competitive climber in history. After setting a British speed climbing record of 9.141 seconds in August 2019, she secured a place in the 2020 Tokyo Olympics. Since announcing her retirement from sport climbing in 2021, she has taken up rock climbing.
Shauna Coxsey's climbing journey
'I started climbing at the age of four after seeing it on TV, began competing when I was seven years old, and never looked back until I retired after the 2020 Tokyo Olympics. I would have preferred to be in better shape for the Olympics, but I'd already achieved everything I wanted to in competition, and it was really cool to be one of the first climbing Olympians.
'Since then, I've moved into rock climbing which has been a huge change because there are so many layers to it. I love the freedom it gives me. With competition climbing, I had to perform at that time, on that day, in that moment. There was no "I didn't sleep well" or "I feel a bit funny", and I trained to be the best and to beat everyone else on their best day.
'In the past, I focused on doing very hard climbs that pushed me to my limit, but now it's nice to try climbs that might be a bit tricky or weird, but not immediately at the cutting edge. It's also great to get back to my roots and connect with the climbing community way more than I used to. Because the competition wall is so elite, I did isolate myself massively to get where I wanted to be, but rock climbing has reopened my whole world of climbing.'
Shauna Coxsey on overcoming injury
'Throughout my career I've had lots of different injuries and quite a few surgeries. It's common to pick up finger injuries and shoulder niggles, but my knees were my most persistent issue in the lead up to the Olympics. I had knee surgery, but couldn't rehab properly during Covid, so that lead to a secondary double-knee surgery around six months ago. During that operation, I had an epidural and my back hasn't been right since, so that's been the cause of a huge amount of pain. Trying to get back to being at my absolute best performance-wise has been a long, mentally tough journey – it's only very recently that my knees have felt recovered enough for me to start dropping off the wall.'
Climbing through pregnancy
'Within a month of the Olympics, I got married and fell pregnant. I knew I wanted to start a family, but I didn't know how long that would take or if it was even possible, so to get pregnant a week after the games was way more efficient than I expected! I knew I wanted to stay as active as possible during my pregnancy, and I was still climbing at 8pm the night before my daughter Frankie was born at 8am.
'I've spent my whole life being really aware of what my body's doing and what it's capable of – on and off the wall – and climbing is as natural for me as walking, so there was no point where I thought I should stop. I was also really quick to check in with a women's health physio, even before I'd seen my GP. It's unusual to have double-knee surgery, but I had it when Frankie was six-months old so I could be back on my feet before she started walking, although she can already climb a ladder.'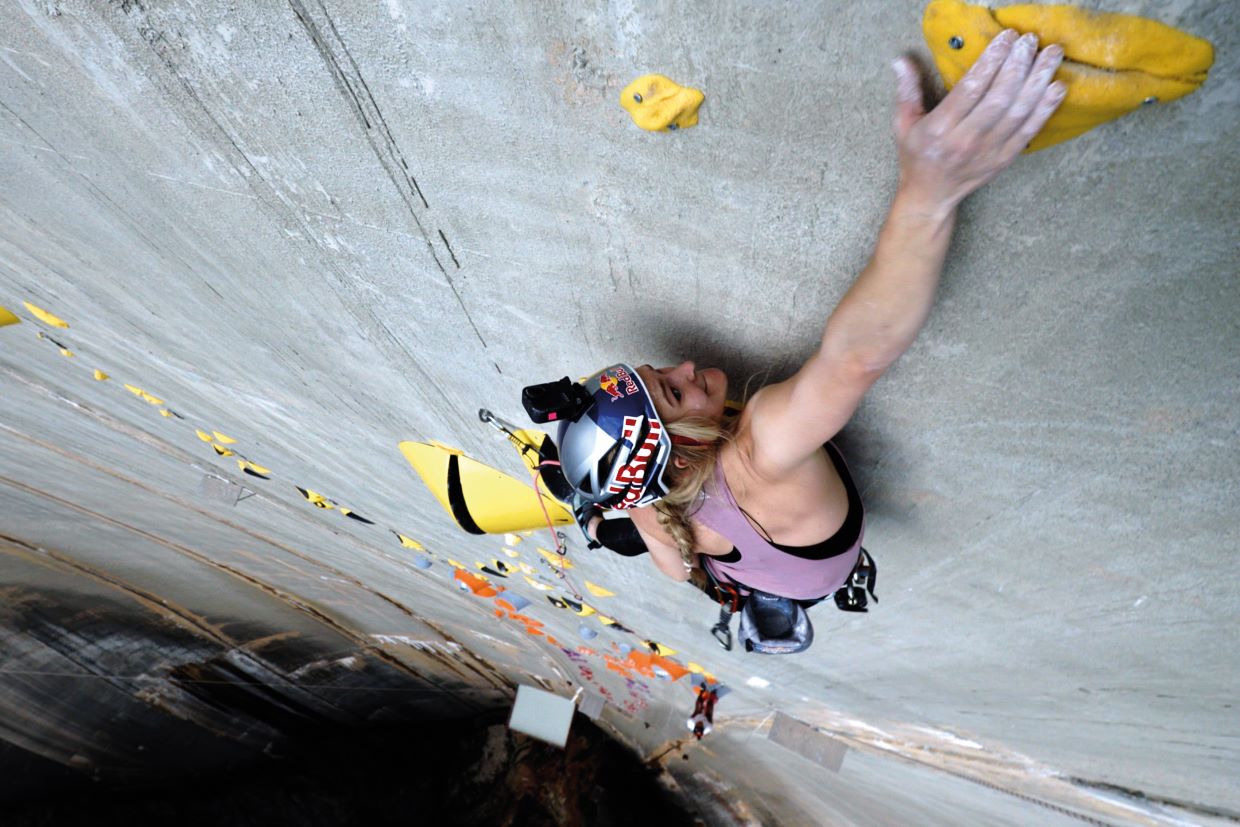 A typical training week
'I wouldn't say I have a training plan anymore, but I have my four "bare-minimum" training sessions that I like to do each week to keep me ticking over. These include two finger- strength sessions, one board session, and a climbing session either on the wall or outdoors that lasts for four hours (that used to be my minimum). It's only recently that I've been able to climb for three days in a row, which I find mind-blowing because I used to train nine days on and one day off.
'Now, however, three days feel a lot, purely due to energy levels and tiredness. I'm still breastfeeding and I co-sleep with Frankie, which does wonders for her sleep but not for mine. The one thing I've been amazed at is how strong I've become post-pregnancy, even though I've been training less. I work with a strength and conditioning coach from Red Bull and see a physio to help with my leg conditioning and rehab.
'I try to get to the gym once a week, mainly to use the leg press machine and do some simple floor-based exercises such as lunges and Romanian deadlifts. Upper-body wise, I'm doing all the things I did before, so lots of TRX work, dumbbell shoulder work and pull-ups for stability. If I feel strong, I feel good on the wall.'
Nutritional tips from Shauna Coxsey
'My diet hasn't changed much, but I'm having to be very conscious about eating more calories. I weigh quite a bit less than I did in Tokyo – I'd prefer to put more muscle mass on. It's hard when you're training full-time and breastfeeding, and there's little research on the subject, but I've been working on having more food and snacks around so it's easier to eat. I turned up to bouldering recently with all of Frankie's snacks and water, and I hadn't even packed my climbing shoes and chalk bag, let alone snacks for me!'
What's your greatest achievement so far?
'Bringing life into the world and making my daughter smile with joy. In terms of climbing, I have so many goals I want to achieve on rock that I don't know where to start. Right now, I'm doing a tour of the UK's 50 Best Grade VII climbs, which is something I've never had the luxury or time to do before. I always knew rock climbing was where I wanted to end up, so it's really fascinating to be in this space now.'
To find out more about Shauna Coxsey, check out her YouTube channel @ShaunaCoxseyClimber
Words: Joanna Ebsworth | Photography: Red Bull