Make 2022 a fitness year to remember by setting yourself a challenge and signing up for some running races, swimming events or cycling sportives!
By Eve Boggenpoel
Nothing boosts your fitness quite like signing up for running races or cycling sportives – and 2022 has some amazing events on offer. Fitness events help you to fine-tune your goals, plan a training schedule and enjoy a sense of motivation fuelled by the countdown to race day. And as you start seeing the gains in strength and endurance, you begin to feel fitter, healthier and happier, too.
To help you plan your fitness year, we've complied a list of some of the best running races, cycling sportives, challenges and events for 2022. With an ever-changing Covid situation, there may be some alterations to schedules, so check in with organisers in good time, and maybe have a back-up virtual challenge in your gym bag, ready to pull out if you need it. Most of all, have fun training and competing, and know that the benefits you gain will last long past race day!
Best running races and events in 2022
Join 12,500 runners pass Big Ben, St Paul's, London's oldest shop and Britain's smallest police station. Visit llhm.co.uk/charity-places for entry requirements (around £10-20 for registration and £350 in fundraising) and see if you can help organiser Tommy's get a PB and top the £6.5 million raised last year.
We love this accessible virtual event. Competitors simply set off at the same time and run at their best pace until the moving finishing line catches up with them. A virtual 'catcher car' will set off 30 minutes after you start and your race is over when it passes you. Local live events also available. Tickets £18.
Head to Englefield House in Berkshire, for 'Glastonbury meets parkrun'. Take part in fun runs and competitive events (from the sunset shuffle to a half marathon), learn about nutrition, endurance and training, enjoy DJs, street food and yoga, all in the company of Paula Radcliffe MBE, Steve Cram CBE and Colin Jackson CBE. Day tickets from £24;camping from £155 per person.
One for serious trail lovers. Walk, run (or crawl!) up to three marathons in three days along the South West Coast Path, starting in Padstow. Stunning views, windswept beaches, testing terrain and the ultimate event to test your fitness and endurance. Cornish pasties at the end, naturally! From £65 a day or £185 for three.
Best cycling sportives and events 2022
Cycle through the closed roads of the stunning Scottish Highlands. Newbies can opt for a 40-miler (£45*) or challenge yourself to 85 miles (£79.99*) of rolling hills and forest-lined roads around Lochs Rannoch and Tummel, with the demanding, Mt Schiehallion thrown in for good measure!
*LimeLight Sports Club members save 20 per cent on the full price!
Enjoy watching the Tour? Now's your chance to cycle one of the mountain sections of the event, passing the same towns and scaling the same climbs you've seen the pros take on. Join the 170K ride as part of Team MacMillan for £75, and fundraise £650, or buy your own place from the organisers.
Best swimming races and events 2022
Take your swimming to the next level with Cardiff's open-water course containing areas ranging from the Rip Tide (think swimming against a current of three-to-four miles an hour) to the Tsunami (wild white water!). Not so much a race, but a test of endurance, sign up with your friends and enjoy the ride together! Entry from £50.
Whisk the family off to England's largest lake, Windermere, for a fresh-water swim everyone can enjoy, with races from 250m to the official Olympic open-water distance, 10K. There'll also be soft play and adventure playgrounds. Entry from £19 or secure a charity place for £25, plus fundraising.
Best alternative running, cycling & swimming events 2022
If you're a wild swimmer who prefers warmer waters, head to the Algarve in Portugal. Swim from 1.5-4.5Kin a sandy bay, cycle from 60-120K around Portimão Racetrack and over to Mount Fóia, and finish by running 12-36K along a coastal path, with dolphins in the distance. Prices from €18 one event or €90 for all three.
Spot the deer in Richmond Park as you run and cycle through the gently undulating closed roads of the National Nature Reserve. Newbies can opt for 5K run/22K bike/5K run. Alternatively, challenge yourself to the full distance (10K/44K/5K) or go ultra (20K/77K/10K). Food, drinks and entertainment await you at the end. From £64, plus booking fee.
Enjoy working out in nature? The New Dawn involves mixed teams of six competing in eight different workouts in a hidden tree-lined arena in Yorkshire. Think worm lunges, rope climbs, sandbags over your shoulder, running, cycling, hurdles, log stacking and more. Add food, drink, music and camping, and they'll be bucket loads of fun. Entry £91.
Miss travel? Get your fix virtually by walking, running, swimming or cycling a 20-mile route through a map of Cambodia. Follow your avatar through verdant jungles past ancient temples in Street View and unlock postcards en route that explain the sites you're seeing. Entry £24.95. Or, try other destinations and distances, right up to the 3,513K Wall of China!
How to prepare for an upcoming fitness challenge or event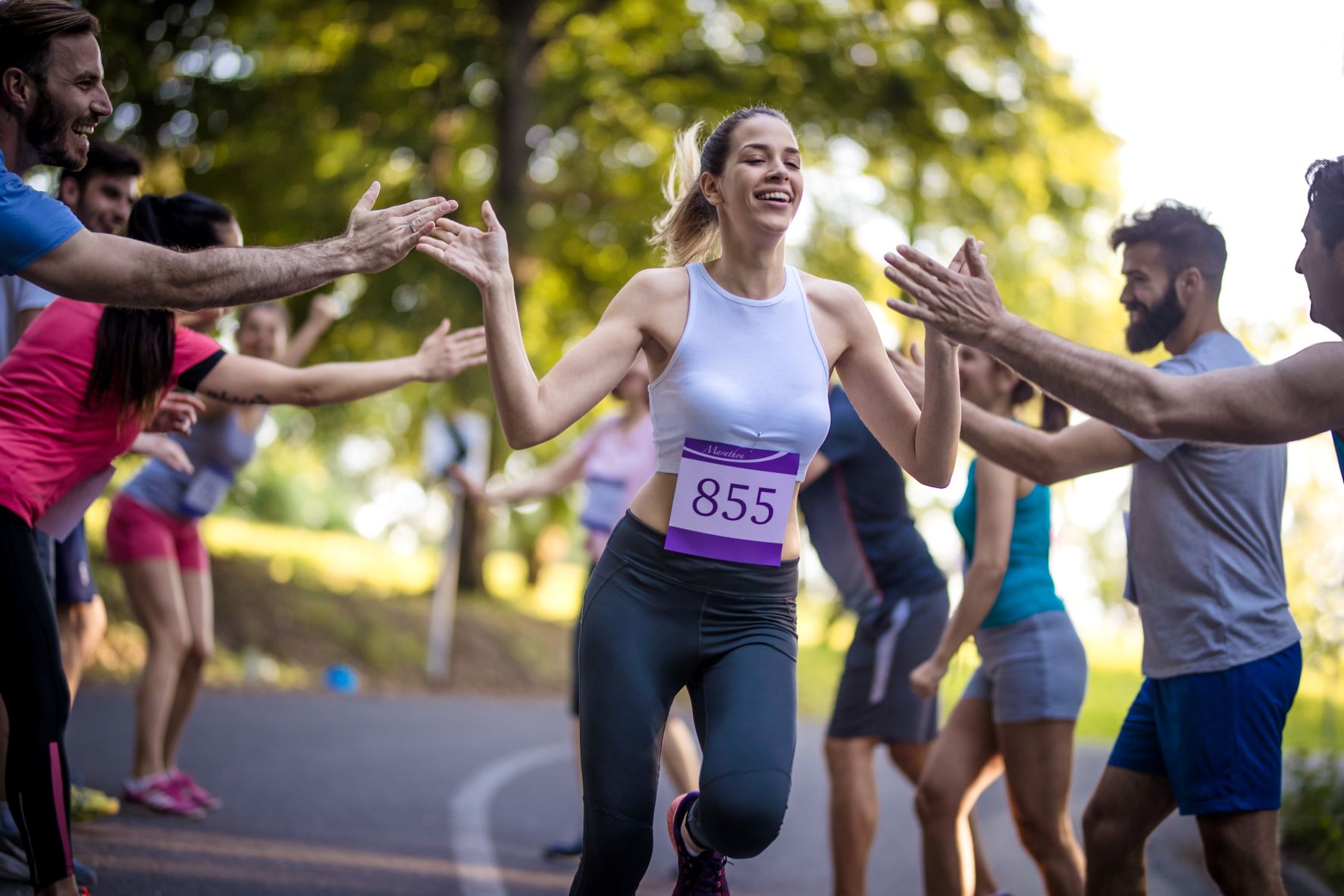 Prepare for your upcoming fitness events – whether it's a running race, cycling sportive or swimming challenge – with this advice from Professor Andy Lane, sport and exercise psychologist at CHHP, the Centre for Health & Human Performance.
Identify your why
'Your personal why for taking part in a running race or fitness challenge might be several factors: you want to get fit; raise money for charity; or provide a positive role model for your children. Think about this and write down all the reasons you can think of.'
Use visualisation
'If your goal is a marathon, picture yourself on the start line and ask yourself how will you feel. How will you feel when the going gets tough and then when you come to the end? Controlling your mindset is a key part of your training for any fitness event, challenge or race.'
Ensure progress
'Start from your current fitness level. If you want to swim the Channel and can only swim 10 lengths, the goal is to swim 11 lengths. Progress is about building physical and mental fitness, and comes from consistent training. Success drives the belief that you can succeed, and perceptions of success drive motivation.'