Former reality TV star, model and businesswoman, Lucy Mecklenburgh, talks about her health and fitness goals with a toddler and new baby in tow…
Related: Gemma Atkinson on balancing mum life and fitness
How did your exercise routine change during and after your pregnancies?
'I used to be a huge fan of HIIT but, since having my son Roman two years ago, I have changed my style of training. I still love HIIT, but as a busy mum-of-two I have found it very useful to focus more on exercises that stretch my body and make me feel stronger. I am a huge fan of barre and Pilates.'
Did you feel pressurised to get back to your pre-pregnancy body after having a baby?
'I totally believe that pregnancy is not a time to become obsessed with fitness goals and instead you have to listen to your body and not overdo it. I was very sick and absolutely exhausted during my pregnancies, so there was no way I was going to do big workouts. Instead, I found going for walks very beneficial and, in my second pregnancy, running around after a toddler kept me fit.'
Related: Fitness during pregnancy: how to exercise safely
With close to two million followers, what are your thoughts on social media?
'With Instagram I know I'm totally in control of the content I post and see, but if someone trolls or is rude to me, it's just a case of unfollowing or muting them. For me, Instagram was a very powerful tool during my pregnancy as, if I couldn't sleep at 3am or was up feeding the baby in the middle of the night, it was a nice way to connect with others going through the same thing.
'My fiancée Ryan [Thomas] was spending so much time scrolling on Instagram that he ended up deleting everyone he followed to stop him getting distracted.'
How does exercise help you mentally?
'As any new mum and ones looking after toddlers will know, it can be exhausting. So, keeping fit helps with everything from fighting off the baby blues to encouraging you to get dressed and go out. Walking with a buggy or getting a change of scenery and some fresh air really helps you feel better about everything.'
As someone in the spotlight, how do you stay grounded?
'I have the same set of four best friends who I have had since school and none of us have changed. The fact we were all pregnant with baby girls at the same time was amazing. They would never let me get big-headed.'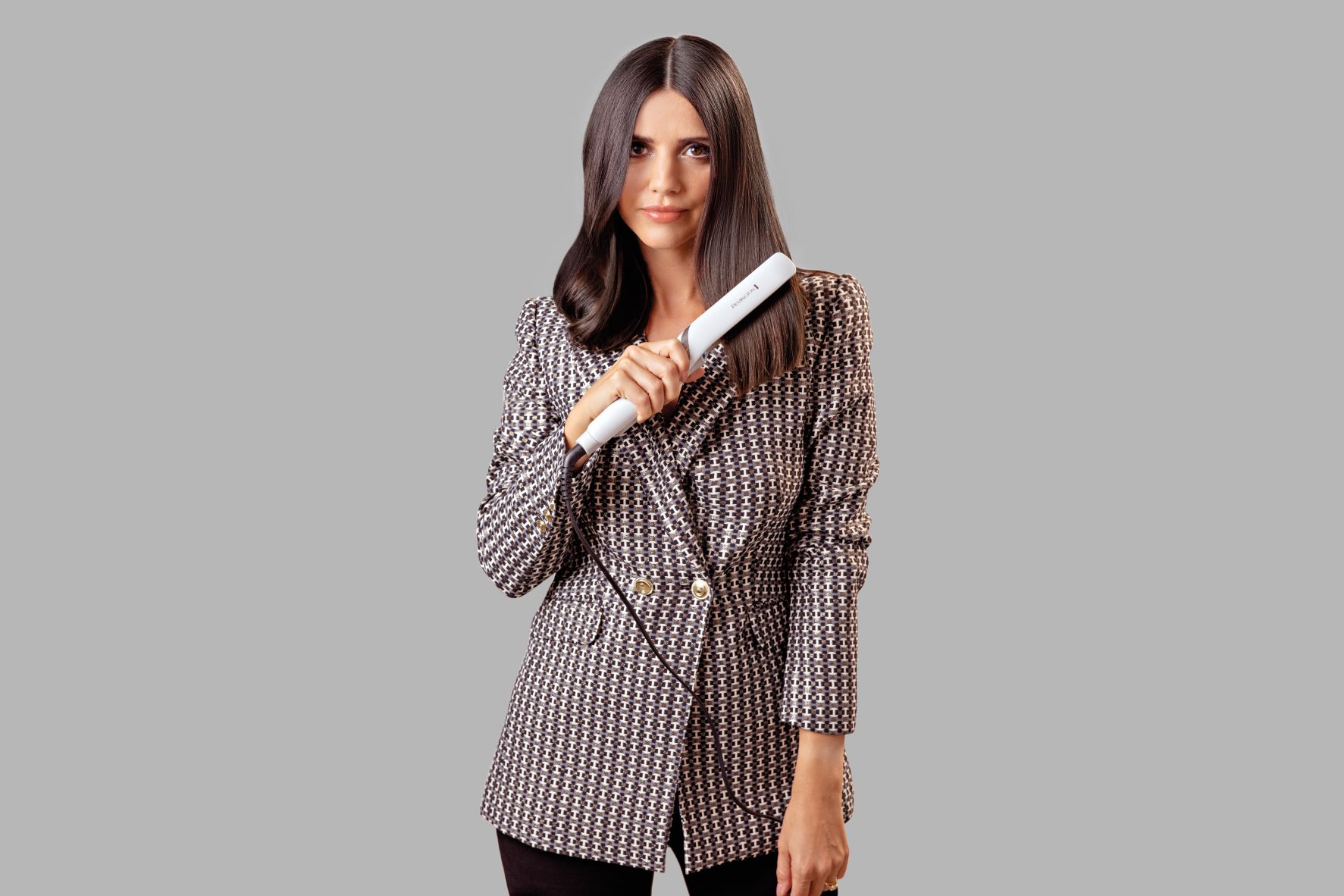 Finally, what are your beauty secrets? You always look so fresh-faced, even on little sleep!
'My biggest issue growing up was my hair, which was big and frizzy and so, as one of five girls in my family, I was always on the search for something to tame it. That is why I love working with Remington, as its hair products are amazing.
'In the job I do I need my hair to look good. As I am on so many photo shoots, it gets ruined from the over-use of products. So, I am always seeking out styling tools which cause the least amount of damage to my hair as possible. The Remington Hydraluxe Pro products are perfect as they let you style without the risk of heat damage.'
Lucy Mecklenburgh is the first UK haircare ambassador for the Hydraluxe Pro & Hydraluxe ranges of Remington products. For more details, visit uk.remington-europe.com
Related: Lina Nielsen: 'Yoga has made me a better athlete'
Words: Suzanne Baum | Photography: Remington