Whether you work from home, in an office with others, or do a bit of both, re-organising your workspace could lead to greater productivity and focus…
By Louise Pyne
The working world has completely transformed since the coronavirus crisis hit, and the number of people doing their jobs from home more than doubled in 2020.
While the past few months has seen more of us heading back to the office, many employees are still working from home. And whether you're flexi working, full-time WFH or going back into your old office, creating a flowing workspace is crucial for sustained productivity and motivation.
Here, our experts show you how to stay on top of your working game whatever your circumstances.
How to improve your workspace – and your productivity levels
1. Bring natural light into your workspace
It's not uncommon to suffer SAD symptoms at this time of year, and these can be enhanced if you're cooped up working from home. Bright, airy rooms make us feel good, so getting as much exposure to natural sunlight is a must for minimising winter depression.
'Let as much natural light into the space as possible,' explains feng shui expert Marites Allen. 'Always have your drapes open to bring in great natural light and good energy. Opening the windows also allows the stale energy that stagnates in the living room to kind of dispel and then the new energy to come in.'
2. Face the door
The office should be a place where you feel completely comfortable and so the positioning of your desk is key. 'A wall-facing desk is an absolute no-no. You want to make sure that your desk has a direct visual eye line to the entrance or door. That means when someone opens the door you visually see them.
'This basically symbolises that you don't want someone to sneak up on you. You are the master of your domain so you should have full control of who comes in and who comes out,' says Allen.
3. Create a defined working space
It's easy for the lines between home and work to become blurred when you're working from home, so keeping things separate will help to protect your mental health. Create a space where you can put work away at the end of the day and shut up shop, allowing yourself time to fully relax.
'For example, if you are working from a dining table, have a box that you can store your laptop and notebooks in rather than leave them visible in the evening,' says Ali Mortimer, co-founder of female leadership brand The Limitless CEOs (@forthelimitlessceo).
4. Take regular breaks
Whether you're back working at the office or beavering away full-time at your kitchen table, taking regular breaks throughout the day will help to enhance productivity. 'Walk outside and clear your head. This is a practice of mindfulness to allow your brain to reset and be present in the moment. Fresh air, being in nature and mindfully eating all activate your senses and help you to disconnect to reconnect,' believes Mortimer.
5. Align your workspace with your job
Create a vibe in your workspace that is aligned with the work you do. 'If you are a creative, design a space that opens you up to receiving ideas and inspiration; if you are a project manager, create a space that is functional and organised.
'Your workspace should reflect the energy and vibe in which you want to show up for your work,' shares Mortimer. Tidy away loose papers, organise unsightly cords and keep pens in an easy-to-access pen pot.
6. Try a desk workout
Stiff from sitting down all day? Ease pesky aches and pains with these moves from Pilates expert Nathalie Clough (@nathalie.clough)…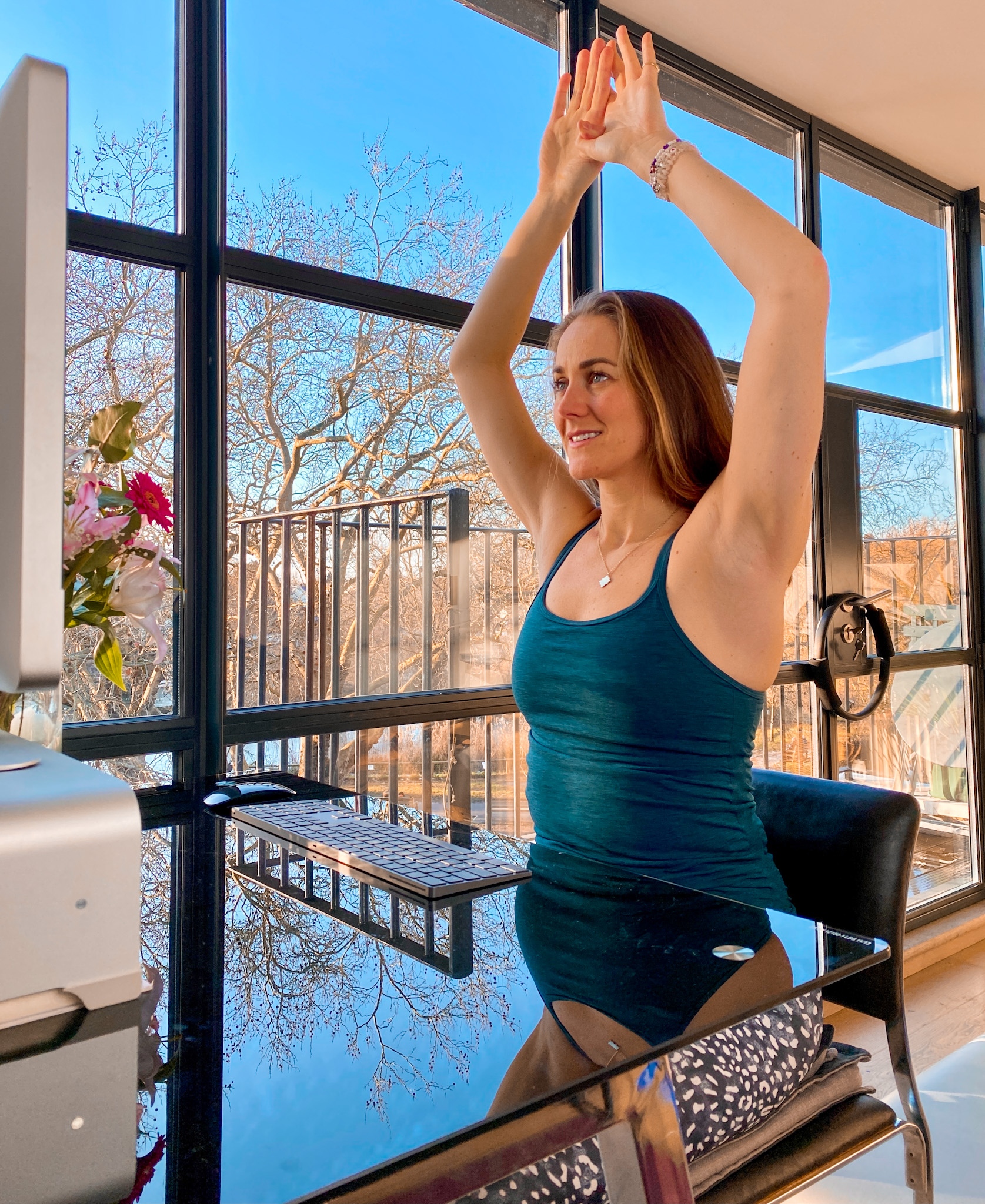 Hands above the head
Benefits: Promotes good posture and relieves back, neck and shoulder tension
How to do it: Bring your hands above your head, with thumbs interlinked and palms facing forward. Keeping the elbows back, lift the hands up again. This opens the chest and strengths the back muscles.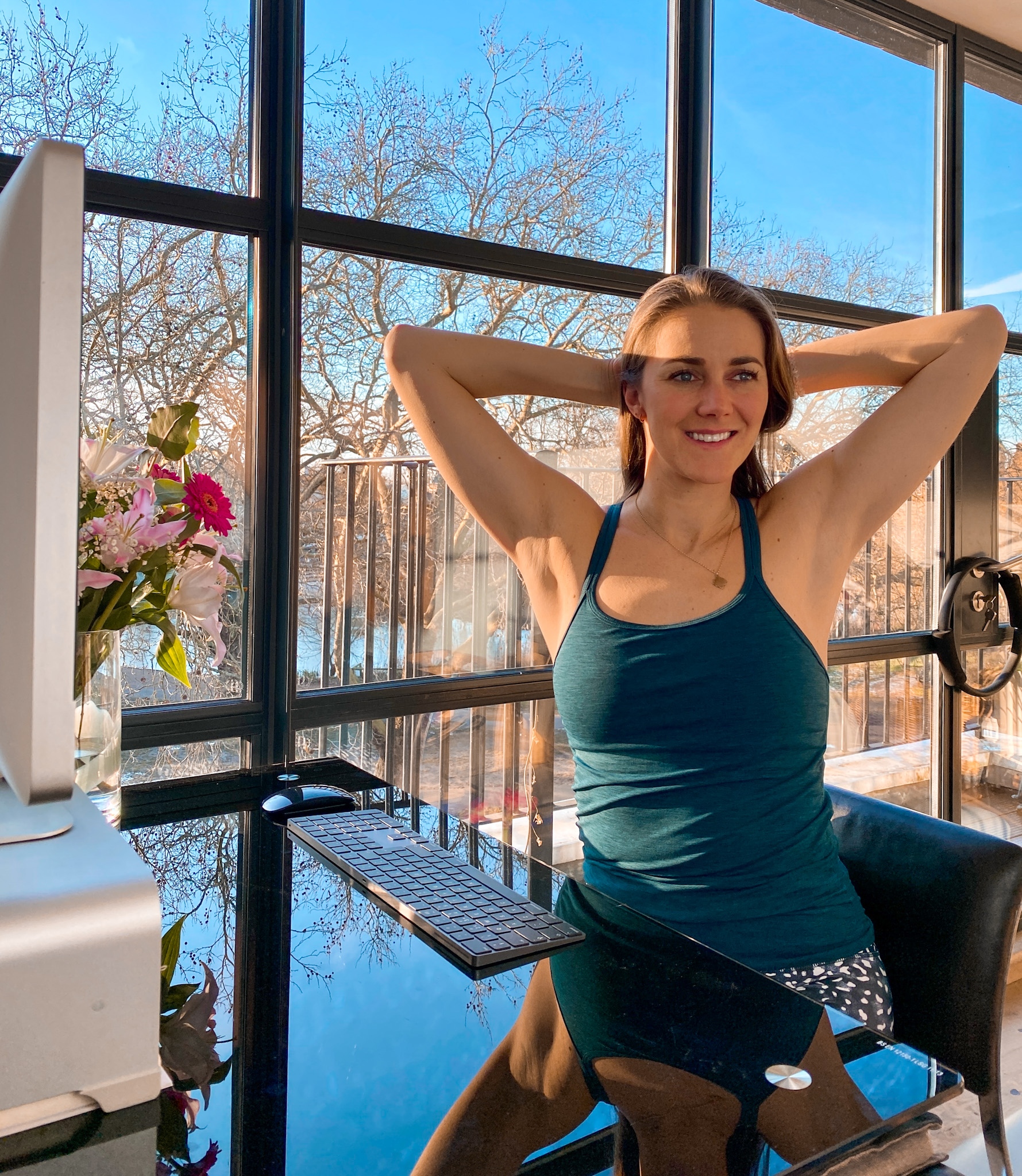 Hands behind the head
Benefits: Increases mobility in the spine
How to do it: Put one hand on top of the other and place behind your head, pushing the back of your head into your hands. Keep your elbows wide, twist to one side and then the other. Usually we sit, stand, walk and maybe bend over, but never remember to twist. This exercise can be done when you're on a hands-free call or screen break.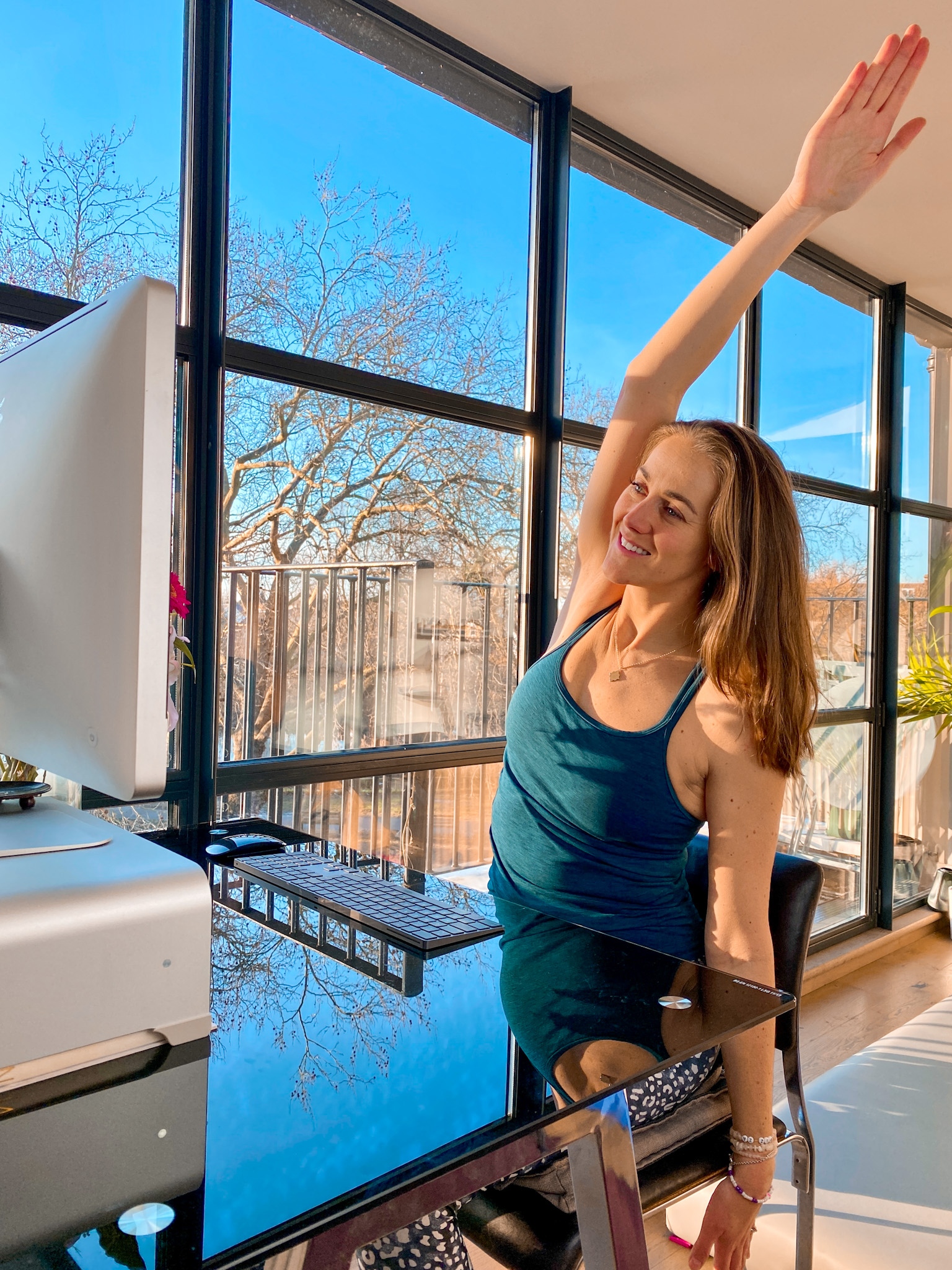 Mermaid side stretch
Benefits: Relieves lower back pain
How to do it: Lift one arm up towards the ceiling, pressing it against your ear. Hold the other arm down towards the floor and press your hand into the chair. Keep both sit bones down and reach over to the side. Think about the stretch in the waist and spine. Breathe in as you lift, to help expand your ribs.
7. Accessorise your workspace
These small changes will make a big difference to your workspace…
Use the power of scent
If your job is a stressful one, creating a soothing atmosphere will help you to feel calm during pressured moments. Burning essential oils, and lighting candles or scented incense sticks, will all help to keep a lid on stress.
Go green
Pop a cactus on your desk or a spider plant in the corner of your room to jazz up your working environment. Indoor plants help to improve concentration and productivity while keeping your mood stable.
Play with colour
Colour can have a massive impact on your mood. If you require mental clarity and a positive mindset, neutral colours such as light green, pale pink, beige and grey are your best choices. Accessorise with a statement lamp, cosy cushions, candle holders and stationary in these shades.