Is your whole household full of coughs and colds? Beat the back-to-school bugs with Bimuno® Kids Immunity.
School is back in session, and so are the bugs. Reluctant kids have returned from a summer of fun and adventure. They have swapped bike rides and beaches for times tables and singing in assembly. You have spent all summer trying to keep up with your little ones and are now shedding a tear and breathing a sigh of relief at the same time. Sadly, you can't put your feet up just yet!
While you have snapped up the freshest school supplies and kitted them out in pristine uniform, there is still the unenviable task of shielding them from the pesky back-to-school bugs and way-too-spreadable germs to contend with.
The back-to-school season means your shopping list is as long as your to-do list. Your child likely wants the latest gadgets, shiny new stationery sets and the trendiest, most impractical trainers they will inevitably grow out of in a few months. The novelty of Clarks light-up shoes wanes faster than the batteries.
Keep kids happy and healthy this autumn
A new term also means new germs, as teachers open their doors to hundreds of sore throats and runny noses. Backpacks carry more than books, crumpled homework, and their parent's hopes and dreams- only to be thrown on the kitchen counter when they get home.
Keeping fit involves a combination of healthy practices, good hygiene and some preventative measures. Much to your child's dismay, it often means saying, "We have food at home" when you go past the McDonald's drive-through. No child wants to substitute their McFlurry for a plain Greek yoghurt and blueberries. They are convinced strawberry laces and fruit pastilles are part of their five-a-day.
Kids can now get involved and tick off the fruit and vegetables according to their colour. Download the Bimuno® 'Eat the Rainbow' chart here to add a bit of vibrancy to their beige plate of chicken nuggets and potato smileys.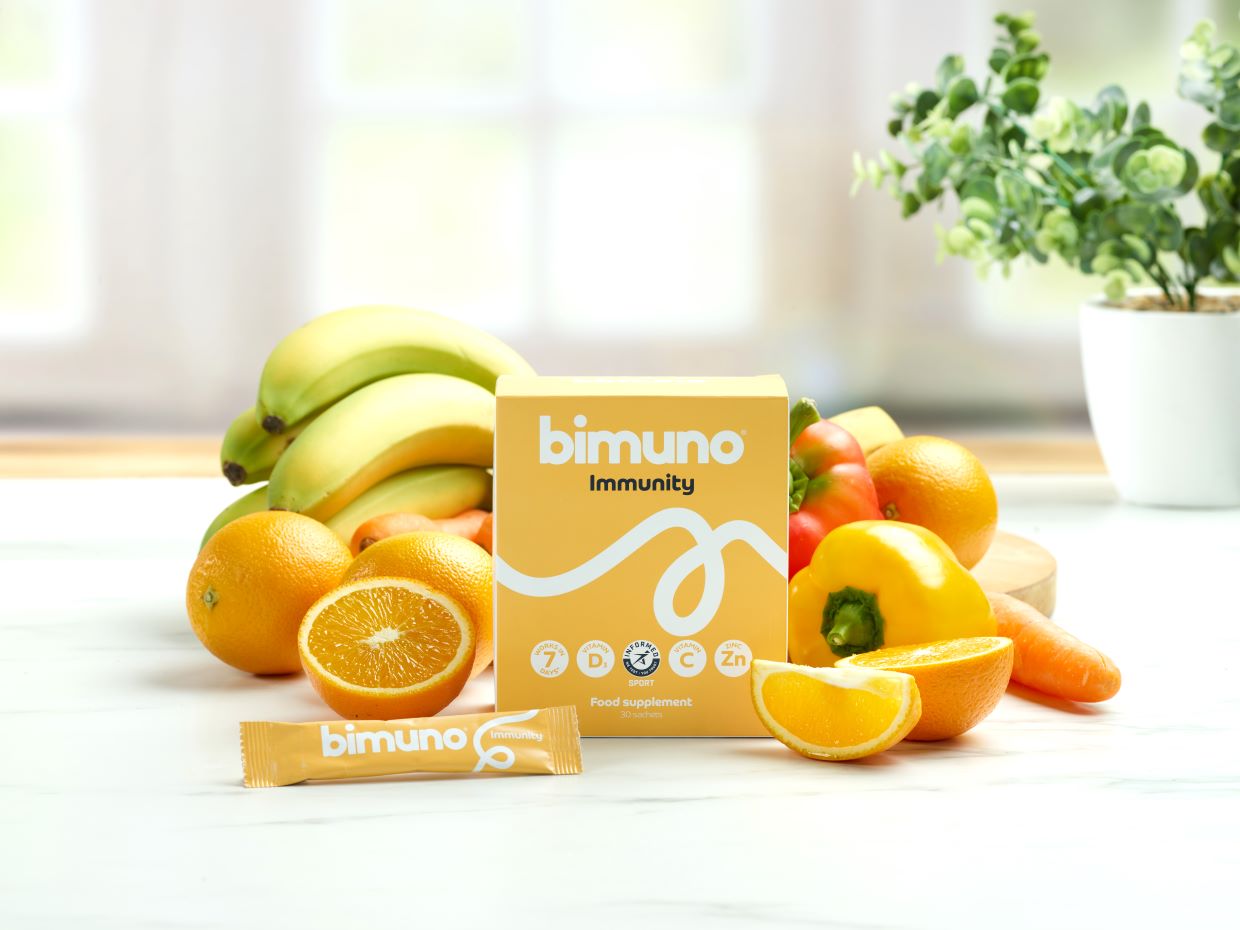 Looking after your kids' gut health
A healthy gut means happy kids, as over 70% of the immune system is located in the digestive system. Your gut is home to trillions, yes, trillions of good and potentially bad bacteria. Stress, diet, sleep, and many other factors can compromise the balance between them. Thankfully, there is a new everyday essential to give children the best chance of avoiding the 'back-to-school lurgy'.
Dousing the house in bleach and scrubbing your hands raw with hand sanitiser seems futile. Schools are like germ factories with an assembly line of pupils who pass bugs from one classmate to the next until they reach your front door. Kids seem to catch their next virus before they stop coughing and sneezing from their last one.
Parents, we salute you! Balancing parenthood, work, and other responsibilities is hard enough when you are on top form. It can feel like you are on autopilot as you walk out the door with a cup of coffee in one hand and a granola bar in the other, attempting to eat it as you go.
Bimuno® Kids Immunity is a taste-free soluble powder that seamlessly blends into your child's Yazoo milkshake. The fuss-free formula makes it convenient to provide your child with essential vitamins and the prebiotic fibre that supports their immune system and overall wellbeing.
Children have less mature immune systems than adults and are more susceptible to picking up germs. Bimuno® Kids Immunity supports gut health with its award-winning prebiotic ingredient GOS. It works by optimising the levels of bifidobacteria, a beneficial bacteria in the gut, leaving less room for potentially bad bacteria.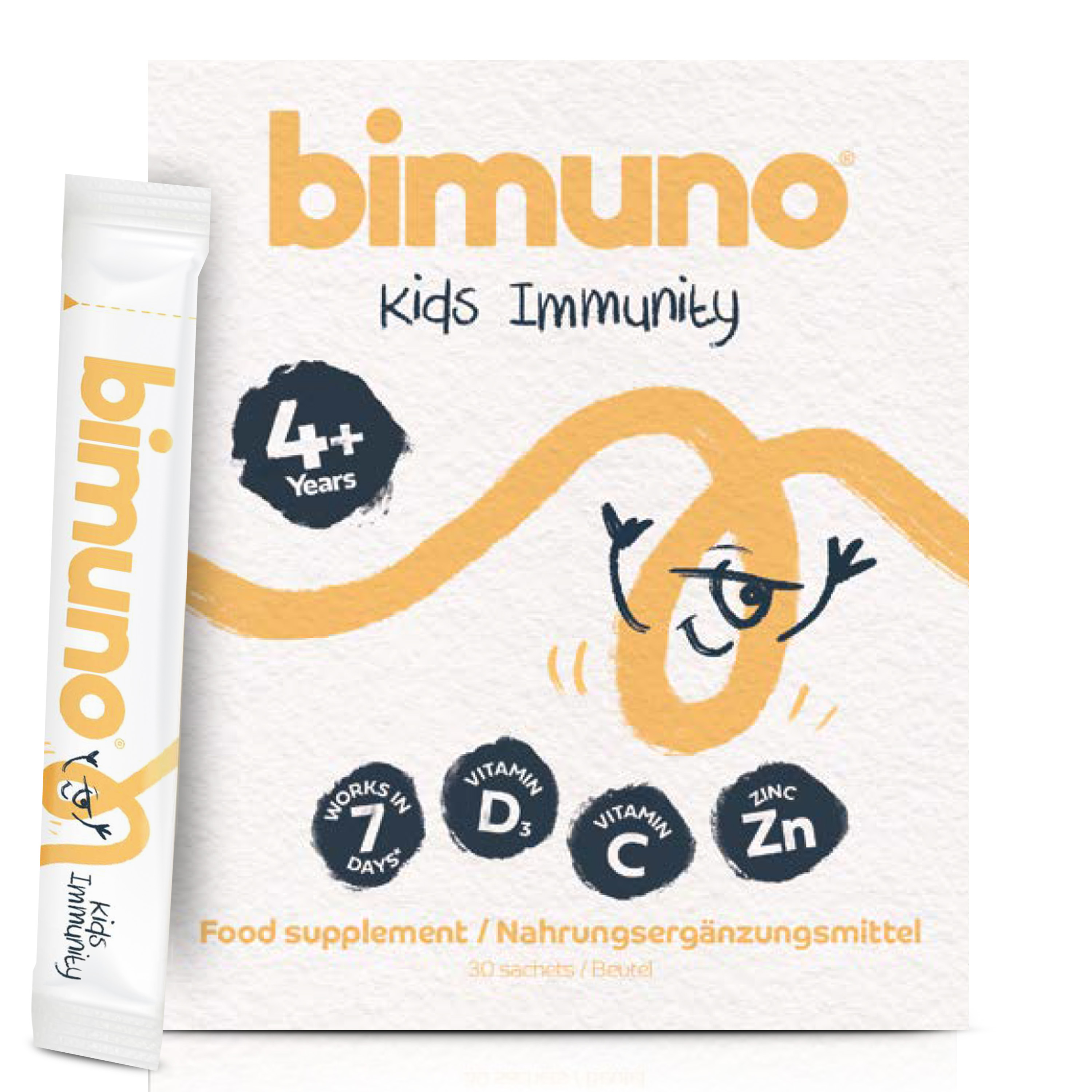 Add Bimuno® Kids Immunity to your list of back-to-school essentials for the year-round gut and immune support your child needs.
Picture a world where you have time to nurture your gut and help support your immune system between the early morning school run, playdates, meal prep, extra-curriculars, school trips and homework assignments. Some list, hey!
And while you continue to operate your very own parental taxi service, there is also a convenient solution that's working on keeping all the family fighting fit. Amid school-run chaos and temper tantrums, you mustn't neglect your own health and wellness. It can be as easy as adding Bimuno® Immunity, the grown-up version of Bimuno® Kids Immunity, to your daily routine.