Do you shop secondhand for daywear but only buy sports leggings brand new? Florence Reeves-White is wondering why activewear is the sustainability issue that slow fashion forgot…
Have you ever thought about how disposable our exercise gear is in comparison to other garments we buy? Whereas the secondhand clothing industry is booming for everyday fashion items, the ever increasing pleasure we seem to be getting from athleisure is having sinister effects on our planet.
Think about it, how often do you buy secondhand workout gear? Would the thought of someone else getting sweaty in their Sweaty Bettys put you off a purchase, even if you were buying them at a third of the retail price? Because of this, our workout wear is being discarded instead of Depop'd and we just keep buying more to replace it.
How to be more sustainable with your activewear
'Sustainability has been at the top of all consumers' minds recently, and it's great to see it on the up in the fitness world,' explains Puravi Joshi, yoga and meditation teacher and founder of MYSA London. 'When selecting workout clothing, give yourself a rule of "one in, one out". That way, you can donate the "out-ers" to charity for people specifically in need of them [try Smalls for All]. Or you can check with your local council whether they're able to recycle clothing locally."
According to global fashion search platform Lyst, since last year there was an increase in searches for particular sustainable materials. Econyl rose by 102 per cent, organic cotton rose by 52 per cent, and Tencel rose by 42 per cent. So, not only are we more aware of the need to invest in wardrobe staples that last, but we also spare a thought for the common thread uniting our notoriously unsustainable active apparel: what it's made from.
It's not only the unsustainable methods used to make such materials that we need to worry about. When these fabrics go through the wash, they release millions of small plastic particles into the water that runs from the machine to our precious oceans. Marine animals then unknowingly swallow these tiny beads. This can make the animals ill and ultimately further destroy already fractured ecosystems.
Where to buy sustainable activewear
So, where exactly can we shop for sustainable activewear to become more conscious consumers? And when our Lululemons are losing their lustre, how can we keep them out of landfill and ensure they live as long a life as possible?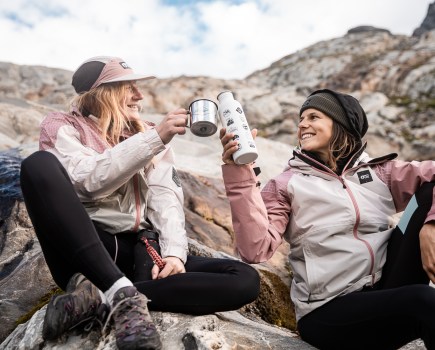 Picture Organic Clothing ensures all its clothes are as sustainable as possible: from the materials and production methods, all the way to how the garments are shipped. Picture creates its sustainable activewear using a range of renewable materials, including organic cotton and recycled plastic bottles.
In 2018, the brand created Picture For Good, a program through which it provides funding and technical support for climate change projects. Plus, in 2019, the brand received B-Corp certification for its sustainable methods and dedication to fighting climate change. Click here to find out more about this brand's amazing commitment to sustainability!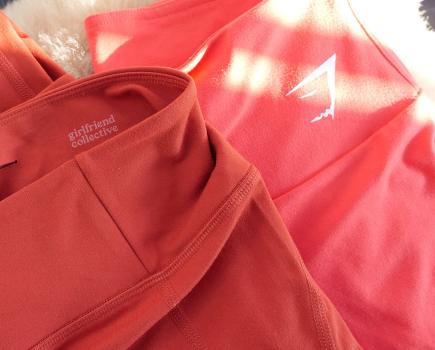 Plan to try secondhand? Go with Goodfit
Goodfit is essentially Depop for activewear: it's a platform where you can buy and sell quality secondhand activewear. Goodfit sources workout garments from markets and online apps like Depop. Lots of activewear is also donated by influencers and fitness pros who receive gifted garments. Collections are sold via monthly drops, with five per cent of profits going to a chosen charity. Currently, funds are being sent to Women's Aid, and any unwanted stock is turned into scrunchies, headbands and other fitness accessories.
Founder Chloe started Goodfit when, in 2019, she made a commitment to not buy any new clothes. She found it super easy to find clothes for work, going out and lounging in. However, she really struggled to find quality, secondhand gym kit. Previously, Chloe was a top seller on Depop. Currently, she does freelance marketing for sustainable fashion apps and brands. In the world of slow fashion, she's a sustainability guru who's really worth her salt!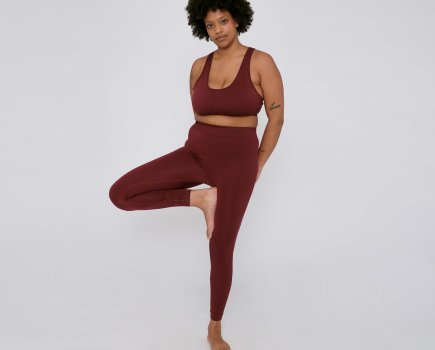 The Organic Basics uses organic cotton for its sustainable activewear collection. The cotton is grown on the coast of the Aegean Sea, without the use of harmful insecticides and pesticides. This helps to prevent soil contamination and other harmful chemical effects. The brand also works with factories to minimise textile waste, plus, it down cycles its off-cuts. All of this, in turn, reduces harmful CO2 and other greenhouse gases.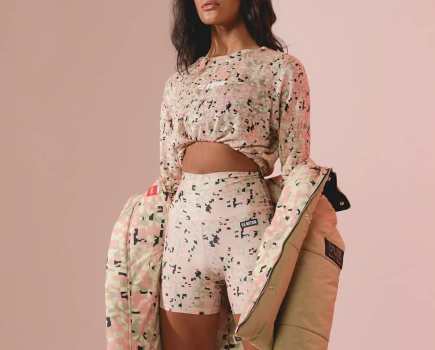 Want to nail your HIIT kit? Go for P.E Nation
P.E Nation has carefully considered every product in its sustainable activewear collections to ensure it takes into account human, animal and environmental welfare. It's also alight with the best internationally recognised practices in fashion. 
The brand promises premium and quality clothing. Each collection employs developed and tested high quality fabrics that encompass both high performance and sustainability. Any product in the collection with the 'conscious nation' icon is made from sustainable and/or recycled materials.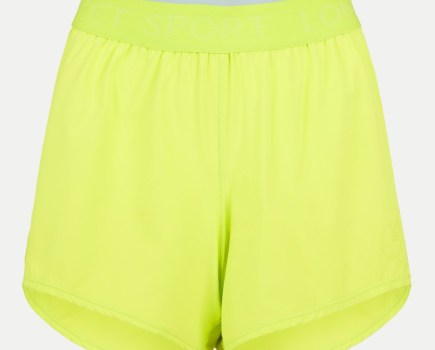 Want breathable and lightweight? Go for Pocket Sport
Founded by fitness guru Louise Thompson and her friend and business partner Edward Page, Pocket Sport is on a mission to get people moving, whatever that means to you. 
The Morisot Shorts come in sage, black and acid yellow and are made from recycled polyester. The brand hopes to have all its products made from recycled materials by the end of 2021. These sustainable shorts are lightweight and loose fitting. They are perfect for running on a warm day, thanks to breathable fabric and a conveniently hidden pocket for your card or keys.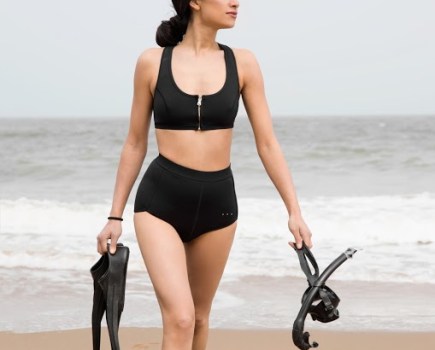 Ready to make a splash? Go for SLO Active
SLO active is all about slow fashion, active women and clean oceans. It's built for women who love the ocean and care about its conservation. The Clean Lines collection is made of a plant-based neoprene alternative called Yulex, which is made in Italy. For every purchase, SLO donates to one of its ocean charity partners of the customer's choice. Plus, the brand even plants a tree for every order. What's not to like?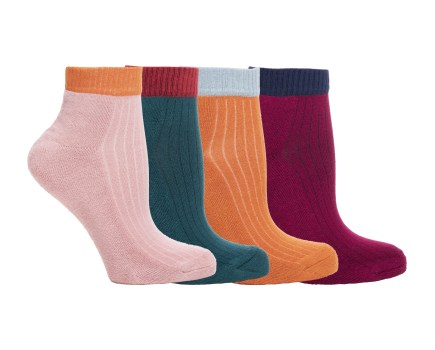 Pillows for your shoes? Opt for Bamboo
Not only are these – and we don't say this lightly – the absolute dreamiest socks ever, but they're changing the world for the better, too. BAM has identified its complete supply chain and measured the impact of its clothing on the planet (from growing the bamboo, to it arriving in Devon) and then compared it to a conventional cotton alternative. So, by buying these trainer socks – in comparison to conventional cotton – the positive impact is 25.5 days of drinking water saved, 0.3 km of driving emissions avoided and 0.2 m² of land farmed without pesticides. Comfort with a conscience – you can't argue with that!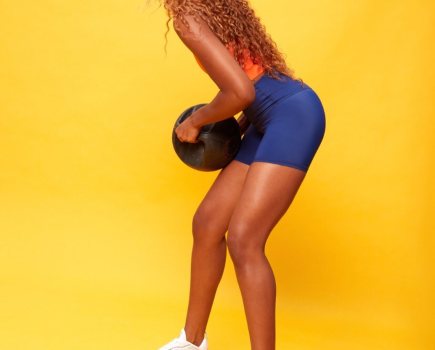 Want a curve cuddle? Choose CONTUR
CONTUR uses ECONYL® to produce its garments, which are made by recovering and repurposing old fishing nets and ocean plastics into 100 per cent recycled yarn that's perfect for high-performance, sustainable activewear. The fabric is flexible, well-supported and conforms naturally to any body shape. These garments are great for support while you're on the go!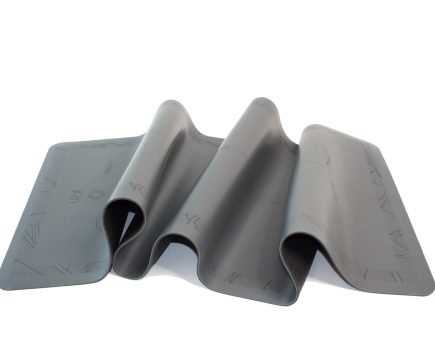 Working out but staying in? Pick Kin
The first limb of yoga is wellbeing, and Kin is a brand that prioritises people and planet over profits, with a mission to be more 'Kin-d' kind to the planet. The brand doesn't use any PVC, latex or artificial rubber. Plus, it's kind to people – operating ethical factories and a sound supply chain – and kind to the animals that inspire its designs. To top it off, Kin donates five per cent of profits to animal charities each month, with special mental health charity initiatives throughout the year.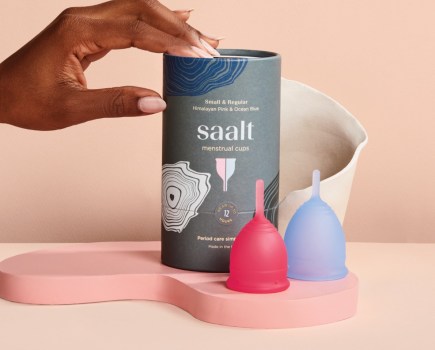 Seeing red? Pick Saalt cups instead
Saalt believes that people empowered and equipped to live their element can change the world. As a certified B Corp, it commits two per cent of its revenue to donate period care to regions with the most need. It also helps to fund initiatives in menstrual health, education, and sustainability. Plus, Saalt's cute, easy-to-use period cups will make working out on your period a little less painful for the planet, and for you too!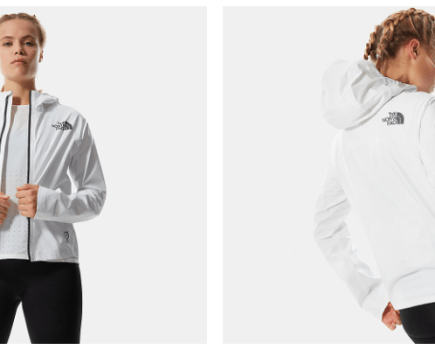 Picking up your pace? Pick The North Face
You may not only associate The North Face with sustainability, but this product showcases how some big brands are making waves when it comes to eco materials. Many fitness brands are still failing to create sustainable activewear, so this is a step in the right direction.
Made with FUTURELIGHT technology, this 100 per cent recycled polyester shell jacket is the perfect layer for protecting against the elements, while allowing you to go full throttle on the pavements. Plus, the jacket's bold colourways will keep you safe on the roads when you're working out in the dark.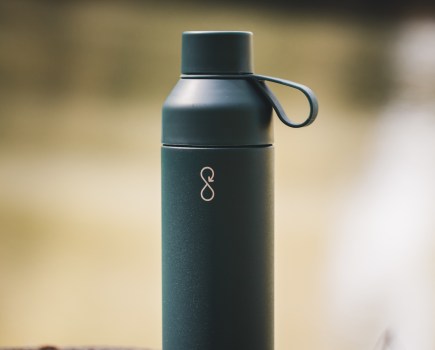 Like bottling it when it comes to exercise? Stick to Ocean Bottle
Ocean Bottle is the ultimate reusable bottle that stops 1,000 plastic bottles (in weight) from entering the ocean with every sale. The bottle is not only practical but also super sleek and compact. The Ocean Bottle is made from stainless steel and ocean plastic, meaning it insulates hot drinks for up to nine hours. It also doesn't allow for leaks and features an easy-carry loop. Ocean Bottle recently hit the milestone of one million kilograms of ocean-bound plastic collected. The team is aiming to have collected 80 million kilograms by 2025!
The takeaway? When shopping for your planet-friendly fit kit, go secondhand first. If you can't find what you're after, opt for sustainable activewear that's made to last. Do your research, read reviews and leave unethical workout wear in the dust.