Whether you run, Spin, lift or flow, what you wear at the gym can make all the difference to your workout. Here's our pick of the best workout tops for women…
By Sarah Sellens
Short sleeves or long sleeves? Tight fit or loose fit? Cropped or full length? Athletic cut or open back? There's so much to think about when it comes to shopping for workout tops, and the number of styles keeps proliferating as sportswear's fashion status continues to grow.
But let's forget about what's trendy for a moment. The best place to start is with the style and cut that works best for you and your workout.
'The most important thing when choosing any performance clothing is to look for garments that make you feel empowered,' says Emily Robus, senior performance designer at Sweaty Betty. 'No one wants to work out in something they don't feel confident in!'
What's the best fabric for a workout top?
Next, you need to think about fabric and function. 'It depends on what type of exercise you will be doing but most workouts require fabrics that stretch at one with your body. A 4-way stretch is a great property to look out for,' adds Robus.
'It's also important that your workout tops have sweat-wicking and anti-odour properties. The sweat-wicking feature allows sweat to be drawn away from your skin, keeping you feeling breezy.
'The anti-odour feature captures and blocks bacteria that comes from your body, neutralising the bacteria before it interacts with sweat and reducing the amount of body odour.'
These are the basic 'workhorse' fabrics that will keep you comfortable, but as performance materials continue to improve, you might find your shopping list of must-haves gets a bit longer…
Comfort comes first with workout tops
One of the most innovative knit techniques to hit the gym apparel market is seamless construction. Reducing chafing, scratching and rubbing, seamless products are perfect for performance.
'We see seamless sports tops being key for autumn and winter, for training both indoors and outdoors. They have fewer stitched seams and a more flexible knit structure, allowing you to move with less restriction,' explains Robus.
'Sweaty Betty has an amazing seamless gym range called the Athlete – t-shirts and vests are breathable, sweat-wicking and have a great stretch.'
Looking for a planet-friendly workout top?
Another factor you might want to consider is the impact that your workout wear has on the environment.
Polyester and nylon are not biodegradable but they are energy intensive to make, so many sports brands are now creating gym kit using upcycled fabrics such as the ever-popular Econyl, which is a regenerated nylon made with waste from landfills and oceans.
For a more sustainable fix, look for eco-friendly sportswear brands such as TALA, Picture Organic Clothing, Contur and PE Nation's sustainable collections.
Stylish – and practical!
Don't want to sacrifice fashion for function? The good news is that there's a huge amount of choice when it comes to gym wear these days, whether you put style, sustainability or performance at the top of your needs.
'Tops that have back details and cut-out panelling for ventilation will be important this season,' concludes Robus. 'We also see huge growth in high-waisted leggings, which means that tops with a shorter length such as crops will be key for sweaty gym workouts.'
Our pick of the best workout tops for women
We review a teeny tiny pick of the best workout tops available to buy right now…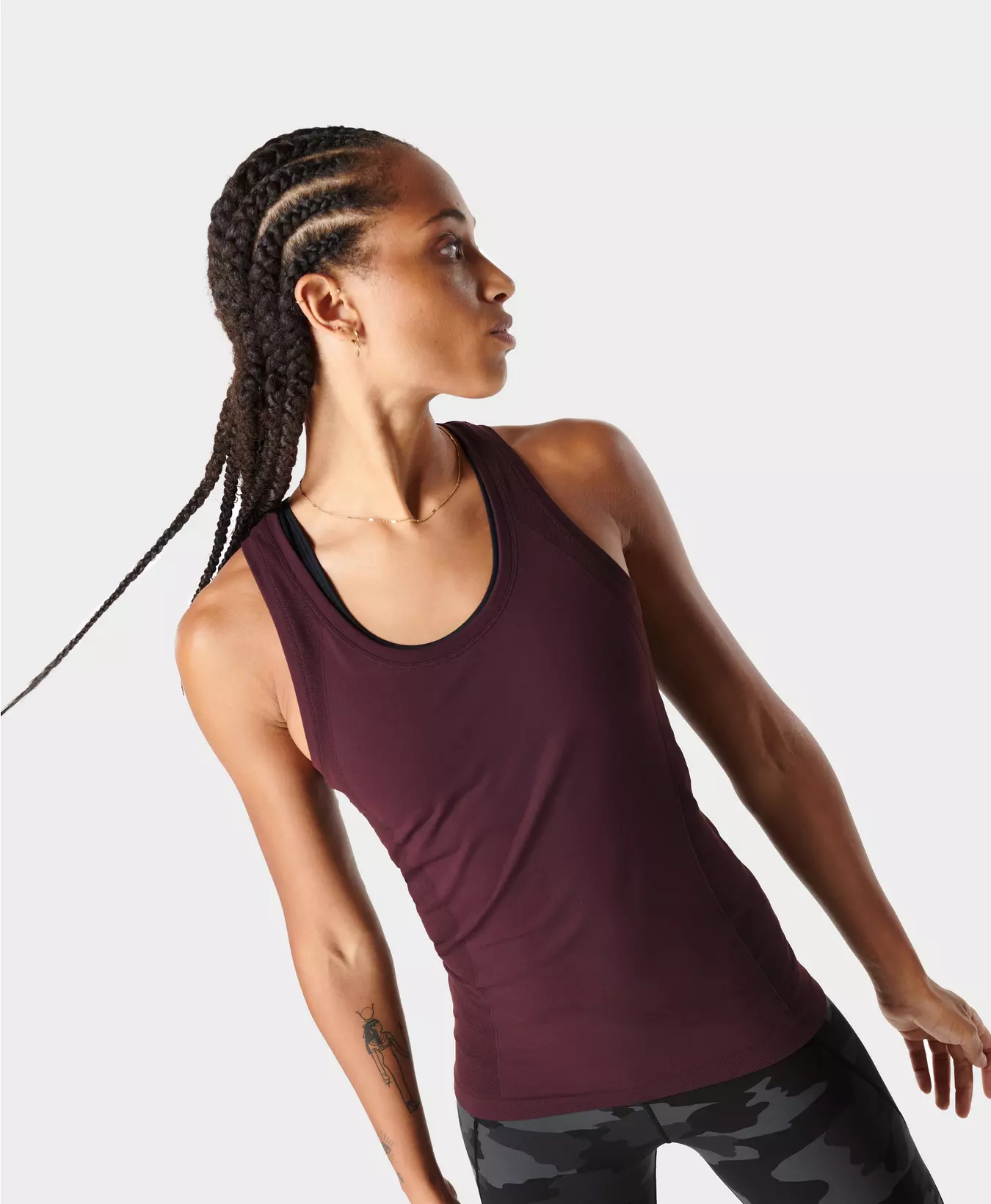 However you move, this is the gym vest you need in your workout wardrobe. It's seamless, sweat-wicking and breathable, and has a 4-way stretch. Everything that you need from a reliable sports top! Plus, it's incredibly lightweight.
The figure-hugging fit means that it moulds to your shape in such a way that you won't be tugging it down mid-run or worrying about it riding up when you're in downward dog. Plus, the breathable mesh panels down the sides flatter while serving the purpose of keeping you cool.
Boasting the quality that you'd expect from Sweaty Betty, the brand logo is subtly placed high up the top on the back, which you might agree adds a nice touch.
The best bit? You can get it in all of the latest colours, from Black Cherry to Ice Blue to Rich Red, which makes it easy to match to other workout wear.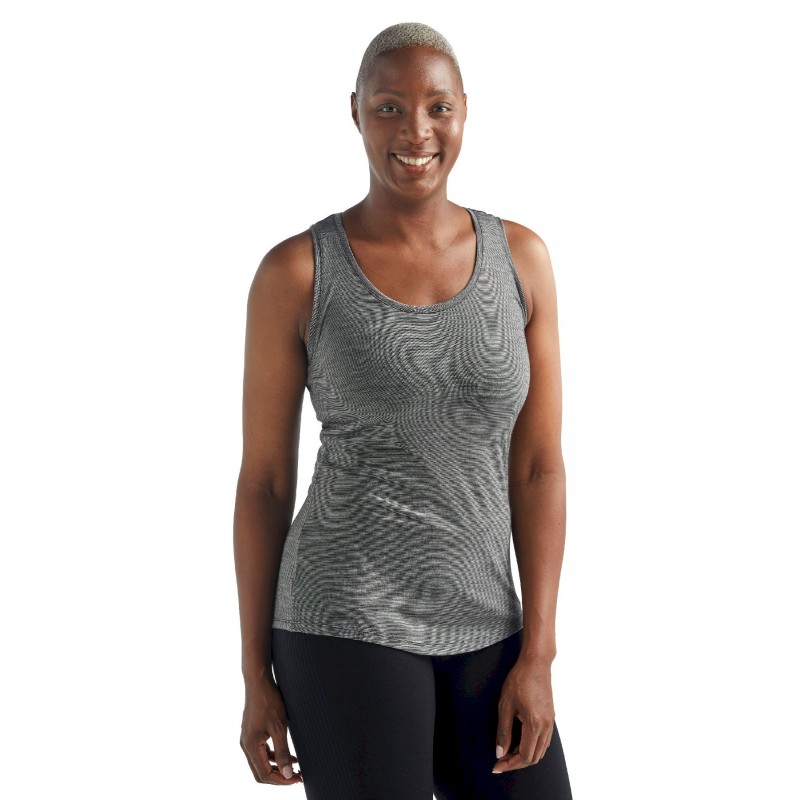 At first, the words 'wool' and 'cool' might not seem to go together, but the nifty thing about merino wool is that it keeps you warm in cold weather and keeps you cool when it's warm.
For this top, Icebreaker has used the fabric to great effect with its special Cool-Lite blend of superfine merino and Tencel, which comes from sustainably sourced eucalyptus to help aid temperature regulation.
It's seriously impressive, as the material felt so soft against the skin and yet didn't feel weighty or warm when out on a hot run.
The dropped hem provides a bit of coverage – handy for times when teamed with tight leggings, especially if you hit the gym and then the shops! My only bugbear is it showed a few sweat marks, so I'd opt for a darker colour next time.
You might know Gymshark best for its range of seamless tops, crops and leggings, but this has to be my favourite tank from the brand.
It quite simply performs really well in a fuss-free kind of way, with a comfortable high neck and dropped hem design that enables you to focus fully on your workout. It's so lightweight that it won't bog you down, no matter how sweaty you get. In fact, you'll barely notice it's there.
The angled seams and racer cut add a subtle but stylish touch that flatters the upper arms and shoulders, and, let's be honest, it's a steal at only £20! It comes in orange, charcoal or grey, and is handy for any type of gym workout – weight training, running, Pilates and more!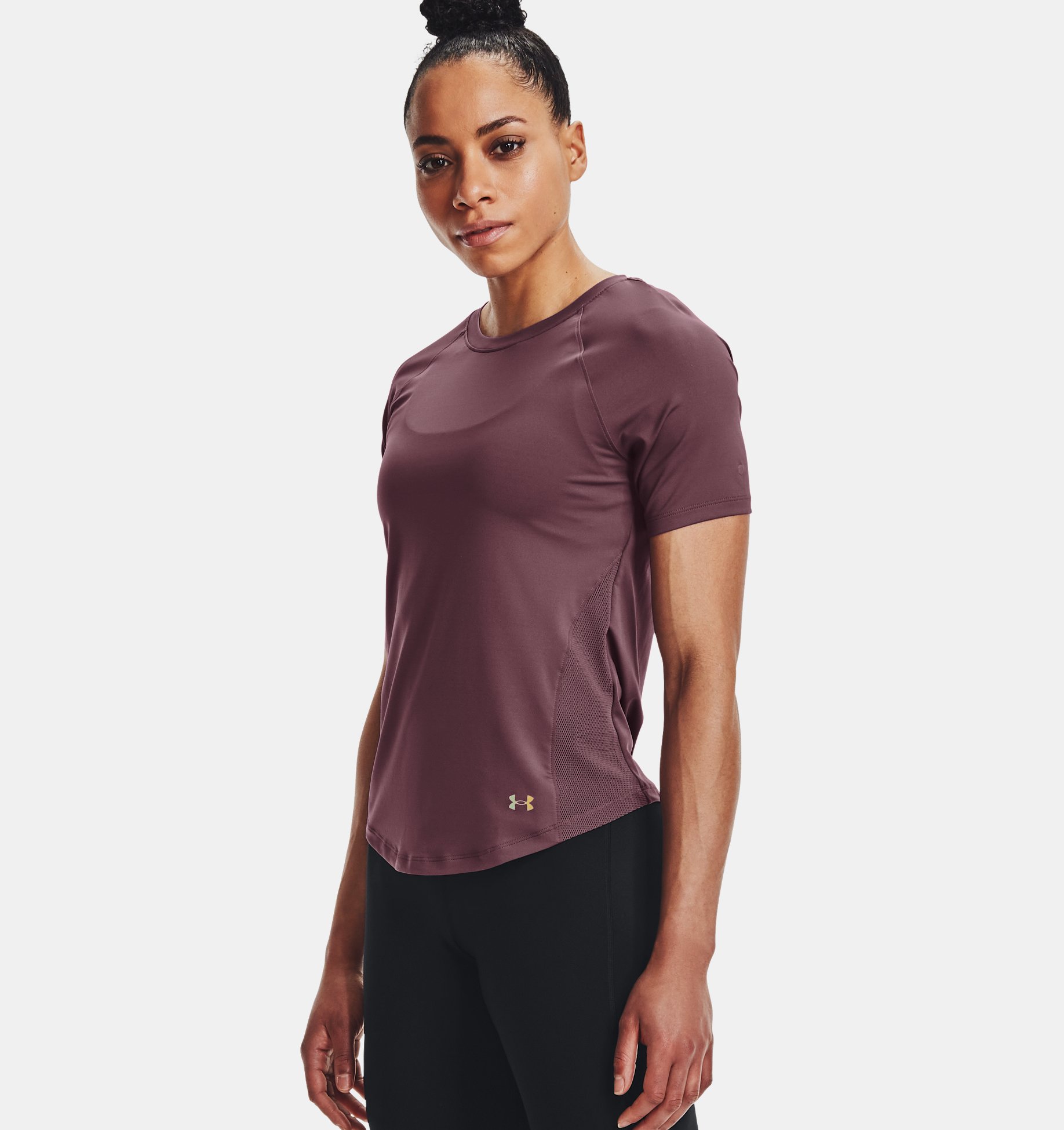 The only short-sleeve top on test, the UA Rush HeatGear t-shirt deserves a special mention for it's great fit and ability to stay dry.
Incorporating the kind of carefully crafted fabric that I've learnt to expect from Under Armour, the UA Rush range uses infrared technology to reflect your body's energy in such a way that it will help you to recover faster.
It all sounds pretty smart but, actually, the best thing about this top is something quite simple – it dries really, really fast. In fact, when worn on a super-sweaty run in the heat, it stood up well to oodles of sweat.
The tight-fitting sleeves are a nice addition to its design, as they wrap around the upper arm in a way that is super-flattering. I just wish it came as a vest with a long length fit.
Part bra, part vest, this number was designed to be worn as a top alongside the Pulse Panelled Leggings, £32. In fact, you could even team it with the Energy Long Sleeve Half Zipped Crop Top, £30 – the perfect layer for heading to and from the gym.
As a crop top that pairs well with its high-waisted leggings' counterpart, there's no doubt that you'll feel incredibly stylish in this set, but does it perform?
With microfibre cups that keep you cool and J-hook fastening for extra support, it's a great option for weight training, HIIT, dance classes and more, plus you could even keep it as a handy base layer, just in case you need to strip down on a hot, sweaty run.
The stretch of the bra fabric is impressive and it's nice to have a top with high-impact support, but the amount of coverage it offers is going to divide opinion.