Sick of sending your old trainers to landfill? Lighten your carbon footprint with these stylish and practical sustainable trainers that don't cost the earth…
By Joanna Ebsworth
Most fitness fans will have heard the advice that you should replace your workout shoes after six months of wear, or after clocking up a certain amount of mileage (normally between 300 and 500 miles, depending on factors such as your running form and the terrain you train on). But have you ever considered that regularly binning your trainers is causing harm to the planet?
Trainer sales have soared in recent years. No doubt helped by the rising athleisurewear trend, a desire for comfort while working from home and an increased appetite for working out during the pandemic. Indeed, one study rates trainers as Britain's most popular shoe. Apparently, people aged 25 to 34 own nine pairs of trainers each on average.
Are trainers bad for the environment?
Unfortunately, the fact that most trainers are made from multiple man-made materials makes them practically impossible to recycle. Figures show that over 300 million pairs of shoes are thrown away in the UK each year with the majority going to landfill. The result of this is one enormous, ever-growing trainer mountain. Sadly, the ethylene vinyl acetate used in your shock-absorbing midsoles will still be around for thousands of years to come.
Is there another way? While eco-friendly fashion sneakers have been around for decades, sustainable workout trainers have been much slower to emerge. Several brands are trying to find ways to create shoes that still have all the performance-enhancing technology we expect – think cushioning, support, breathability and durability – without the plastic.
Thankfully, great strides have been made recently and many fitness brands have released sustainable offerings. However, the levels of 'sustainability' can vary greatly between trainers.
What makes trainers sustainable?
The sustainability of a trainer is judged on many things. This includes the environmental impact of the materials, the working conditions in the factories and the ESG (Environment, Social and Governance) approach of a brand.
According to Emma Foster-Geering, director of sustainability at earth-friendly footwear brand Vivobarefoot, a trainer will only be able to be called sustainable in the future if it is made within circular systems that generate more positive than negative impact.
But for now, a trainer must follow the new guidance from the Competition and Markets Authority (CMA). This will go live next year to prevent companies from making misleading environmental claims about their products, also known as 'greenwashing'.
Finding trainers that are good for you, and the planet
'As a customer there are lots of ways to contrast and compare, depending on what is important to you,' says Foster-Geering. 'Some brands are doing a great job of pioneering regenerative materials. Others are driving important social change.
'At Vivobarefoot, we have been trying to take a holistic approach to produce footwear that is healthy for people and the planet. We believe reconnecting with nature through feet is crucial to achieving our sustainability goals. We hope that the future of the footwear industry is about brands collaborating around these goals rather than competing for commercial space'.
Indeed, one such collaboration is already in motion. Competing brands adidas and Allbirds have forged a unique partnership that opens up their materials, supply chains and innovations to each other.
The result, launching in 2022, is the Futurecraft Footprint shoe. Each pair will have a carbon footprint of just 2.94kg CO2e (carbon equivalent emissions, which takes into account other greenhouse gases such as methane). This is compared to a typical pair of running shoes that generates around 13kg of carbon dioxide emissions.
What to look for in sustainable trainers
PURPOSE: As with all workout shoes, make sure you choose a pair that is fit for purpose – whether you're running, weightlifting or hitting a CrossFit class.
FIT: When it comes to fit, do your research to find out whether the shoe is true to size or otherwise, and look out for brands that offer to replace your shoes if you're not happy with them.
NEED: Finally, make sure you're not buying trainers for the sake of it. 'Is the trainer solving a genuine need or is it just trendy?' asks Foster-Geering.
'Look at how a brand approaches sustainability (does it have an annual sustainability statement?) and ask yourself whether you trust the company. Question whether the product they produce is part of the solution to the multiple crises we're in (climate and biodiversity, physical and mental health, political and social). Or is it just here to make a quick buck with an eco-friendly add on? Vote with your wallet!'
5 best sustainable trainers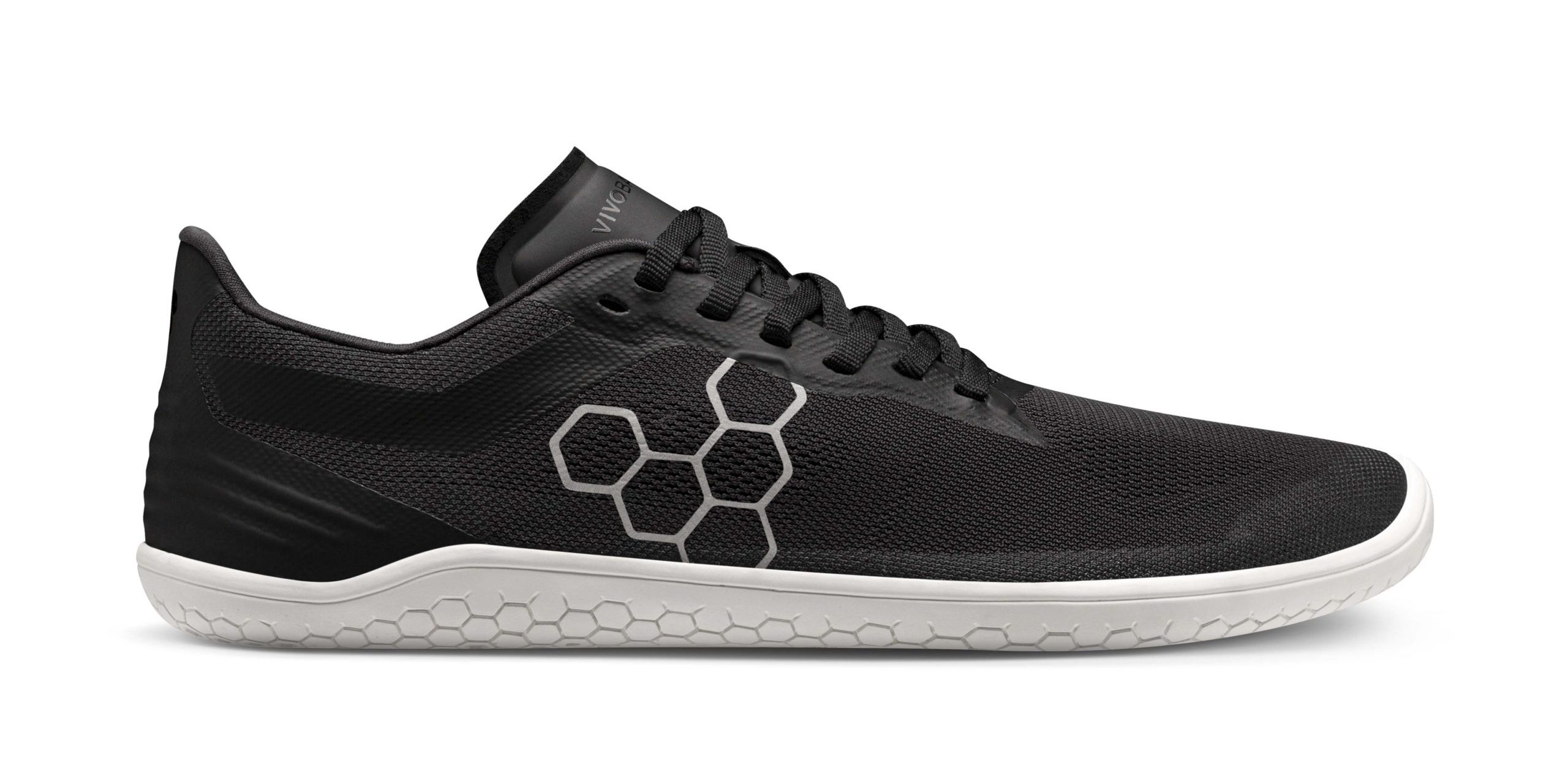 Wide and ultra-flexible, with a signature 4mm thin sole, the Geo Racer II closely replicates barefoot conditions. They give your feet and toes the space to move freely so they can splay to a more natural shape. This is said to strengthen your foot by up to 60 per cent in six months. It can also improve balance, stability and physical function.
After downloading the printable size guide, I ordered for my regular shoe size and they fitted perfectly. Made from recycled post-consumer plastic waste – and Joe Wick's trainer of choice – these shoes have an 'active outsole' that provides amazing grip and durability on hard surfaces. I relished the heightened sensory feedback the shoes provided on walks and runs  Furthermore, I felt truly 'grounded' during weightlifting sessions. My new favourite trainer that's stylish enough for the office.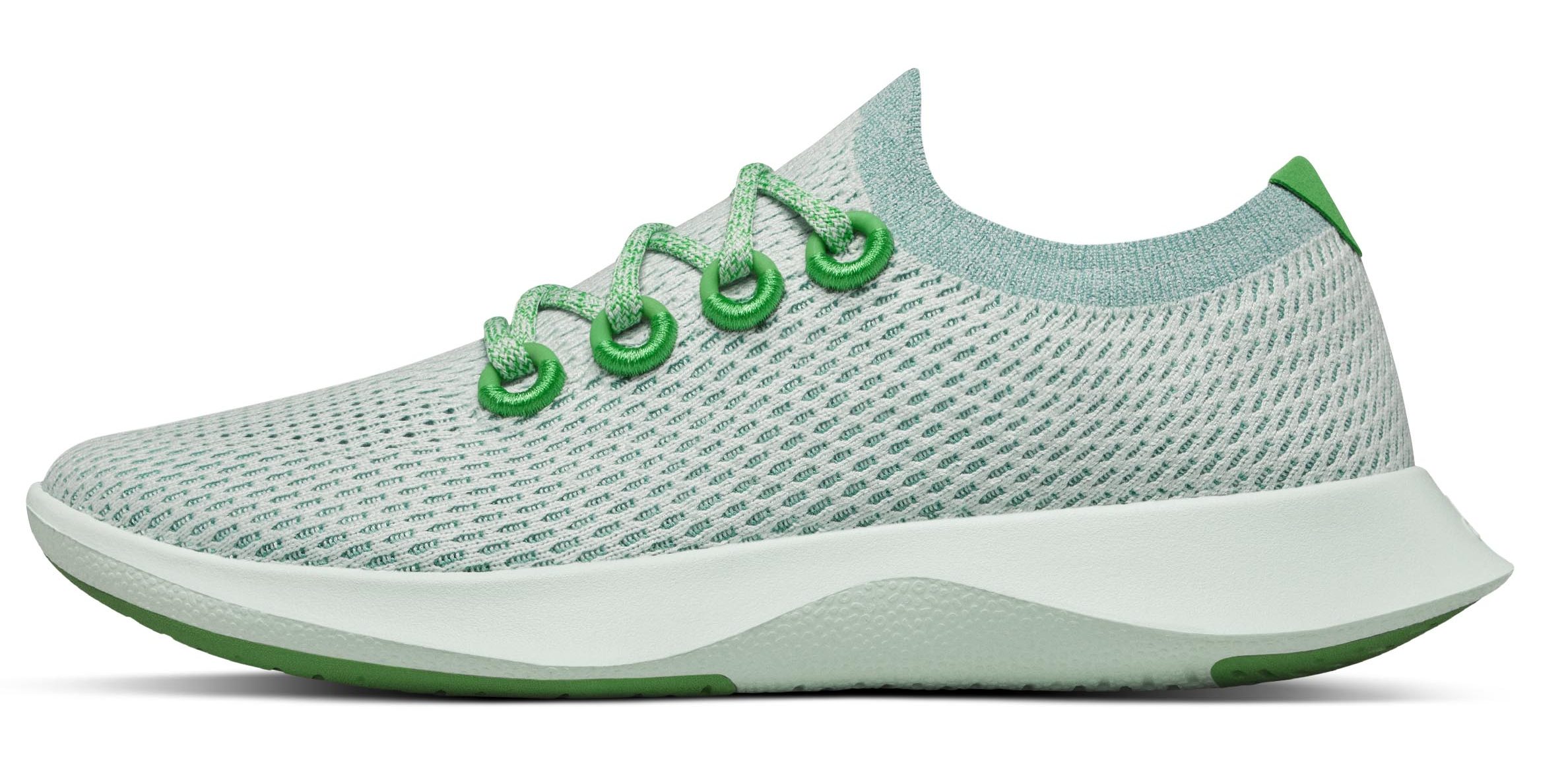 Allbirds' Tree Dashers are the sustainable footwear brand's first foray into the performance shoe category. Thankfully, they do not disappoint.
Crafted from renewable natural materials, the lightweight, highly breathable mesh upper woven from eucalyptus fibres has an anti-microbial Merino wool liner to keep feet cool. The shoe also features a super-responsive duel-density midsole made from carbon-negative, sugar cane-derived Sweet Foam. This offers amazing cushioning and energy return.
These shoes are optimised for 5K runs and dry conditions. There is also a water repellent Wool Dasher Mizzle shoe available for rainy days. Thanks to the anatomically contoured footbed, the trainers are super springy and supportive. They also provide excellent arch support and cup the heel for smooth transitions. Plus, they're comfortably roomy, so there's no need to size up.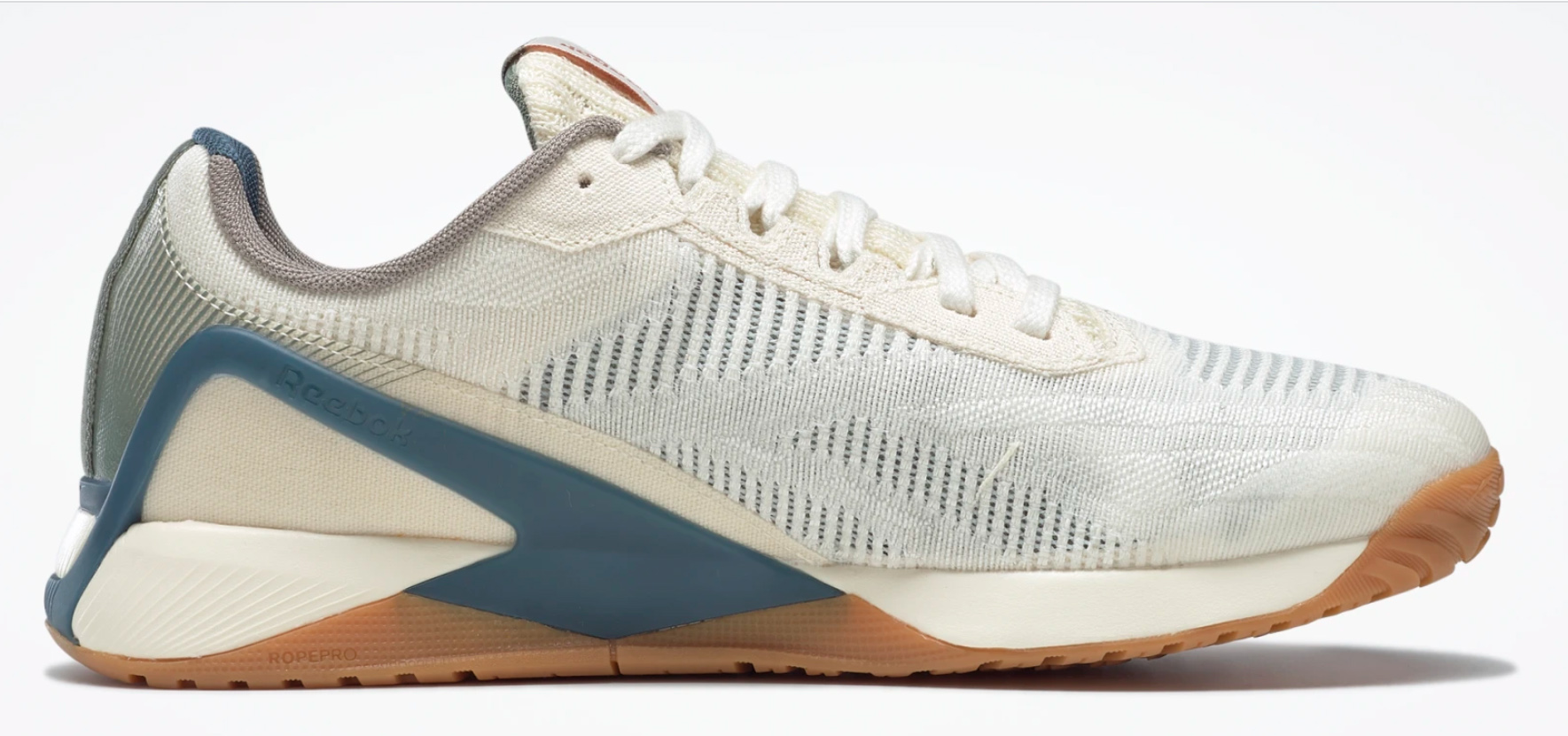 Building on the launch of the Nano X1 in February 2021, Reebok has taken its ultimate cross-training shoe and given it a sustainable makeover.
Made of 100 per cent animal-free materials, the Nano X1 Vegan features a minimum of 40 per cent USDA-Certified bio-based materials. This includes a soft, durable plant-based Flexweave upper knitted from cotton and wood.
There is also a natural rubber outsole and castor bean oil and EVA foam midsole. These combine to provide the cushioning of a running shoe with the flexibility and control of a training shoe.
With no break-in period needed, this super comfy shoe hits the ground running and is perfect for those who train hard across a variety of workouts. The sizing runs big, so go down a half size. You'll still have plenty of room for your toes.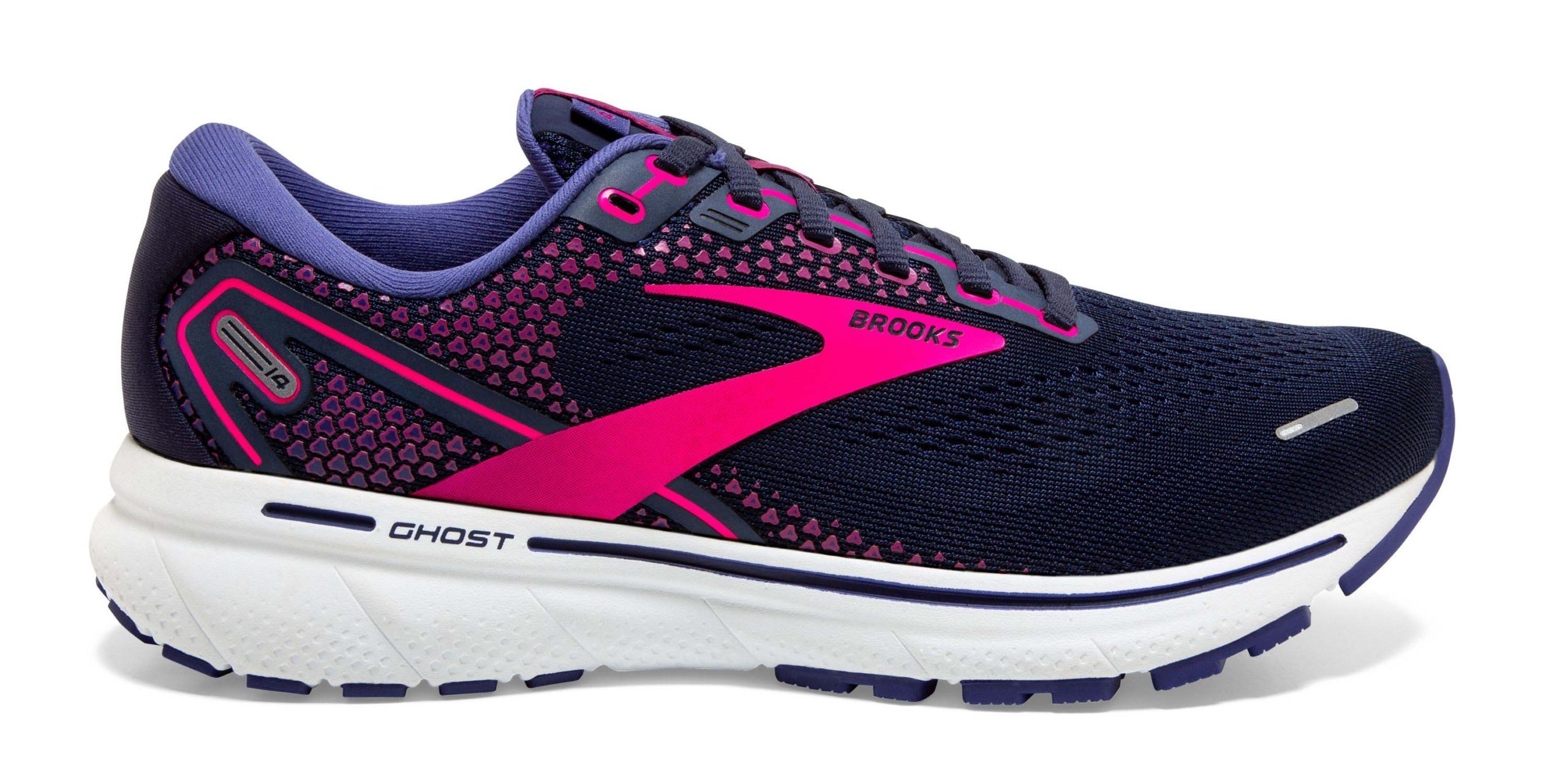 Seasoned runners will love Brooks' latest update on their most popular and award-winning Ghost shoe. Not least because it's the brand's first carbon-neutral running shoe.
Almost all the upper textiles contain a minimum of 30 per cent recycled polyester. In fact, many are 100 per cent recycled polyester. Brooks is also purchasing carbon offsets from projects that address climate change. This is to compensate for the remaining carbon emissions the brand is not yet able to reduce.
True to size, the Ghost 14 delivers soft, responsive landings and seamless transitions on the road. This is thanks to the DNA Loft cushioning that stretches throughout its entire midsole. The use of 3D Fit Print technology also provides an improved fit that balances stretch and structure. This promises to give neutral runners a comfier and even more supportive ride.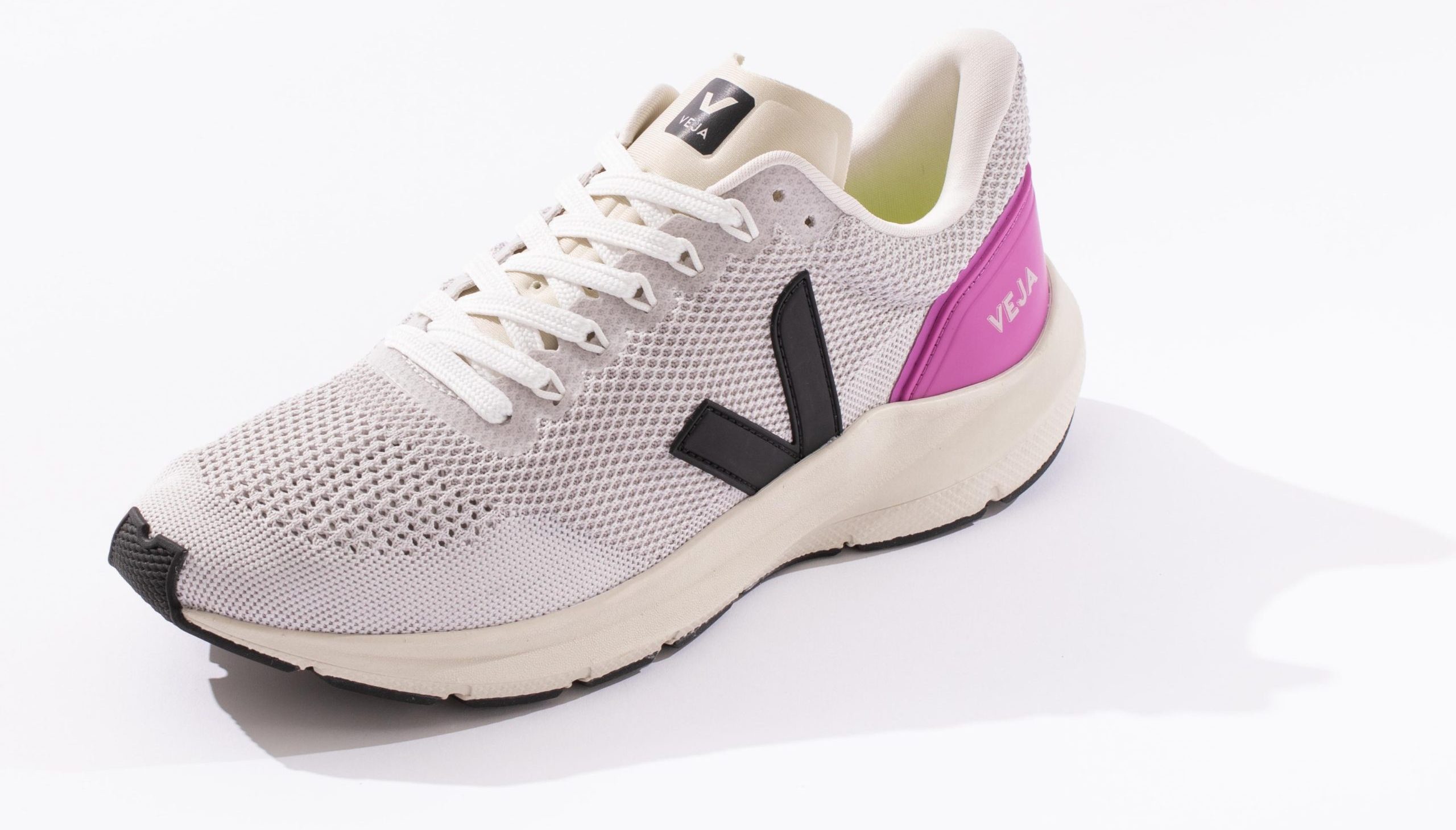 Better known for its stylish and sustainable fashion sneakers, VEJA has released its most sustainable performance shoe to date with the Marlin.
This minimalistic shoe is made from 62 per cent bio-based or recycled materials. It has a sleek design with a lightweight, breathable knit upper and a 'bootie tongue' designed for a snug fit. In fact, the shoe runs small so buy at least a whole shoe size up. Designed for runners, the Marlin claims to provide 80 per cent energy return but I found it lacking in springiness.
Instead, I preferred using this fast, dynamic shoe for weightlifting and functional fitness workouts, thanks to the soles (made from 30-32 per cent Amazonian rubber sourced by fairly paid rubber tappers) which provide full ground contact for extra stability, and multidirectional flex grooves to enhance footwork.