Yoga teacher Eve Boggenpoel reviews the best yoga mats available in 2023, to help you find the right one for your practice…
One of the beauties of yoga is that it needs nothing but your mind, body and a safe surface to practise on. In ancient traditions, yogis focused purely on meditation and breathing, so they simply used folded cloths or cotton rugs, but as asanas started to develop, the need for better grip and greater cushioning arose. Enter the dedicated yoga mat.
Starting life as an adapted piece of carpet underlay, and transitioning through 'sticky' foam mats and polyvinyl chloride (PVC), the latest incarnations include earth-friendly materials such as natural rubber and cork, and offer all the criteria the modern yogi needs.
Wondering what to wear to your yoga class? See our pick of the best yoga kit for beginners
Things to consider when buying a yoga mat:
If you're looking for a new mat, there are several things to consider.
Style of yoga:
First, reflect on the type of yoga you'll be doing. If you're a fan of hot yoga, for example, you'll need a mat with exceptional grip so if you do get sweaty, you won't lose your footing; if you favour dynamic practices such as ashtanga, where you'll be jumping from pose to pose, good cushioning will be vital (the same applies if you're pregnant or have sensitive knees).
For slower, more meditative styles of yoga such as yin and restorative, specialised rugs or foam-filled 'yoga mattresses' will add comfort in the long-held postures central to these styles.
Weight of mat:
You'll also need to factor in weight. If you plan on taking your mat to class regularly, it's a good idea to avoid the heavier options – you're unlikely to want to lug a mat around if it weighs 4.5kg.
Material:
The material your mat is made from will give you a clue to its qualities. The cheapest are often made from PVC. Known as 'sticky' mats, they're secure, stable and last. But that's their downfall – they can take 500-1,000 years to biodegrade. Natural rubber mats, on the other hand, degrade easily, provide great cushioning and have a firm grip – they do tend to be more expensive, however.
A newcomer on the scene is polyurethane (PU). Often combined with a rubber base, it creates a perfect blend of grip, cushioning and durability. It also biodegrades in one-to-five years. And, while not on test, cork is also worth considering for its grip and cushioning, as well as sweat-absorption and antibacterial qualities.
Motivation:
Last, but not least, ask yourself if you find the mat inspiring. Will it motivate you to practise on those days when the sofa/chatting to your partner/watching Netflix seems a more appealing option? We've owned mats that are so beautiful and such a joy to use, we find they inspire us to sneak in a quick practice any time of day! Read on to find the perfect yoga mat for you…
Try this yoga sequence for runners
Best yoga mats in 2023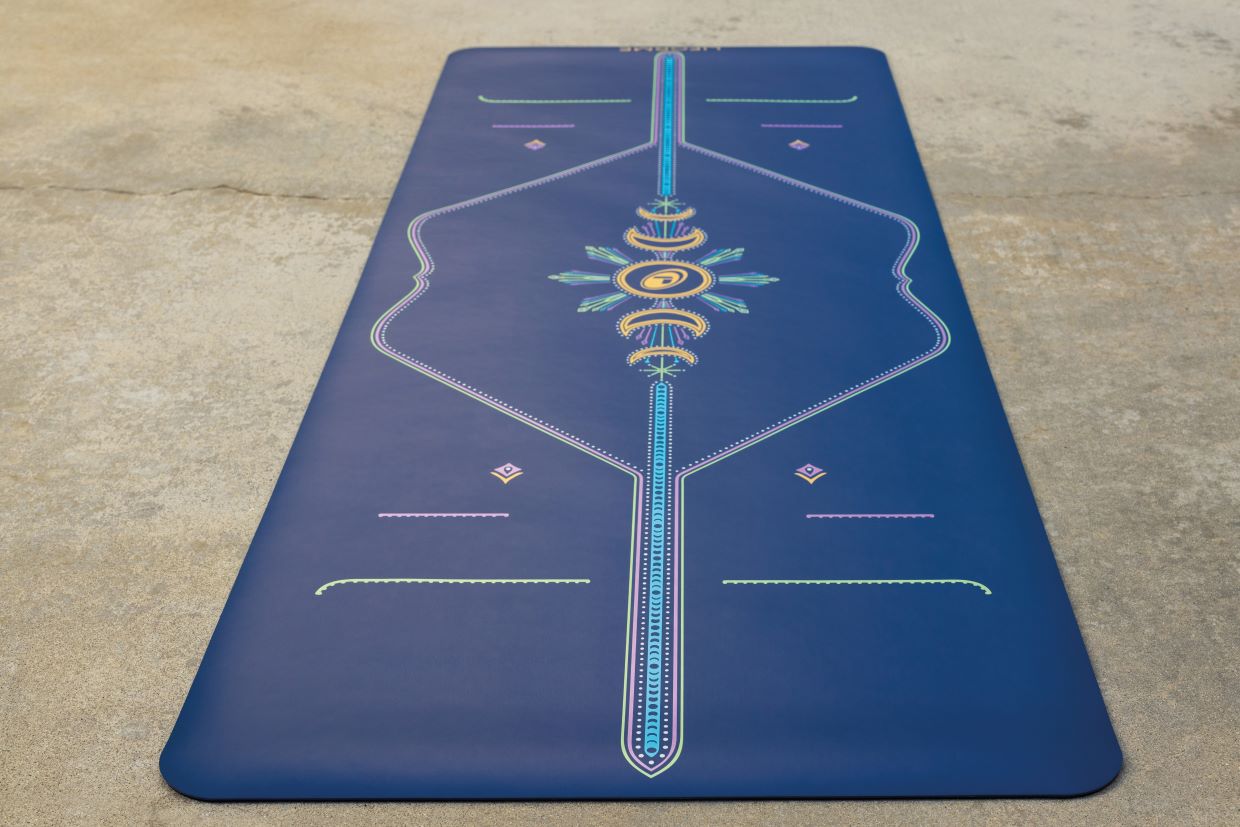 Liforme Cosmic Moon Yoga Mat
BUY IT NOW:
£140; liforme.com
Size: 185cm x 68cm x 4.2cm
Weight: 2.5kg
Material: Natural rubber base, eco-polyurethane surface
Best for: Grip
Overall: 4.5/5
If you're looking for the best yoga mats, look no further. Liforme mats are a favourite with yoga teachers, myself included. I've used them for years and they're definitely one of my go-to mats. The well-thought-out alignment marks are so useful, helping you be more mindful in your practice – horizontal lines at each end act as guides to keep hands and feet even, 45-degree diagonal lines mark the position of your rear foot in asymmetrical standing poses (such as warrior) and the 'reverse points' aid alignment when you're on your back.
It's rock solid for grip (slightly more so than The Grip mat, below, we found), and the top layer encourages moisture to evaporate upwards, maintaining its grip credentials, even when you're dripping with sweat. Unlike some mats, it also has a waterproof middle layer, preventing sweat from penetrating the rubber base which can't be cleaned.
Eco-credentials are good – it's PVC-free, has no plastic packaging, is biodegradable in one-to-five years in landfill and this design uses the brand's new, non-toxic and planet-friendly ink. I have a couple of Liforme mats and, while this one is very beautiful, I find the design quite stimulating. If you don't have a practice where you really have the skills to draw yourself inwards, it might not be suitable for calming sessions*. It would, however, be ideal for more dynamic practices, such as ashtanga. It comes with a very good quality carrying bag which has a padded shoulder strap, plus two holes to improve airflow and prevent condensation inside.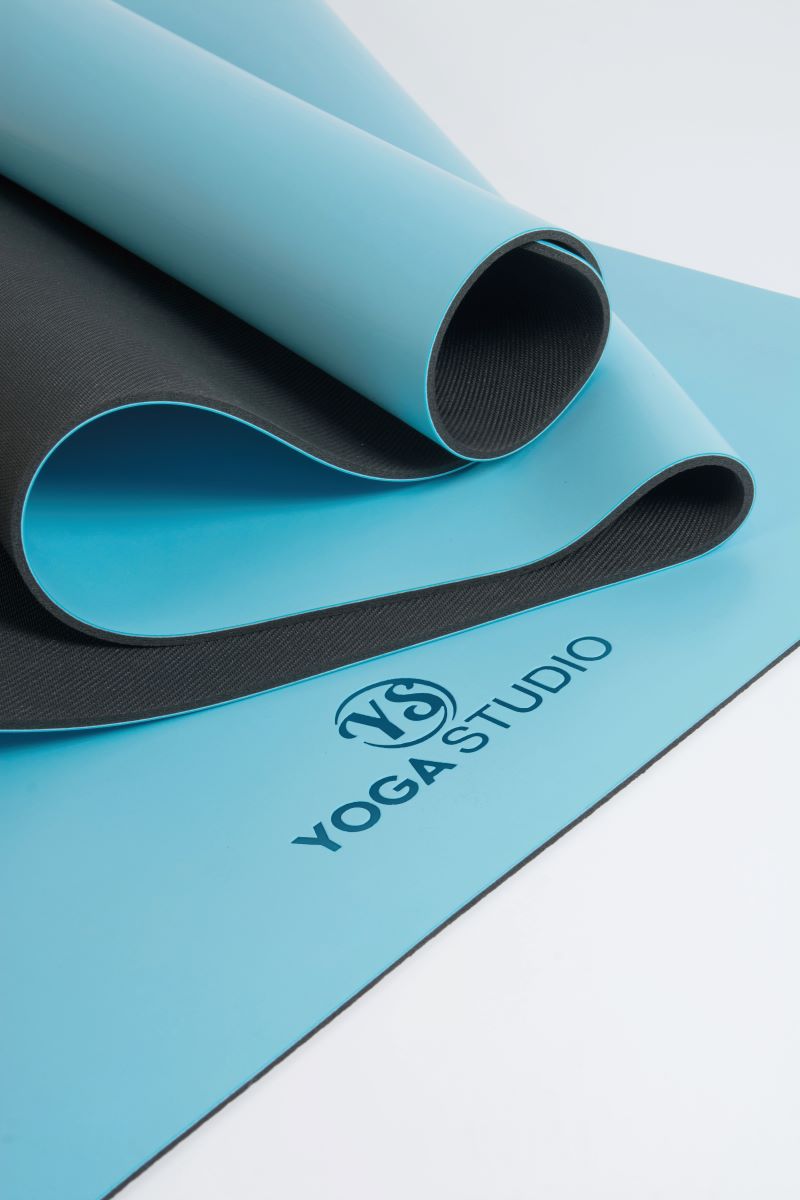 Yoga Studio The Grip Yoga Mat
BUY IT NOW:
£54.95; yogastudiostore.com
Size: 183cm x 68cm x 4cm
Weight: 2.4kg
Material: Rubber base, eco-PU surface
Best for: Value
Overall: 4.5/5
Not having heard of this brand before we were surprised how good this yoga mat is. But then, coming from the store that supplies yoga mats for countless corporate functions, perhaps it's to be expected – if you go to an event that has its own branded yoga mats, chances are they come from the Yoga Studio Store. It's a generous size, and I really appreciated the muted colour and simple design – it gives off an energy that seems perfectly suited to a reflective practice such as yoga, and helps you tune in to what you're doing.
When we first got on this mat it had a very slight 'sticky' feeling, which made us instantly feel it would be very secure. And it was. In lizard pose, my front foot felt solid like a rock. It also has great cushioning – the base layer of rubber being dense but spongy. Like Liforme, it has improved grip on moisture, (thanks to the PU surface), so as well as being an excellent all-purpose mat, it makes an ideal choice for hot yoga, ashtanga, vinyasa and Bikram.
When it comes to eco credentials, it's free from the top six most-harmful phthalates – DEHP, DBP, BBP, DINP, DIDP and DNOP – and is PVC- and latex- free. We're nit-picking here, but we'd have preferred the packaging not to include Sellotape, but that aside, it's a really good mat – very comparable to the Liforme, but almost £90 less.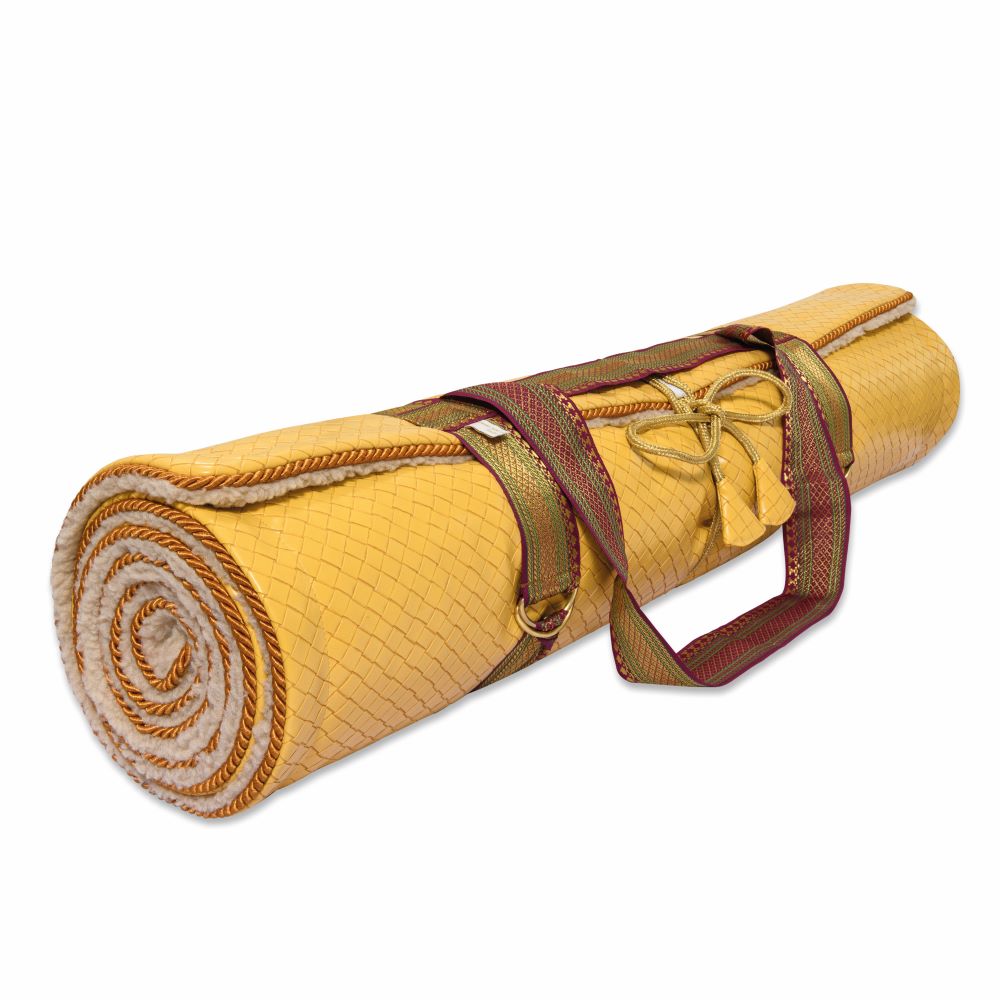 Holistic Silk Yoga Rug Mat
BUY IT NOW:
£200; holisticsilk.com
Size: 180cm x 63cm x 1.5cm
Weight: 1.5kg
Material: Vegan leather base, recycled polyester and hemp fleece, dried lavender flowers
Best for: Restorative, yin, meditation
Overall: 4/5
Imagine coming home after a stressful day – head pounding, mind buzzing, shoulders aching… then imagine lying ensconced on a soft fleece rug, the gentle aroma of lavender wafting around you, your muscles melting into the mat. This yoga rug has fast become one of our must-haves for slow practices, and we instantly relax when we get on it – a benefit not just the mind, but the body too, as it means you're able to sink more deeply into stretches.
We tested the Saffron Weave colourway (pictured above), and found the non-slip backing super secure, while the dried lavender flowers released their scent the minute we unrolled it. The perfect mat for yin and restorative practices, we were also surprisingly secure in hatha poses such as warrior II or down dog, as long as our hands and feet were not overly dry.
Despite the faux leather back, you can put it in a washing machine with mild detergent. Regular washing will mean the scent gradually fades, however, but a few drops of essential oil will maintain its restorative qualities. It comes with a beautiful Indian silk carrying strap and an organza bag, to keep dust free when not in use.
Although it's the most expensive mat on trial, having tried it, we definitely wouldn't want to be without it. It's instantly calming and super relaxing, ideal for stretching out in the morning or doing a restorative session in the evening, either to recalibrate after a stressful day or use before bed to prevent insomnia. Our verdict? Start saving now, or even better, put it on your birthday wish list! Available in 15 different shades.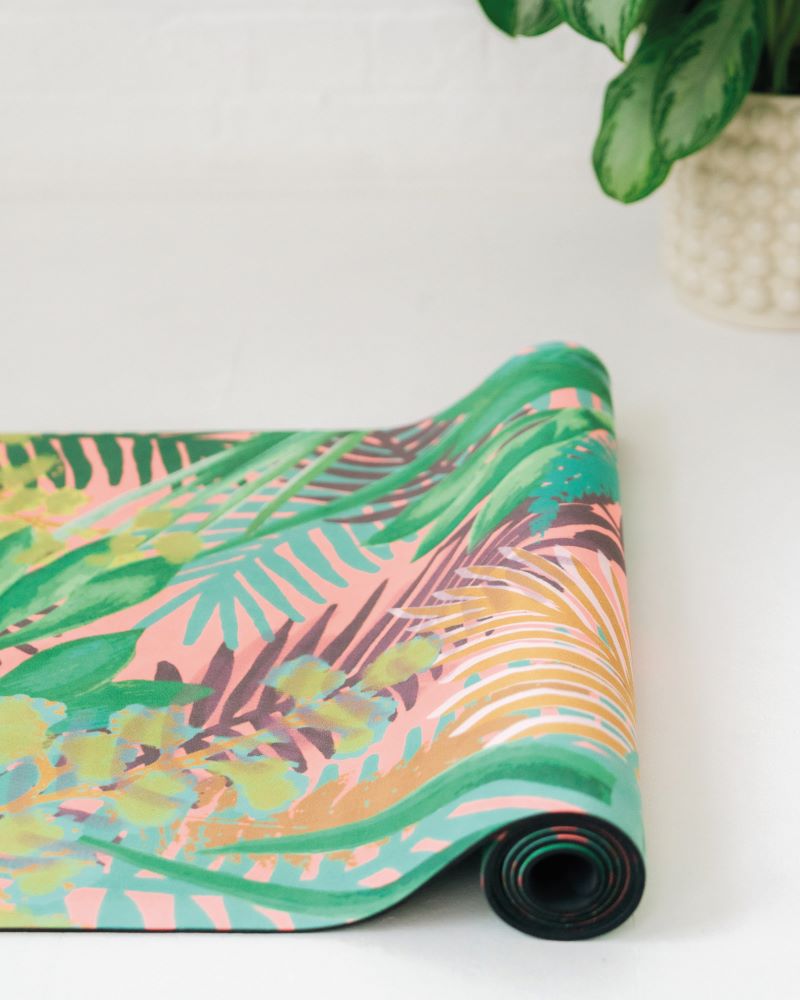 Willow Yoga Kew Tropics Home and Away set
BUY IT NOW:
£108; willowyoga.com
Size: 183cm x 61cm x 4mm (mat); 183cm x 61cm (towel)
Weight: 2.5kg (mat); 0.5kg (towel)
Material: Rubber base with microfibre top layer (mat); microfibre and rubber beads (towel)
Best for: Hot yoga, travel
Overall: 4/5
We found this beautiful mat super-inspiring – just looking at it made us want to start practising! In fact, it's pretty enough to leave out, making it perfect for a quick impromptu session whenever you have a few spare moments. If you're not used to microfibre, it's worth noting the suede-like feel becomes grippier with moisture, making it ideal for hot yoga, but if you're not doing a sweat session, you'll need to moisten hands and feet or spray the mat with water. We did the latter, and simply kept a plant spray on hand for the purpose – far from being a chore, the pleasure of using such a beautiful mat made it well worth the one-minute's effort required. It's machine washable, too (without detergent), so you don't have to worry about dripping sweat onto it.
Eco credentials are good, the mat being free from PVC, silicone and phthalates, and the card box it comes in is even secured with paper-based tape. The set comes with a dual-surface towel in the same print, which you can place over a studio mat or use to dry yourself off during a sweaty class.
Known as a towel topper, it doubles up as a light and easy-to-transport travel mat which, thanks to the tiny rubber beads on the reverse, has a rock-solid contact with the floor. It didn't budge a millimetre when we used it. While you'll have scant cushioning on wood or laminate, it's fine for most poses, but use it on the hotel's carpet and you'll have all the cushioning you need – we'll definitely be taking it on our holidays!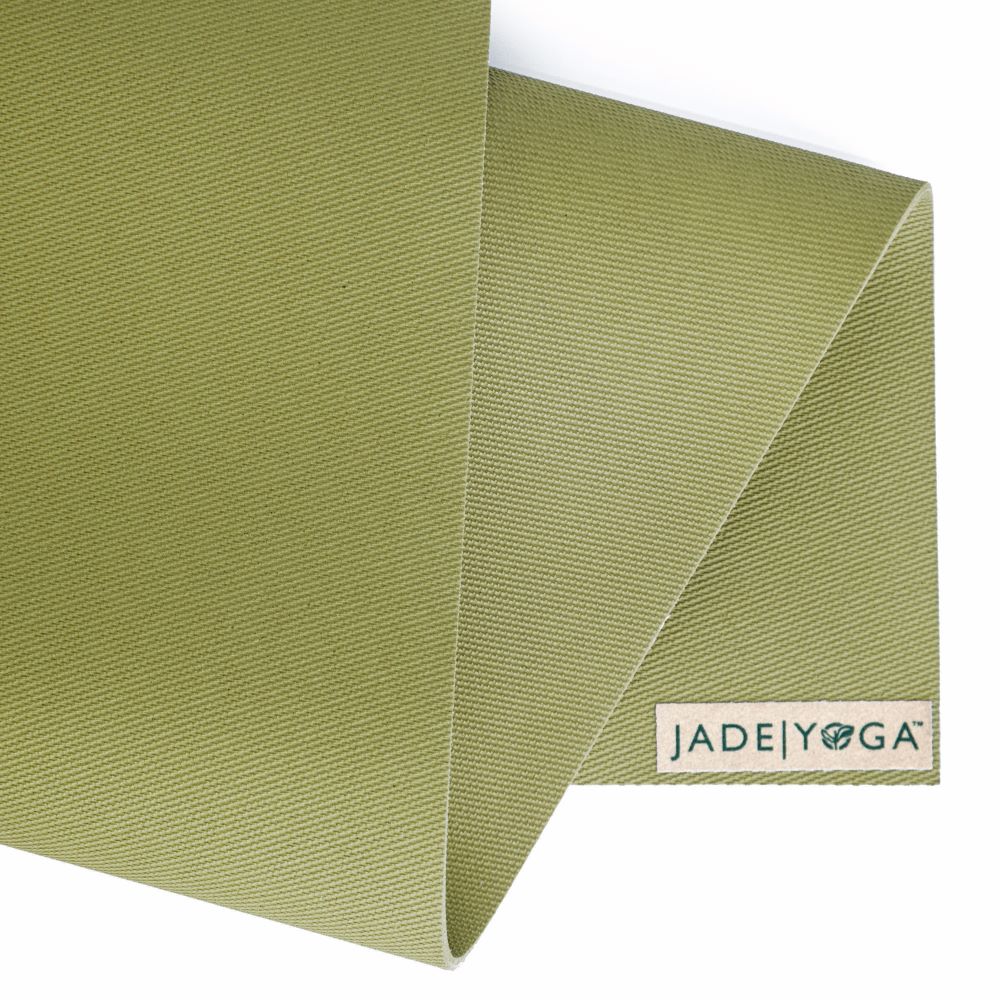 Yoga Studio Jade Yoga Fusion Yoga & Pilates Mat
BUY IT NOW:
£119; yogastudiostore.com
Size: 173cm x 61cm x 8mm
Weight: 3.63kg
Material: Sustainable and natural rubber (from renewable rubber trees)
Best for: Pregnancy, sensitive knees, home practice
Overall: 4/5
Now heavily pregnant with baby number three, our editor is experiencing prenatal yoga in all of its wonderful glory for the third time, and there are certain things that she won't compromise on. Firstly, a grippy mat. So much of the benefit of prenatal yoga comes from connecting with and trusting your body that sliding in warrior II really is the last thing you need. Secondly, a bit of cushioning. When everything aches, you just want to feel supremely supported as you rest back into a wonderfully soothing child's pose; you don't want to feel the ground digging into your knees.
Thankfully, this mat serves up all a prenatal yogi could need. Its luxurious 8mm thickness means that every seated, side-lying and kneeling pose feels nourishing, not niggling. Plus, it is just so grippy that you feel grounded, from sun salutations to savasana. As can be expected with a thicker mat, it's quite weighty, so you may want to save it for your home practice rather than for lugging to class. But joyously, it's also made from a natural, not synthetic, rubber, which not only makes you feel good but also means that this mat smells rather divine. Highly recommended.
*Yoga Studio Jade Yoga Fusion Yoga & Pilates Mat reviewed by Sarah Sellens