Ready to track your workouts with the best sports watch? Leona Gerrard puts five of the latest sports watches and fitness trackers through their paces, to test their comfort, functionality and ease of use…
Being active outside is a game changer for our physical and mental health, no matter the weather. Sports watches can provide us with the motivation and inspiration to work out, but with the huge range on the market, whittling it down to one can be a bit of a minefield.
What exactly are you looking for in a sports watch when it comes to your workout needs? If you're a keen runner who loves to analyse your stats post-run, then perhaps you want something with a heart rate monitor and data analytics that can measure your kilometre/mile splits and recovery period.
Or, if swimming is your sport of choice, you may be looking for something waterproof that you can wear when you do your pool laps or outdoor swim? If hiking and exploring is what you love to do, you might opt for a watch with navigation and a GPS tracker – take that up a notch to a watch that has text alerts, social media and fitness tracking capabilities…the list is endless.
We were keen to find out how easy each of these watches was to set up, pair to our phones and just how seamless the app downloading was. Did this take hours or was it a smooth transaction? How comfortable was the watch on the wrist? Was it easy to use? How attractive was the design? But first, let's look at some key features..
Key features to look for in a sports watch:
Heart rate/sleep monitoring
Today's smartwatches have cutting-edge electrical and optical sensors on the underside of the watch to record heart rate directly from your wrist and can monitor your sleep patterns too.
The other great feature of a smartwatch is that it can detect for potential signs of atrial fibrillation of the heart (by checking for an irregular heart rate) and warn the wearer should there be any cause for concern. Many watches also come with stress level tracking as well as energy reserve tracking.
Navigation
If you're more of a general outdoor enthusiast, or if a Three Peaks challenge is on your bucket list, then GPS tracking is a must – and if you need help finding a route, then a watch with routes could be ideal because you can navigate and check your co-ordinates directly from the watch.
Sports modes
For triathletes or general sports buffs, a watch with the capability to switch between sports modes is key. This is particularly handy if you also do strength training, then head to the sports centre for some swimming training or a brick session, where you might be swimming, running and cycling in one session.
Battery life
You're three miles off finishing the London Marathon when your sports watch dies, or you're about to summit Mount Snowdon when its battery decides to give up. Not what you want to happen!
Long battery life and easy charging is something that many of us may take for granted, until we get stuck in a rut. But it is something that is essential when looking for the best sports watch to track your workouts – especially in case of an emergency.
Which is the best sports watch to track your workouts?
Comfort: 5/5
Functionality: 5/5
Ease of use: 5/5
Out of all the watches we tested, this watch was the most comprehensive in terms of its build, durability and features, making it the best sports watch to track your workouts – but it comes with a hefty price tag. The Polar app was extremely easy to set up and sync, and activities quickly uploaded to Strava upon completion.
The Polar's durable sapphire glass face made running in the rain as well heavy wearing of the watch all day manageable, and we were extremely impressed with the long battery life – it lasted more than a week without needing charging, although it felt a tad heavy on the wrist when worn for extended periods.
The watch also offers turn-by-turn navigation, which is powered by komoot, and you can head out on hikes and walks knowing that you will be guided back to your starting point. The Polar Grit X has global satellite navigation systems, so you can enjoy the great outdoors and accurate positioning wherever you are in the world. Great for runners, hikers, walkers and anyone with a huge sense of adventure.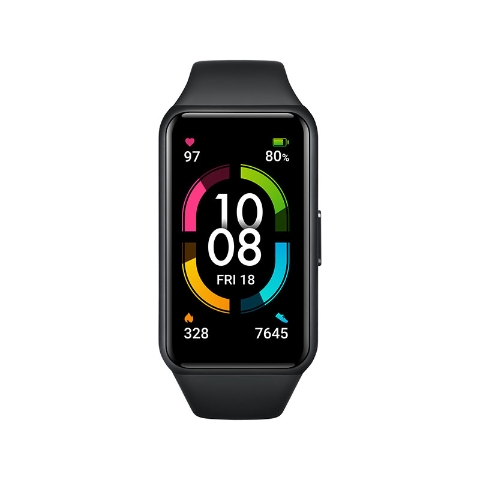 Comfort: 5/5
Functionality: 4/5
Ease of use: 5/5
This is a great entry-level watch that we felt would be suited to runners, although it does have 10 workout mode capabilities, as well as automatic workout detection. It's light on the wrist and easy to wear, with a bright and clear AMOLED display screen, and a user-friendly home screen, with all the key metrics.
You need to install the Huawei Health app, which is quite a busy app but great for analysing your data, and you can also play music with a good Bluetooth connection. The Honor Band 6 has exceptional battery life and we were still on 40 per cent battery after several days of wearing this watch. Super features, user-friendly and a fantastic price!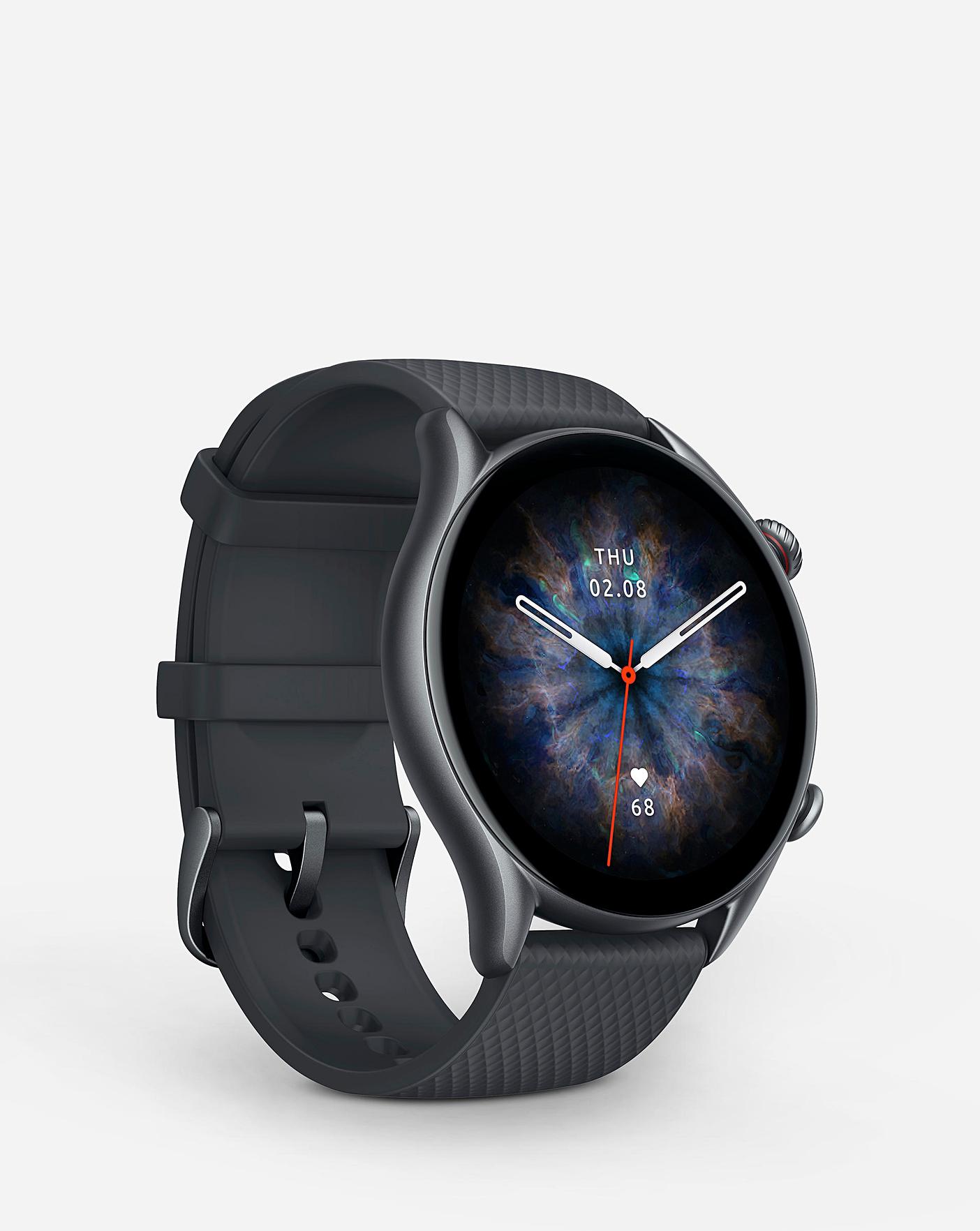 Comfort: 4/5
Functionality: 4/5
Ease of use: 4/5
This mid-range sports watch uses the ZEPP app, which has an array of activities that you can choose from, from e-sports and elliptical training to free training and snowboarding. It has a very busy interface and is supposed to measure blood oxygen, but we struggled to get this function to work.
We used the sleep tracking option for a week, which we found a little inaccurate because it would measure time before bed, which wasn't actually sleep. However, the Amazfit has incredible battery life and lasted for more than a week without needing charging, and we found its design the most appealing out of the watches we tested.
Comfort: 5/5
Functionality: 4/5
Ease of use: 4/5
This watch needs two apps to function, which took some time to set up – the Galaxy wearable app and the Galaxy Watch 4 app, compatible with an Android phone. There's a great selection of watch face options and it's highly customisable, plus there's a useful water lock function for use when outdoors, to stop the screen from getting damaged, which was helpful when we got stuck in a downpour.
An additional feature of the Galaxy4 is that it measures ECG and blood pressure through a separate app, which then sends the data to your phone, plus there's a women's health feature to track your menstrual cycle, fertile windows and ovulation days. We were also able to monitor our stress levels and implement breathing cycles into our day. A super watch for day-to-day fitness tracking and wellbeing.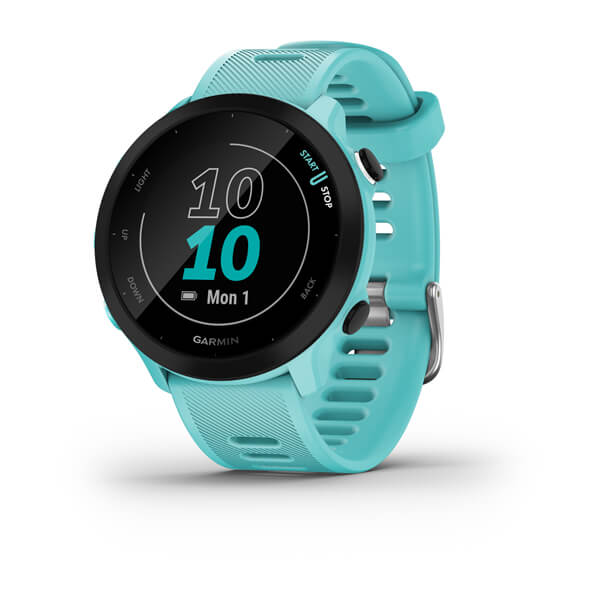 Comfort: 5/5
Functionality: 4/5
Ease of use: 5/5
Set up was seamless and we were impressed with the 'train with Garmin' feature, which helps to coach you on a 5K, 10K or half marathon plan – great motivation for runners of any ability. It also has LiveTrack, which creates a real-time view of your location during activities, so that your friends and family can follow along – an excellent safety feature.
We loved the ease of use when running and syncing to our social media sports app, Strava. The Forerunner features heart rate/stress level monitoring, which displays a graph of your heart rate over a period of four hours and estimates your stress levels according to your heart rate variability, so you can gauge your recovery and 'need-to-chill-out' times! Easy to use, excellent for runners of all levels and lightweight.