The Women's Fitness team put the latest – and comfiest – nursing sports bras to the test to find the best options for active mums…
Whether you're already a breastfeeding mum, or you're currently experiencing pregnancy and planning ahead for the arrival of your little one, there are a variety of factors to consider when searching for the perfect maternity or nursing sports bra: from the level of support and comfort to the ease of access for breastfeeding. If you don't know where to start, we've tried and tested the latest nursing sports bras to bring you the best of the best…
Best nursing sports bras 2023
Keep reading for our full reviews.
Discover the best maternity activewear for pregnant women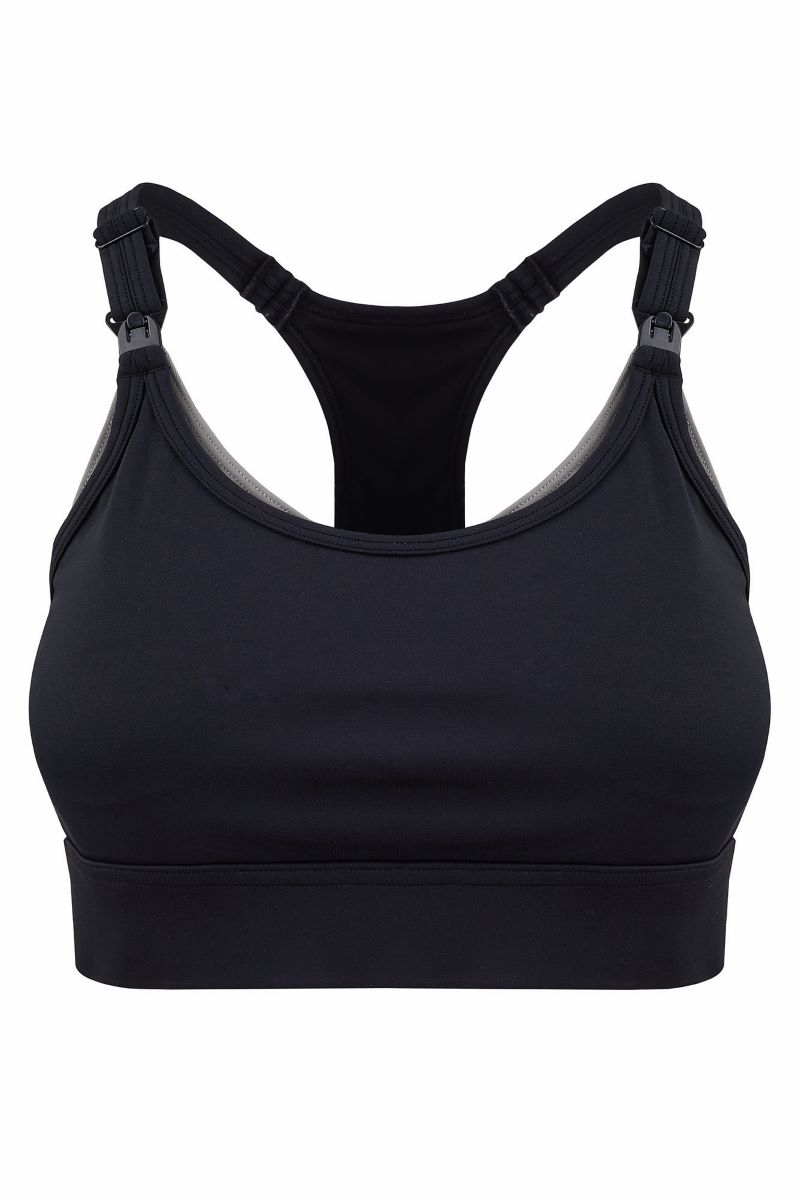 FittaMamma High Impact Maternity and Feeding Sports Bra
BUY IT NOW:
£39.99; fittamamma.com
Comfort: 5/5
Performance: 5/5
This bra stands out in more ways than one. Where other nursing sports bras have fallen short of offering enough support for more vigorous activity, this offers a high-impact support that we really rate for when the time is right to move a bit more. Its adjustable straps mean that it didn't dig in around the shoulders, plus the catches were well placed so there wasn't any chafing (sometimes, the drop-down latches on nursing sports bras can rub).
It also has really easy-to-use drop-down cups for when feeding baby, and comes in a nice hot pink pattern as well as this black/grey option. It's flattering, too – the inbuilt sling fits around the chest in a way that is both sculpting and supportive. Teamed with a wide band and a stretchy fabric, it's clear that FittaMamma has really thought about what pregnant and postnatal women might need.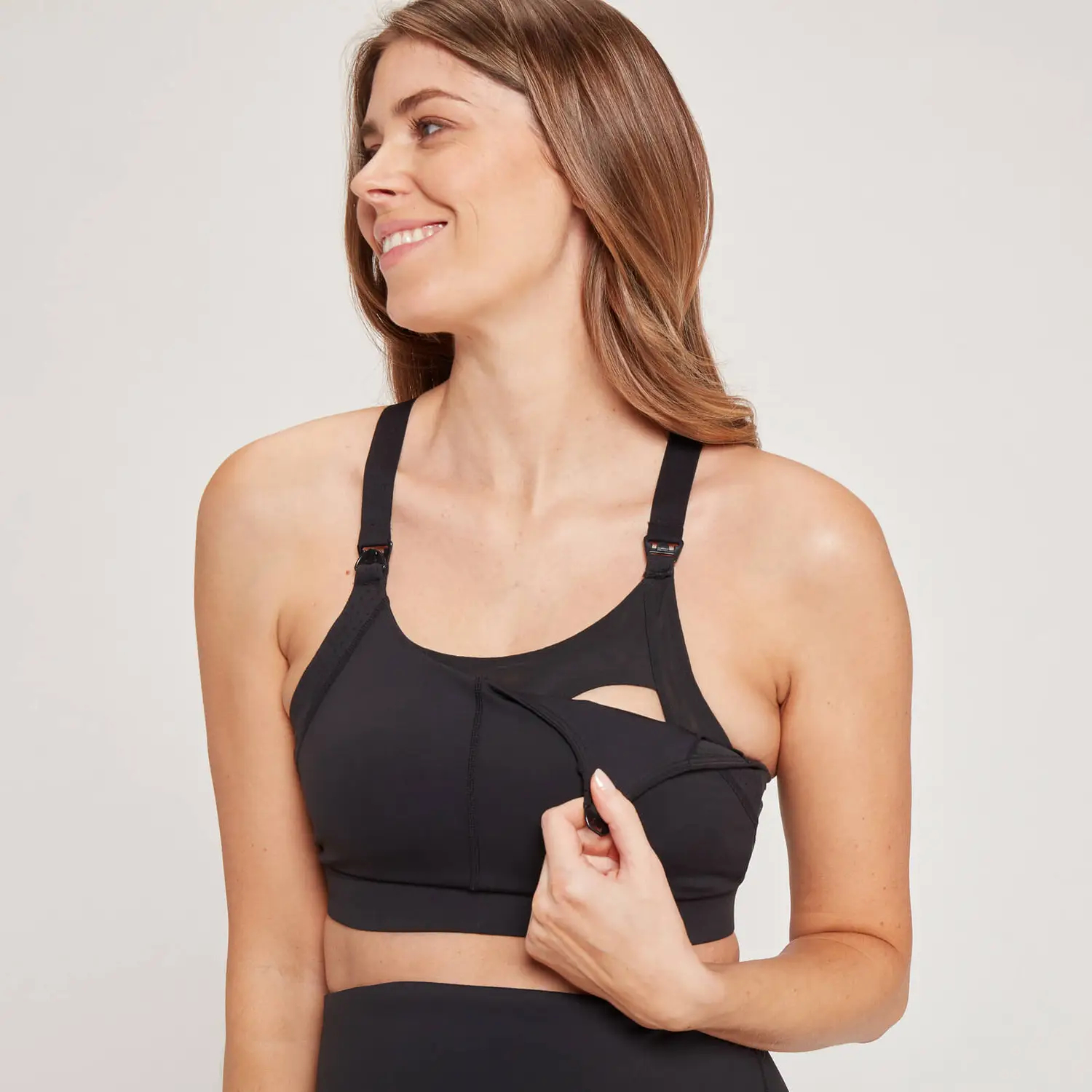 MP Maternity/Nursing Sports Bra
BUY IT NOW:
£40; mp.com
Comfort: 4.5/5
Performance: 4/5
The addition of an inner sling on a nursing sports bra can make it feel more weighty than the sports bras we've grown accustomed to, but not this one. It's perfectly fitted without being too compressive, plus is made from a high-performance and breathable fabric that makes it a great option for sweatier workouts. And even though this bra is said to offer only medium support, we found it to be one of the more supportive bras on test.
It comes with mouldable cup inserts (which we took out as we found them a bit too 'padded') and is available in XXS-to-XXL sizes. A very strong option.
Natal Active Nursing Sports Bra – Artemis
BUY IT NOW:
£45; natalactive.com
Comfort: 4/5
Performance: 4/5
Want more choice when it comes to your pre- and postnatal sports bra? Look no further than Natal Active's collection. Available in four colours – Electic Blue, Hot Pink, Bright White and Jet Black – the Artemis bra has a version to match every outfit. And because your bra size will likely change from trimester-to-trimester and beyond, the addition of a bra extender is a very handy extra.
We love that the wider straps didn't dig into our shoulders, even as our boobs grew, and were impressed to discover that Natal Active also sells Freyja, £45, a nursing sport bra for larger sizes (G-J). A great range worth viewing online.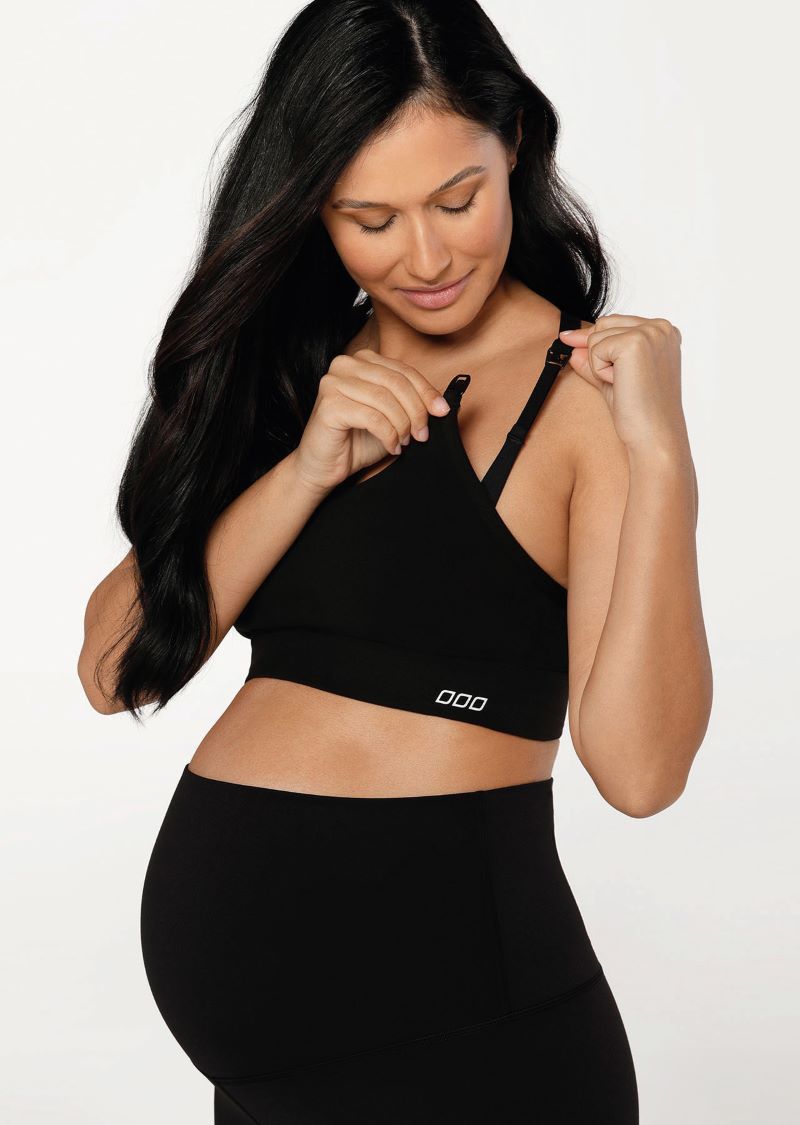 Lorna Jane Nursing Bra
BUY IT NOW:
£52; lornajane.co.uk
Comfort: 3/5
Performance: 4/5
With a fully adjustable back clasp and straps, this is another great bra that will see you through pregnancy and into the postnatal period. As you'd expect from Lorna Jane, it has been designed thoughtfully, with a moisture-wicking fabric that is of great quality.
For those pre- and post-workout feeds, the strap clips are easy to undo and redo. The ample padding in the bra will divide opinion – some will love it for its enhanced comfort; others might find it a bit bulky – but this can be removed if it's not for you.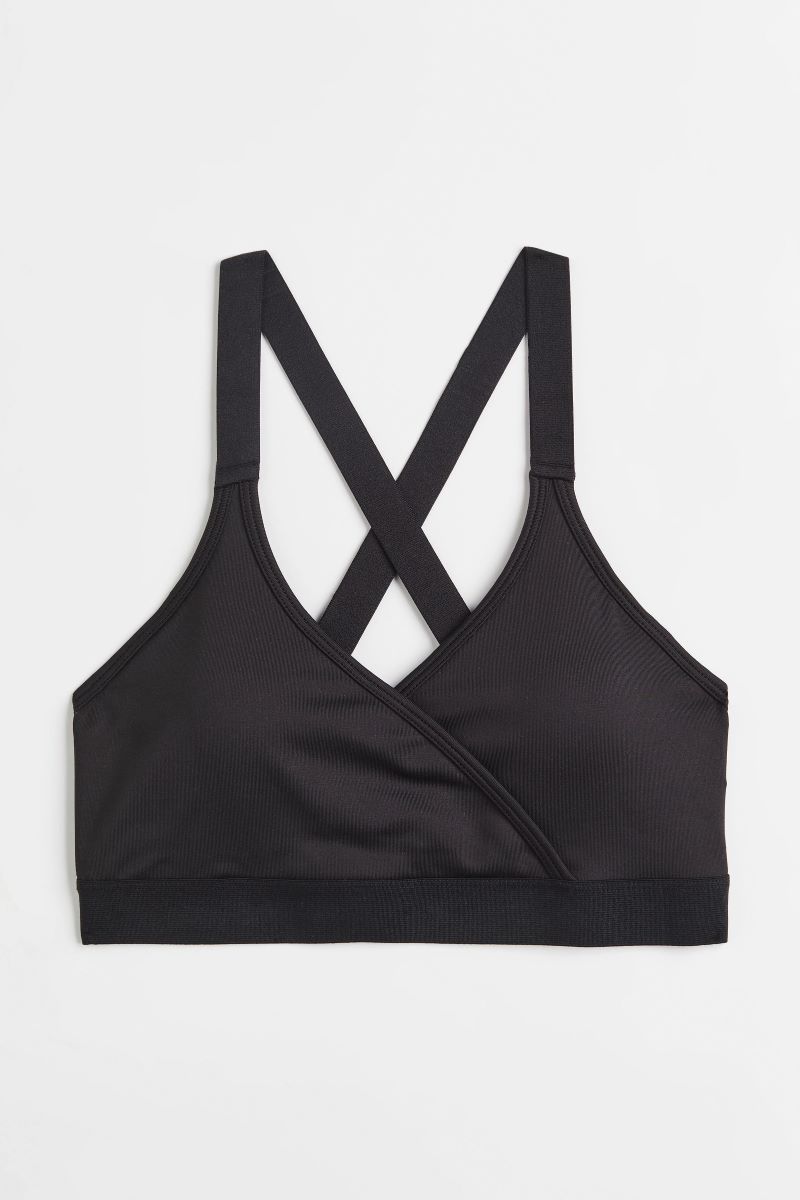 H&M MAMA Nursing Sports Bra
BUY IT NOW:
£17.99; hm.com
Comfort: 4/5
Performance: 3/5
At just £17.99, this is the most affordable nursing sports bra on test. The wraparound style at the front is both flattering and comfortable, and it's got a nice amount of padding that's shaping without bunching up. This bra has a pull-down top layer rather than drop-down clips, so consider whether that's a dealbreaker for you. It's also fully adjustable, with clips at the shoulders and at the back.
Our only bugbear is that the back adjustable clip rubbed against our skin on a long walk, so it might be best to preserve this bra option for light activity such as restorative yoga – or maybe for simply lounging around the house!
Try these exercises to strengthen your pelvic floor after pregnancy