Compression tops promise to improve blood flow during workouts and speed up muscle recovery, but where should you begin? Here are the different options on the market to help you make the right choice…
By Lily Smith
When you think of compression sportswear, you might think of uncomfortably tight tops or skin-tight leggings. And while there are many of these on the market, masquerading as compression clothes, true compression technology works a little differently.
Do compression tops restrict your movement?
Firstly, compression technology will not restrict your movement. In fact, studies have found that the pressure provided by compression wear can improve movement by boosting sensory feedback and increasing proprioception (your awareness of the movements of your body).
This means that the tops will make you more aware of your body, posture and movements. As a result, this helps to improve your performance. Plus, many of these garments feature high-tech fabric with a four-way stretch, giving you a full range of motion as you exercise.
Furthermore, the garments are not actually super tight all over. Instead, compression tops are designed with graduated compression in specific areas to improve circulation.
What's the science behind compression technology?
According to professional athlete and CEP ambassador, Kimberly Morrison:
'The increased flow of oxidised blood is caused by the compression garment exerting pressure on certain muscle groups. This helps to reduce the diameter of major veins and hence increase the pressure, volume and velocity of venous return to the heart.
'This increased blood flow means that more oxygen ends up reaching muscle tissues, helping them heal in order to reduce muscle fatigue.' However, this effect can be quite tricky for compression tops to achieve. Inadequate pressure will not provide any benefits, so it's important to do your research before investing in a compression product.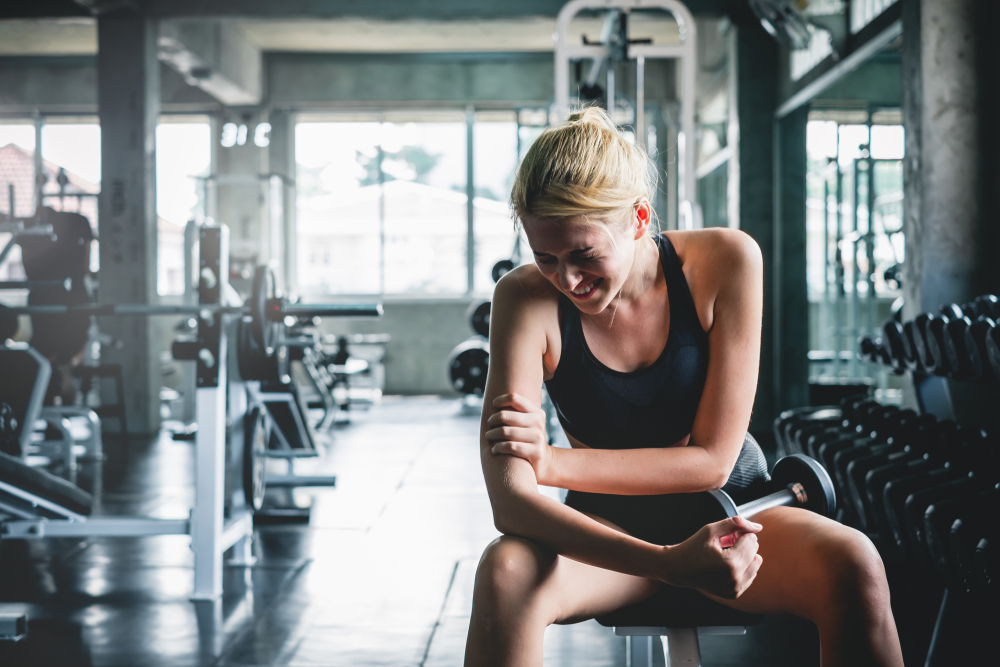 Do compression tops prevent sore muscles?
Another feature of compression tops is that they can reduce the vibration and oscillation of muscles during exercise, by holding the muscles in place.
By reducing this movement, there is less strain on the muscles, meaning you're less likely to feel stiff and sore the day after. For this reason, lots of people use compression wear to speed up their post-workout recovery.
Top tips for getting started with compression tops
Professional athlete and CEP ambassador, Kimberly Morrison, gives her top tips on starting out with compression technology as a newbie…
Measure up: It is important that you measure yourself correctly and get properly fitted garments. This will ensure the compression technology works at its best.
Choose carefully: There are different types of compression garments. Some are made specifically for before workouts, some for during and others for recovery and post-workout. Make sure you pick the right one!
Start slowly: It can take a while for your body to get used to compression technology. When getting started, only wear compression garments for short periods of time at first (between two and four hours). Then, build up gradually over time.
Be prepared: As you continue to use compression technology, be prepared to experience changes within your body. Get ready for increased fitness, flexibility and performance!
Quick change: If you choose to use compression wear designed for post-workout or recovery, make sure that you wear the garments as soon as you can after a workout. This will allow you to truly maximise the benefits.
5 best compression tops for active women 2021
This high-tech top features a comfortable yet effective medium-compression profile. It focuses on improving blood circulation, reducing muscle oscillation and increasing your limb placement awareness to enhance performance and endurance.
I felt super comfortable and supported while exercising in this top. In fact, the thin material makes it feel like a second skin! Plus, the mesh panelling improves airflow to keep you cool.
SKINS creates a range of different compression tops specifically designed to suit different sports. The SERIES-3 top is great for long-distance running, strength training and racket sports. If you're looking for a higher level of compression, try the SERIES-5 top, which is designed to support explosive movements.
This compression shirt features smart 'wingtech' stripes which provide sensorimotoric stimulation to promote an ergonomic posture as you work out. Not only does it improve your posture, but it also improves breathing capacity by aiding the lungs and chest to be more open.
While wearing the top, I could really feel the stripes working to ensure I maintained a good posture, which makes all the difference in a workout. Because this top is short-sleeved, I paired it with the CEP Compression Arm Sleeves for full upper-body compression.
The sleeves, which provide a higher level of compression than the top, support the return of blood from the extremities through a targeted medi-compression profile. This improves power output and promotes faster recovery in the arms. It's the perfect duo for strength training!
This flattering, breathable and comfortable top features a four-way stretch fabric that allows you to move freely as you exercise. The tech-filled top pairs clever compression technology with Far Infrared technology (FIR). This converts thermal energy (produced by your body as you exercise) into Far Infrared and reflects it back to the body.
The garment's fibres then emit a gentle heat, causing dilated blood vessels, increased oxygen and a delay in lactic acid build-up. This, combined with the medium level of compression, significantly improves endurance.
Despite the FIR technology, the top was also great at keeping me cool and dry as I exercised, thanks to the sweat-wicking 'moisture-management system'. Plus, if your workout gear gets smelly easily, this top has a built-in silver antibacterial treatment which keeps it fresh.
This one is not a true compression top like the others on the test, however, it does feature compression panels that are designed to sculpt, support and flatter.
The strategically placed active and passive panels offer mild but effective compression. This gently supports your body to improve posture and prevent sore muscles. It's a good option if you're nervous about trying compression technology for the first time.
Developed specifically for those over 40, Lagatta's activewear is designed to help women look and feel their best while exercising. The moisture-wicking top is incredibly comfortable and looks so elegant on. I felt adequately supported without feeling too compressed.
Plus, the garments are super sustainable. Lagatta composes the fabrics using more than 78 percent recycled yarn from abandoned fishing nets!
With circular knit 360 degree stretch, this top is incredibly comfortable and easy to move in, while also being effective at supporting the muscles through movements.
It's also got flat seams to reduce chafing, and vent panels through the upper back for greater breathability and air flow to keep you at optimal performance temperature. I was particularly impressed by this feature – normally, I'd be boiling working out in a long-sleeve black top, but this one is great at keeping you cool.
Alongside the comfort factor, 2XU has also packed it full of compression technology to reduce muscle movement and improve postural awareness. This top's level of compression did feel lower than other tops on the test. However, you can still feel it supporting your body and muscles.