There are lots of good reasons to run but, whether you want to ward off wind chill, stay dry when it's wet or be seen in the dark, the right running jacket can make all the difference. We've rounded up 5 of the best running jackets…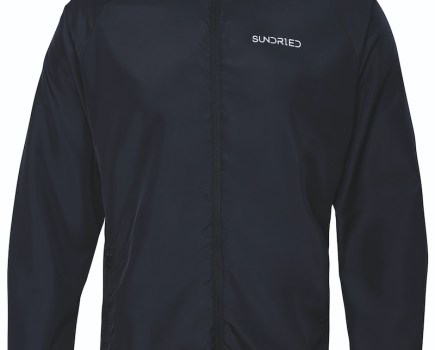 Sundried Grande Casse Jacket, £50, sundried.com
'We active folk get through a lot of kit, so it's really nice to find a brand that's not only created ethically and sustainably, but is also affordable. Sundried is the brainchild of triathlete Daniel Puddick, who wanted eco-friendly kit at a friendly price, and this is the result – a multi-use jacket that's a fraction of the cost of other showerproof coats. It's incredibly lightweight and raindrops simply run off it. However, I found the dropped hem a bit uncomfortable when running. There's a reflective trim on the cuffs and chest, but it is otherwise black and so best reserved for dull but not dark days. It handily packs away into itself, which makes it a great option for long bike rides in unpredictable weather. It's also the only unisex option on test, so you can share it with your partner if he's a similar size!'
Tester: Sarah Sellens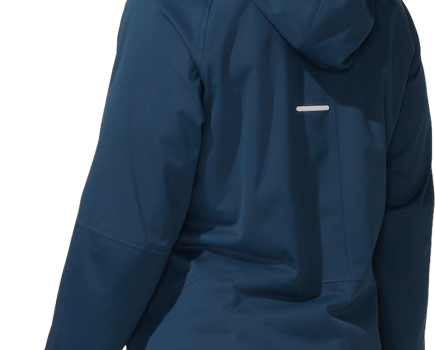 ASICS Accelerate Jacket, £125, ASICS.com
'When running on trails I found that the jacket was wind-resistant as well as breathable. It is lined so that you retain body heat and keep warm, and very lightweight. The material is stretchy, allowing you to move freely. I thought the style was very smart and liked the slim fit.
'There is an elasticated toggle, which you can pull tight to fit around your body, and the hood had a peak, which was ideal for running in the rain. There is a reflective strip on the back and both arms of the jacket had two well-positioned pockets that were big enough for my iPhone, both with zips. A very comfortable jacket.'
Tester: Elsie McCormick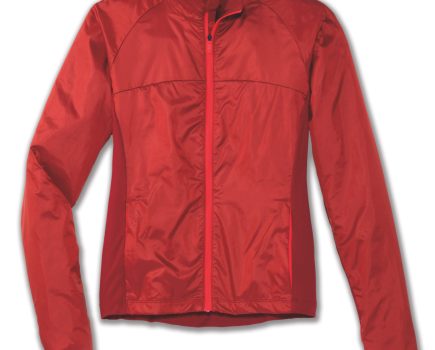 Brooks Fusion Hybrid Jacket, £110, brooksrunning.com
'Designed by American running aficionados, this is the jacket to wear when you're running fast in changeable weather. It has moderately water-resistant and windproof panelling, which will keep light rain off exposed areas (your chest, shoulders, arms and upper back), but it doesn't have a hood to keep drizzle off your face. The non-panelled areas, such as the underside of the arms and sides of the torso, are covered in a stretchy fabric that moves as you do – great for speedy running. It comes in an eye-catching dark red which, teamed with its semi-fitted cut, creates a truly stylish number.
'There's a pocket for everything – a zipped pocket for your phone at the side and a pocket on the underside for stowing the jacket away when the sun comes out. After a sweaty interval session done in wet weather, I was extremely happy to stuff the jacket into its pocket and wear it as a backpack for the cool-down run.'
Tester: Sarah Sellens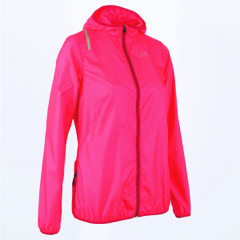 Kalenji Run Wind Women's Running Windproof Jacket, £14.99, kalenji.co.uk
'I love the bright colour of this jacket – it's perfect for the darker autumn days. The fit isn't too tailored, so it sits well over a couple of layers. The hem, cuffs and hood are lightly elasticated; there's no option to tighten them, but they were perfect for me. There is a thin reflective stripe over one shoulder, but I would have liked more.
'The single pocket, on the back right hip, is big enough for a phone, keys and a face mask. When I was running, it bounced around quite a lot. It's a clever pocket though because the whole jacket packs into it. There's a thick elastic strip, which means you can pop it on your wrist or attach it to your running belt.
'The jacket was a perfect weight, and was light and comfortable. It didn't rustle when I ran. It was waterproof in light rain, but in very heavy rain some water came in the ventilation slit on the back of the jacket. Light, practical, comfortable and packs down really small. I know I will use this repeatedly during my autumn runs.'
Tester: Juliet McGrattan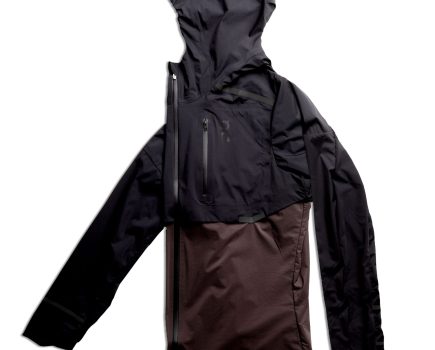 On Running Weather Jacket, £190, on-running.com
'Created by the Swiss sports company that founded the unique CloudTec shoe technology back in 2010, this lightweight coat is part of its popular apparel range. With the company also being based in Yokohama, Japan, it's hardly surprising that this jacket boasts high-tech Japanese fabrics, which give it a great amount of ventilation and make it feel super-breathable on fast, sweaty runs. Although there are taped seams around the pockets where you might put valuables, not all seams are taped and so you will get damp if you go on very wet runs – it's ideal for a little drizzle. It's got a lovely fit and is incredibly comfortable to wear when warming up – I hardly noticed it was there, but then it does weigh a mere 219g. It is also one of only two coats on test to have a drawcord around the hood and hem, which means it will keep rain off your face and won't ride up.'
Tester: Sarah Sellens