Walking on the beach can blow away the cobwebs and clear your mind – and what's more, striding across sand has bonus health and fitness benefits too, as our writer Katherine Watt explains…
The benefits of walking on the beach have been the subject of Exeter University's Blue Space Project – a UK-wide survey to discover whether living by the sea boosts your health and wellbeing. 'We looked at a census of 48 million people, their distance from the coastline and their self reported health,' says environmental psychologist Mathew White.
'It showed that living closer to the sea made you healthier. Three main reasons are that people relax more by the sea, which lowers blood pressure; they take more physical activity, strolling along the beach and coastal paths all year round; and they have more positive social interactions to boost brain health.'
This ongoing research will go toward building the case for the Marine and Coastal Access Act, which would see a path built around the entire UK coastline so people in all regions can enjoy the health benefits.
Wherever you live in the UK, you're never more than 70 miles away from the coast – often much less – so read on to discover the key health and fitness benefits of walking on the beach…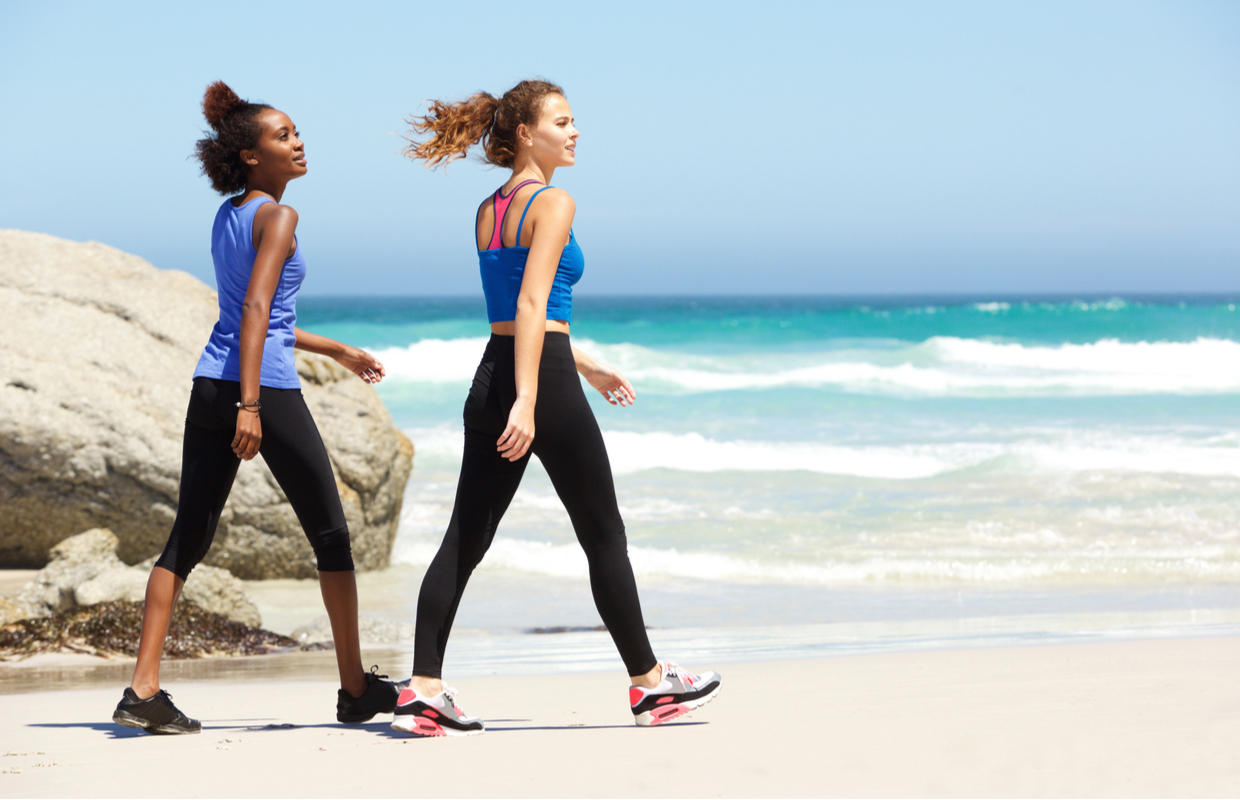 5 health and fitness benefits of walking on the beach
1. You burn more calories when walking on sand
Walking on sand enables you to burn 2.7 times more energy than walking on a solid, flat path, as your body requires more effort to lift your feet out of the loose surface.
This means that while your usual 30-minute walk burns around 170 calories, a half-hour seaside stroll can burn more than 400. Coupled with the fact that your basal metabolic rate – the number of calories you use daily, even at rest, to keep your body functioning – increases in colder temperatures, a short winter walk along the beach could help you walk off any extra weight.
2. Walking speeds up your digestion
A post-meal meander quickens your digestion and helps regulate your blood sugar levels. One German study tested people who'd had either a digestif, a coffee, or done a slow 20-minute walk, and found that the latter experienced signifi cantly quicker digestion than those who'd had the drinks.
Another study looked at blood sugar levels of people who walked for 20 minutes, 15 minutes after they'd eaten, and found their glucose levels were lower than those who hadn't walked after they'd eaten.
3. Walking on the beach boosts your immune system
The air beside a body of water is filled with health-boosting negative ions. These are formed when water particles crash together and cause oxygen atoms to gain an extra electron. It's said that when the air has anything above 50,000 negative ions per cubic metre, it's so pure that germs can't survive.
This purer air quality is not only better for your lungs, but stimulates disease-resisting cells in your immune system. Considering that seaside air has around 70,000 negative ions per cubic metre, it's the perfect place to take in these 'vitamins of the air'.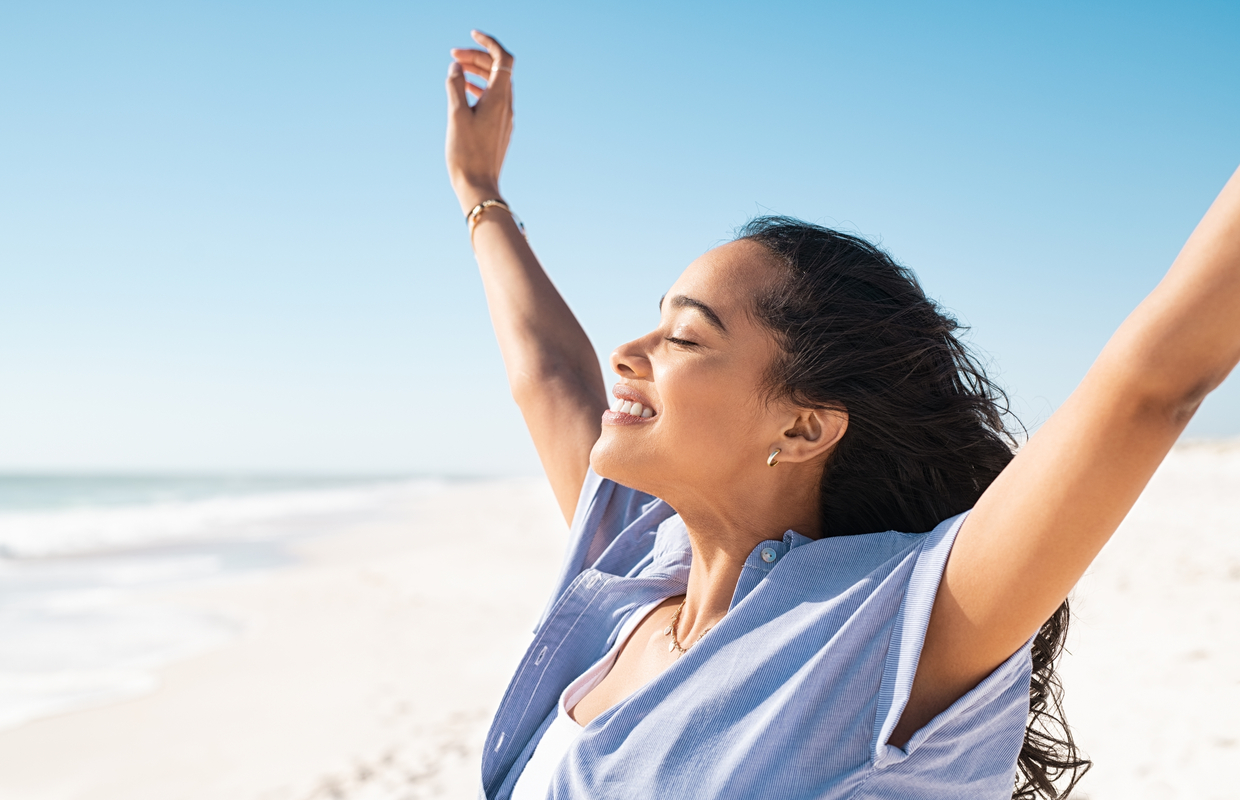 4. Sea air improves lung health
Sea air keeps your lung function healthy as it has been proven to thin any mucus by breaking it down. This is thanks to the salt air's natural antibacterial properties, which reduce coughing by clearing irritants from your airways, and decrease sinus pressure due to the decongestant effect.
People have also used salt water for thousands of years in spa towns around the coast, such as Brighton and Bexhill, where you'll find centres dedicated to thalassotherapy – the use of sea water to cure health issues. One such treatment is the use of saline steam baths to ease lung problems.
5. Listening to the waves can reduce stress
If you're feeling overworked or have a lot on your mind, taking a break to wander amid the sounds of crashing waves could be just what you need. Californian scientists found that when people listen to the sounds of the sea, the same neurons in their brain light up as when they are engaged in deep meditation. When you attain a relaxed state like this, you produce less of the stress hormone cortisol, and your blood pressure naturally decreases.
Best coastal walks around the UK
Improve your fitness while exploring stunning landscapes with these coastal walks around the UK…
Scotland
The wide beaches of Balnakeil Bay in Sutherland, the Highlands, provide lots of opportunity for calorie-burning power walks. Shifting sand makes your legs work harder so you'll tone up faster.
North England
With dramatic sand dunes and the surrounding pinewoods, Formby beach in Lancashire is a great location for giving your glutes and thighs a thorough workout.
Wales
Walks along the Gower Peninsula are stunning, particularly when you get to the Worm's Head at Rhossili, where the waves crash against the rocks. Breathe deeply for a boost of negative ions!
South England
At Bolberry Down in Devon you can stroll along the sand or choose the grassland paths, where you'll hear a meditative mix of calming waves and the sound of wind rushing through the long grasses.
East of England
Essex contains the longest stretch of coastline in the UK, providing plenty of seaside walking opportunities. Most of it is flat, too, so it's perfect for jogging, such as at Bradwell-on-Sea.
Words: Katherine Watt | Images: Shutterstock