Take to the piste to discover the thrills and skills of downhill skiing with our expert advice for total beginners…
By Fiona Russell (Photography: Getty Images)
There is little to beat the exhilaration of skiing downhill on light, creamy snow. Carving skilful zig-zags, a good skier remains in control yet still experiences the adrenaline rush of a high-speed descent on the white stuff.
It takes guts, strength and fitness to become a safe and expert skier, especially if you want to tackle ever steeper slopes. And yet, anyone can give this exciting winter sport a go. So, how should you get started?
The best approach is to take a course of lessons, learning the basics from the more accomplished, and then head to a slope – indoors, outdoors or artificial – to practise the techniques.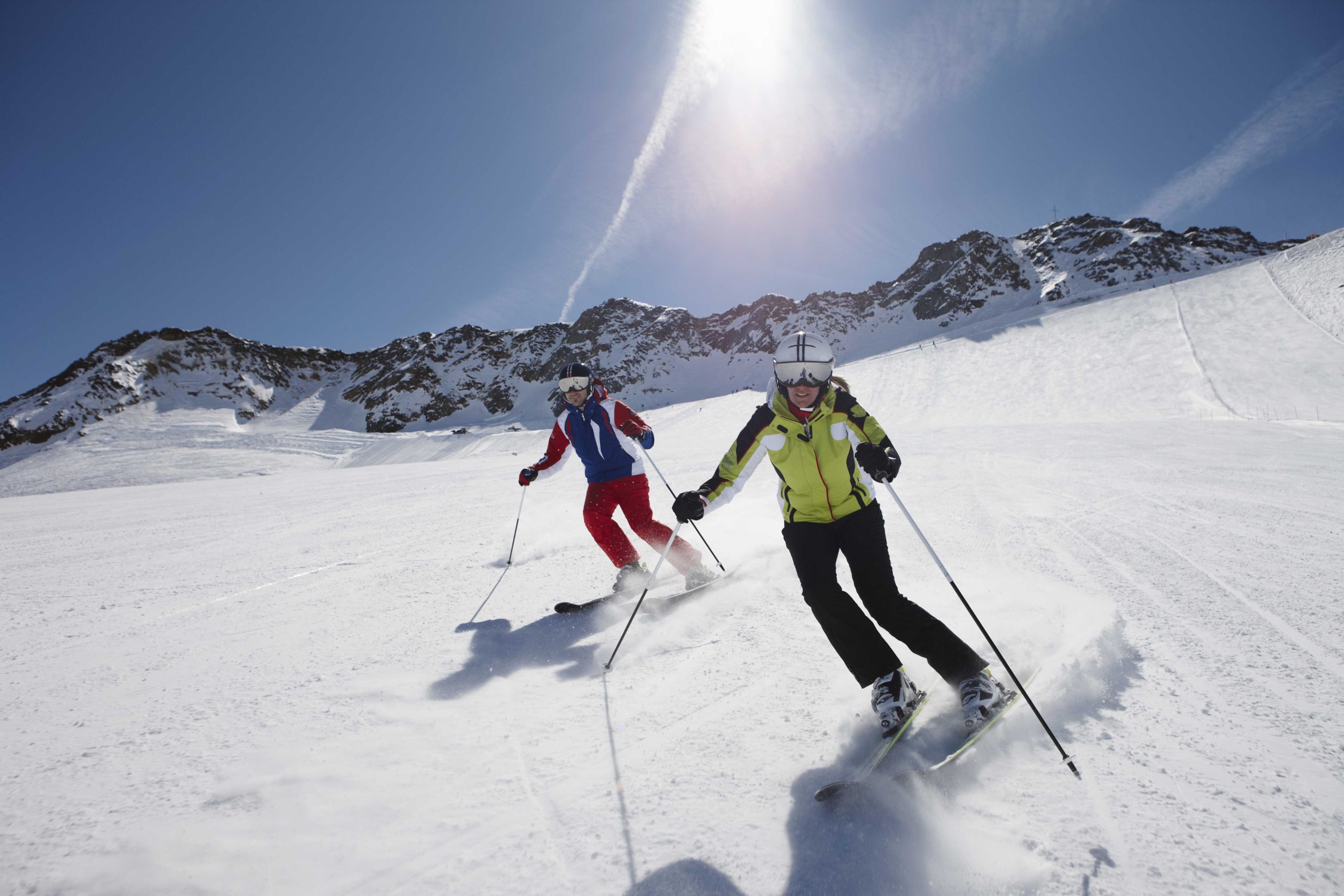 Getting started with skiing as a beginner
What started as a vital mode of winter transport in snow-prone countries many thousands of years ago has developed into a popular leisure activity. Today, skiing is enjoyed worldwide by people of all ages and across a broad spectrum of abilities.
For the majority of skiers, especially newcomers, the focus of the sport is a ski resort where you can take advantage of a network of mechanised lifts and groomed slopes.
A resort map looks a bit like a snakes and ladders game, with uplifts – including funiculars, gondolas, chairlifts, pomas and travelators – going uphill and a range of graded slopes showing you the way downhill.
For a skiing beginner in the UK and Europe, there are green 'nursery' slopes – or pistes – with gentle gradients that are usually located at lower altitude. From green, skiers progress to higher altitudes and onto longer and steeper blue slopes.
The next step up for more experienced skiers is the red-graded pistes and then black grades. These include more sustained sections of steeper and trickier slopes. In the US and Canada, the grading system is similar, with green, blue and black diamond ratings.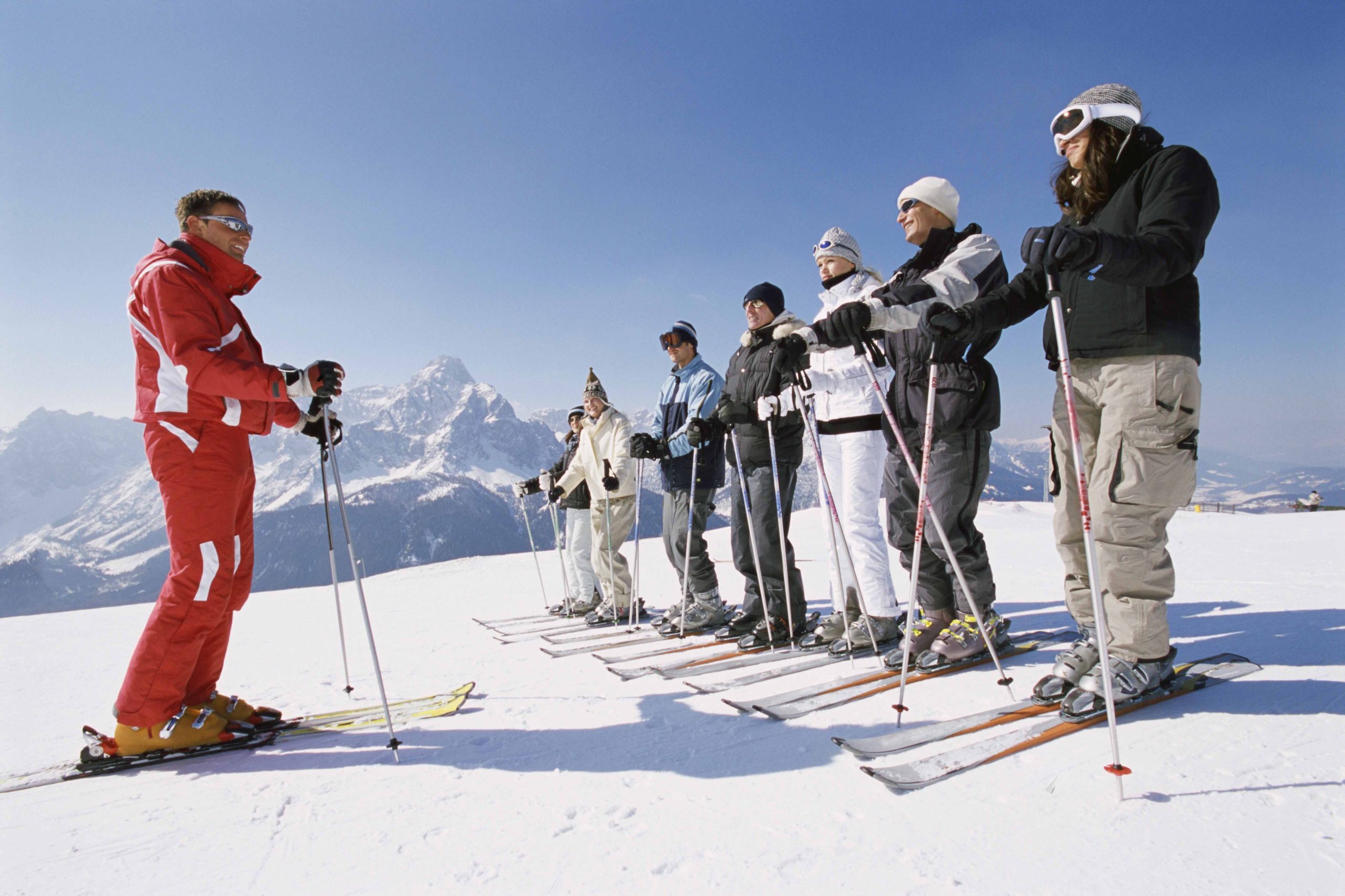 Booking your first beginner skiing lessons
For safety and the rewards of progression, it's recommended that skiing newcomers sign up to a taster session and a course of lessons.
'In the first instance, it's important to become familiar with the skiing equipment in a safe and controlled environment, such as on an artificial slope or at an indoor snow dome,' says Lesley McKenna, an accomplished skier and snowboarder, triple Olympian and a BASI instructor.
'The beginner slopes at UK and overseas resorts are usually on gentle slopes and in areas sheltered from the weather.'
'You should learn what it feels like to wear stiff ski boots and to be attached to long skis. You will also become more used to moving about with ski poles, wearing gloves, a helmet and goggles,' McKenna adds. 'As you get to grips with all the equipment, you will naturally gain confidence.'
What will I learn in a beginner skiing lesson?
Lessons cover the basic skills of how to stop, controlling speed and turns on a range of slope gradients. Skiers will also be taught about body position and the use of poles.
'Learning the basic techniques in a confidence building environment is very important,' adds McKenna, who is also co-founder of Wandering Workshops in the Scottish Highlands.
'It could be easy to be put off by going too fast, or skiing without control on steep slopes, before you have learnt the building blocks of good technique.
'Then, after that, it's a case of practising what you have learnt. Being confident in the basics helps you progress to steeper slopes and to negotiate less perfect conditions or difficult weather.'
What's the standard? If you're looking for expert ski instruction in the UK, look for BASI-qualified instructors. BASI stands for British Association of Snowsport Instructors.
Getting ski fit
To get the most of skiing, especially if you want to be able to ski day after day on a holiday, you should aim to be in good shape physically.
'Skiing is hard work, especially when you are learning. The equipment can feel cumbersome and you will be challenging muscles, as well as being required to get yourself off the ground if you fall,' says McKenna.
'Hip, knee and ankle mobility are especially important, so you could try yoga. CrossFit and circuits classes will also help to strengthen skiing muscles such as the core, quads, glutes and hamstrings.'
McKenna also recommends other activities as being good workout partners to skiing. This includes dance, gymnastics and ball games. 'For example, volleyball is ideal for helping with coordination, movement, bending, stretching and strength,' she says.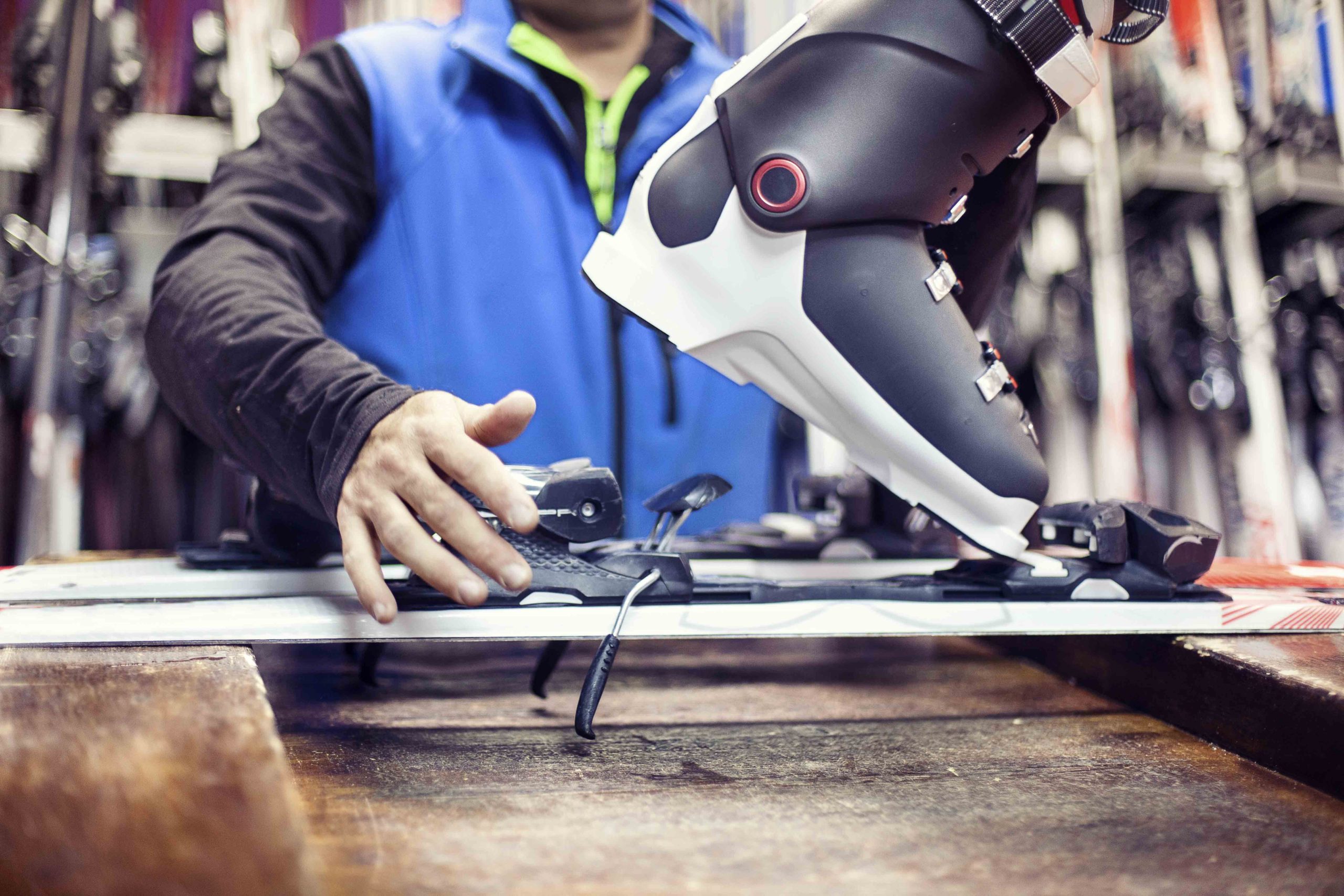 What skiing kit should I buy as a beginner?
When starting out, new skiers are advised to hire equipment, including skis, boots, poles and helmet, before committing to the expense of buying your own kit. 'Most ski centres and resorts have equipment to rent. You can then decide if the sport is for you,' says McKenna.
'From there, I'd recommend you buy good quality and professionally fitted ski boots. Make sure you have the perfect footbed, too, for the best stability. A helmet, goggles, nice warm socks and ski gloves or mittens are other items for comfort and safety.'
For versatile warmth on the ski slopes, you are advised to layer clothes. Several thinner layers, including a base, a fleece or lightweight insulated jacket, and a wind- and waterproof outer shell jacket allow you to add and subtract items for optimum temperature.
McKenna also recommends skiers carry a small rucksack: 'I always carry a pack so I can add spare layers, take spare gloves because they always end up wet, and take snacks and water with me.'
The recipe for a perfect skiing day includes the ingredients of fresh snow, a bright blue sky and the company of enthusiastic friends. Once you have experienced this, the chances are you'll be addicted for life.
Where can I ski in the UK?
Where can you learn to ski in the UK? There are dozens of artificial ski slopes and indoor snow domes across the country. You can find out the locations through three organisations: Snowsport England; Snowsport Scotland; and Snowsport Wales.
When the snow comes, the snowsports schools at the UK's ski resorts offer the ideal arena for learning to ski or for strengthening your skills. In Scotland, the five main resorts are Cairngorm Mountain; Glenshee; Glencoe Mountain Resort; The Lecht 2090; and the Nevis Range Mountain Experience.
Smaller ski centres can be found at Weardale Ski Club in north-east England; Yad Moss in England; and Lowther Hills in southern Scotland.