With Wimbledon underway, we hear from Britain's highly successful tennis player, Jordanne Whiley, who gives us a glimpse into her world…
By Emma Lewis
Catch Jordanne Whiley's first Wimbledon match TODAY on BBC1!
Jordanne Whiley's early days in the sporting world
'I grew up in the West Midlands and first held a tennis racquet at the age of three. My dad was competing in a tennis tournament in Israel [Keith Whiley is a Paralympics athletics medallist who then took up wheelchair tennis]. I was in a wheelchair as I was born with brittle bone disease like my dad. But, someone spotted my swing and thought I was a natural! I started going to development camps from the age of four, then I was talent spotted by the LTA aged 11. My mum was a county swimmer as a kid, so I guess I have some sporty genes!'
'I do strength sessions in the gym, but also a lot of shoulder health because of being in a chair, plus some cardio. Strength sessions are about 45 minutes long, three times a week with a PT and involve a lot of dumbbells and cable machines. There's minimal rest between moves to add some cardio. I'm not a fan of cardio! Since I can't run or row, I mainly do my cardio work on court in my chair doing things like timed intervals. Coached tennis sessions are four times a week for four hours and I'll often play with other team members. Physio and sports psych sessions are every Tuesday.'
'I'm more than a doubles player so I feel like I have unfinished business with singles. I'd like to take home the Wimbledon singles and doubles titles this year, and my life goal is to be on the singles podium in a Paralympic Games! Diede de Groot, Aniek van Koot and Yui Kamiji are my main rivals. But, it'll also come down to how adaptable I am to the unknown circumstances [due to Covid].'
Life outside of the tennis world
'At the weekends, I like to spend as much time as possible with my three-year-old son Jackson. We love baking together. My fiancé is one of my coaches. We met when he was a player, but he retired after Rio and became a coach at the LTA. When I'm at home, I don't use a wheelchair but when I go anywhere that would require me to walk for long periods, I'll use a chair. I'm also a qualified mortgage advisor.'
'I've been working with the team nutritionist to lose weight. I've lost 4kg in the past six months and want to lose another three. He advises me on foods to eat (for example, swapping white carbs for wholegrain carbs), when to eat them (anything carby before a match, then protein such as red meat or chicken afterwards) and what kind of foods to avoid (swapping cake for fruit). I'm allowed to have treats so it's strict seven days a week, but moderation is the hardest part and I boredom eat…'
'Jackson was born in January 2018 and I thought I'd struggle to get back into matches afterwards because I was so unfit. I'd put on two stone and had 18 months out of the game so I wasn't that sharp, and there were new people coming up through the ranks, plus the game had changed a bit. I think I won the Daegu Open Women's Singles title [in April 2019] because it was more of a mindset thing. I was much more grounded and quite chilled.'
Jordanne Whiley's achievements
Aged just 29, Jordanne Whiley already has way too many successes to list. Here are the most notable…
She has 17 singles titles and 42 doubles titles.
Jordanne Whiley is a 12-time Grand Slam tennis champion.
She's a double Paralympic medallist (both bronze in the women's wheelchair doubles with Lucy Shuker).
In 2007, aged just 14, she became Britain's youngest ever national women's singles champion.
In 2014, Jordanne Whiley and her partner Yui Kamiji of Japan achieved a calendar Grand Slam by winning the wheelchair doubles at the Australian Open, the French Open, Wimbledon and the US Open.
With the above Wimbledon win, she became the first British woman to win a wheelchair tennis title at The Championships.
She was awarded the MBE in the 2015 Queen's Birthday Honours list.
Find out more about Jordanne Whiley at jordannewhiley.co.uk.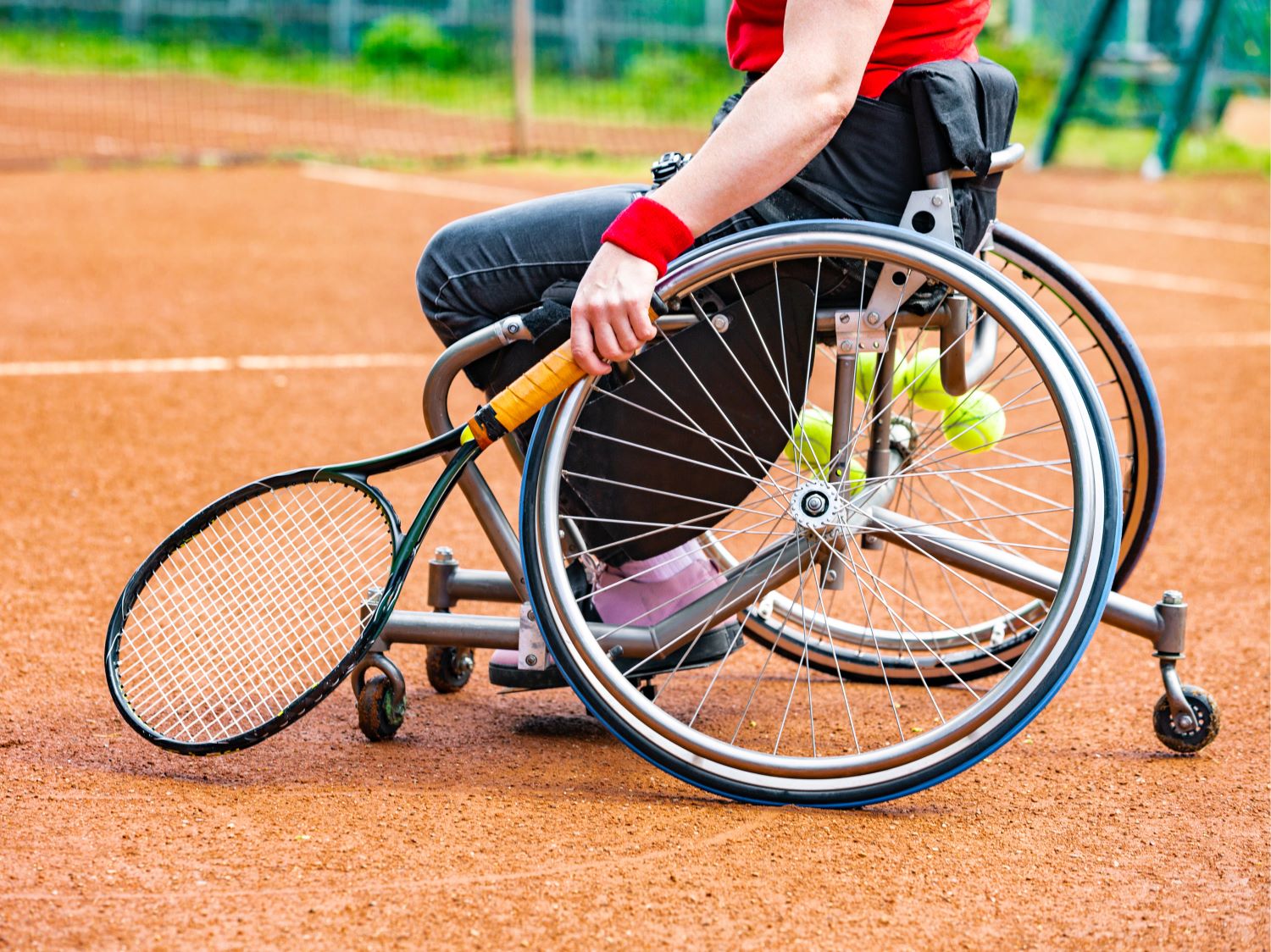 Quick wheelchair tennis facts
The court size, net height, balls and racquets are the same as in traditional tennis.
A player can let the ball bounce twice before returning it. The second bounce can be inside or outside the court boundaries.
Matches are the best of three sets, with a tie-break settling the sets.
The server must start off stationary, but is allowed one push of the wheelchair before striking the ball.
Players lose a point if they use any part of their feet or lower extremities against the ground or awheel while serving, striking a ball, turning or stopping while the ball is in play or if they fail to keep one buttock in contact with the wheelchair when hitting the ball.