Do you need some extra motivation to step up your walks? Maybe you should get a PT (that's a pooch trainer!). We take a closer look at why dog walking (and running!) is such a good form of exercise, before sharing some top tips to help you reap the fitness benefits…
Imagine you had a live-in fitness guru who could encourage you to get outside to walk and maybe even jog a couple of laps around the park? If you've got a dog, you're already there! From a potter round the park to 'dogfit' classes and even Canicross clubs, more of us than ever are discovering that there's more to be had from ordinary walkies!
'Having a dog is great encouragement to move more. Daily walks help to create a healthy habit where it becomes natural to get outdoors,' says Rachael Woolston, founder of the online women's coaching community, Girls Run the World. 'You could even build on this to go on regular "runsies"!'
Is dog walking good for weight loss?
For example after putting on a few pounds, Stephanie Goodrich, 40, from Shropshire, thought it was time for both her and her four-legged friend, Misty, to improve their fitness. 'Together, we did a Couch to 5k programme and I've just signed up to my first 10k race. I hated running at first but knowing I was doing it to help Misty lose weight too got me out of the door. Now my clothes fit, I breathe better and there's a huge sense of achievement from each run. And Misty's lost four kilos!'
Most dogs love to pick up a pace around the block – and they get even more of a exercise high than humans do, according to a study from the University of Arizona. 'It's also great for their musculoskeletal health and creates a real bond between you,' says Jenny Lee from
canine exercise and personal training service, Joggy Doggy (@joggydoggyltd). And if you don't have a dog of your own, why not go with a pooch-owning friend?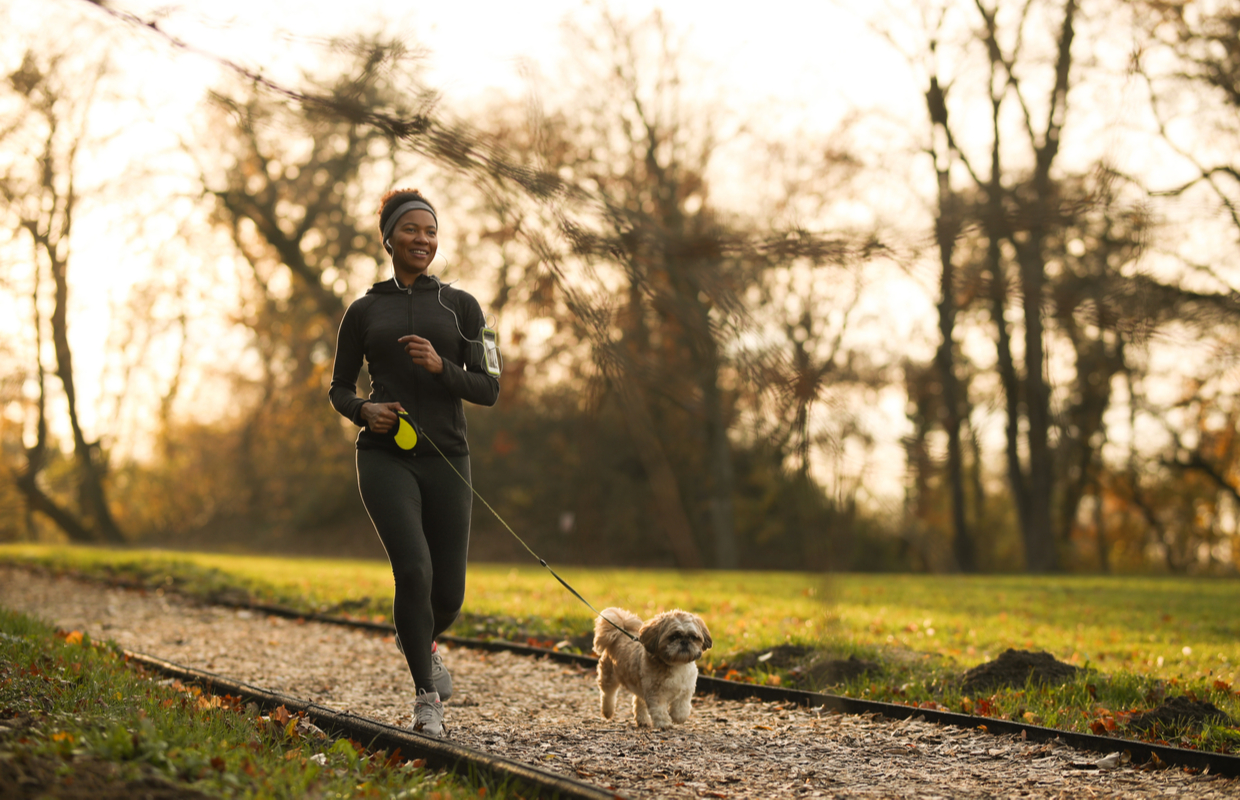 Getting started with dog walking (or running!) for fitness
Set out at a pace you can build from. 'For example you could start by running for two minutes, then walking for one minute, and repeat 10 times,' says Rachael. After three weeks, you can build up your pace by including different types of sessions, so that each outing feels fresh.
Fartlek, where you choose a point to sprint to, jog to recover, then repeat, is a fantastic way to improve your speed and fitness, and works brilliantly with a dog because you can make it part of their play. As long as your dog is well trained and you're not near a road, you can do Fartlek by throwing a ball and trying to reach it before your dog does. Then, recover from the sprint, pick up the ball and repeat.
Explore off-road routes with your dog
'Having a dog can give you the confidence to explore off-road routes, which will help to build your endurance, and tone your legs, bum and core,' says Rachael. 'If you don't know of any trails, use a phone app such as OS Mapfinder, which will allow you to map a route first and then uses GPS so you won't get lost. Stick to three miles to begin with because any hills will make it seem harder, especially if you're jogging, although you can use your dog's strength to help pull you up the slopes.'
Try a dog walking club or sign up to a race
Canicross is a fast-growing sport that mixes cross-country running and dog-sledding. There are clubs across the UK, so it's a brilliant way to pound the trails as a pooch-powered pack. Or you could take part in a Canicross race, with your dog leading you to your fastest time ever. (See more running races for you and dog below!)
With the dog running ahead, the runner guides the hound, often calling out the same terms mushers would use to drive a sled, such as 'go gee' or 'go haw' for go right or go left, 'hike on' for more power and 'line out' for stand still. Although dog and human run at the same pace, the added pull propels you so you build speed.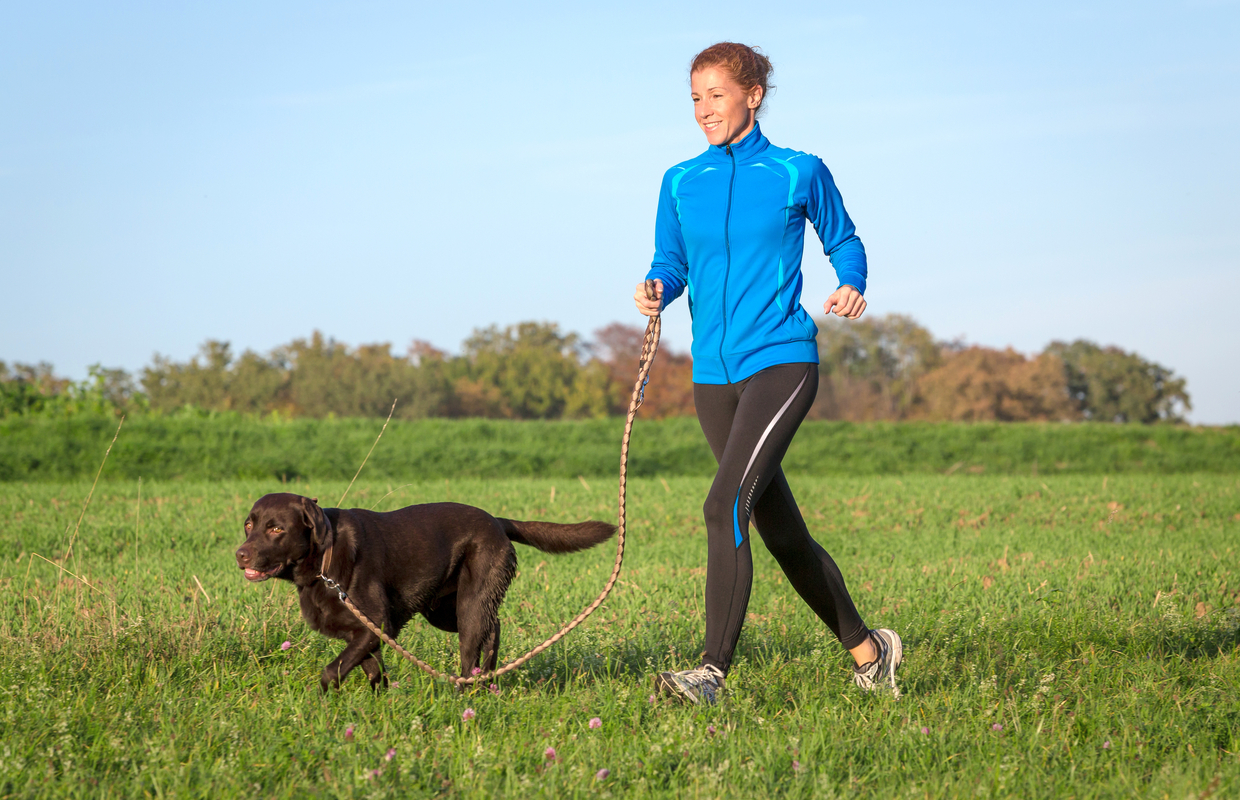 5 tips to prepare your dog for a walk or run
Choose the right speed and distance for your dog
Not all dogs will be suited to longer walks or runs. Collies, retrievers, and labradors may enjoy slower paces at longer distances, whereas greyhounds and sheep dogs are better built for short sprints. Stick to walking if you have flat-nosed breeds, those with short legs, or dogs prone to joint problem
Build up your dog's fitness
'Dogs need to train for fitness just as humans do, so build up distance gradually, and avoid running until they're at least 12 months old to avoid damage to their young bones,' says Jenny.
Stay hydrated
Carry water or choose a route with natural watering holes and fuel your furry friend with good-quality food
Time your dog's feeds correctly
Avoid feeding your dog an hour before or after a long walk or run, as it could cause stomach pain.
Use the right gear
Specifically for Canicross you'll need a harness that goes over their chest and shoulders, a bungee leash and a waist belt. Try a Canicross Starter Kit (from £89.99). And protect paws from rough ground with a special wax such as Mutney's Paw Wax (£9.95).
The best UK running races for dog walkers
Words: Andrea Childs | Images: Shutterstock