Carla Molinaro ran from Lands End to John O'Groats and smashed the current women's world record. Christina Neal finds out why and how she did it and why some of her fuel consisted of pizza and sausages.
Imagine having your races cancelled due to the pandemic, then plotting your own challenge. Nothing unusual about it but running coach and sports masseuse Carla Molinaro decided to make it a challenge to remember. The 36-year-old ultra-runner from Buckinghamshire decided to run from Land's End to John O'Groats, covering an average of 70 miles in 12 days. She completed the incredible challenge earlier this week, smashing the women's world record by more than ten hours, completing it in 12 days, 30 minutes and 40 seconds, finishing in the early hours of Tuesday 28 July. We caught up with her to find out what the inspiration was behind it and how she coped with the endless mileage and the pain that came with it.
You already have a strong background in running. What's the appeal of doing these long races and marathons for you?
I love to see what my mind and body are capable of and every time I do something it gets a bit harder and I am amazed that I can push myself further than I did before! I also love the adventure and the opportunity that running gives you to explore a new city, country or place!
What's the appeal of running for you?
The freedom. You can put a pair of running shoes on and run anywhere. I love the simplicity of it and that it is open to everyone!
You decided to run Lejog when you realised that many races were going to be cancelled. Which races were you meant to be doing?
Two Oceans (a 35 mile ultra marathon) and Comrades Ultra (an 89K ultra marathon) and I was hoping to qualify for the 100km World Championships again.
How long did it take you to plan out the route and timings for Lejog?
It took about four days. I used the OS mapping tool and stared at a computer constantly as I drew a line up the country!
You planned to run 70 miles a day. Have you ever covered that sort of mileage in one day before?
The furthest I had run before was 62 miles in day, but I thought if I can do 62 I am sure I can do 70.
How long did you train for it?
I started planning and training for it in April and kicked off in the middle of July so about three months in total.
What were the highlights?
Seeing the whole country was awesome and having my sister with me for the whole time was really special.
What were the low points?
Every day I had a really dark patch where I would really struggle. It would happen when I was sore and tired and would last a couple of hours. The last day was also really tough as I had injured my leg and couldn't run and really struggled because all I wanted to do was run!
What mental tricks and strategies did you use to keep going when it was tough?
I broke it down into 30 minute and 10K chunks. Every 30 minutes I would have something to drink and every 10K I would see my team again and this gave me something to look forward to.
What hurt and how did you overcome any pain and niggles?
Oh God, from Day 1 everything hurt! The first three or four days it was a feeling of DOMS (delayed onset muscle soreness). It felt like I had just done a race and stepping up onto the kerb hurt. On Day 10 I started to get an issue with my shin, Day 11 it was my hamstring and Day 12 it was my quad. I had an awesome team with sports masseuses and a doctor, so we were constantly trying to figure out what was wrong and how to fix me. We used massage, stretching, taping and acupuncture to do this!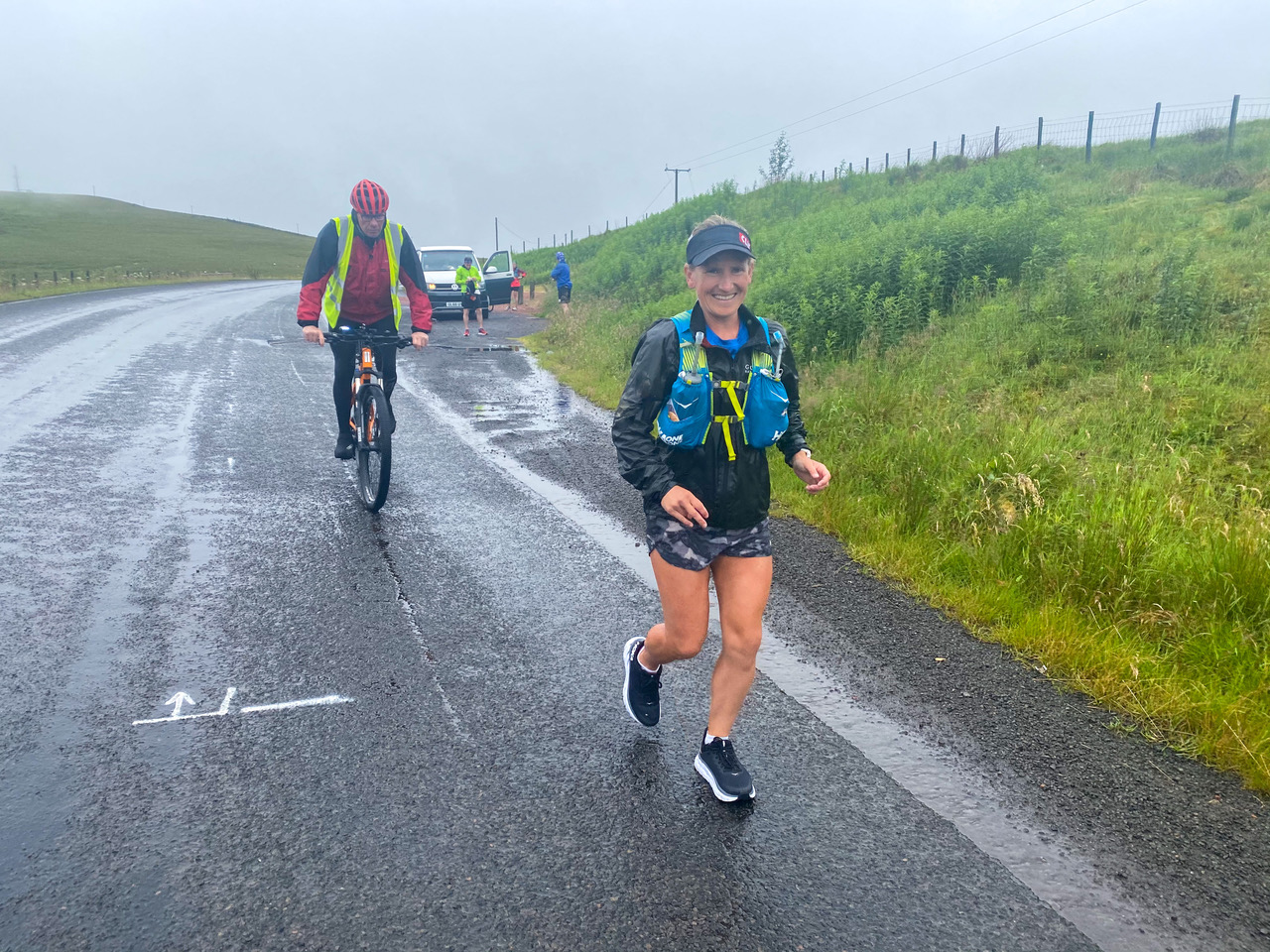 What made you decide to eat sausages and cakes rather than traditional energy foods like malt loaf or energy gels?
When you are doing things like this for so long you need such a variety of food especially when you are eating every 30 mins. So I did use CLIF Bars but then alternated them with everything and anything from malt loaf, sausages, fruit, yoghurt, cake, croissants, scotch eggs, pizza etc. I basically went on a really long picnic!
How hard was it compared to other challenges you've done before?
100 per cent it was the hardest thing that I have ever done, and it was also a lot harder than I thought it would be!
Why was it important to you to break the world record rather than just completing such extensive mileage?
I really wanted to challenge myself and see if I could push myself to do something completely out of my comfort zone.
Would you ever attempt anything like this again?
I said no when I was doing it, but I know I will. I love these challenges and I am already getting my rose-tinted glasses on!
What do you do when you're not running? Do you work and do you ever get time to chill out at home?
I do yoga and also like watching a good musical, I seem to be able to watch them on repeat! I am a running coach, sports masseuse and take people on running adventures so I am always doing something running related but I love it!
It's often been said by ultra-runners that 80 per cent of it is in the mind. How do you feel about that?
I completely agree. You have to be able to ignore your body and push through that pain barrier but if you do and you can accept that things are going to hurt they will get better I promise!
What are your future goals?
I am excited to share this story with other people and hopefully inspire other women to get out and go on awesome running adventure just like amazing runners like Mimi Anderson and Anna McNuff have done before me. I also spent lockdown writing a book and the story of LEJOG will be my final chapter which I am excited to finish. In terms of running goals I would love to run across the Pyrenees… that might be one for next summer!
More information
Keep up to date with Carla's latest training news on her website at Carla Molinaro.