Want to head off on a long-distance adventure? Dust off your trusty steed and follow our training plan to go from cycling beginner to 50K in just eight weeks. Seasoned cyclist Leona Gerrard gets you ready for the challenge…
For many sporting enthusiasts, the unpredictable spring weather may create a time for running, indoor strength workouts and cross-training, while cycling, aside from the occasional stationary bike session, often takes a bit of a back seat.
Perhaps your bicycle has been relegated to the garage, waiting for better days and better weather. It may even have been years since you've even thought of getting on a bicycle, let alone sat on one.
But what if we told you that in eight short weeks, just as the summer gets into blazing swing, you could go from couch to 50K, and be freewheeling your way to your first long-distance ride?
Cycling is hard to beat on a hot summer's day, with the sunshine warming your back and the wind pushing you along your way. It's pure joy, it's a memory of childhood, it's freedom, all wrapped up in one sweet pedal stroke. And you definitely want a piece of that action, don't you?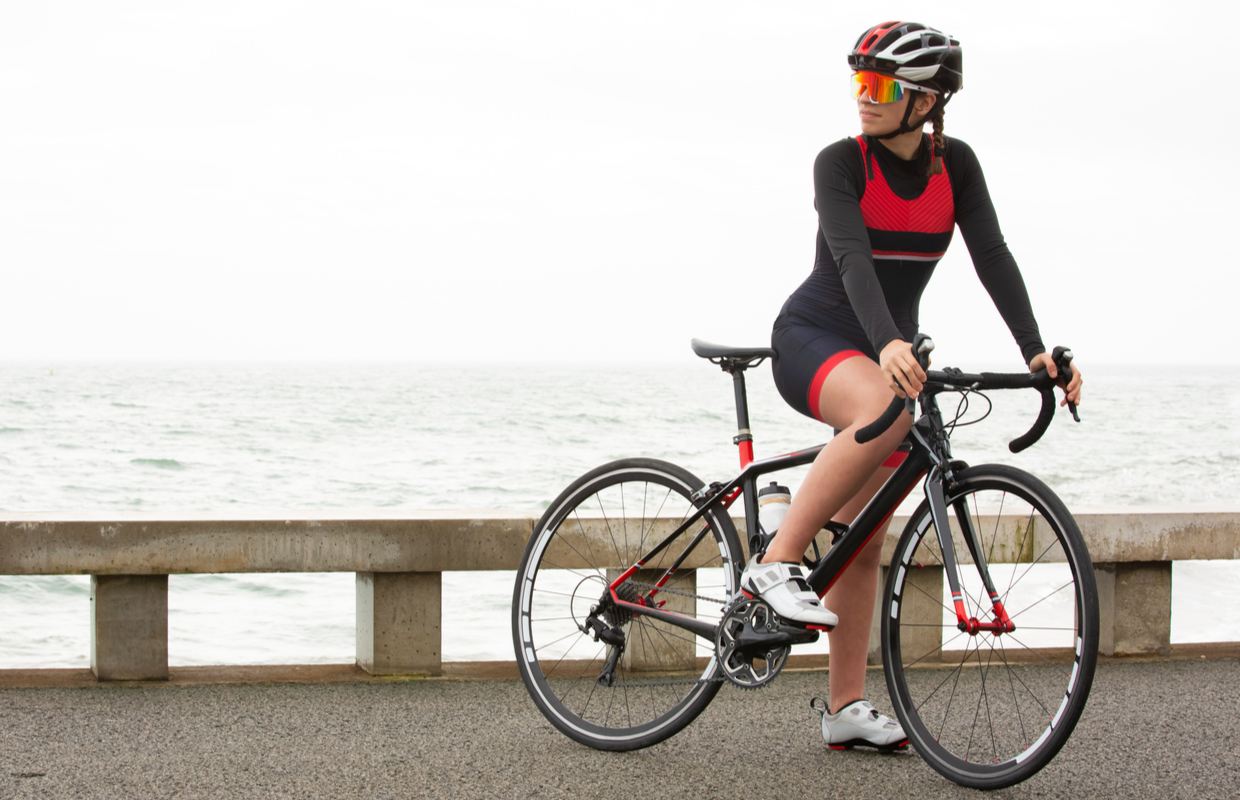 How to prepare for this 50K cycling training plan
First things first, you're going to need a reliable bike. It doesn't have to be a top-of-the-range carbon fibre road bike – your dusty shed bike may just do… but before you get the show on the road, literally, you need to make sure that it's road worthy.
Instead of tampering with a rusty chain and tangled inner tubes, take a visit to your local bike shop for a service, the cost of which can range anywhere between £50 and £150. I always recommend this route to my newbie cycling friends, because it pays to be safe, and I speak from experience relaying this advice.
You don't want to be calling your partner 50K away on a road less travelled, because your rusty chain's snapped or you've worn out your brake pads. Get these all checked, replaced and ready for your 50K cycling adventure.
Best long-distance road bikes:
If you don't have a bike that is serviceable, you can purchase a very decent aluminium entry-level bike from retailers like Wiggle (wiggle.co.uk – where the Vitus Razor road bike is £549.99), Tredz (tredz.co.uk – Boardman has a 2022 women's road bike for £575).
If you're looking for a women's-specific bike, built with the female anatomy in mind, then Liv Cycling is a great option (the Liv Avail 2 is a sturdy aluminium bike priced at £849).
Get kitted out with the best cycling gear
Back from the bike shop with either your new or serviced bike? Next, you're going to need some comfy bike gear. Wiggle's brand, dhb, and Liv have an excellent entry- to mid-level range, and I have never been disappointed by their kit. In fact, I still wear the first dhb jersey I ever bought seven years ago and it has served me extremely well over the summers.
Buy some padded bib shorts
Well-padded bib shorts are a must – some of my favourites on the market are from Liv's signature range, as the padding and comfort are supreme. The idea of wearing cleats may put many of you off your training, so my advice would be to take cleats entirely out of the equation and just wear trainers.
Once you get beyond 50K, cleats would definitely be something to consider, as they make your pedal stroke far more efficient and conserve valuable energy. But more about this when you're prepping for a fondo (a major sportive); for now, you just need the basics.
Don't forget the storage
Try to buy a jersey with two or three back pockets – you are going to need to carry a spare inner tube and a small puncture repair kit, as well as your money, phone and a spare set of lights. Make sure you know how to change a puncture and fix a slipped chain before you set off, and practise these in the garage.
You should also practice drinking on the bike, and be comfortable with taking a 750ml bottle out of its bottle cage as well as putting it back in without losing your balance. Trust me, an unwelcome head-first encounter with a hedge can happen to the best of us.
Invest in a quality helmet
Speaking of heads, yours in particular, the most essential purchase, aside from a decent pair of supremely well-padded bib shorts, is a helmet, and a very good one at that. I have an Oakley Aro3 MIPS helmet, (priced around approximately £80), which will keep your head cool but also comes with the MIPS Brain Protection System for the highest levels of protection in the event of a crash.
Related: Best cycling clothing for women 2022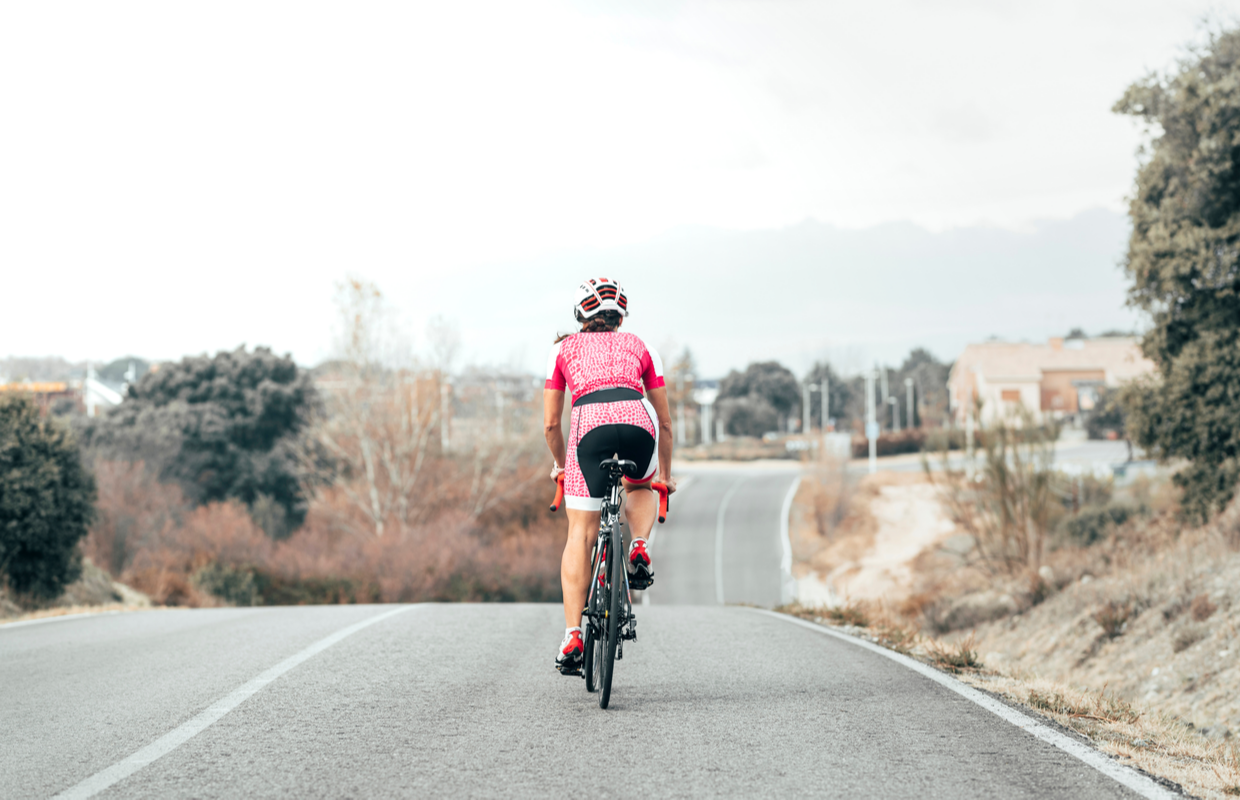 Beginner to 50K cycling training plan
Right, all the prep's now done and you are ready to rock and roll. But where to? And for how long? British Cycling recommends starting your beginner to 50K cycling training plan with 30 minutes' cycling three times a week, with two rest days that incorporate an hour each of strength training.
Build this up incrementally from 3 x 30 minutes' flat, generally easy paced, rides in week one (choose routes close to your home that are free from traffic); to 2 x 45-minute, and 1 x 60-minute, rides in week two; 2 x 60-minute, and 1 x 90-minute, rides in week three, and always incorporating one longer Sunday ride.
Week 3-5: work on your pace
From week three onwards, during your midweek rides you can push your pace a little bit for the middle 20 minutes. And, as the weeks progress and your weekend rides grow longer, you might want to consider planning a café stop into one of your rides.
From week five, start incorporating some hills and hill reps (this might even be the hill around the corner, which you can repeat three times) into your routes, so that your body gets used to changes in tempo – remember, pacing on hills is key, as is gearing, and it's important to manage these efforts.
A comfortable low gear is ideal, so that you're not burning too much energy from the resistance of the pedal stroke, nor spinning frantically like a hamster on a treadmill, losing your breath and momentum. Practise getting out of the saddle for steeper inclines and try to stay in the saddle for lower gradients, as this conserves energy. This is especially important on hills of longer than 1K. Sit tight, spin and breathe.
Weeks 6-7: tapering and recovery
When you reach week six, you will have maxed out your time on the bike to between four and six weekly hours, as well as incorporated easy, tempo and faster-paced rides, with varying gradients. Week seven is about easing things off a little and cutting down your hours on the bike to around three-and-a-half. Tapering is important as it allows you time to recover from fatigue and be on top form for that big 5-0.
In week eight, you'll do minimal midweek riding of around 3 x 20-30 minutes per ride, just to turn your legs and remember everything you've worked on. No pushing whatsoever.
Week 8: cycling 50K
Now, all that remains is for you to get all your ducks in a row the night before your sportive or 30-mile riding adventure, lay out all your kit, get your nutrition and hydration ready, check your tyre pressure and get an early night. And, one last thing, enjoy the ride, look at the scenery, share in the spirit of your first-ever long ride and be proud of what you have achieved!
Click here to download British Cycling's detailed 0-50km in 8 weeks plan.
Words: Leona Gerrard | Photography: Shutterstock | Training plans provided by britishcycling.com and redbull.com