Walking the Camino de Santiago is an unforgettable experience. Whether you fancy a shorter stroll or a full hike, 'doing the Camino' at your own pace is possible. Here's everything you need to know…
Pilgrims have been walking the Camino de Santiago for a thousand years or more. It is a Christian pilgrimage with routes all over Europe, each leading to the same majestic destination: the cathedral at Santiago De Compostela, in Spain. While many people of course still take it on for religious reasons, others do it with their own purpose: as a physical challenge; to improve their mental health; because they are at a crossroads in life and need to clear their heads; or to simply find some breathing space.
'Doing the Camino' is becoming ever more popular, with the final stages attracting walkers in their thousands. In fact, around 300,000 people lace up their boots and set out on the challenge each year. There are many routes. Perhaps the best-known is the one that starts at St Jean Pied de Port at the foot of the Pyrenees, in France.
However, in Portugal the Camino – or Caminho as it is written there – is becoming more of an attraction as recently some of the route's ancient networks have been opened up again and it's now possible to walk from Lagos, Faro or Tavira.
While many people walk the whole thing in one go – which can take around six weeks and on the French route is a distance of 500 miles – it is perfectly possible, and ok, to just do a section. Some people set off with sleeping bags and simply bed down at the nearest pilgrim hostel to hand when they decide to stop walking for the day, but it is possible to plan a week's walking and book hotels, apartments or B&Bs before you go.
There are also luxury guided tours where everything is taken care of for you. They will even drive your bags to the next stop so you don't have to carry them the whole way! Read on to see what the different holiday styles have to offer…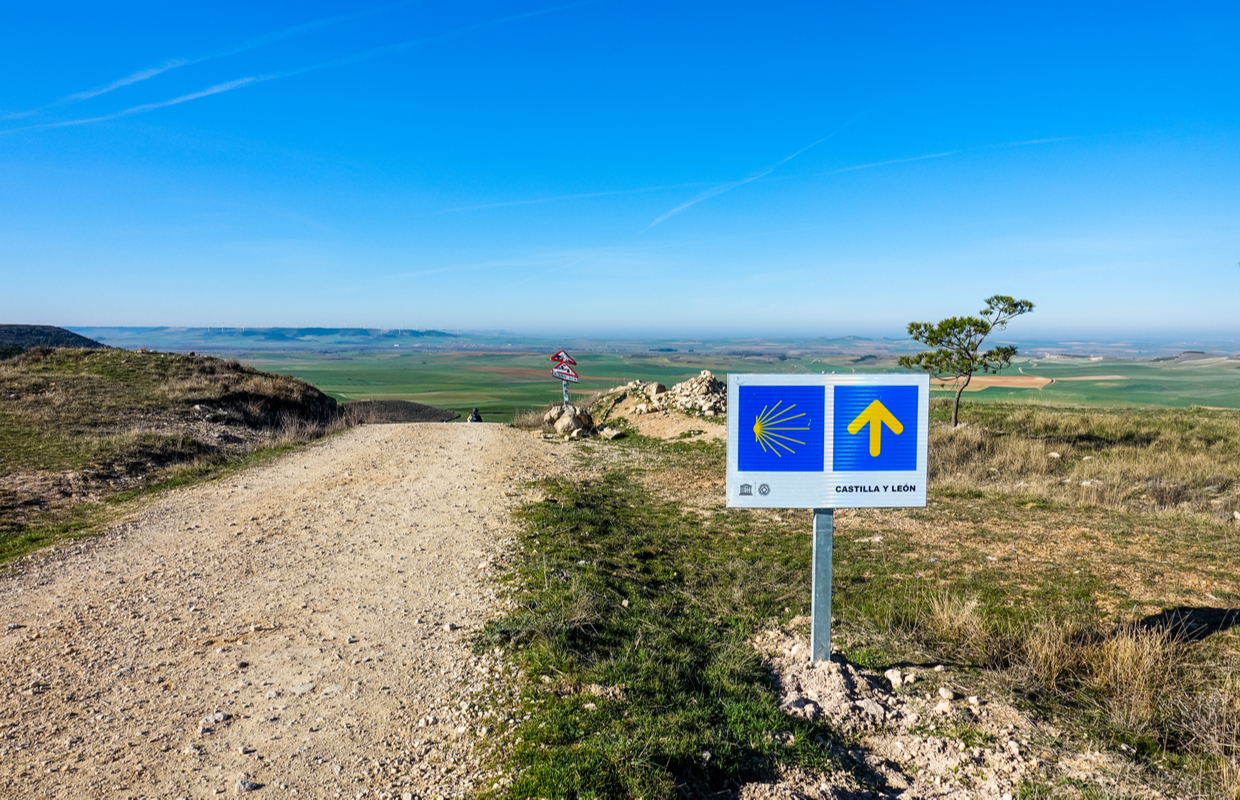 Option 1: Walking the Camino de Santiago at your own pace
Top Santé's Yvonne Martin packed her rucksack and walked from St Jean Pied de Porte in France to Pamplona in Spain. Here she talks about how the Camino experience revitalised her.
As we settle down for a well-earned drink and a snack in a busy café in Zubiri, Spain, a Canadian woman in her 60s approaches and asks if she can join us at our table. 'Of course, take a seat,' I say.
An hour later we've discussed life-changing events, resilience, independence, integrity and blister prevention. We've bought each other coffees, laughed and swapped advice. Then we wish each other well and are on our way. It's a delightful and yet typical connection you experience with your fellow 'pilgrims' when you're walking the Camino de Santiago.
'Walking the Camino did more for my wellbeing than any other holiday I've had.'
A couple of years ago, if you had asked me whether I wanted to go on a walking holiday I'd have given an emphatic 'no', but slowly the idea took seed and myself and my husband Allan decide to give it a try. We were inspired initially by watching The Way, a life-affirming film starring Martin Sheen as a father who walks the Camino in memory of his son.
In addition, we'd had a mini-break in Santiago where we met many pilgrims at the end of their journey. Their excitement and satisfaction at what they had done was palpable. Soon, walking the Camino de Santiago becomes something of an obsession and we start training to make sure we're up to the challenge.
We aren't in a position to have enough time off work to do the whole thing in one go, so we decide to do it in chunks. It may take us years to complete, but for us it really is about the journey and we want to enjoy every part of it.
From St Jean to Pamplona in Spain
With that in mind we start with the section from St Jean to Pamplona in Spain. The journey is filled with good experiences, from walking through a forest with the sound of a rushing stream in our ears, to arriving at a mountain village soaked by torrential rain and finding a warm and bustling restaurant there with a welcome bowl of patatas bravas and a couple of glasses of red wine.
Most of all I love the camaraderie of our fellow pilgrims. There is a warmth and connection in every interaction and always a friendly greeting and the parting wish of "Buen Camino!" Our days settle into a rhythm of early rising, walking, food and wine and exploring our destination, then early to bed.
It is the same each day, yet no day is the same. The landscape, the conversation, the challenge and the people we meet are different at every stage. At the end I am fitter, less stressed, more relaxed and so excited about the experience I just want to keep on walking. I can't wait to go back and carry on where we left off.
Trip notes:
We paid between €50 and €90 for rooms or apartments at our stopping off points. An overnight stay at Hotel Roncesvalles, costs between €67 and €90 for a double room, depending on the time of year. We finished our journey at Hotel Pompaelo Urban Spa, in Pamplona, Spain.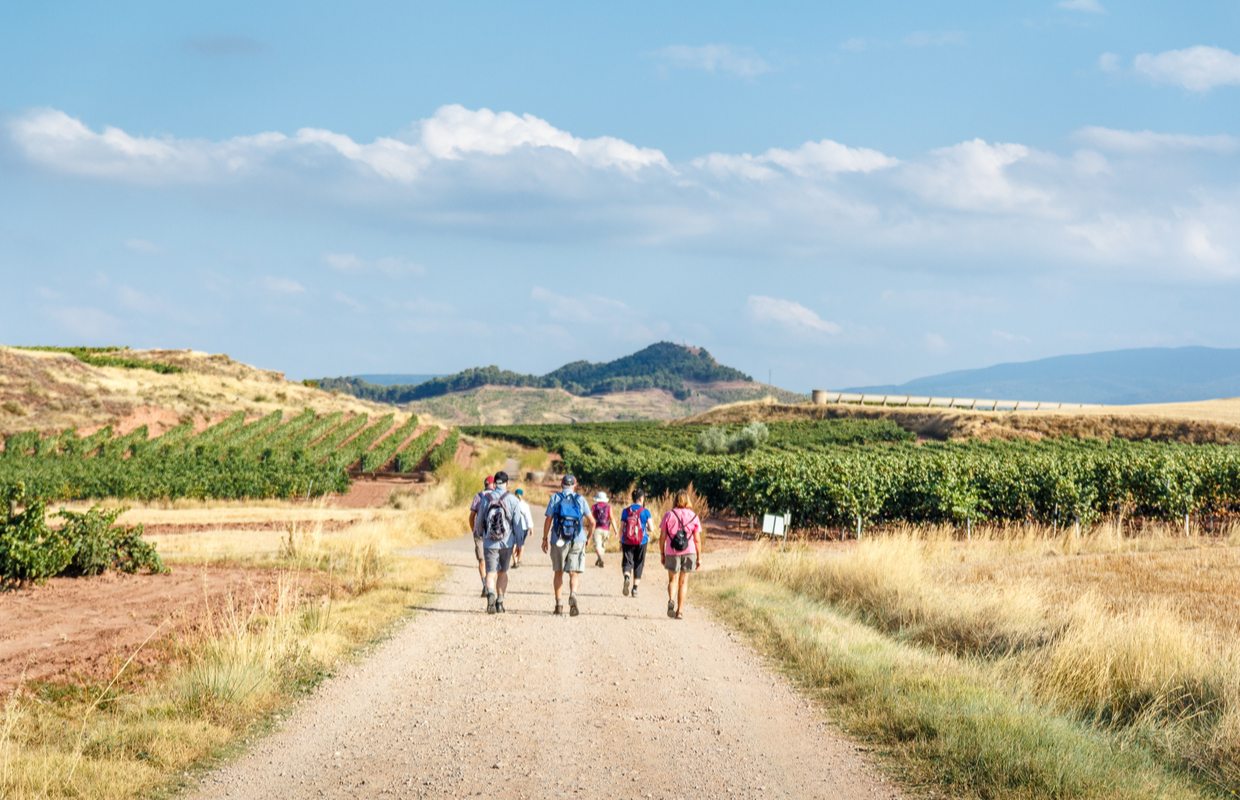 Option 2: Walking the Camino de Santiago with an expert guide
Lebby Eyres takes a weekend taster trip with a guide, following the Portugese routes and enjoying some sightseeing and beautiful accommodation along the way.
Whether you're hiking the Camino de Santiago alone or in a group, there's always a comforting feeling you are following in someone else's footsteps. From the Middle Ages onwards, pilgrims have made their way to the Spanish city along a variety of routes, walking stick in one hand and scallop shell – the symbol of the Camino – in the other.
I'm hiking part of the newly signposted Way of St James in the Alentejo region. With a guide to look after us we are able to sample the most picturesque parts of The Way and be driven between different sections of the walk so we make the most of our brief time in the region. We start in Estremoz. The walled 'white city' is famous for its marble, which is actually slightly pinkish in hue. It's September and still warm, and as the sun goes down the town is bathed in a beautiful, rosy light.
'I glimpse the spiritual satisfaction of those who complete the trail.'
After a night in the Alentejo Marmoris Hotel in nearby Vila Viçosa, a former olive oil mill now owned by local marble producers, I set out with my fellow hikers to the town of Fronteira – making sure we have our Camino passports stamped first. Our route for the day takes us to the town of Cabeço De Vide along a fairly easy stretch of the 397km-long Camino Nascente. But my legs are still stiff, and we make a welcome detour to the thermal spa, built on the site of Roman baths. Here, we walk through a hot and cold pool of healing sulphuric water.
Following the Way of St James
In the afternoon, the landscape changes as we hike to Alter Pedroso, through groves of oak trees. There's a real feeling of remoteness here, as the path twists past the ancient trees and alongside tumbledown stone walls. That feeling intensifies as we arrive at the Pousada Mosteiro Do Crato, an imposing former monastery. It's no exaggeration to say it's one of the most beautiful hotels I've stayed in, and the perfect place to rest weary feet – after a dip in the outdoor pool, naturally.
The following day, our guide drives us to the town of Santarém, in the Ribatejo region just north of Lisbon. We've switched from the Camino Nascente to the 440km-long Camino Central. This tracks the banks of the Rio Tejo through farmland and cornfields. After a night in the N1 hostel, we visit Valada, next to the river.
A boat trip takes us to the charming village of Escaroupim, lined with traditional, brightly-coloured fishing huts. There are Caminos on both sides of the river here, which meet up in Santarém. While we have drivers transporting our luggage, we spot plenty of what we label 'true pilgrims' walking with packs on their backs. The distance between the towns is between 15 and 33km, and traditionally walkers rise early to stroll in the cool of the morning.
The weekend is a luxurious way to experience the Camino, and it gives me an insight into what hiking the full pilgrimage must feel like. I can sense the spiritual satisfaction those who make it to Santiago must feel.
Top tips for 'doing the Camino'
You'll sometimes walk for miles without finding a café or place to refill your water bottle so you need to take plenty with you. I used the Osprey Talon 6 hiking lumbar hydration pack (£80) which is a comfortable way of carrying more than a litre of water.
It's hard to find shade on some of the paths so it's important to wear a hat and loose, comfortable clothing. Sunscreen is a must too, even if you're walking in spring or September as I did.
Follow the lead of the 'true pilgrims' and start early each day. Aim to get the main body of the walk done by lunchtime – up to 20km in some cases – so you have less distance to walk in the afternoon.
Keep an eye out for the yellow scallop or the yellow arrow on signposts, which mark the way. It's easy to get disorientated when you've been walking all day.
Trip notes:
For more information see visitalentejo.pt and for tour options, visit tryportugal.pt or email info@tryportugal.pt. Double rooms at the Hotel Marmoris from £115 per night; doubles at the Pousada Mosteiro Crato start at £100 per night; beds at N1 hostel start from £15 for a shared dormitory, doubles and suites available from around £100. Direct flights to Lisbon are often under £100, but ensure that when you book you are covered for any cancellations or changes.
Words: Yvonne Martin and Lebby Eyres | Photos: Shutterstock